Chaque année, j'attends avec une grande impatience les ventes dites "Histoire naturelle" de Bonhams. Tradition de la maison et organisées à Los Angeles, ces ventes recèlent de trésors et de pierres gemmes rares et atypiques en provenance, très souvent, de grands marchands ou de collectionneurs. Je prends d'ailleurs un sérieux plaisir à essayer de trouver d'où proviennent les pierres, mais je ne le trahirai pas le secret ici !
Each year, I'm waiting with a great impatience the "Natural History" auctions organized by Bonhams and traditionally scheduled in Los Angeles. These events are the perfect opportunity to admire natural treasures and unusual gemstones from important dealers and collectors. This is one of my hobbies to find from where come these stones… But I will keep these secrets ! 
Je vous présente donc ma sélection issue des catalogues des 23 et 24 mai 2017 : au programme, opales remarquables, tourmalines atypiques, ensembles conséquents et donc rares.  Je vous montre ça !
So, I invite you to discover my selection from the catalogs of the May 23 and 24 : big opals, amazing tourmalines, impressive and inspiring set… Focus ! 
Le 23 Mai, Los Angeles / The May 23, LA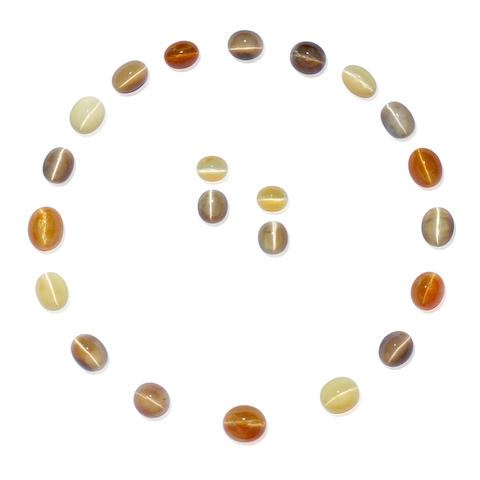 Lot 1070 : rare ensemble de cabochons d'opales oeil-de-chat issus d'une poche découverte en Tanzanie à la fin des années 90 et qui n'est plus exploitée désormais. Estimation entre 14,000 et 18,000$. Rare suite of cat's eye opals from a Tanzanian deposit and unearthed in the lat 90s. Valuation between $ 14-18k. Photo : Bonhams
Lot 1097 : rare appairage de deux opales australiennes (Queensland) pour 129 carats environ. Estimation entre 50,000 et 70,000$. Rare matched Australian opals from Queensland for quite 129 carats. Valuation between $ 50-70k. Photo : Bonhams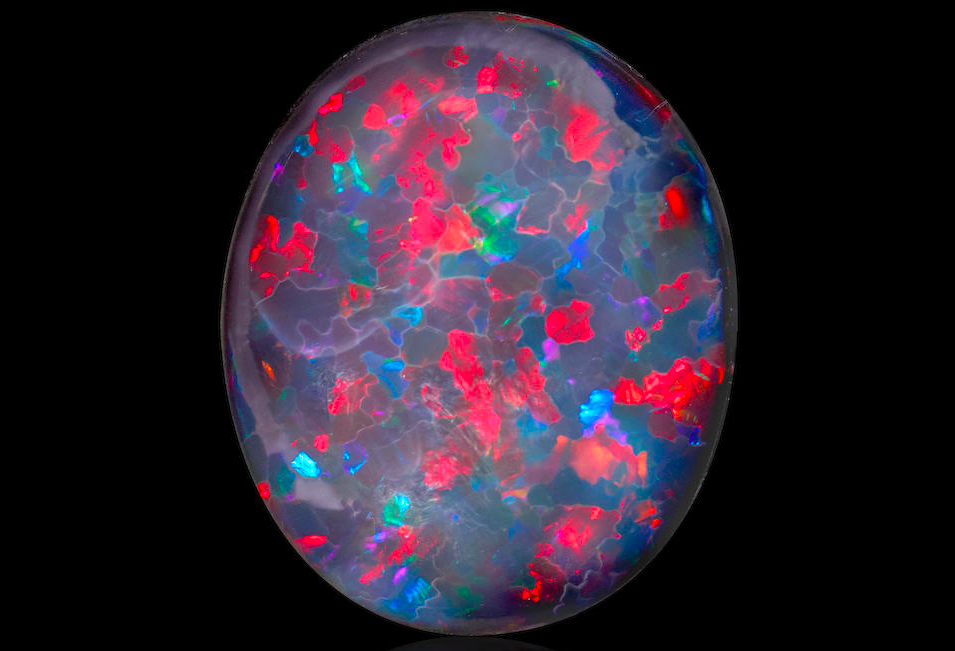 Lot 1136 (2) : rare opale noire de 31 carats présentant des feux rouges d'une grande intensité et provenant de la Lightning Ridge Mine (Australie). Estimation entre 30,000 et 40,000 $. Large and rare red-on-black +31 ct opal with impressive colors. It's came from Lightning Ridge Mine, Australia. Valuation between $ 30-40k. Photo : Bonhams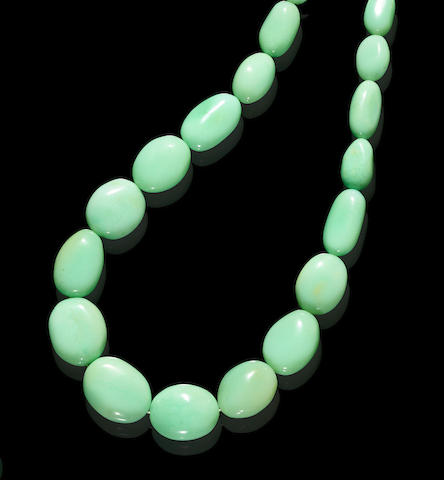 Lot 1145 : rare collier d'opale commune verte en provenance d'une poche trouvée au Kosovo pour un poids supérieur à 460 carats. Estimation entre 2500 et 3500 $. Unusual necklace with  green common opal from Kosovo with an impressive weight of +460 carats. Valuation between $ 2,5-3,5k. Photo : Bonhams
*****
Le 24 mai, Los Angeles / The May 24, LA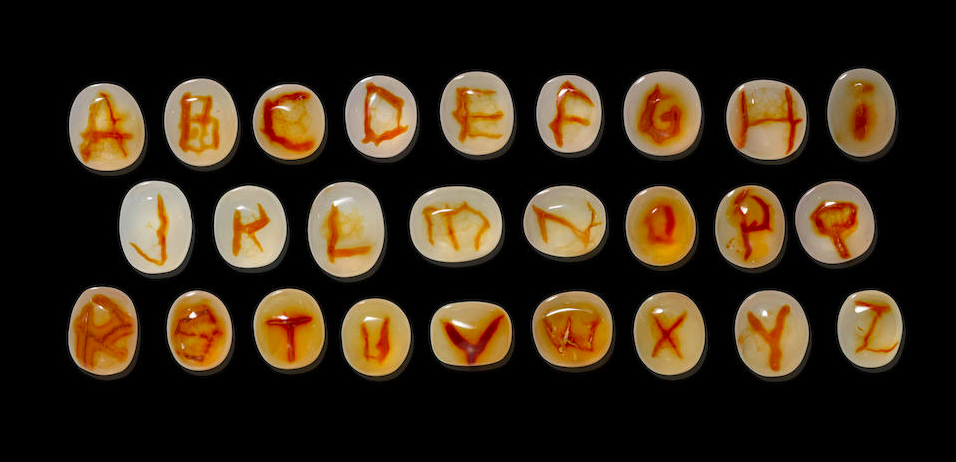 Lot 2055 : rare ensemble d'agate "alphabet" en provenance d'Indonésie. Il existe peu d'ensemble de ce type, ceux qui parmi mes lecteurs arpentent les ventes de minéraux se souviendront d'un très bel exemple conservé dans la collection de M. Laurent Sikirdji (Gemfrance). Estimation entre 2000 et 3000$. A natural and rare agate alphabet from Indonesia. Those of my readers who visit regularly mineral and gem fairs will remind a set preserved in the Laurent Sikirdji collection (Gemfrance). This set is estimated between $ 2-3k. Photo : Bonhams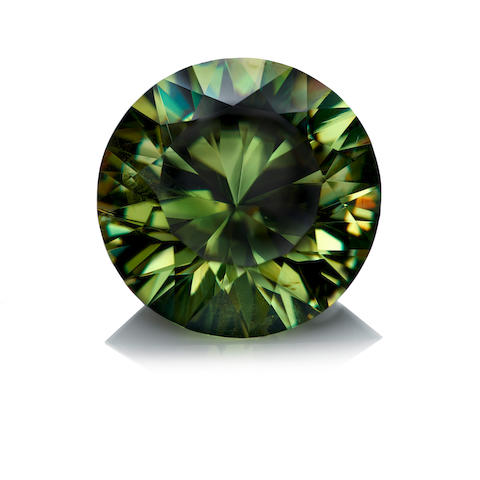 Lot 2174 : rare grenat démantoide de Namibie pesant 9,86 carats. Certifié par le GIA. Estimation entre 100,000 et 125,000 $. Large and exceptionnal 9,86 ct demantoid garnet from Namibia (reported natural by GIA). Valuation between $ 100-125k. Photo : Bonhams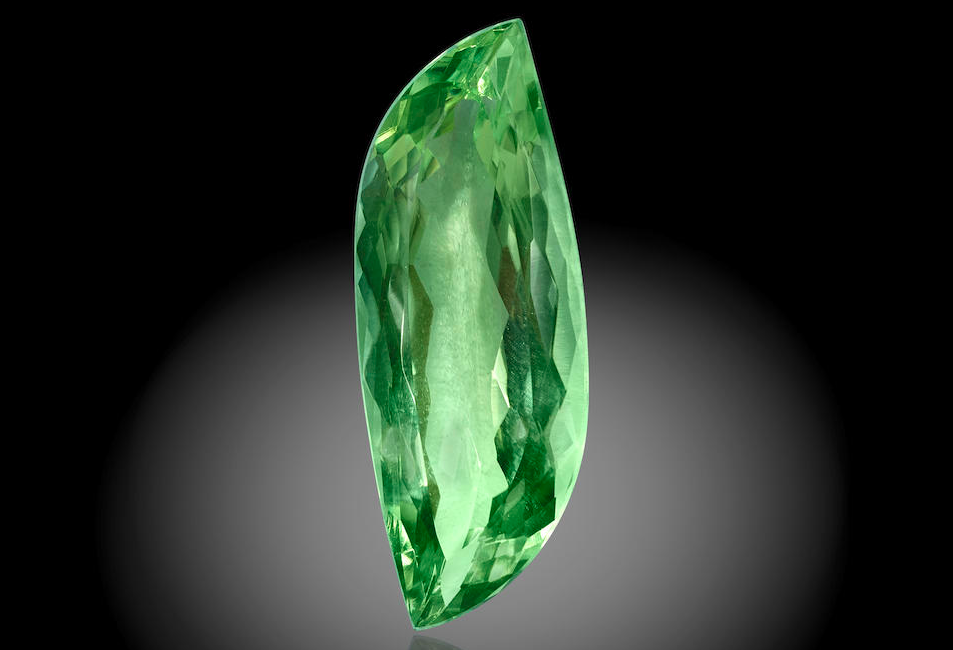 Lot 2179 : très rare Herderite gemme de 27,68 carats provenant du brésil. Cette pierre se rencontre dans des pegmatites et appartient à la famille de l'apatite. estimation entre 20,000 et 30,000 $. Very rare 27,68 ct Herderite from Brazil. This gem is found in pegmatites and belongs to apatite family. Valuation between $ 20-30k. Photo : Bonhams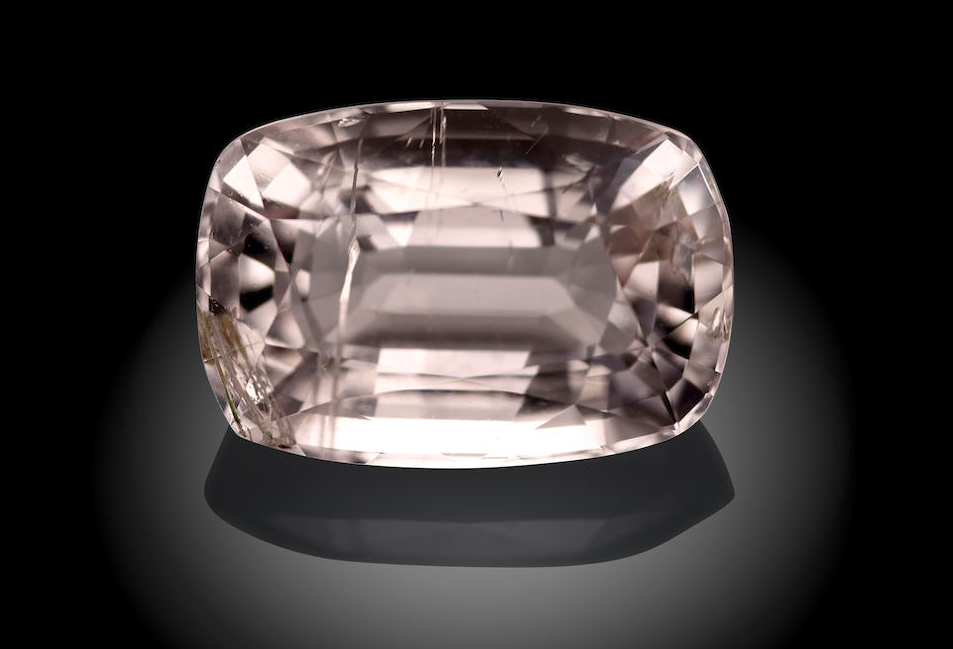 Lot 2228 : très rare Poudretteite gemme de 2,82 carats et provenant de Mogok (Myanmar). Estimation entre 10,000 et 15,000$. Extremely rare 2,82 ct Poudretteite from Mogok (Myanmar). Valuation between $ 10-15k. Photo : Bonhams
Lot 2352 : rare et important ensemble de 19 tourmalines bicolores en provenant de la Himalayan Mine (Pala, Californie) et pesant 219,5 carats. Estimation entre 17,000 et 22,000 $. Impressive suite of nineteen California bi-color tourmalines from the Himalayan mine (Pala district) for 219,5 carats. Valuation between $ 17-22k. Photo : Bonhams
À bientôt !
See you soon !