En juillet 2018, la maison de ventes aux enchères Sotheby's frappait un grand coup en annonçant la vente de la collection de bijoux de la Famille Bourbon-Parme. Et plus particulièrement la vente des bijoux ayant appartenu à l'une des plus célèbres reines françaises : Marie-Antoinette. Celle qui ne comprenait pas très bien son peule et aimait plus la brioche que le pain fut néanmoins assez prudente pour mettre à l'abri ses bijoux quand la situation politique se dégrada en France. Avec l'espoir, certainement, que ses pièces aident le Dauphin et lui permettent d'assurer son avenir. Elle ne savait pas encore que ni elle, ni son époux le Roi Louis XVI, ni son fils ne survivraient à la Révolution Française et n'assisteraient jamais à l'avènement du XIXe siècle. Si la fin de famille royale fut terrible, il nous reste aujourd'hui les pièces historiques qui seront vendues à Genève le 14 novembre 2018.
In July 2018, Sotheby's auction house struck a blow by announcing the sale of the Bourbon-Parma family's jewelry collection. And especially the sale of jewelry that belonged to one of the most famous French queens : Marie-Antoinette. The one who did not understand very well her population and liked brioche more than bread was nevertheless enough prudent to protect her jewels when the political situation deteriorated in France. With the hope, certainly, that her jewels help the Dauphin and allow him to secure his future. She did not know yet that neither she, nor her husband King Louis XVI, nor her son would survive the French Revolution and would never attend the advent of the nineteenth century. If the end of the royal family was terrible, we have today the historical pieces that will be sold in Geneva on November 14, 2018.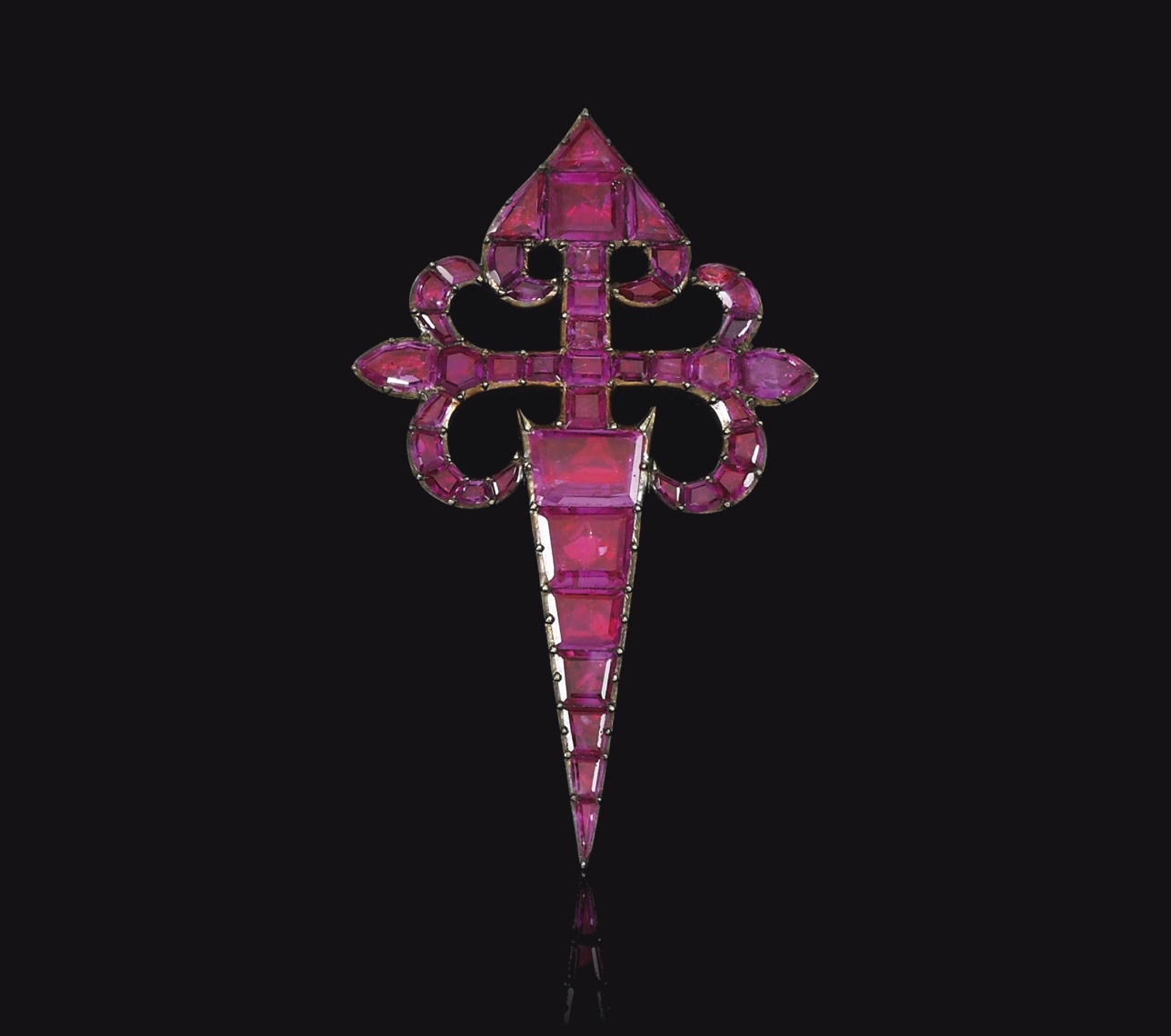 Lot 25 : ordre de Saint-James of the Sword en forme de Croix de Santiago en argent et rubis. Non signé mais dans un écrin de la maison Moritz Hübner de Vienne. Bijoux de la Famille de Parme en primogéniture selon une note de 1910. Estimation entre 10,000 et 15,000 CHF. Order of St. James of the Sword in the shape of a Santiago cross in silver and ruby. Unsigned but in a haven of the house Moritz Hübner Vienna. Parma family jewelry in primogeniture according to a handwriting note of 1910. Estimate between CHF 10-15k. Photo : Sotheby's
Mais la famille Bourbon-Parme n'en ai pas à son coup d'essai. En mai dernier, elle vendait pour 6,7 millions de dollar le fameux diamant bleu « Farnese Blue » et faisait déjà les une de la presse spécialisée. J'avais eu le privilège de le voir, de le manipuler pour me rendre compte de la beauté de la matière et également de m'entretenir avec Daniela Mascetti ; une interview que vous avez pu lire il y a peu sur le site.
But it's not the first try of the Bourbon-Parma family. Last May, she sold for $ 6.7 million the famous blue diamond « Farnese Blue » and was already in the press. I had the privilege to see it, to manipulate it to realize the beauty of the material and also to talk with Daniela Mascetti ; an interview that you could read few weeks ago on the site.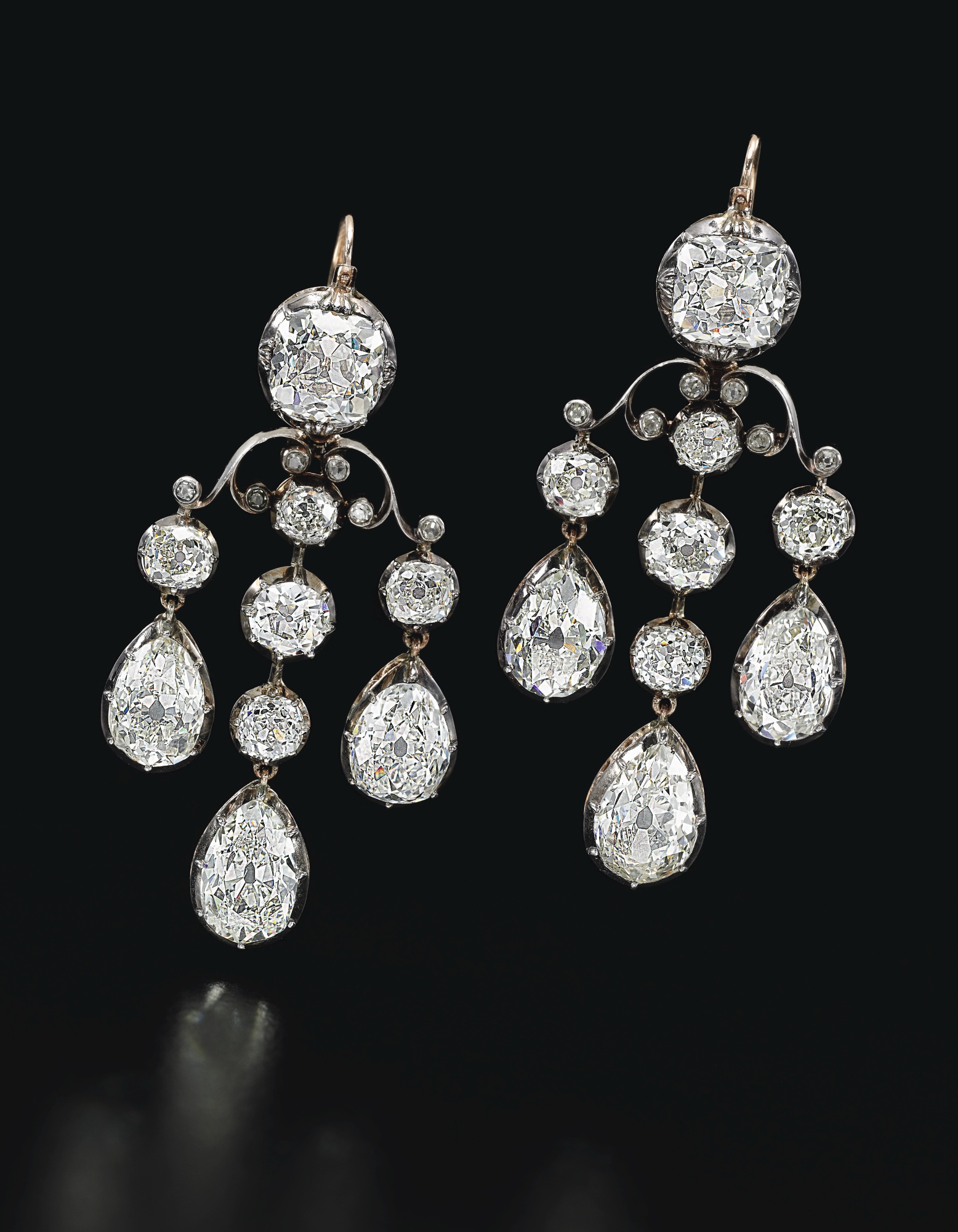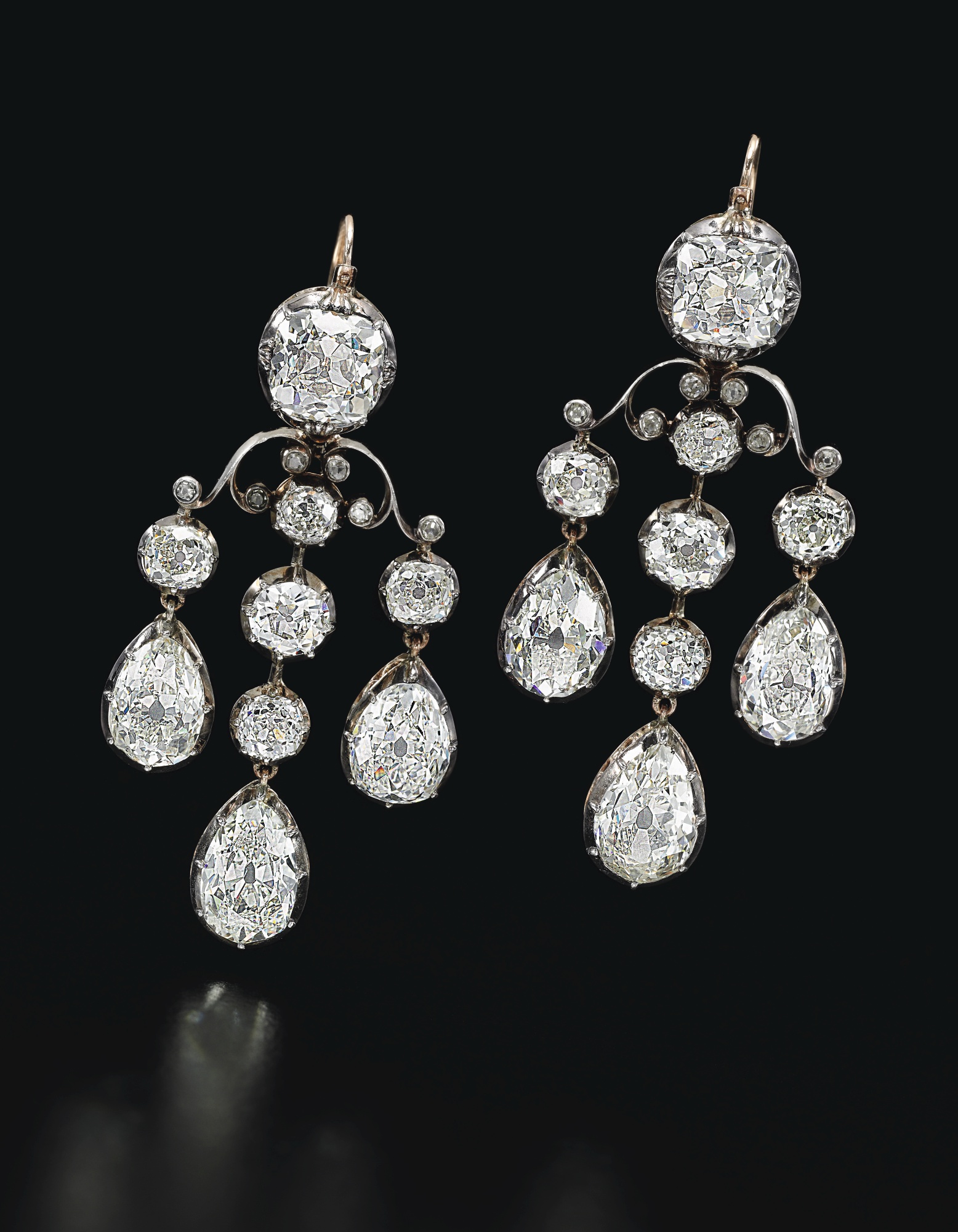 Lot 47 : boucles d'oreilles en or, argent et diamant datant de la première moitié du XIXe siècle. Provenance Marie-Thérèse de Savoie, Duchesse de Parme, femme du Duc Charles II de Parme et léguées par elle à son petit-fils Robert I Duc de Parme. Consignée dans l'inventaire de l'Archiduchesse Marie-Anne d'Autriche, Princesse Elie de Bourbon-Parme. Dans un écrin de la maison Froment-Meurice. Estimation entre 150,000 et 250,000 CHF. Gold, silver and diamond earrings dating from the first half of the 19th century. Provenance Marie-Therese of Savoy, Duchess of Parma, wife of the Duke Charles II of Parma and bequeathed by her to her grandson Robert I Duke of Parma. Listed in the inventory of Archduchess Marie-Anne of Austria, Princess Elie of Bourbon-Parma. In a fitted-case from the house Froment-Meurice. Estimate between CHF 150-250k. Photo : Sotheby's
Cette collection, incroyable à bien des égards, est un concentré de l'histoire des royautés européennes et rassemble un nombre considérable de têtes couronnées. Tout en découvrant ma sélection parmi les 100 lots qui se présentent aux acheteurs, il est nécessaire de faire un peu d'Histoire pour resituer cette famille dans le paysage politique européen.
This collection, incredible in many ways, is a concentrate of the history of the European royalties and brings together a considerable number of crowned heads. While discovering my selection among the 100 lots that are presented to buyers, it is necessary to do a little history to place this family in the European political landscape.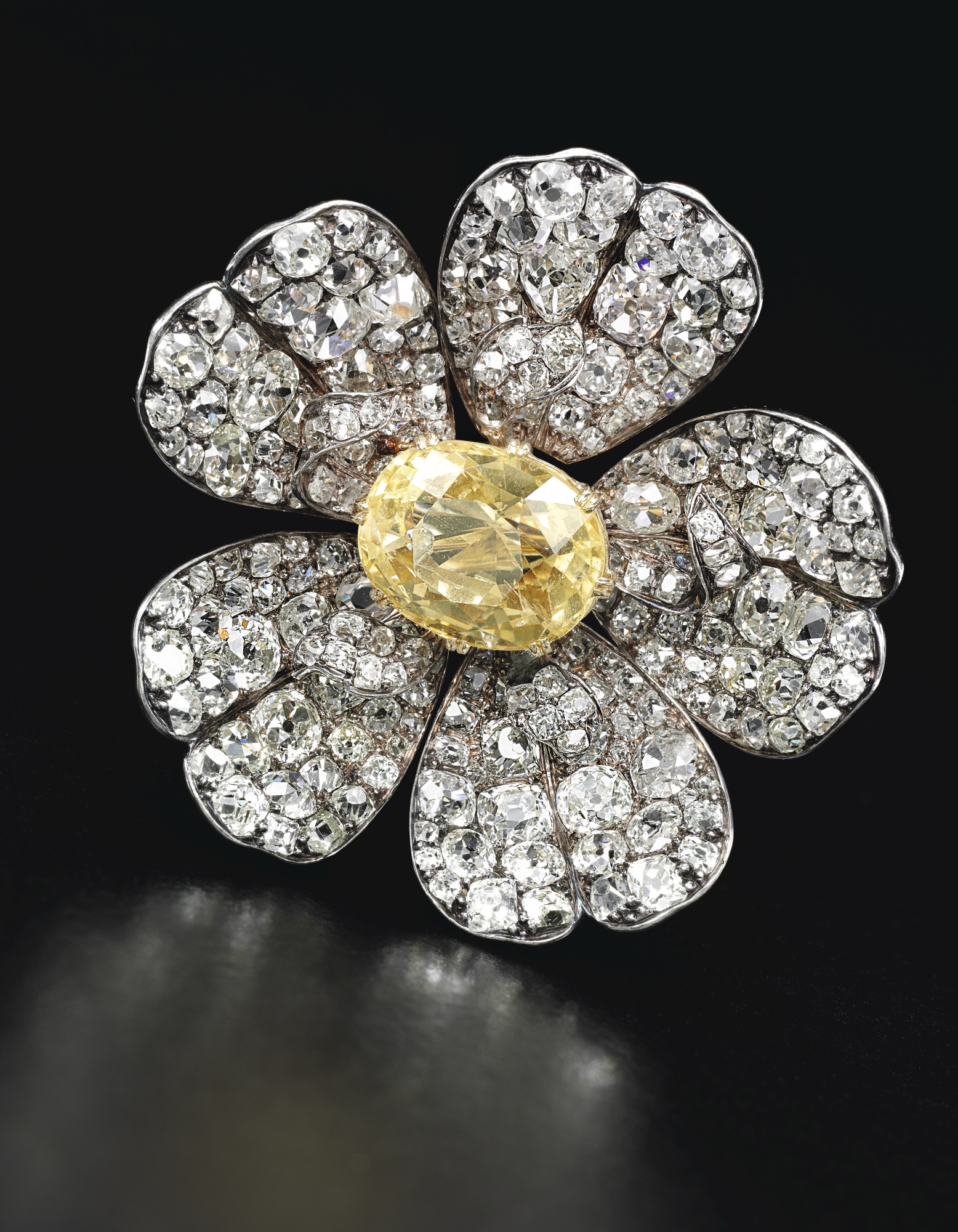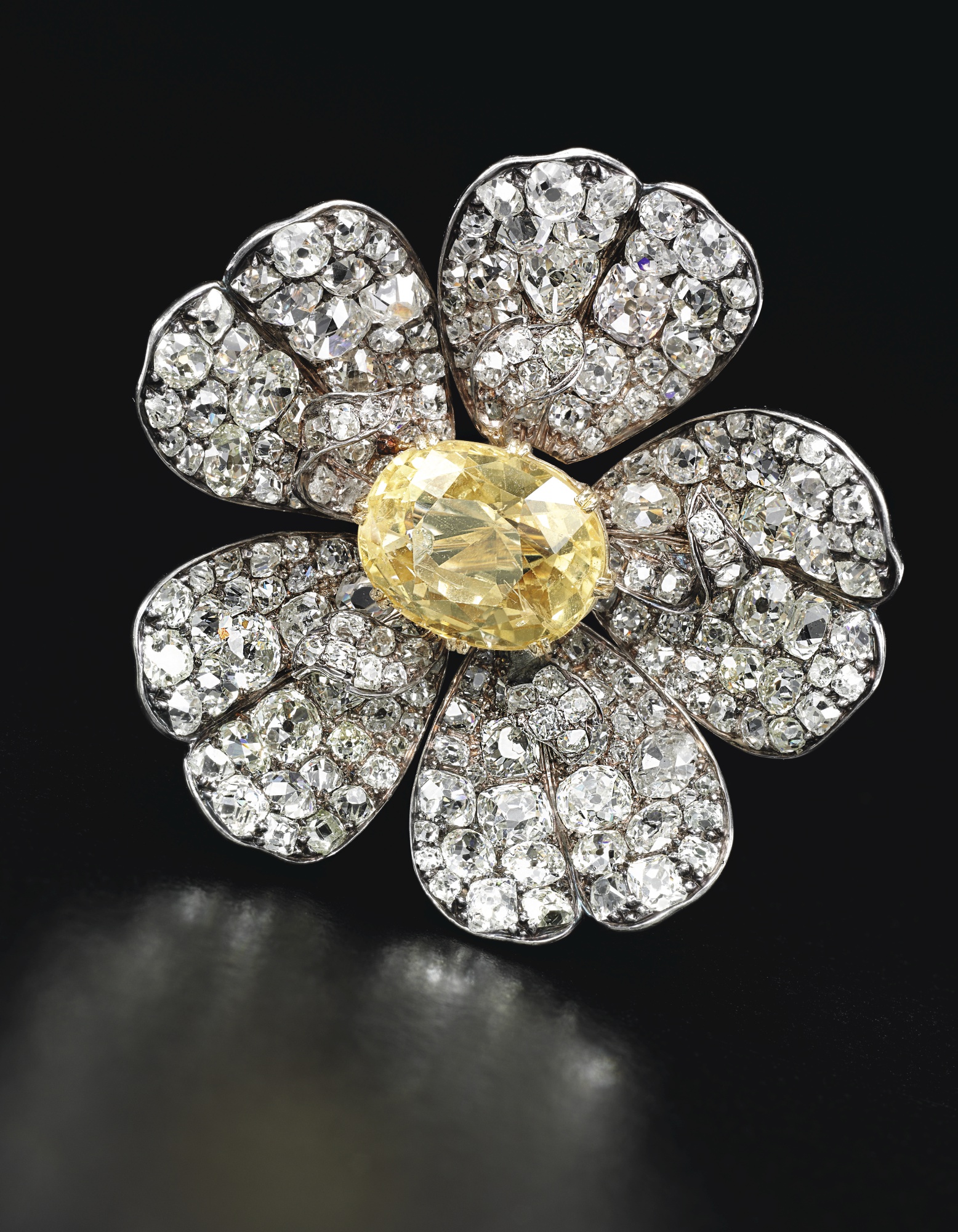 Lot 69 : broche en or, argent, diamants et saphir jaune de 11,99 carats. Provenance Marie-Anne d'Autriche (1882-1940), Princesse de Bourbon-Parme. Elle lui fut offerte par sa mère, la Princesse Isabelle de Croÿ, Archiduchesse Frédéric d'Autriche, à l'occasion de son 70e anniversaire en 1926. Estimation entre 40,000 et 65,000 CHF. Brooch in gold, silver, diamonds and yellow sapphire of 11.99 carats. Provenance Marie-Anne of Austria (1882-1940), Princess of Bourbon-Parma. It was offered to her by her mother, Princess Isabel de Croÿ, Archduchess Frederick of Austria, on the occasion of his 70th birthday in 1926. Estimate between CHF 40-65k. Photo : Sotheby's
1- Histoire de la Famille Bourbon-Parme / The Bourbon-Parma family history
La Duché de Parme est créé en 1545 par l'Empereur Charles V pour Pierre-Louis Farnese, le fils naturel du Pape Paul III. Jusqu'en 1731, le duché reste en ligne directe de descendance grâce aux naissances masculines de la famille. A ce moment là, le duché est transmis à Elisabeth Farnese, laquelle a épousé en 1714 le Roi d'Espagne Philippe V (petit-fils de Louis XIV). C'est d'ailleurs à cette même Elisabeth que le Farnese Blue est offert par les Philippines. Son précédent propriétaire – le Conte de Villafranca – était l'arrière grand-père de son mari, le roi Philippe V.
The Duchy of Parma was created in 1545 by the Emperor Charles V for Pierre-Louis Farnese, the natural son of Pope Paul III. Until 1731, the duchy remained in direct line of descent thanks to the male births of the family. At this time, the duchy is transmitted to Elisabeth Farnese, who married in 1714 the King of Spain Philip V (grandson of Louis XIV). It is also to this same Elisabeth that the Farnese Blue is offered by the Philippines. His previous owner – the Count of Villafranca – was the great-grandfather of his husband, King Philip V.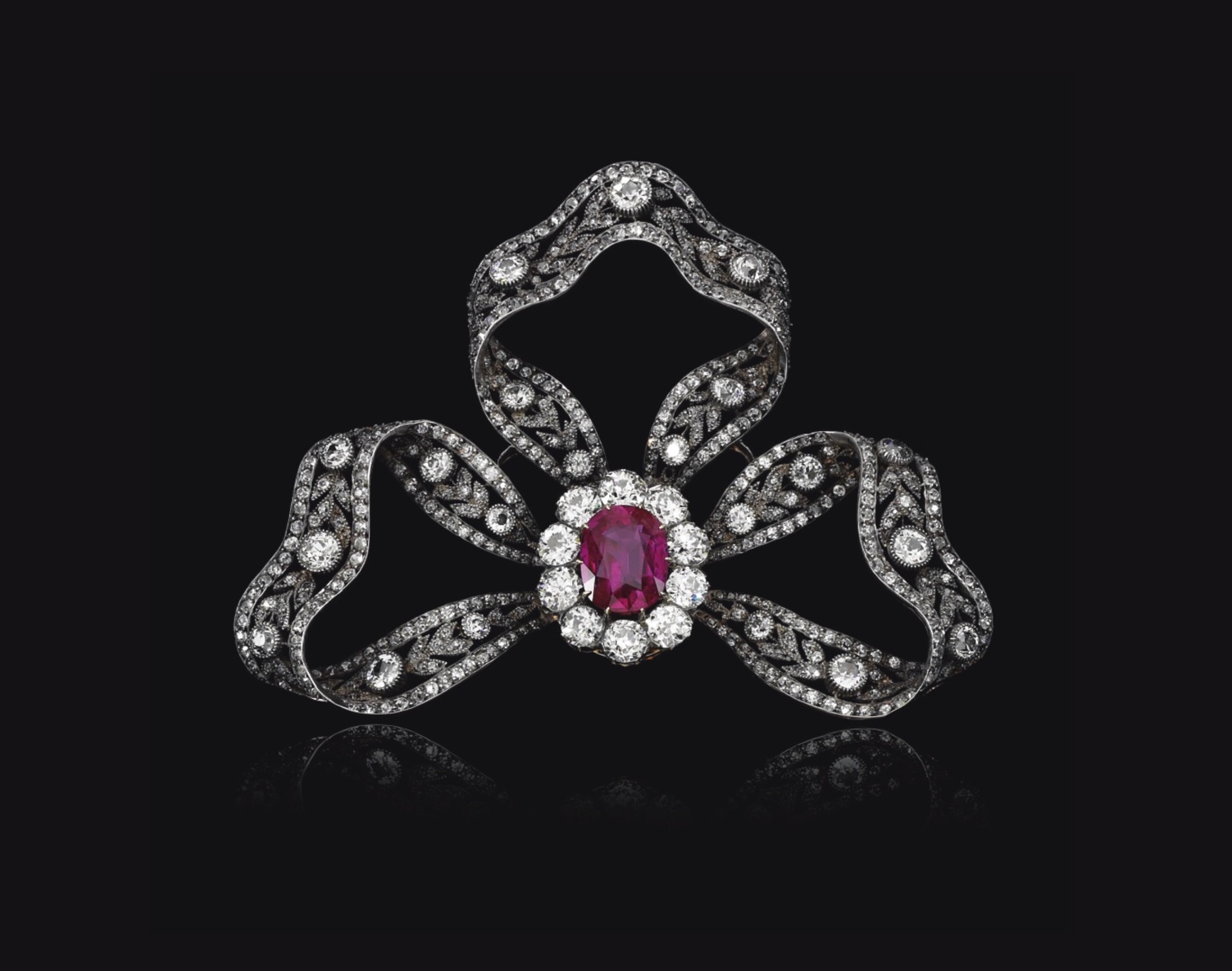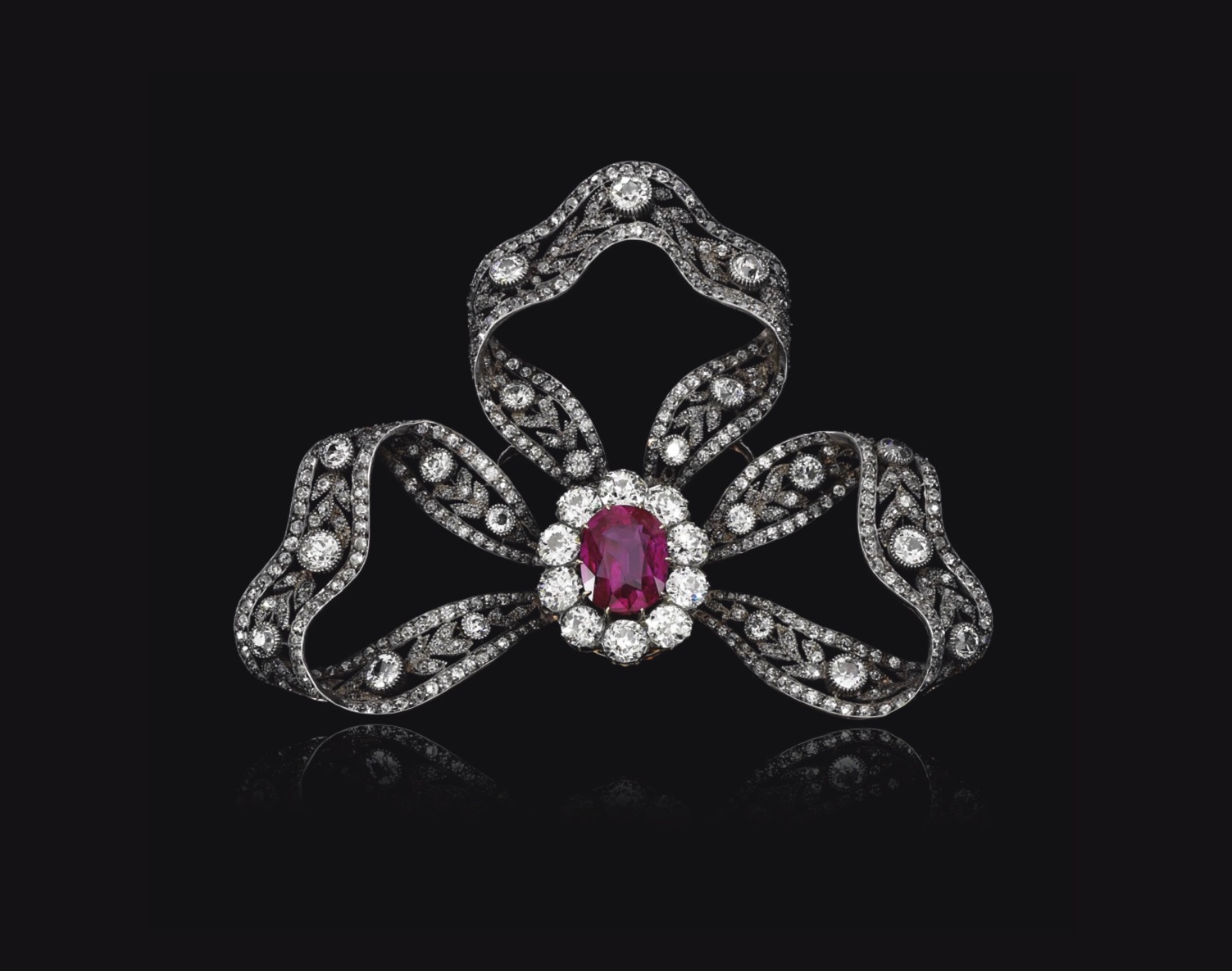 Lot 80 : broche / Ornement de cheveux en argent, or, diamants et rubis de 6,89 carats certifié Birman et non traité par le SSEF. Vers 1900 dans un écrin de la maison Bachruch. Ce bijou fut offert par l'Archiduc Frédéric d'Autriche à sa fille, l'Archiduchesse Marie-Anne d'Autriche, Princesse Élie de Bourbon-Parme, lors de la naissance de son fils – Charles – en 1905. Estimation entre 200,000 et 300,000 CHF. Brooch /Hair ornament in silver, gold, diamonds and a 6.89 carats ruby certified Burmese and not treated by the SSEF. Circa 1900 in a fitted-case of the Bachruch house. This jewel was gifted by the Archduke Frederick of Austria to his daughter, Archduchess Marie-Anne of Austria, Princess Elie of Bourbon-Parma, at the birth of her son – Charles – in 1905. Estimate between CHF 200-300k. Photo : Sotheby's
Leur fils – Charles – aurait du devenir le Roi des Deux-Siciles mais il perd le Duché de Parme au profit de l'Empereur Francis I. Il faut attendre 1748 pour que Philippe, le frère de Charles, retrouve pleinement ses droits sur le Duché. Celui-ci épouse en 1739 Madame Henriette, la fille de Louis XV et en 1749 il initie alors pleinement la naissance de la maison et de la lignée Bourbon-Parme.
Their son – Charles – should have become the King of the Two Sicilies but he loses the Duchy of Parma for the benefit of Emperor Francis I. It was not until 1748 that Philip, Charles's brother, fully recovered his rights in the Duchy . He married in 1739 Madame Henriette, the daughter of Louis XV and in 1749 he then fully initiates the birth the Bourbon-Parma lineage.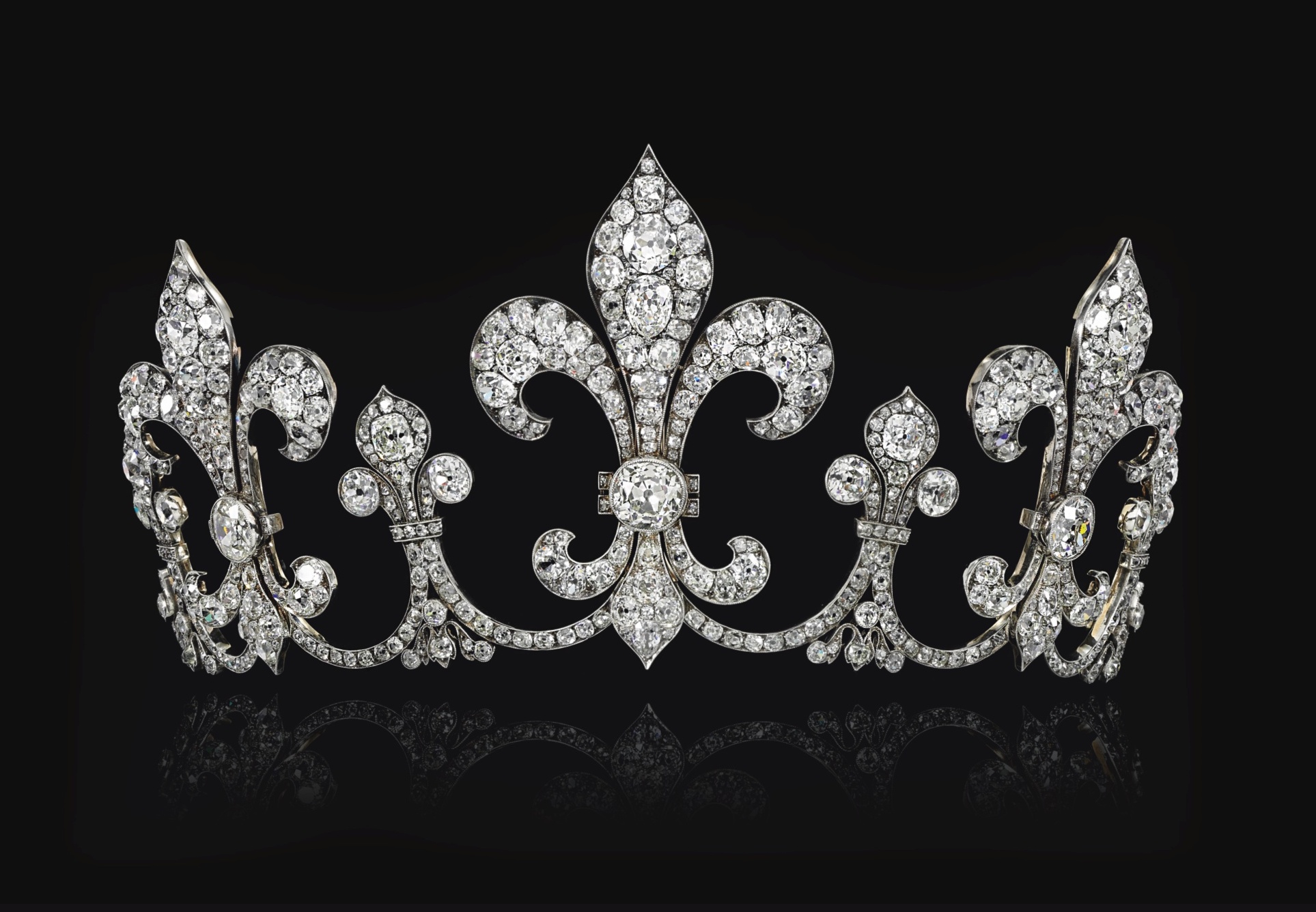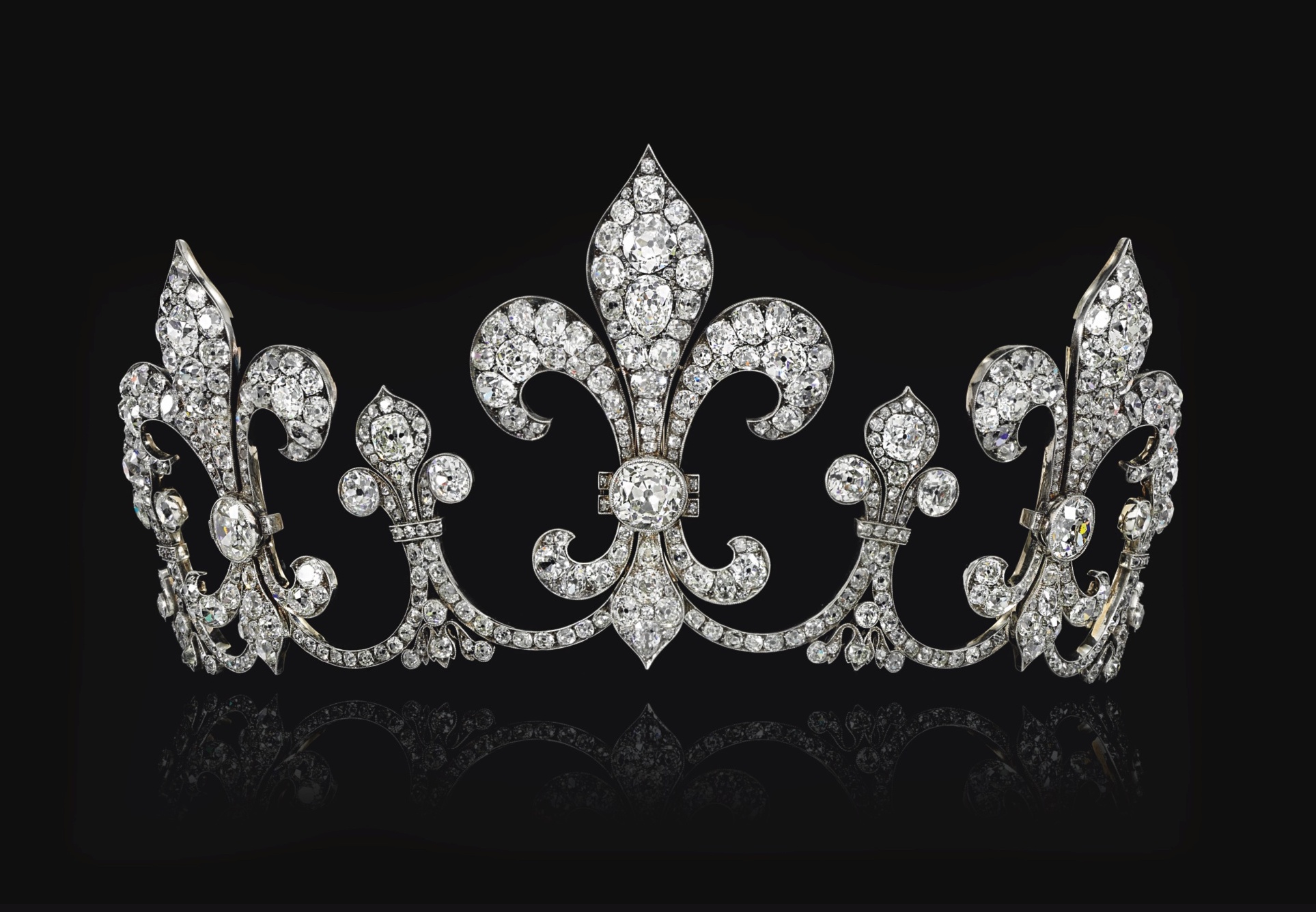 Lot 88 : Tiare en or, argent et diamants provenant de chez Hübner en 1912. Les diamants de ce bijou proviennent d'une plaque de l'Ordre du Saint-Esprit qui appartenait au Roi de France, Charles X, et vendue sous le numéro 85 dans le même catalogue. Il existe une photo de Marie-Anne de Bourbon-Parme portant cette tiare en 1913. Estimation entre 350,000 et 550,000  CHF. Tiara in gold, silver and diamonds from Hübner in 1912. The diamonds of this jewel come from a plaque of the Order of the Holy Spirit that belonged to the King of France, Charles X, and sold under the number 85 in the same catalog. There is a photo of Marie-Anne de Bourbon-Parme wearing this tiara in 1913. Estimate between CHF 350-550k. Photo : Sotheby's
En 1849, une princesse française devient Duchesse de Parme. Louise d'Artois, future épouse du Duc Charles III, héritera en 1851 d'un tiers de la collection de bijoux de sa tante : Marie-Thérèse de France, Duchesse d'Angoulème dite « Madame Royale » et fille de Marie-Antoinette. Le reste de la collection ira au Comte et à la Comtesse de Chambord. C'est ainsi que débute la collection Bourbon-Parme qui se verra enrichit au cours de la fin du XIXe et du XXe siècle par des corbeilles de mariages successives. La seule descendance actuelle est celle issue du mariage du Prince Elie de Bourbon-Parme avec Marie-Anne de Habsbourg-Lorraine.
In 1849, a French princess became Duchess of Parma. Louise d'Artois, future wife of the Duke Charles III, inherit in 1851 one third of the collection of jewelry of her aunt : Marie-Thérèse of France, Duchess of Angoulème known as « Madame Royale » and daughter of Marie-Antoinette. The rest of the collection will go to the Count and the Countess of Chambord. Thus begins the collection Bourbon-Parma which will be enriched during the late nineteenth and twentieth century with successive wedding gift baskets. The only current descent is that resulting from the marriage of Prince Elie of Bourbon-Parma with Marie-Anne of Habsbourg-Lorraine.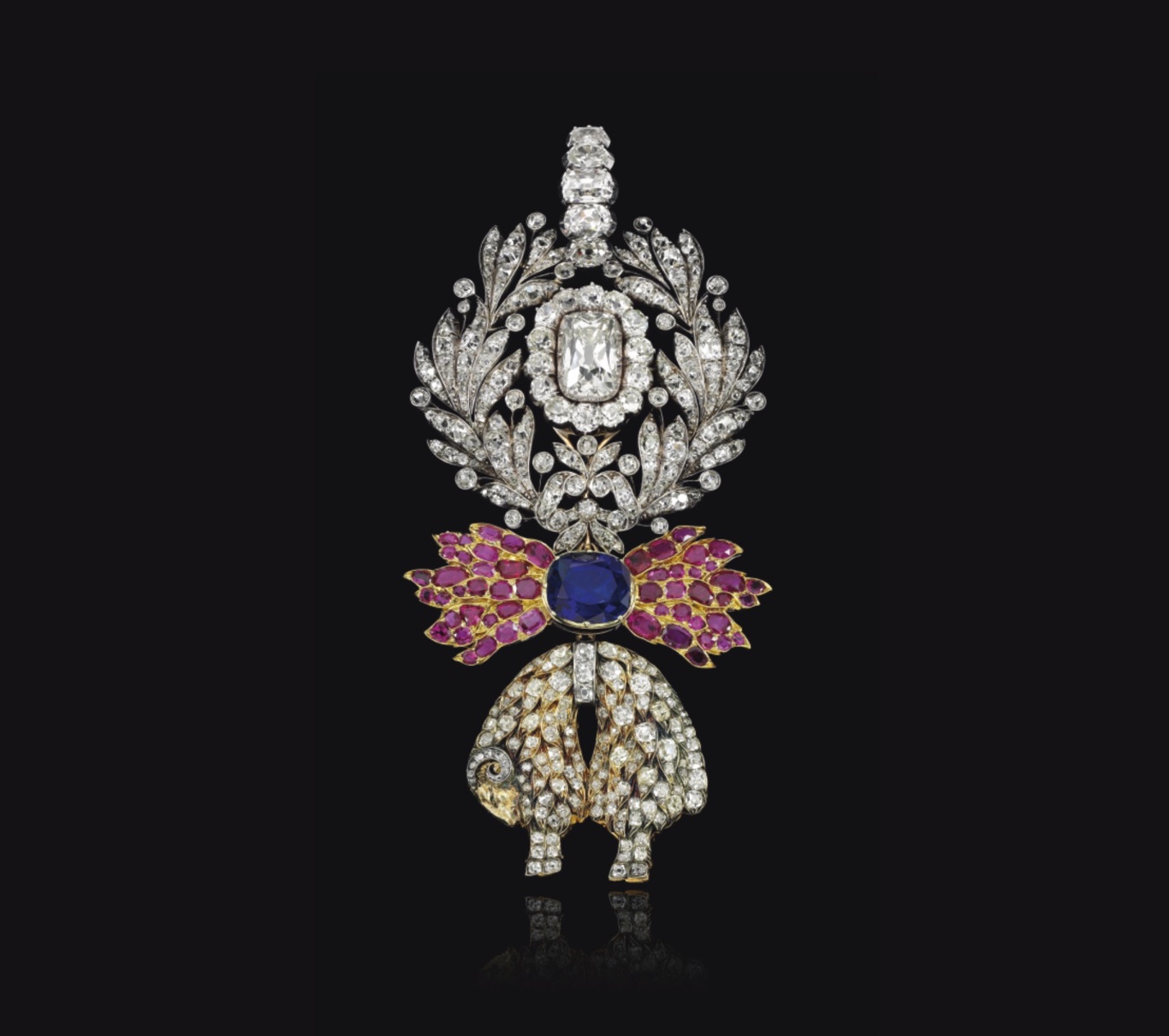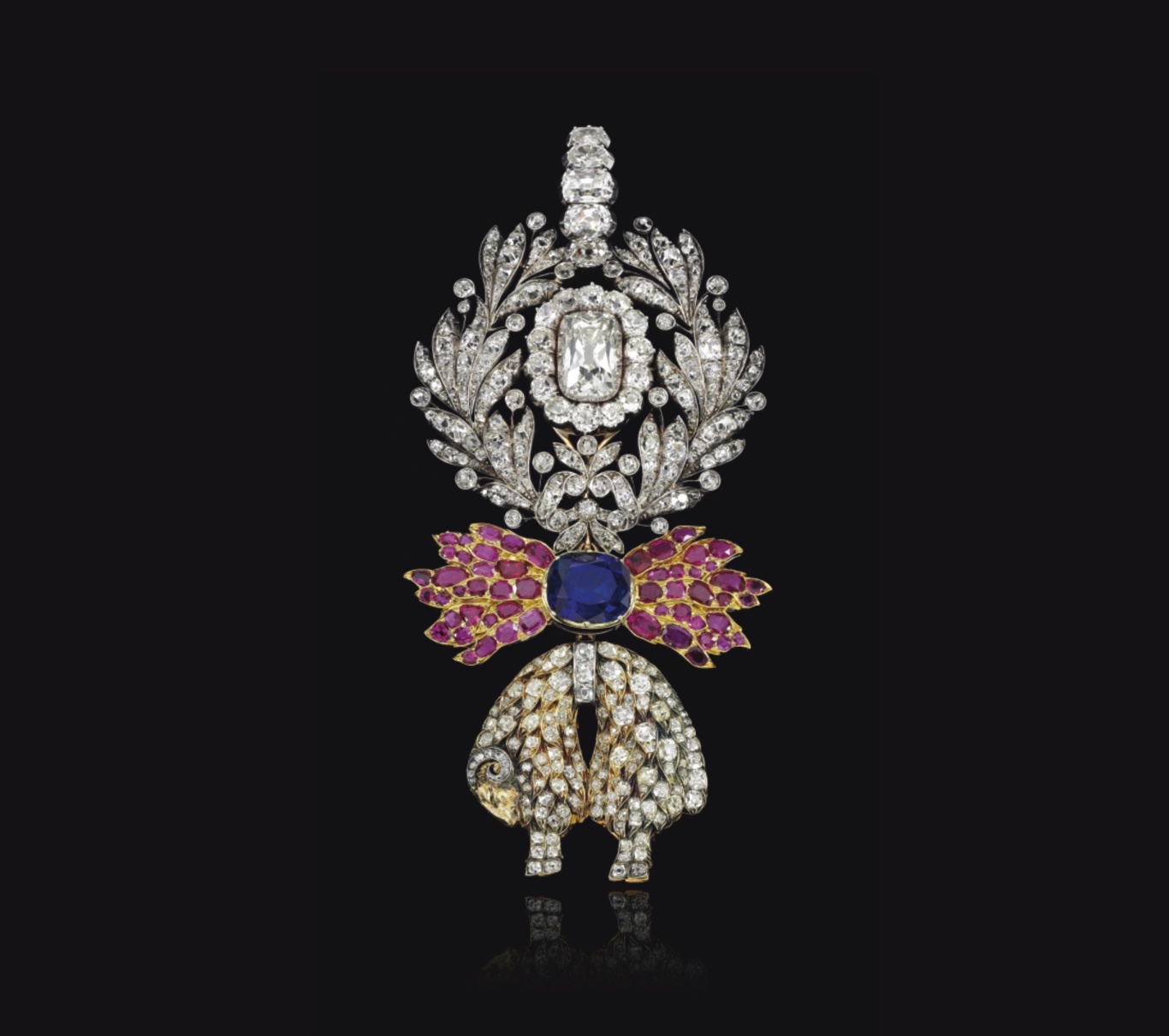 Lot 90 : ordre de la Toison d'or en or et argent, diamants, rubis et centre saphir du Sri Lanka non traité de 8,90 carats certifié par le SSEF. Réalisé vers 1820,il provient de Louis-Antoine de Bourbon, Duc d'Angoulême and Comte de Marnes (1775-1844), le plus jeune fils de Charles X qui fut également Grand Amiral de France entre 1814 et 1830. Estimation entre 300,000 et 400,000 CHF. Order of the Golden Fleece in gold-and-silver, diamonds, rubies and central sapphire certified from Ceylon and untreated by the SSEF. Made around 1820, it comes from Louis-Antoine de Bourbon, Duke of Angoulême and Earl of Marnes (1775-1844), the youngest son of Charles X who was also Grand Admiral of France between 1814 and 1830. Estimate between CHF 300-400k. Photo : Sotheby's
*****
« Ma cassette contenant mes diamants et perles et bijoux et l'Etui de ceux qu'elle renferme et de ceux déposés au trésor Impérial de Vienne…sera remise à mes exécuteurs testamentaires tout de suite après ma mort. Mes diamants et perles seront divisés en 3 entre mes neveux Henri, Louise et Marie-Thérèse »

« My cassette containing my diamonds and pearls and jewels and the case of those which it contains and those deposited with the Imperial Treasury of Vienna… will be handed over to my executors immediately after my death. My diamonds and pearls will be divided into 3 between my nephews Henri, Louise and Marie-Thérèse »
Marie-Thérèse de France

*****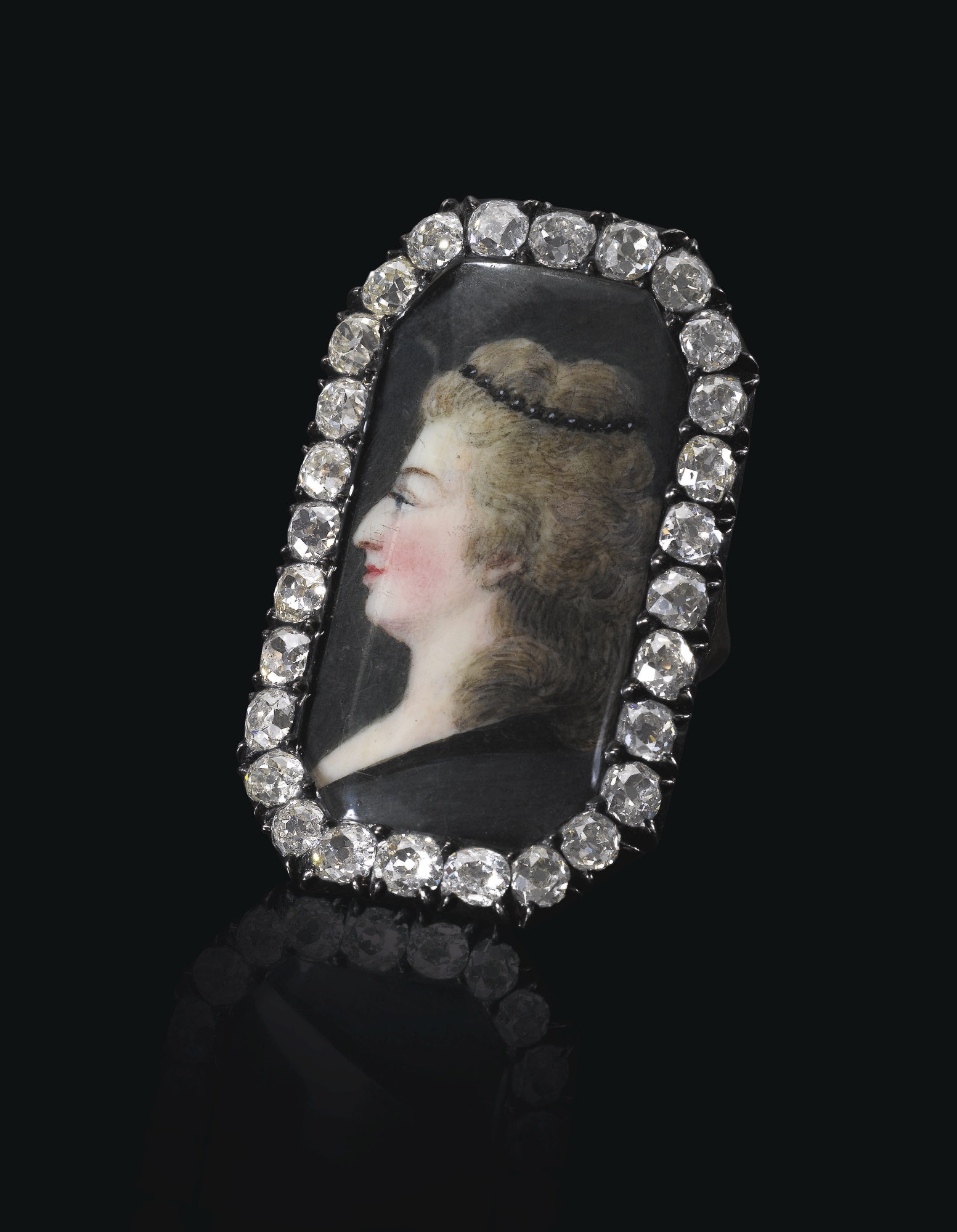 Lot 91 : bague en or et argent, diamants et miniature représentant la Reine Marie-Antoinette datant de la fin de XVIIIe siècle. Elle fut transmise à Madame Royale, puis à Louise de France, puis à Robert I Duc de Parme. Elle etait conservée dans les bijoux de Marie-Anne de Bourbon-Parme. Estimation entre 8000 et 12,000 CHF.

Gold and silver ring, diamonds and miniature representing Queen Marie Antoinette dating from the late eighteenth century. It was transmitted to Madame Royale, then to Louise of France, then to Robert I Duke of Parma. It was kept by Marie-Anne de Bourbon-Parma. Estimated between CHF 8-12k.

Photo : Sotheby's
2- La collection : des pièces historiques rares / The Collection : magnificent historic jewels
L'ensemble proposé chez Sotheby's inclue des décorations à l'image de l'Ordre de Saint-Louis, l'Ordre de Saint-Georges, l'Ordre de la Maison Royale de Roumanie, l'Ordre de la Toison d'Or ou encore l'Ordre de Saint-James. Ces différentes décorations témoignent de l'intérêt militaire de la famille mais également de son implication dans la vie politique et publique des pays dans lesquels elle fut présente. Mais seront également proposées des bijoux provenant de la caissette de Marie-Anne d'Autriche et de Hongrie, de celle de Charles-Louis Ferdinand d'Artois, de celle de Louis-Antoine de Bourbon et bien sur, la collection de Marie-Antoinette.
The set proposed at Sotheby's includes decorations in the image of the Order of St. Louis, the Order of St. George, the Order of the Royal House of Romania, the Order of the Golden Fleece or still the Order of St. James. These different decorations reflect the military interest of the family but also its involvement in the political and public life of the countries in which it was present. But will also be offered jewelry from the box of Marie-Anne of Austria and Hungary, that of Charles-Louis Ferdinand d'Artois, that of Louis-Antoine de Bourbon and of course, the collection of Marie Antoinette .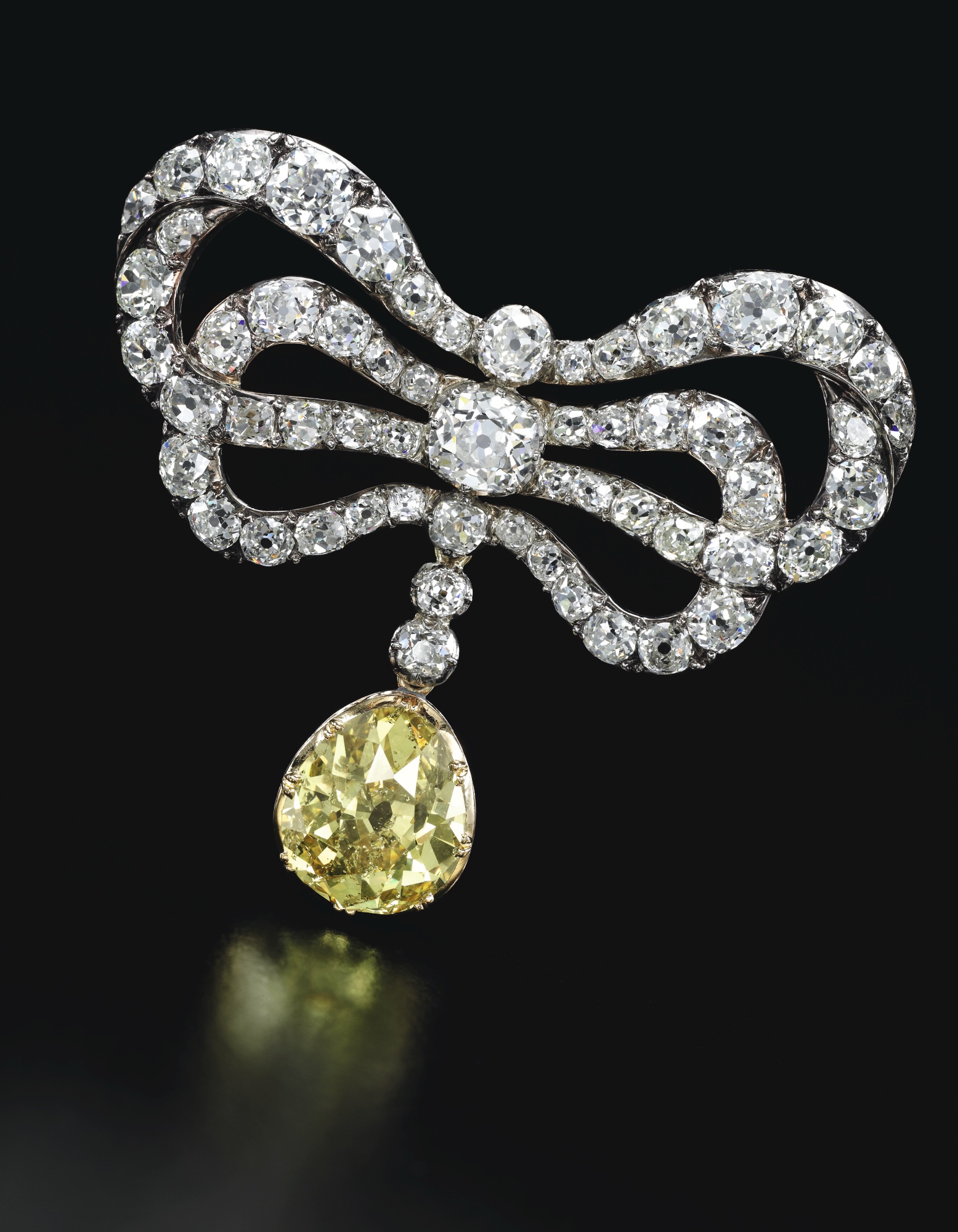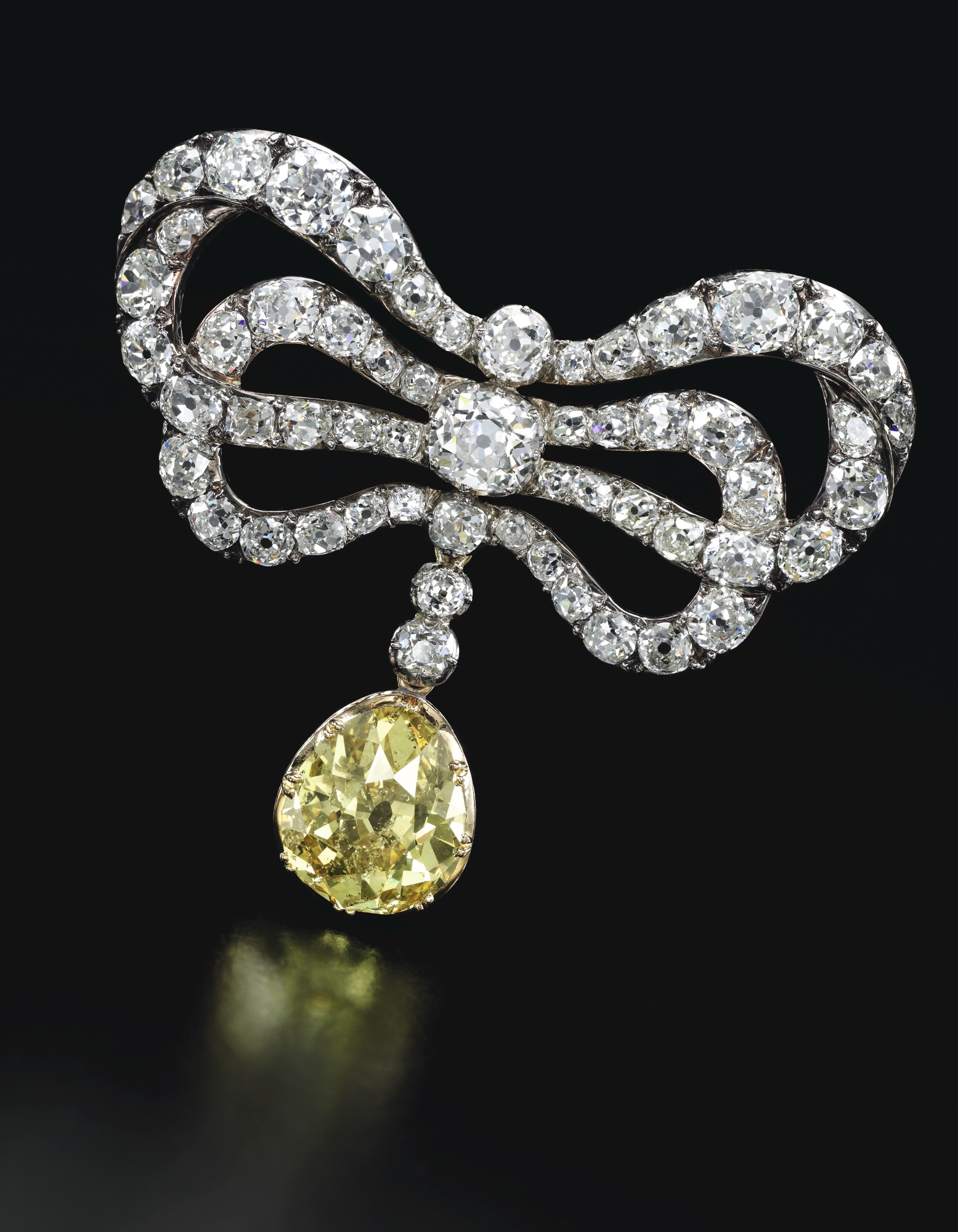 Lot 95 : broche en diamant de la deuxième moitié du XVIIIe siècle. En provenane de la reine Marie-Antoinette, listée dans l'inventaire de Marie-Anne de Bourbon-Parme. Estimation entre 50,000 et 80,000 CHF. Diamond brooch of the second half of the 18th century. Originally from Queen Marie Antoinette, listed in the inventory of Marie-Anne de Bourbon-Parma. Estimate between CHF 50-80k. Photo : Sotheby's
*****
« Sa Majesté s'était établie avec moi dans un cabinet d'entresol donnant sur le jardin des Tuileries, et nous emballâmes dans une petite caisse tout ce qu'elle possédait en diamants, rubis et perles »

« Her Majesty had settled down with me in a mezzanine closet overlooking the Tuileries Gardens, and we packed into a small box everything she possessed of diamonds, rubies, and pearls. »

Mme Campan dans ses mémoires
*****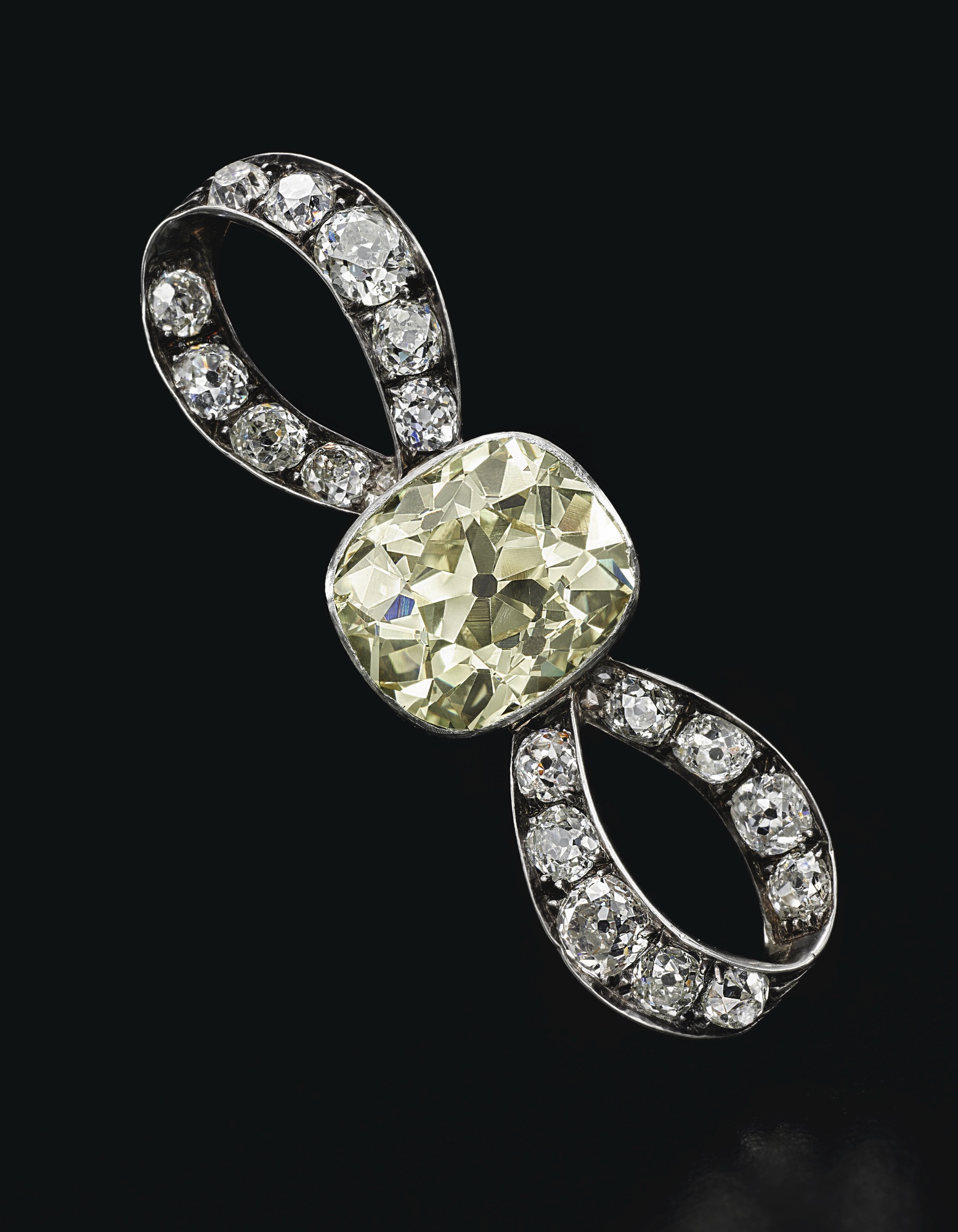 Lot 96 : broche en or, argent et diamants de la fin du XIXe siècle. Offert à Marie-Anne d'Autriche par Robert I Duc de Parme à l'occasion de ses fiancailles avec le Prince Elie de Bourbon-Parme. La tradition familliale veut que les diamants proviennent de Marie-Antoinette mais il n'existe pas d'écrits le confirmant. Estimation entre 95,000 et 140,000 CHF.

Brooch made of gold, silver and diamonds from the end of the 19th century. Offered to Marie-Anne of Austria by Robert I Duke of Parma on the occasion of her engagement with Prince Elie of Bourbon-Parma. The family tradition says that the diamonds come from Marie-Antoinette but there are no writings confirming it. Estimate between CHF 95-140k.

Photo : Sotheby's
En 1791, les bijoux de celle qui décédera moins de deux ans plus tard quitteront la France pour la Belgique et plus précisément Bruxelles où sa sœur l'Archiduchesse Marie-Christine est Gouverneur. Puis les bijoux iront ensuite à Vienne grâce au Comte de Mercy Argenteau et enfin à Madame Royale qui en héritera à sa libération de la Tour du Temple en 1795.
In 1791, the jewels of the one who died less than two years later will leave France for Belgium and more precisely Brussels where her sister Archiduchess Marie-Christine is Governor. Then the jewels will then go to Vienna thanks to the Count of Mercy Argenteau and finally to Madame Royale who will inherit it at its liberation from the Tower of the Temple in 1795.
 » Vous recevrez, monsieur le comte, une cassette à moi vers la fin du mois. Je vous prierais de me la garder, et, si vous quittiez Bruxelles, vous la remettrez à ma sœur pour moi »

« You will receive, Monsieur le Comte, a cassette for me at the end of the month, I beg you to keep it for me, and if you leave Brussels, you will give it to my sister for me. »

Marie-Antoinette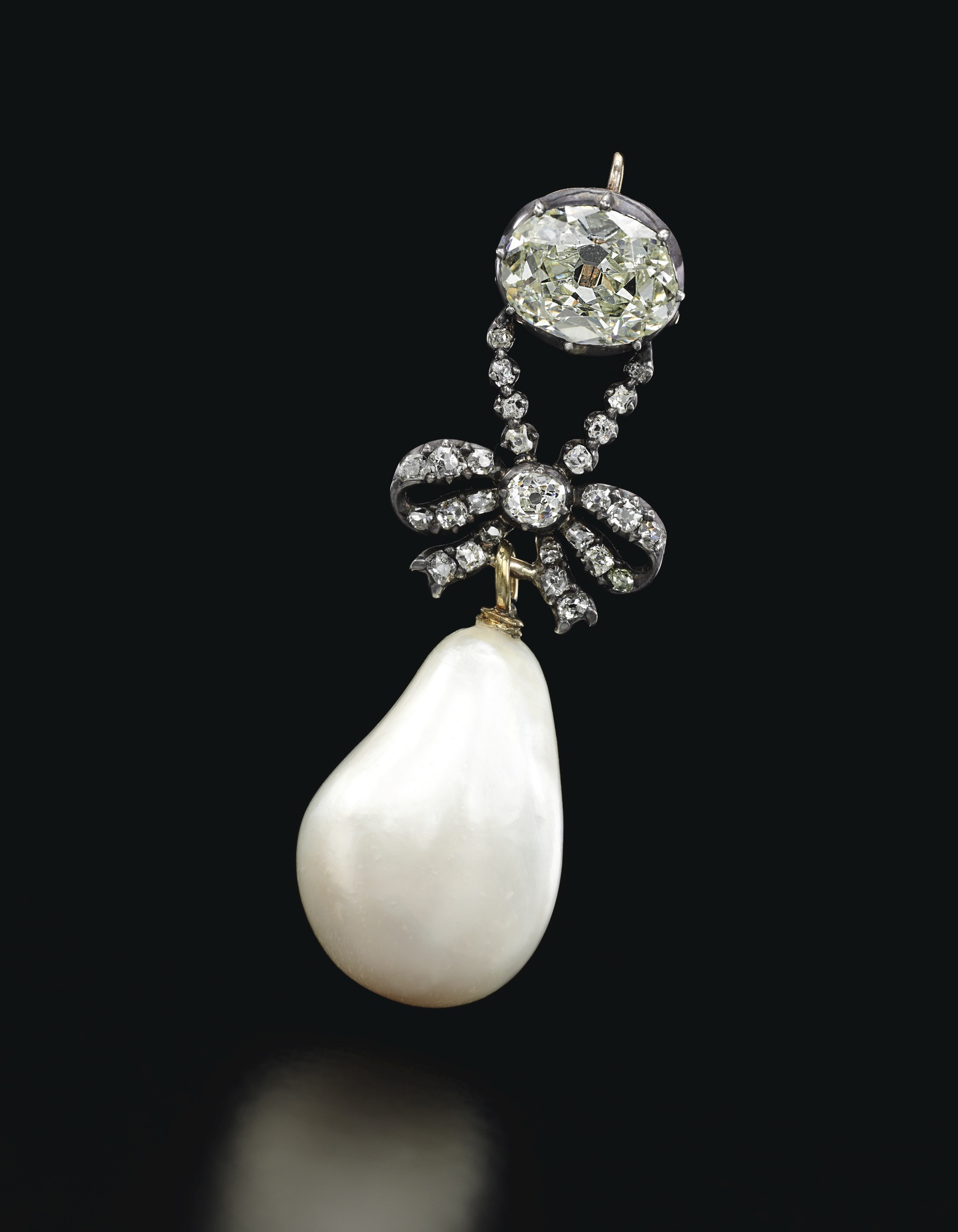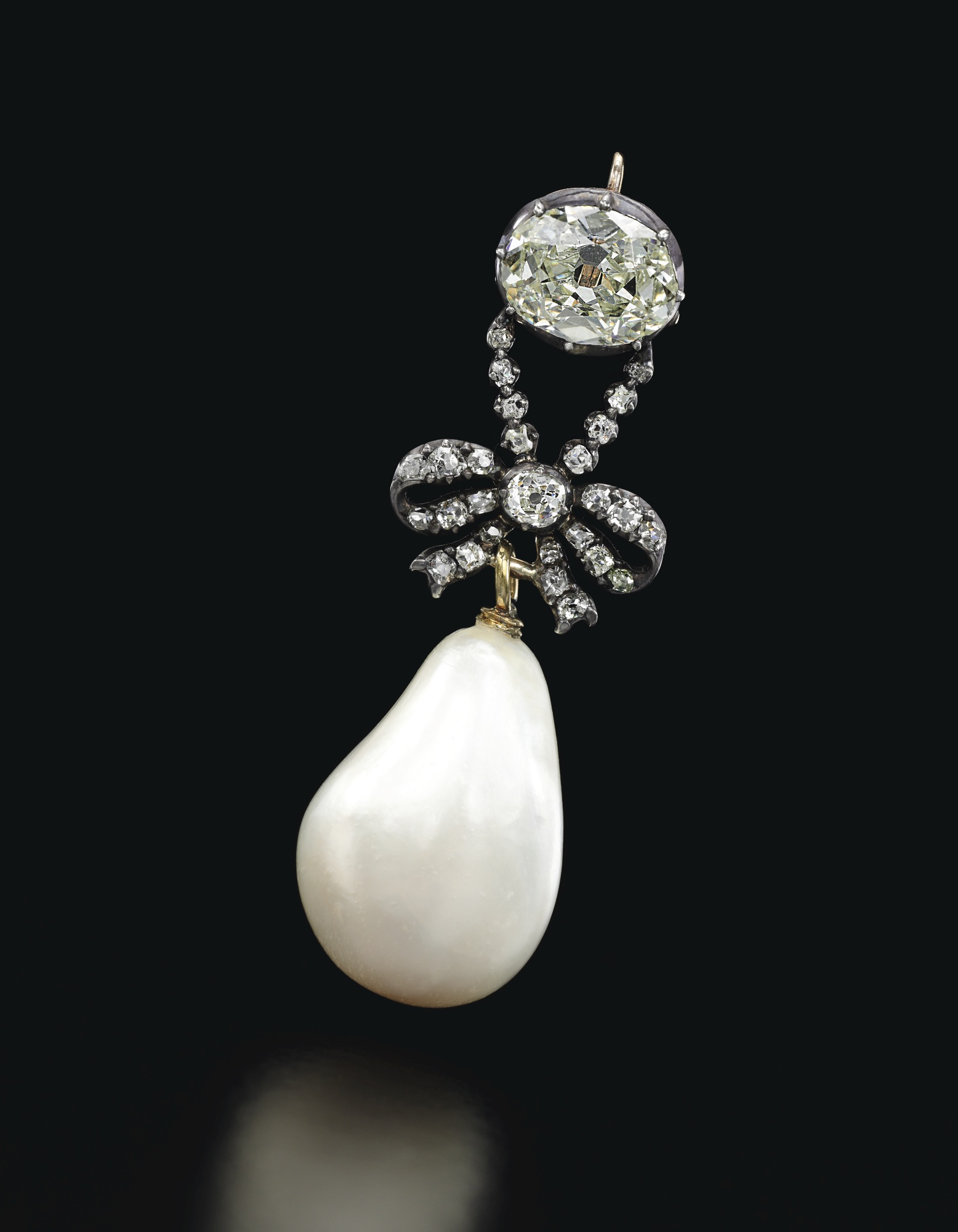 Lot 100 : Important pendentif en or et argent, diamants et exceptionnelle perle fine datant du XVIIIe siècle. Provenant de Marie-Antoinette, il est listé dans l'inventaire Marie-Anne de Bourbon-Parme. Il existe un tableau de Prosper Raffi représentant en 1849 la Duchesse de Parme et ses enfants sur lequel elle arbore ce bijou. Ce tableau est conservé au Domaine de Chambord. La Reine Marie-Antoinette portait ce bijou dans un important collier de perles fines (lot 97). Estimation entre 1 et 2 milions de CHF. Important pendant in gold and silver, diamonds and exceptional fine pearl dating from the eighteenth century. From Marie-Antoinette, it is listed in the inventory Marie-Anne de Bourbon-Parma. There is a painting of Prosper Raffi representing in 1849 the Duchess of Parma and her children on which she wears this jewel. This painting is kept at Domaine de Chambord. Queen Marie-Antoinette wore this jewel in a large necklace of fine pearls (lot 97). Estimate between 1 and 2 million CHF. Photo : Sotheby's
Aussi, il vous est indispensable – si vous le pouvez – de faire le déplacement à Genève pour aller admirer cette époustouflante collection qui sera dispersée sous peu et donc les prix finaux devraient avoisiner les plus hauts records que l'on puisse espérer. Reste à souhaiter qu'un musée français sera sur les rangs de cette vente historique. Mais les coupes drastiques à la Culture ne laisse pas beaucoup d'espoir. Aussi, on ne peut que souhaiter que ces bijoux trouvent des acquéreur qui sauront les aimer et les respecter pour ce qu'ils véhiculent avec eux. Et peut-être les partager avec le grand public à la faveur d'une grande exposition.
Also, it is essential – if you can – to make the trip to Geneva to admire this breathtaking collection that will be dispersed shortly and so the final prices should be near the highest records that can be expected. It remains to be hoped that a French museum will be on the line of this historic sale. But drastic cuts to Culture do not leave much hope. Also, we can only wish that these jewels find buyers who will know how to love and respect them for what they carry with them. And maybe share them with the general public in favor of a big exhibition.
À bientôt !