Yesterday, as I was looking at the catalogue for the impressive Christmas sale to be held at Tajan in Paris on 15-16 December, I was pleased to discover a very nice "Giardinetti" ring. As I was talking about this upcoming sale on Twitter, I was asked if I could elaborate a little on the history of this type of jewellery and if I could show more examples.
So that's the purpose of this article, to make you better acquainted with these pieces which are not so well known, or at least only by connoisseurs, collectors or lovers of antique jewellery. It should be added that few pieces have survived. These jewels (at least those in good condition and not having undergone hazardous repairs) are therefore quite rare on the market.
The "Giardinetti" or "Little garden" rings (also sold under the English term "Little garden") appeared at the very end of the 17th century but were favoured by elegant women during the 18th century and until the beginning of the 20th century.
During the 18th century, the naturalist theme found favour with goldsmiths. Thus, many pieces with floral or animal motifs (mainly insects) were created. But jewellery made up of flowers and foliage was to have an impressive success: rings, brooches, necklaces but above all bodice ornaments often mounted using the "trembleuse" technique. The motifs, fixed on very fine springs, move to the rhythm of the wearer's breathing and movements. But let's get back to our "Giardinetti" rings.
These pieces often take the form of sprays of flowers and foliage joined by a ribbon, but also of a bouquet of flowers in a small basket. Particularly popular in the middle of the 18th century, they are often made of gold and silver but are sometimes found in Pinchbeck (an alloy based on copper and zinc invented in the 18th century) and strass. As for the stones, most of these pieces are set with rose-cut or 8/8 diamonds, emeralds and rubies. There are also some very finely enamelled pieces.
The designs evolved during the 19th century and also in the 20th and 21st centuries. But the name "Giardinetti" is really reserved for the 18th century pieces.
To conclude this article, a selection of photos allowing you to understand and recognize these pieces.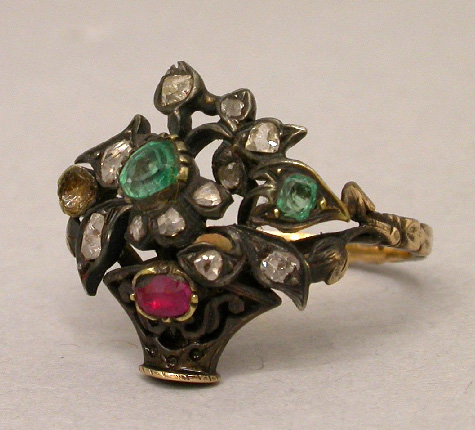 Giardinetti" ring in gold, silver, diamonds, emeralds and rubies, 18th century. Photo: Victoria and Albert Museum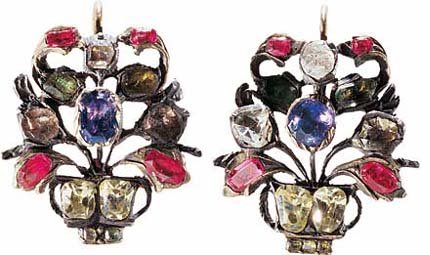 Earrings with a "Giardinetti" design in silver, rubies, diamonds and aquamarines according to the notice of the Musée des Arts Décoratifs, 18th century. Photo: Les Arts Décoratifs – Laurent Sully Jaulmes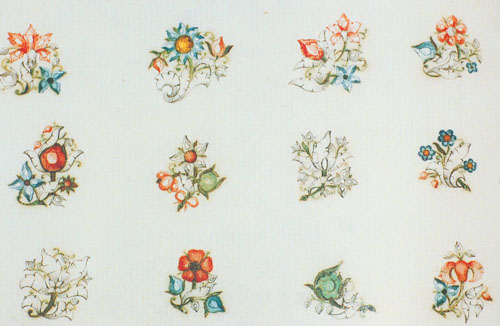 Giardinetti" ring designs by Mr Christian Taute, circa 1750. Photo: Rowan and Rowan, London.
Gold, silver, diamond, ruby and spinel "Giardinetti" ring, circa 1750. Photo: Georgian jewelry
See you soon!