I'm in love with old cases. For a very long time. I've always loved old boxes, made of cardboard, wood or papier-mâché. And then when I started my apprenticeship in Paris, I met antique dealers, art dealers and above all I discovered auctions.
In contact with these people, I became aware of a world that I suspected but did not know its codes well. And I learned. And my passion for old boxes was confirmed. There are several reasons for this. The main one being that these famous boxes tell very beautiful stories. And they also lie. That's a fact. And I feel like a bit of a detective when I try to find out if the box corresponds to the object it contains.
So where to start? Antique boxes are mainly made of two materials: cardboard and wood. The most precious ones are made of wood (sometimes with inlays), with velvet and satin inside. They are preferably marked with the name of the house. In this respect, the old typos are very beautiful. But the most common ones are made of cardboard. In addition, they are sometimes preformed (we speak of shaped cases) to properly accommodate the jewel that needs to be housed inside. Finally, they can be adorned with hot gilding to enhance the manufacture.
There are cases for jewellery, sewing kits, cigarette lighters, silverware, pipes, and sometimes portraits on ivory too… You might as well say that I have many opportunities to see them! Some of them are very old, the oldest ones I have seen date from the 18th century.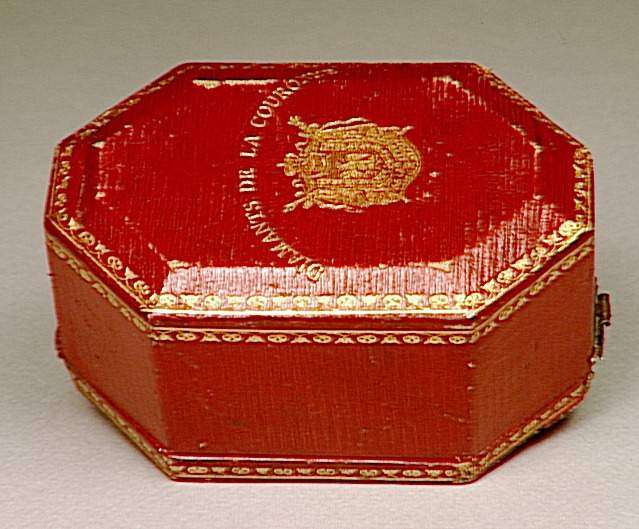 One of the red morocco cases of the "Diamonds of the Crown" kept in the Louvre Museum.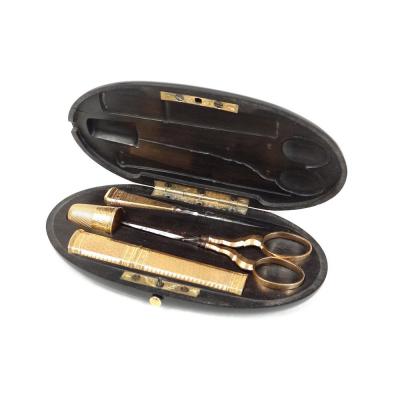 Example of an ebony case to protect a gold sewing kit, 19th century (photo: proantic.com)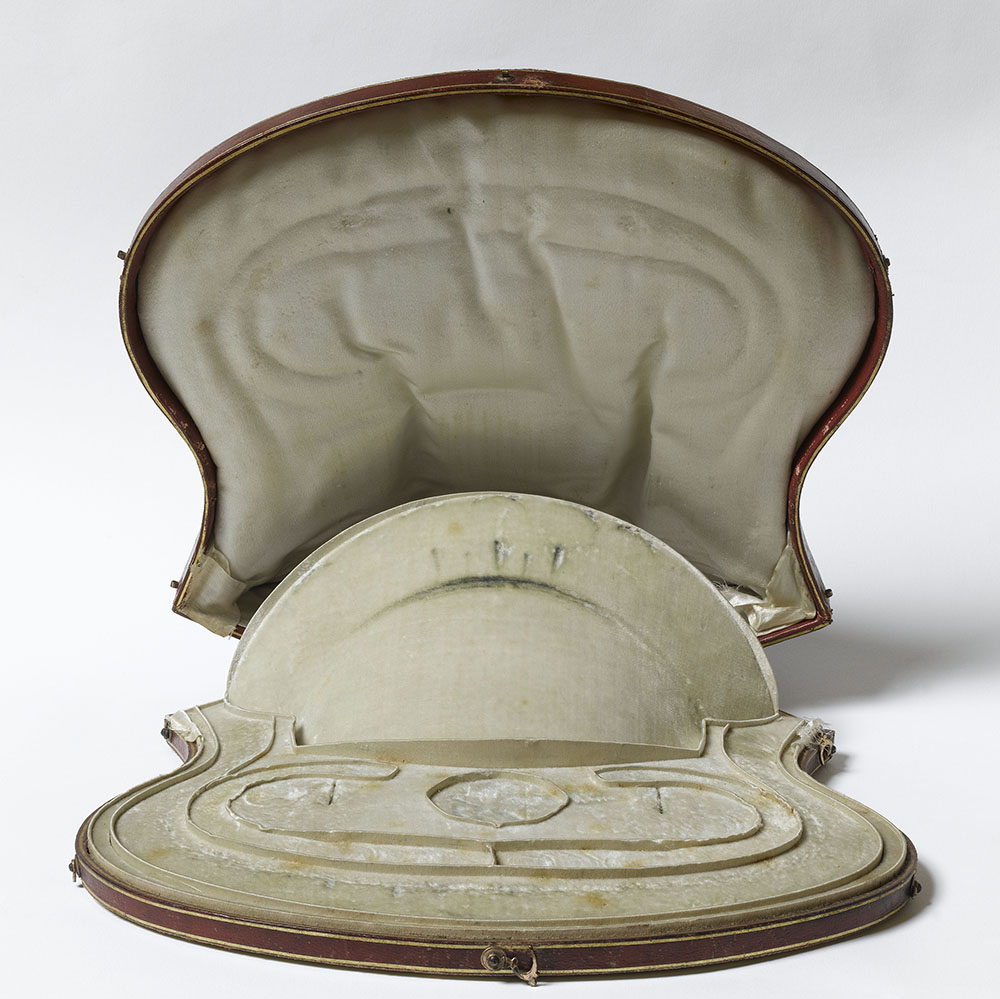 Jewellery case, 19th century, kept at the MN of the Châteaux de Malmaison and Bois-Préau (photo: Gerard Blot)
Lot of antique jewellery cases from the house of Henri Teterger fils. Photo: Millon et associés. Estimated between 50 and 80 €, they sold for 250 €.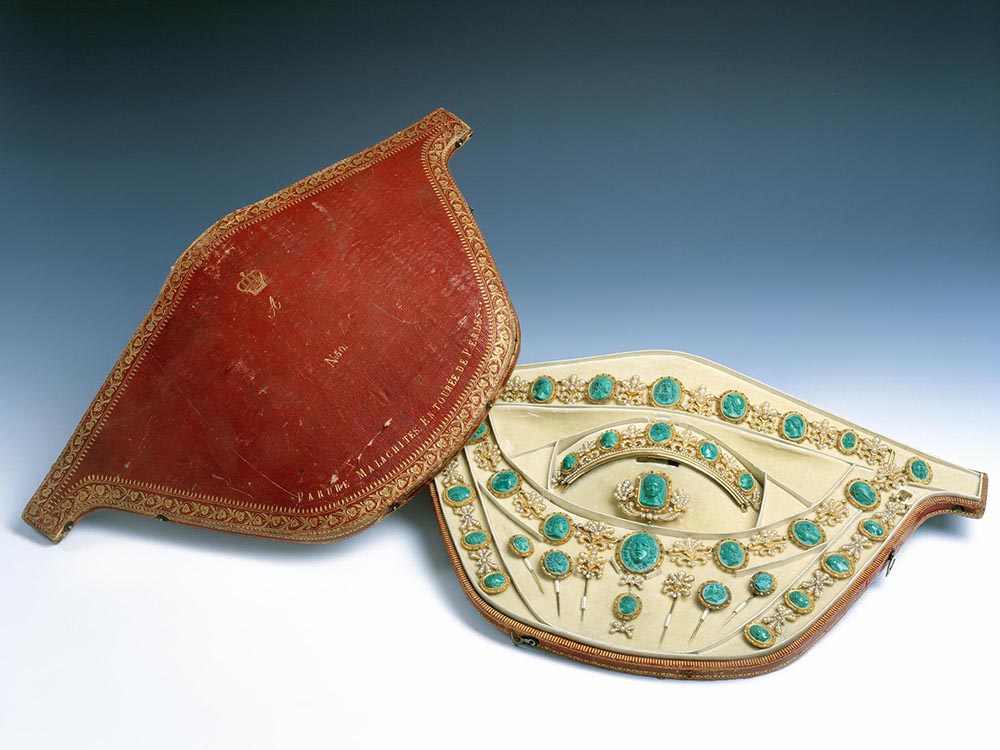 Red morocco case with its malachite set, Lapeyre collection, Paris, Fondation Napoléon. Photo by Patrice Maurin-Berthier
So, to illustrate the problem with antique jewel cases, nothing better than a case seen at a jeweller's a few years ago. It is important to understand one thing, often the cases have been separated from what they originally contained. And most of the time, the boxes have no relation with what they contain. This is not a bad thing, by the way, you just have to know it. A box protects, and if there is one, it is much better.
Moreover, it is common to find lots of cases in the sales at the end of the vacations. Moreover, one sometimes sees in the windows of antique dealers the mention "antique cases are not sold with the pieces". A box has multiple lives!
The opposite effect is that a box that goes with the piece sold gives value. If the box is signed, even better. And if it is in good condition or perfectly restored, it is perfect!
So, to return to our anecdote, this is the story of a pretty late 19th century gold, platinum, diamond and pearl barrette. Kept in a pretty box, the owners wanted to know if the case (a family one, just like the brooch) was original.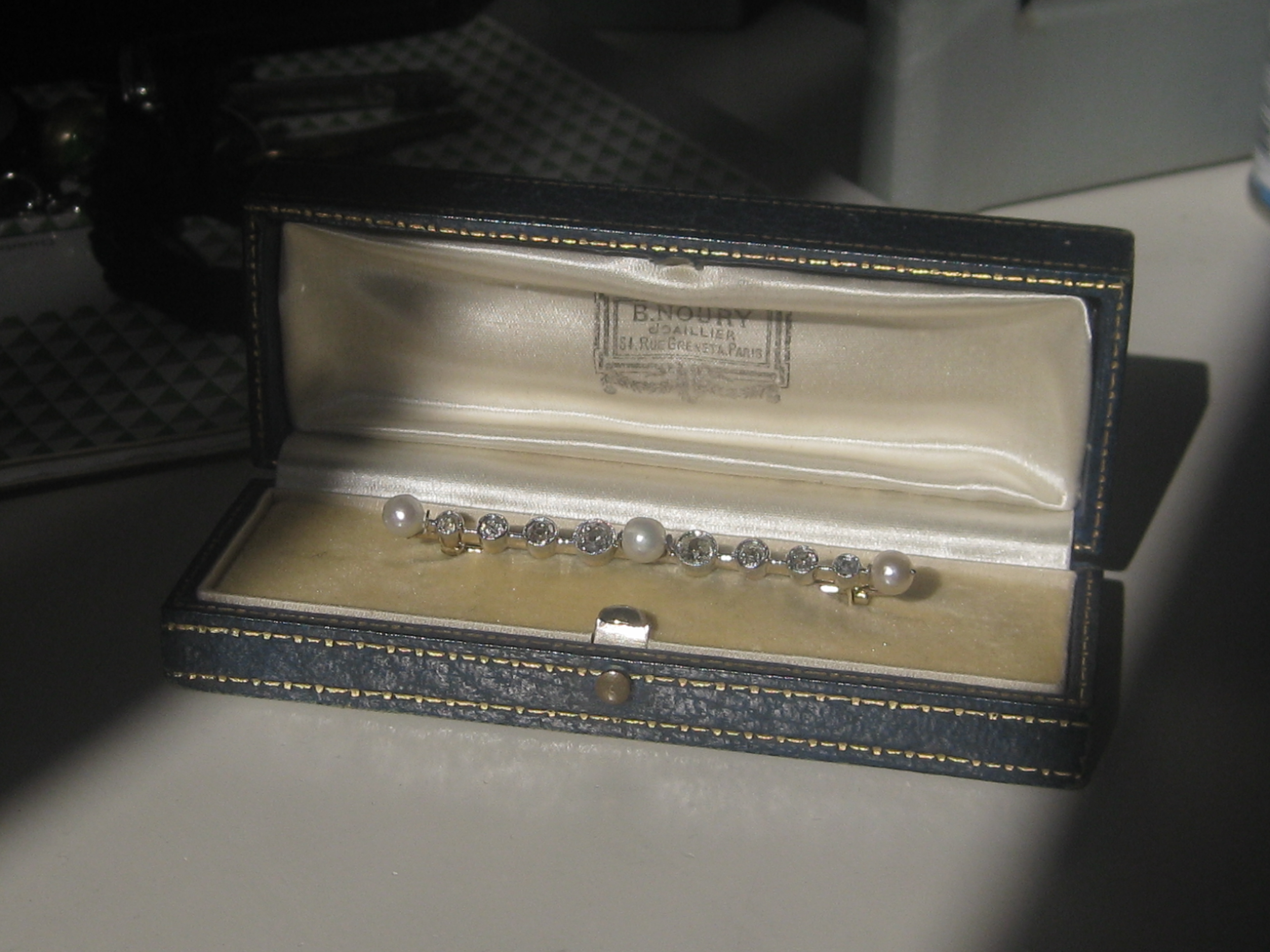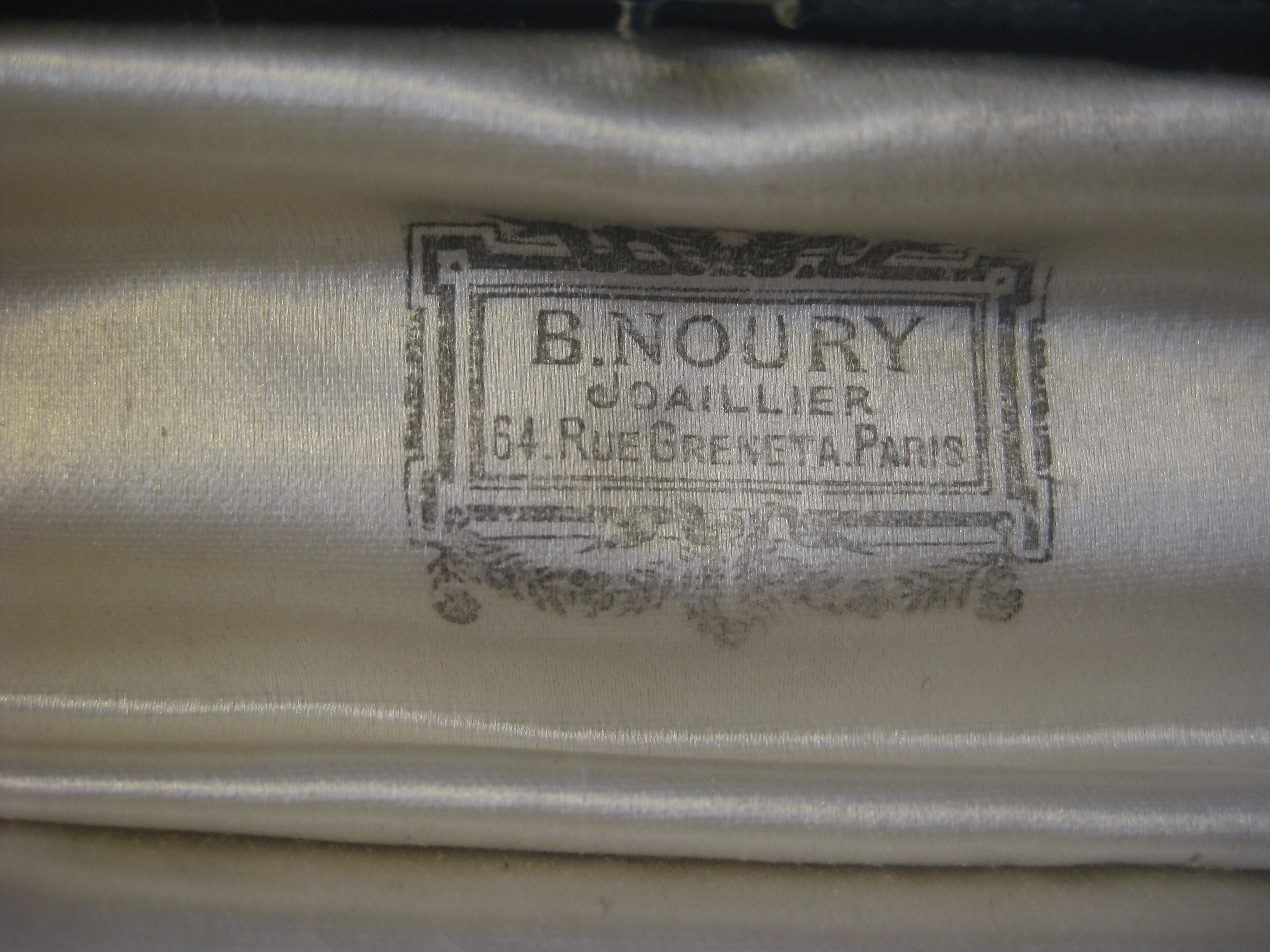 So, by doing some research, our jeweller found the trace of Baptiste Noury, jeweller in Paris at 64, rue Greneta between 1883 and 1898. And he even found a photo of his hallmark "B.N." with a peacock between the two letters.
It must be said that the case is from the time of the brooch and is perfectly adapted to it. Preformed, it enhances the brooch and makes it stand out. It remains to be verified that the brooch comes from Mr. Noury's and here things get more complicated.
On examining the piece, he finds a master stamp on the tail of the brooch. And when he deciphered it, there was no doubt that it bore the initials "E.M." accompanied by a boat. No signature, no serial number, just the hallmark. So he begins a search, hoping to locate the jeweller who corresponds to this hallmark. And he finds it.
The brooch comes from Édouard Masches, jeweller in Paris at 6 rue Pastourelle from 1880 to 1905.
So, be careful, the piece could have been sold at Mr. Noury's, if his shop or workshop distributed Mr. Masches. The jewellers in the room also had "retailers" who sold their creations. But there is no evidence, so this will be for "the legend". The brooch could also have been made by Mr. Masches and delivered by Mr. Noury… In short, with ifs one could bottle Paris!
That's it, in conclusion, I will just say to be careful. Antique boxes are beautiful, they say a lot of things but they also tell stories, nice ones of course, but sometimes they are stitched together!
Nevertheless, I will always be very attached to these beautiful boxes. I would like to point out, by the way, that the manufacture of these objects was entrusted to specialized craftsmen.
See you soon!