As the 4th of July approaches, which is America's bank holidays, I was reminded of an American tradition that in the days leading up to and during that day we wear jewellery that speaks to the love and respect Americans have for their nation. Americans wear jewellery for many occasions and I'll talk about that here. But today I wanted to show you these pieces, which are mostly fancy, mostly beautifully made.
The tradition was established during the Second World War, in the 1940s. Nevertheless, there are some earlier examples, but rather rare. These jewels are symbols of an America proud of its colours. If some motifs are recurrent (U.S.A. acronym, flags, military symbols…), it is especially the presence of the colours of the American flag"Star & Stripes" that makes them recognizable! The materials that make up these pieces are also very diverse: gold-plated metal, Bakelite, rhinestones, resins, glass beads, and sometimes gemstones… I propose you a small tour of these pieces rather nice and – my faith – rather funny!
Brooch representing the flame of the Statue of Liberty. Silver plated metal, enamel and rhinestones, circa 1940, unsigned. Photo: Morning glory antiques.
Remember Pearl Harbour" brooch in silver plated metal and enamel. By Jan Carlin circa 1942. It is known that these brooches were sold by the Honolulu community to raise funds. Photo: Morning glory antiques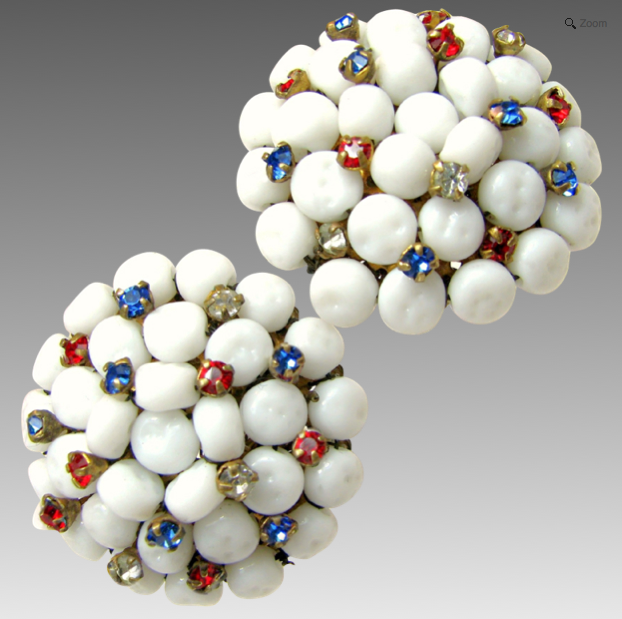 Pair of earrings by Miriam Haskell in gilt metal, glass beads and rhinestones. They date from the 50s and 70s. Photo: Rubylane
Celluloid and rhinestone brooch, circa 1942. Photo: Ellen Willens Antiques
You will find many examples of these pieces in antique shops, auction houses and on the internet. They are not always very expensive pieces, but on the whole they are quite beautiful. Be careful not to confuse old and new pieces.
See you soon!