Buying an object, then a second, a third… Starting a collection without really noticing it. To realize, in front of the accomplished fact, that one possesses objects which are linked by a theme, a manufacture, a raw material. Then to define oneself as a collector.
For some time now, I have been toying with the idea of talking about collectors, Saturday morning bargain hunters, discoverers of treasures, big children rejoicing at their latest find, but also enlightened amateurs. Nevertheless, I had to set some limits to this new section. The most important one being that we remain within the domain of precious objects and the theme of this blog: jewellery, art objects related to jewellery, gems and minerals can therefore be displayed with pride here.
It is therefore with great pleasure that I inaugurate this section with Catherine's collection. You may know her if you are a Twitter follower, Catherine comments and draws the news on her blog: Un dessin par jour. But above all, she collects jewels in pouches, often wears more than ten of them spread over her ten fingers and finally, she talks about them with an unconcealed pleasure. I've known her for a while now and she takes great pleasure in regularly showing me her latest acquisitions and telling me the secrets behind each new discovery. So, a fortnight ago, we had a coffee/lunch together, and Catherine unpacked her treasures and told me stories of travels, nomads, far away countries, souks, spices and also family.
Photo credits for the whole article: The gemologist.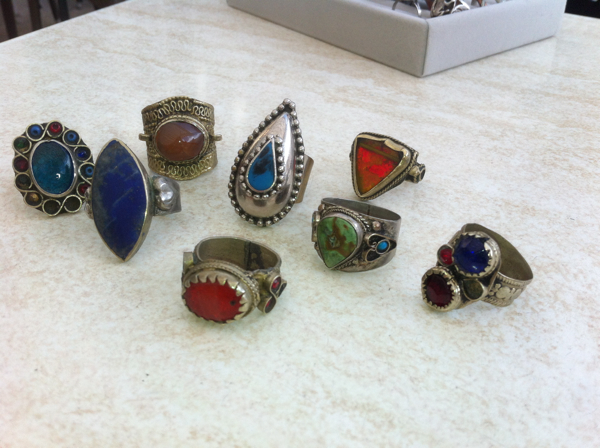 Overview of Baluchi rings. The Baluchi people live between Iran, Afghanistan and Turkmenistan. They are historically semi-nomadic because they are merchants. Thus, the jewels they sell often present a mixture of influences because they are the synthesis of travels and meetings. We will therefore find pearls, enamelled pieces, stones (lapis lazuli, cornelian, turquoise…), plastic elements, which rings will consequently be adapted to the regions where they are to be sold. Silver, brass or bronze are most often used in these pieces.
Catherine explains to me that the rings may have soldering at the bottom of the bodies. Men's rings are never soldered, but a soldering indicates a man's ring given to a woman, as women's rings are never opened. We note the use of pieces of glass, often from the reuse of broken beads. Finally, it should be noted that if the central cabochon of a ring appears high, it is because it often hides a folded paper with prayers underneath. This is certainly the case with the two rings shown in the following photo. Some details about the rings in the first photo:
– The brass ring with a central carnelian cabochon has two rings on either side of it. They indicate a Baluchi manufacture intended for Muslim customers. Indeed, chains were to be connected to a bracelet. This was certainly a wedding ring.
– The ring with a blue glass cabochon surrounded by multicoloured pearls is a Baluchi manufacture intended for the farsi. The "infinity" motif tells us what this ring was made for.
– The ring set with a turquoise and presenting on each side a "heart" motif decorated with a turquoise cabochon indicates Nepalese customers. It is a manufacture rather of the north of India.
The most important thing to remember is that it is the eclecticism of the elements used for the design of the jewellery that characterises the Baluchi style.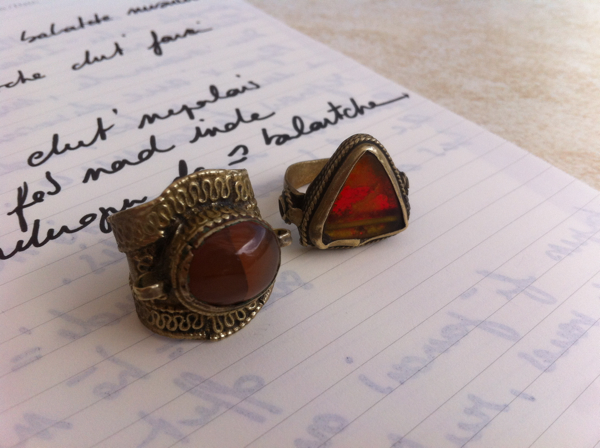 Detail of two Baluchi rings, most probably containing prayers under the cabochons.
This ring is Turkmen, it is a man's ring in silver-plated copper. It is a caravanserai jewel, originally pointed because it was used to guide the animals. It presents typical motifs that one meets on the silk road because one finds elements of different cultures reused on a single piece.
The following rings are a bit particular because of what they represent. Rather typical of Afghanistan, but not always Afghan, they are mostly found in a very particular geographical area: the golden triangle, known for its opium culture. Here, these coins come from the Herat region. Indeed, they represent flowers and poppy buds. There are versions of these coins in which the flowers are in fact tanks that allowed opium to travel. One of the rings has soldered seams, a sign that the elements were mobile. It is sometimes possible to admire versions enriched with gemstones. Very beautiful examples exist in silver. Finally, it should be noted that these are mainly men's rings, and rather ceremonial pieces as they are not very practical to wear on a daily basis.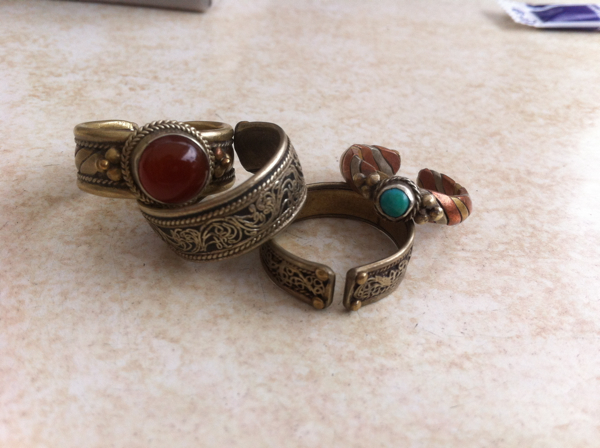 The four rings above are of Nepalese origin. The mixture of materials and metals is characteristic of these productions and the twist with copper is typical. These jewels are very inspired by the Buddhist culture of this people. The colours: blue, green and red are characteristic of jewellery from this region. Let us note, nevertheless, that these pieces are of a North Indian manufacture. And it is here, the manufacture of the settings but also the presence of the three small balls on both sides of the stones which inform us on the origin of these jewels.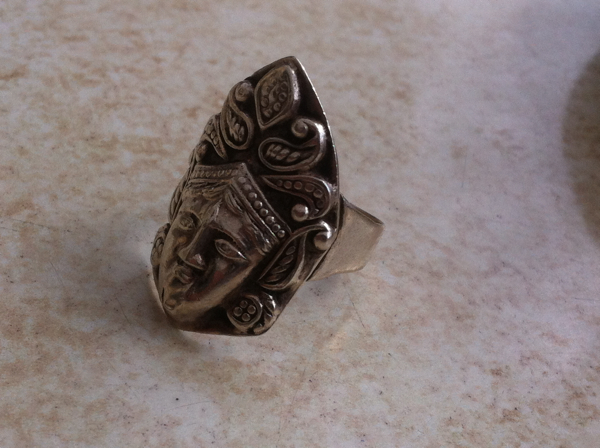 This ring represents a Greco-Buddhist Buddha specific to Afghanistan. It is a modern silver ring of Afghan manufacture. They are commonly sold to tourists and are based on a traditional Afghan design. This ring comes from the region east of Kabul.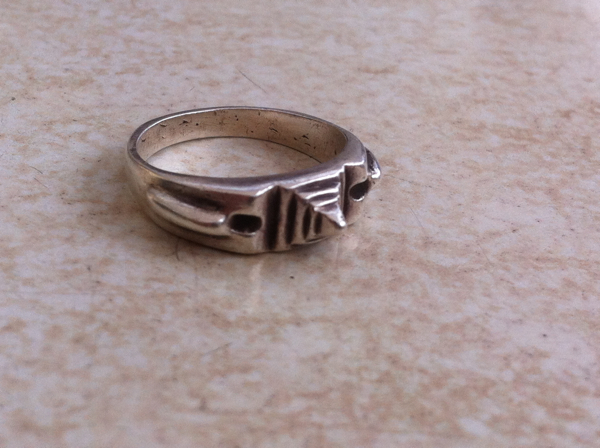 This silver ring comes from Gandhi's region, Gujarat. Ancient, and therefore slightly dull, it represents the organisation of the universe through a cosmogony in the form of a pyramid.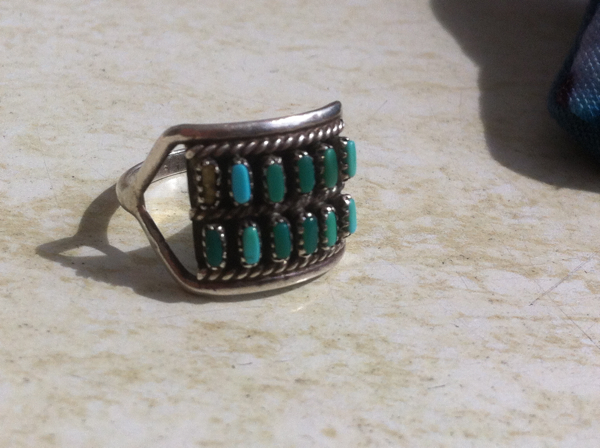 This ring has a funny story. It was bought in Canada, in British Columbia, in a shop run by Salish Indians (Salishan). I should point out, however, that it was not sold as a Salish ring. In reality, it is a silver and turquoise ring of Indian origin (India).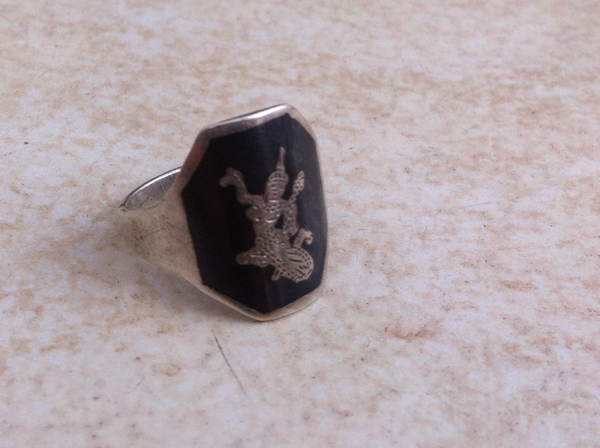 This silver and enamel ring is a family piece. It is a jewel that comes from Thailand and represents a Khmer dancer. Dating from the 40's, this piece comes with a bracelet. It was brought back a long time ago by a friend of her grandmother's whose husband was a soldier in Asia.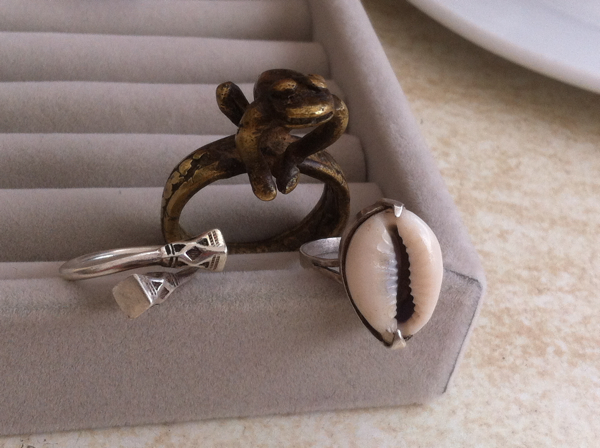 The above pieces have in common that they are of African origin.
– The brass ring represents a frog, the Egyptian form is recognisable here as the frog is shown standing. It is a symbol of fertility. This piece is of Dogon origin, but it is a Sénoufo manufacture. Indeed, the Dogon people do not make their jewellery, they acquire it through trade. Finally, I would like to point out that this is a man's ring.
– The small silver ring, on the left of the photo, is a Fulani jewel. We are in a region with an animist/Muslim culture, therefore very religious, and representations are not tolerated. We will therefore traditionally find geometric shapes on objects. Here, it is a silver ring.
– The last ring, the one on the right, is a piece from the Ivory Coast or Senegal. It is a classic piece from this region made of silver and shell.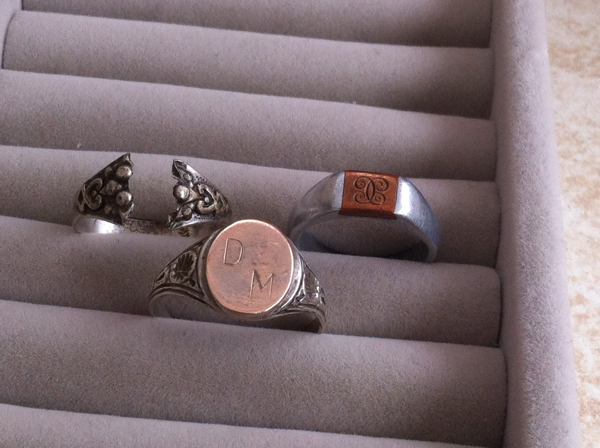 This last photo shows family jewellery, in silver and copper. These are pieces made during and just after the First World War. They were made with pieces of cutlery and salvage, at a time when precious metals were scarce.
I hope that this presentation of Catherine's collection has interested you. If your collection can be included in this section and you wish to talk about it, please contact me.
See you soon!