I have been waiting for this event for several years! Indeed, after having worked far from Paris for a few years, I had not come back to visit the Biennale des Antiquaires for a long time. But now, in 2014, I have the chance to be in Paris and to work there again, it was absolutely impossible to miss this unmissable event of the art and jewellery world. I propose you to leave, through two articles, to the discovery of this Biennale, high in colours and which definitely conquered me!
Thursday September 11, it was 6.30 pm when I finally entered the magnificently restored glass roof of the Grand Palais. This year, the scenography of the event was entrusted to Jacques Grange, a decorator, who imagined a French garden inspired by Versailles under the glass roof. Ponds, water fountains and topiaries of many shapes welcome the visitor, who finds himself projected into a wonderful world with the omnipresent scent of flowers throughout his visit.
For this edition, 15 exhibitors are competing with each other to present exceptional pieces enriched with multicoloured stones and diamonds. Thirteen houses present the new collections of high jewellery and three houses are entirely specialised in antique jewellery.
I start my visit with the house of Piaget, I told you about the new collection of the house Extremely Piaget that I found particularly successful in terms of its simplicity and modernity. The Biennale is an opportunity to discover new pieces, sapphires with intense and luminous blues, Colombian emeralds, opals, rubies and marquise-cut diamonds by the hundreds illuminate the Piaget space. Conquered! I would like to take advantage of these few lines to thank, once again, the house of Piaget for its lovely welcome to its space.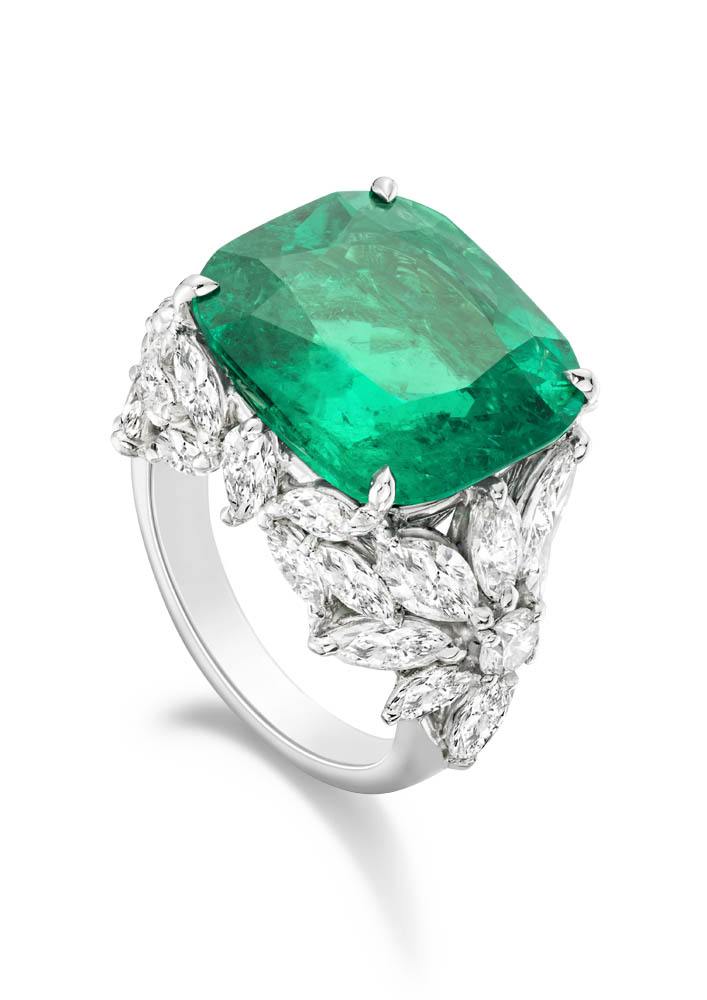 Platinum ring set with a cushion-cut emerald (approx. 11.50 carats), 30 marquise-cut diamonds (approx. 5.40 carats) and 2 brilliant-cut diamonds (approx. 0.32 carat). Photo: Piaget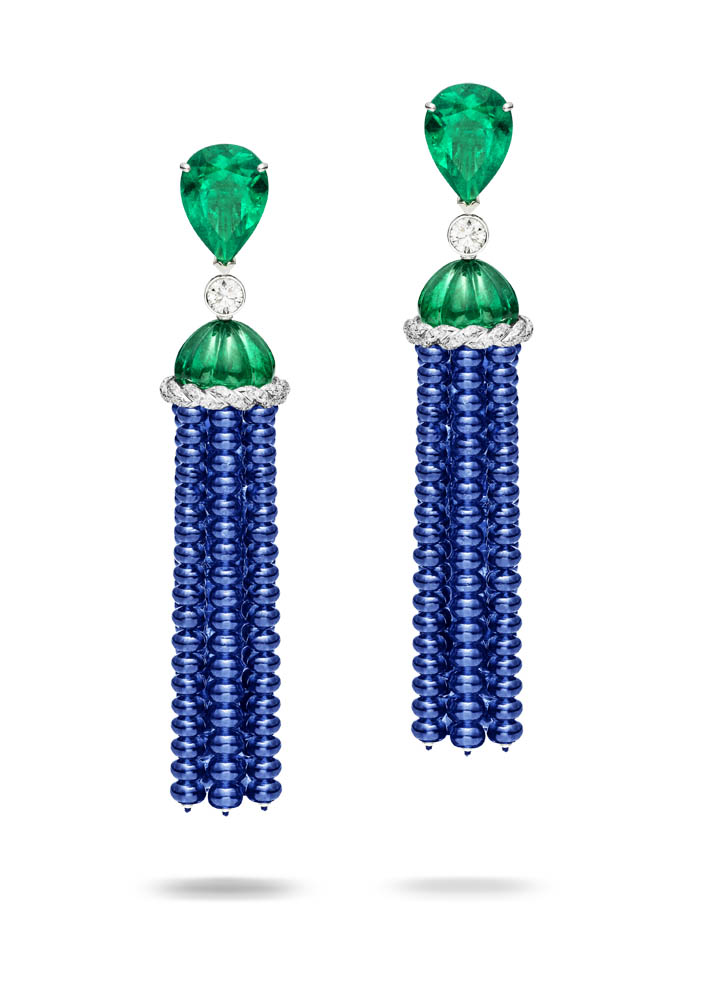 Necklace in 18k white gold set with 249 baguette-cut diamonds (approx. 47.97 carats), 186 brilliant-cut diamonds (approx. 42.20 carats) and one brilliant-cut diamond (approx. 1.01 carats). Photo: Piaget
White gold earrings set with 88 blue sapphire pearls (approx. 130 carats), 2 carved emeralds (approx. 17.20 carats), 2 pear-cut emeralds (approx. 8.54 carats) and 122 brilliant-cut diamonds (approx. 0.73 carats). Photo: Piaget
Then it's time to immerse yourself in the replica of a Roaring Twenties flat, black lacquered panels, large mirrors with gilded wooden frames, welcome to Chanel. If the stunning Café Society collection was presented in July, the Biennial will see it completed with astonishing pieces, giving pride of place to diamonds, sculpted stones and, once again, enamel. And daring often pays off. This is the case here!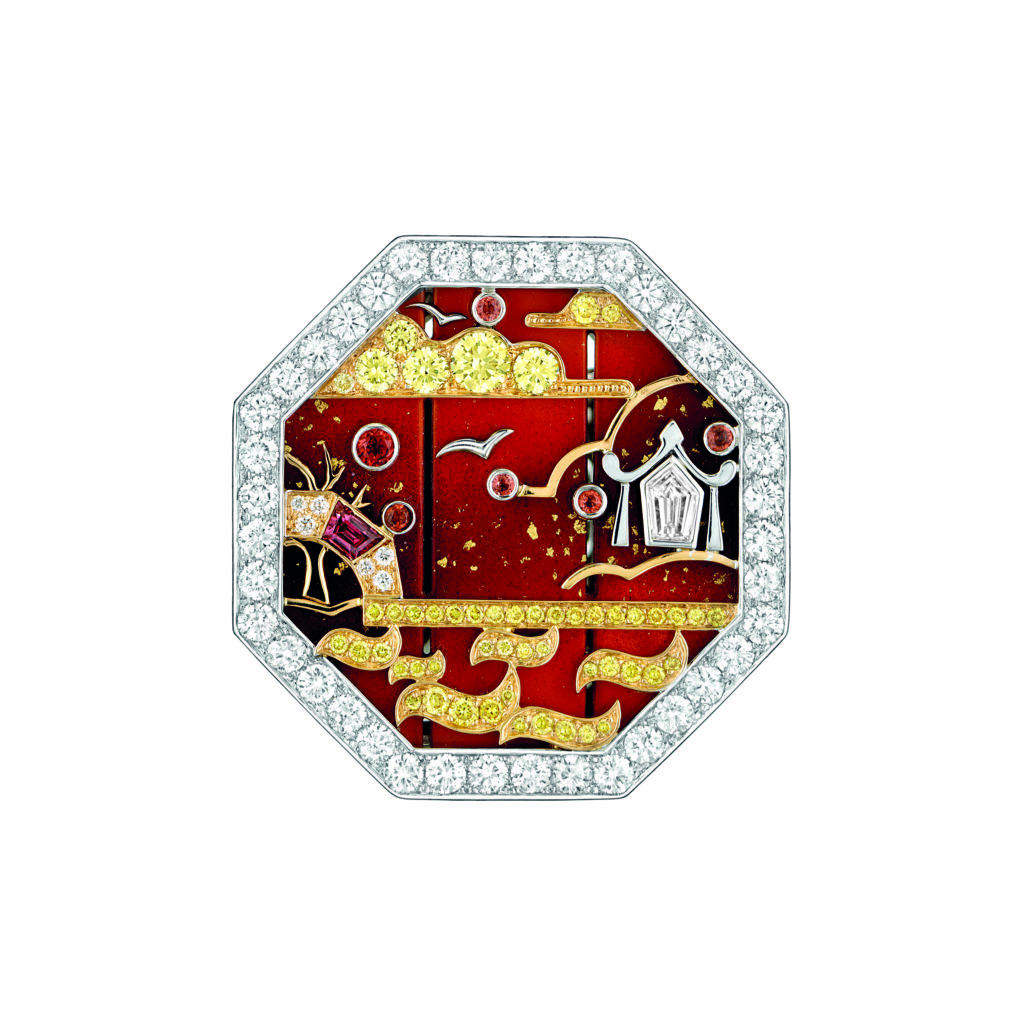 Autumn in Shanghai ring, white and yellow gold, diamonds and rubies. Photo: ChanelVendôme comet ring, gold, diamonds including a 1.59 carat daffodil centre and enamel. Definitely one of my favourite pieces of the collection. Photo: Chanel
It had been fourteen years since Réza had exhibited its creations at the Biennale, so its return was well worth a visit to the house's stand. Alexandre Réza, who founded the house, was a tireless traveller, a researcher of the most beautiful gems and a prolific designer. His son, Olivier, took over the house a few years ago. The pieces on display this year are the result of decades of research and collecting. Among them are remarkable natural (untreated) sapphires, Colombian emeralds with amazing hues and diamonds of the highest quality. The stand features some of the most beautiful stones at the Biennale.
Ring consisting of a pear-cut diamond, D. Internally Flawless (type IIa), 10.07 cts. Mounted on platinum. Photo: Alexandre Réza
Pair of earrings made of 4 Colombian oval emeralds for 51.84 carats. The upper part is composed of 2 oval diamonds of 1.06 carat (E.VVS2) and 1.12 carat (F.VVS2), highlighted by 14.10 carats of baguette diamonds, 4 square diamonds for 1.56 carat and brilliants for 2.29 carats. Bottom part detachable.
Mounted on platinum. Photo: Alexandre Réza
I took advantage of my visit to discover, at last, Wallace Chan's pieces. I had had the opportunity to see many photos and I must admit that I found his work surprisingly rich. The pieces looked very imposing and I was very curious to admire them in person. The discovery was as good as I expected. The stand presents both jewellery and art objects set with thousands of gems. I was able to admire the technical nature of the work and the know-how of the workshops that worked on the design. I spent a lot of time looking at them as there are so many things and details to see. A very nice discovery!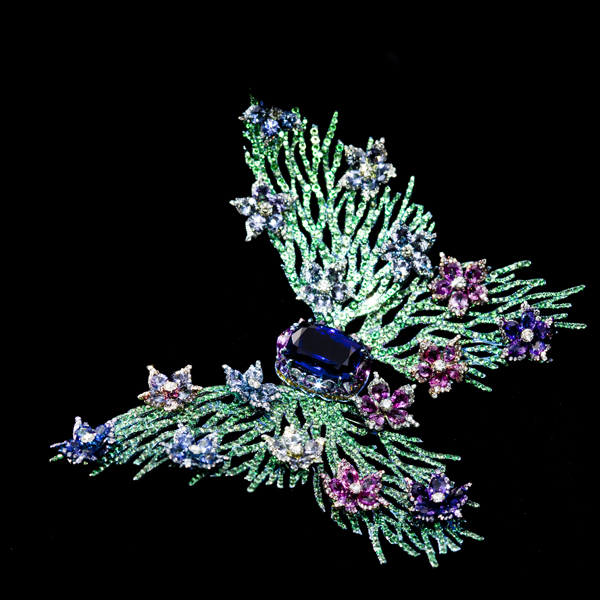 Fluttery" brooch, tanzanites, diamonds, coloured sapphires and garnets. Photo: Wallace Chan
Wave Light" brooch in titanium, pink sapphires, yellow and black diamonds, including a 6.68 carat yellow centre. Photo : Wallace Chan
See you soon for more!