I discovered the Child & Child house while exploring one of the latest Bonhams catalogues. The brooch I found there appealed to me very much, so I set out to find out more about this house and it seemed only natural to share the results of my research. The story begins in 1880.
Harold (1848-1915) and Walter Child (1840-1930) were two English brothers. In that year, they founded a jewellery shop together and set up shop in Seville Street, London, which moved two years later to 35 Alfred Place West (now 35 Thurloe Street) in 1892. The firm's trademark can still be seen on the façade. They made a name for themselves with their very elaborate and usually enamelled jewellery. The pre-Raphaelite and Art Nouveau movements contributed to the success of the firm and this was reflected in the designs that left the workshop. In 1899, the partnership between the two brothers came to an end and Harold continued the venture alone. Following his death in 1915, the company closed its doors for good.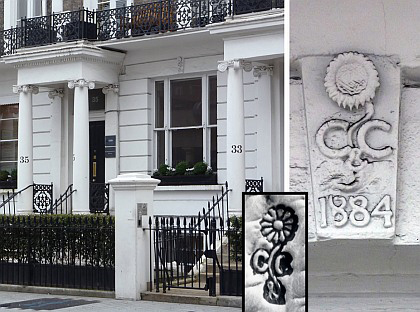 Detail of the façade of 35 Thurloe Street. Photo: Myfamilysilver.com
The Child & Child hallmark is recognisable by the presence of the two letters "C" topped by a sunflower. Photo: Lang Antiques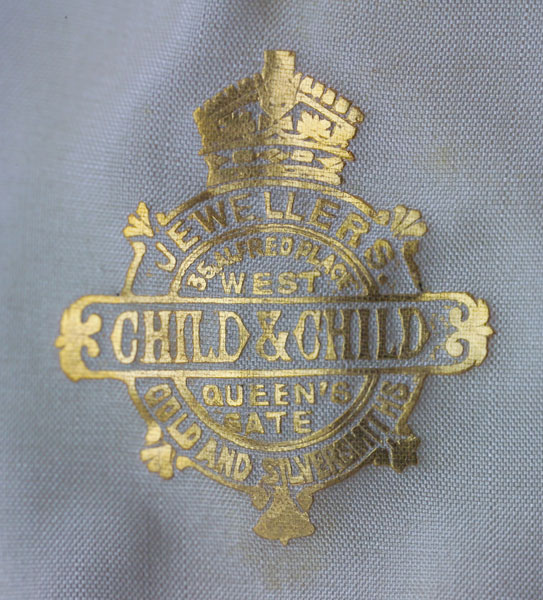 Stamp in gold letters visible in the house's boxes. Photo: Tadema Gallery
Despite its fleeting existence, the house counted among its clientele such famous names as Queen Victoria, King Edward VII, King George V and Sir Edward Burne-Jones, who designed pieces for the house.
Gold and silver enamel brooch, set with an amethyst and supporting a fine baroque pearl, circa 1900. In the collection of the Victoria & Albert Museum. Photo: V&A museum.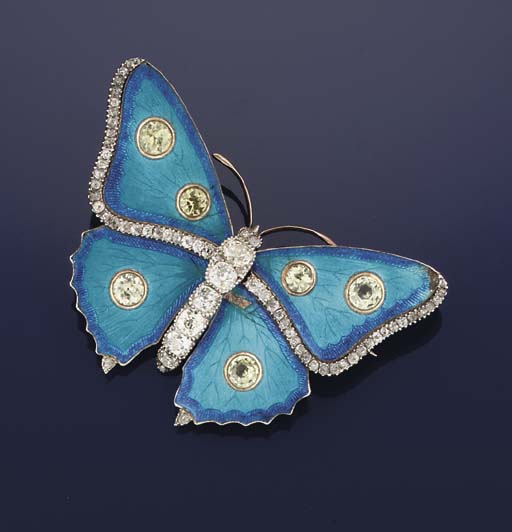 Gold, diamond, yellow sapphire and enamel brooch. Circa 1896. Photo: Christie's
A pair of gold and ivory cufflinks tinted green. Designed by Sir Edward Burne-Jones, they were made by Child & Child. Photo: Wartski

The same pair of cufflinks but in yellow gold and enamel. Photo: Wartski
Pendant in the colours of the suffragette movement in silver, gold, enamel, amethyst and fine pearls. Made around 1908. Photo: Tadema Gallery
Concerning the prices, we note that the differences are quite large depending on the pieces. And we find pieces ranging from less than 1000 € to more than 100.000 €, as for this platinum brooch presented above.
See you soon!