The American tradition of jewellery symbolising the end of year celebrations, and more particularly Christmas, dates back to the end of the 19th century, but at the time it was mainly fabric trinkets, sometimes embroidered, which were fragile and did not survive for the most part. Real Christmas jewellery appeared in the 1940s: small metal ornaments made a noticeable appearance on ladies' coats and blouses. But success came at the end of 1950.
The Korean War, which had started a few months earlier, on 23 June 1950 to be exact, had taken the men (sons, brothers, fiancés or husbands) away from home. And at the end of the year, the men were not at home to celebrate Christmas. Many women will therefore send little jewels that men can wear on their jackets and thus think of those they had to leave behind!
The success is almost immediate and now every year, jewellers (whether they make costume or precious items) present new models. As a rule, these are limited edition pieces, which automatically classifies them as collector's items.
Among the most popular motifs are bells, angels, representations of St. Nicholas, stars, snowflakes, boughs of holly, etc., but theChristmas tree brooches are the best known. Most of the pieces are fancy, gold or silver metal, enamel, rhinestones… but that doesn't mean that they are not expensive. On average, a brooch costs between $50 and $100. But some can cost more than $500. Indeed, some designs are sought after by collectors, such as Cristobal, Eisenberg, Triffari, Haskell and Hagler.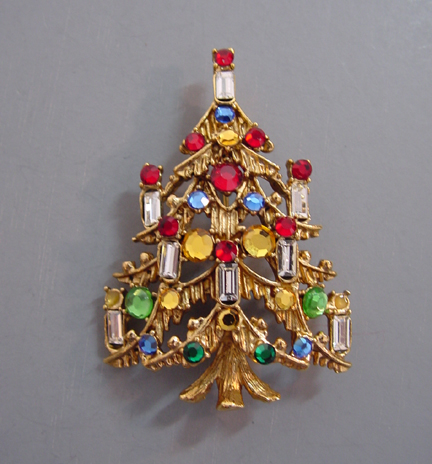 Two pieces from Hollycraft, made in the 1950s and 1960s. Gold-plated metal, rhinestones and glass beads. Photo: Morning Glory. I invite you to visit the Morning Glory antiques website which is a real treasure trove of costume jewellery. You will discover hundreds of Christmas tree brooches. You can spend hours admiring them.
In terms of precious jewellery, you can find some nice examples at Tiffany & Co. But you have to watch out for auctions, sometimes you come across some superb things there!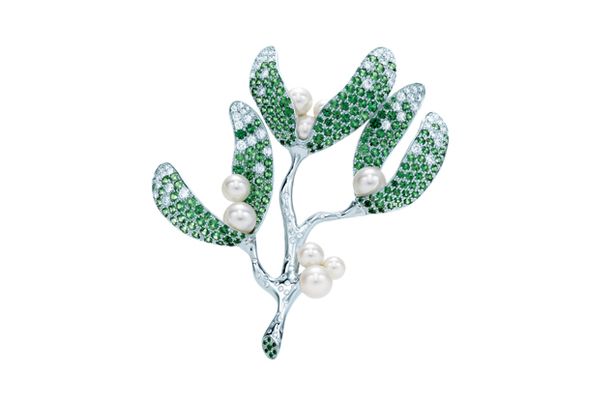 Mistletoe brooch in platinum, diamonds, garnets and Akoya cultured pearls by Tiffany & Co. Photo: Tiffany & Co
Christmas tree brooch in platinum, diamonds, emeralds, sapphires and rubies. Maison Cartier, circa 1930. Photo: Pinterest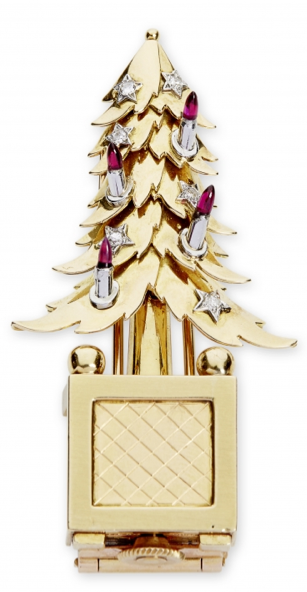 Brooch watch in yellow gold, diamonds and rubies, signed Mauboussin, circa 1940. Photo: Palais Royal Paris
See you soon!