A month ago, at the Tucson World Exchange shows, the largest known cut gem Diaspore was presented.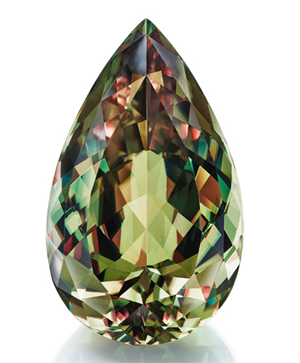 This stone of more than 121 carats – also known as Csarite™ or Zultanite™ – comes from the only global deposit providing Diaspore of this quality. This one is located in the Mugla region of Turkey. Photo: Milenyum Mining Limited
This stone, offered by Milenyum Mining Limited, was on display to the public on the stand manned by Erica Courtney (The Courtney Collection) during GJX.
A Diaspore of this size and gem quality is extremely rare as confirmed by Murat Akgun, President of Milenyum Mining Limited. He added that the only known stones of such a large size were opaque cabochons but with a marked Color Change phenomenon.
Erica Courtney is known for displaying rare and unusual stones at her booths: "All collectors and designers know that Tucson is the place to find truly interesting stones. That's why it's so important to showcase a gem like this at this venue."
Let's conclude with the fact that the previous largest cut diaspore gem was a pear cut of 88.49 carats. A new record!

See you soon!