The nameAntoine Chapoutot has been ringing in my ears for a long time. I discovered his beautiful creations about fifteen years ago, when I was an apprentice, during a weekend dedicated to jewellery at the Hôtel Dassault on the Champs-Élysées. But I hadn't had the chance to meet him in person and talk to him at length.

The boutique on the rue de Seine, 75006 Paris. Photo: Antoine Chapoutot
And finally, we shared a sunny coffee while talking about jewellery and stones, about ten days ago. The opportunity for him to tell me about his amazing career and to let me discover more about his world… Meeting.
Although jewellery has been on Antoine Chapoutot's mind for 20 years now, it was in another sector that he started out. Born into a family of art lovers and dealers, he has been involved in the art market since childhood.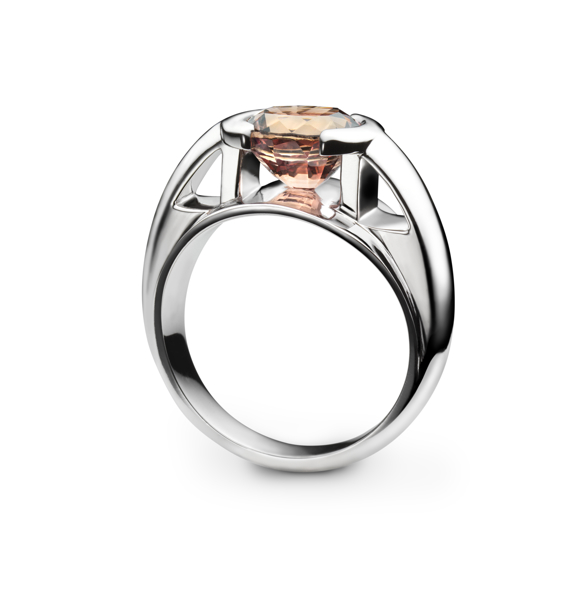 Pythagoras ring in white gold and cognac sapphire. Unique piece. Photo: Antoine Chapoutot
However, his studies in business school led him to the world of finance. First of all, he worked for large companies and then for the stock exchange. This first professional life also allowed him to travel all over the world and to create a solid network of friends. And finally he realised that this was not the direction he wanted to work in…
Chillida ring in yellow gold, white gold and black rhodium-plated yellow gold, orange sapphire inside the ring body. Custom-made, unique piece. Photo: Antoine Chapoutot.
He then went back to school and joined theInstitut Supérieur de Marketing du Luxe from which he graduated with an MBA in marketing. It was during this period of his life that he rediscovered jewellery and stones more intimately. In 1991, he joined a diamond dealer where he stayed for two years. This experience allowed him to familiarise himself with the trade, its craftsmen and the different skills they possess. And in 1994, he started to imagine his first jewels and to have them made by Parisian workshops.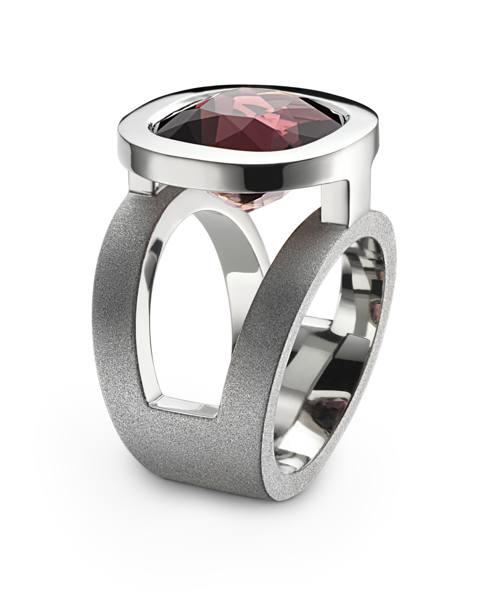 Mamona ring in polished and sandblasted white gold, purple tourmaline centre. Unique piece. Photo: Antoine Chapoutot.
From the start of his jewellery adventure, Antoine Chapoutot chose the 6th arrondissement of Paris, which he knows well. First on rue de Tournon, then on place Saint-Sulpice, he was installed "en chambre" for more than fifteen years. He multiplied his exhibitions in France, Europe and the USA, mainly in New York. And since the Saint-Germain-des-Près district is his favourite place, it was natural that he opened his boutique there when he took the plunge in 2010.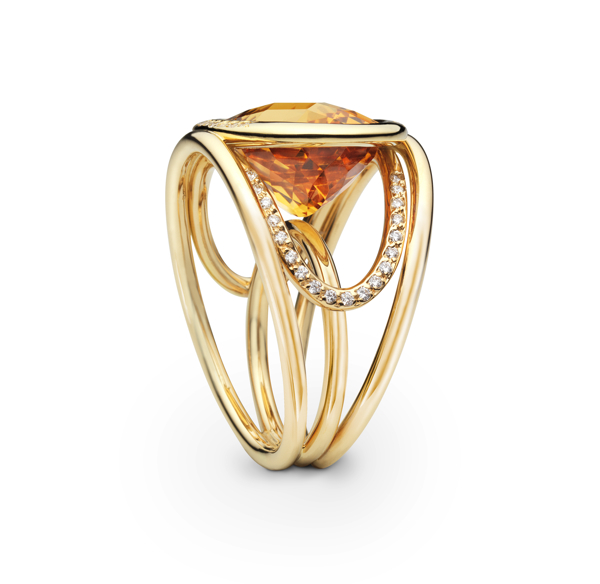 Navona ring in yellow gold, diamonds and citrine centre. Unique piece. Photo: Antoine Chapoutot.
It is a colourful and architectural jewellery that he offers to his customers. The designer likes simple and sober lines, angular shapes. His jewels are pure and let the light slip in everywhere to reveal the gems that illuminate his pieces.
Although he confesses to preferring rings, he also designs bracelets, earrings and sometimes even complete sets. He works a lot on measure in direct contact with his customers' requests. And from time to time, he enriches a collection of models that can be seen on his website and in the shop.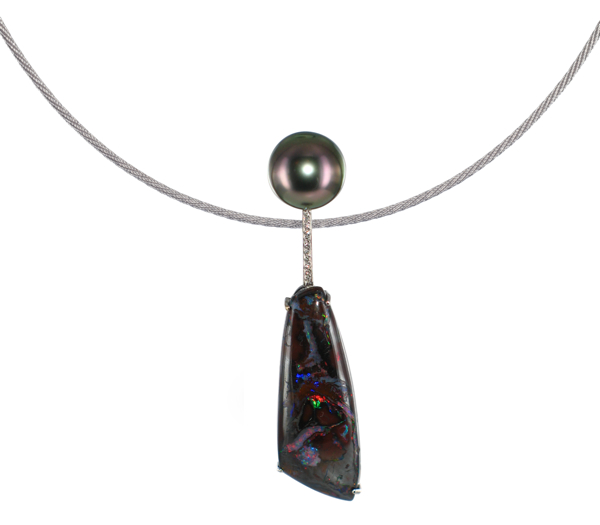 Esmeralda pendant in white gold, Tahitian pearl and boulder opal. Unique piece. Photo: Antoine Chapoutot.
To meet Antoine Chapoutot and discover his work, there is only one address: 76 rue de Seine 75006 Paris. The shop is open from Tuesday to Saturday from 1.30 pm to 7 pm. Do not hesitate to push the door of this place dedicated to creative jewellery and let yourself be charmed by the universe of the designer. You won't regret it!
See you soon!