A few days before the summer holidays, I had the pleasure of meeting the Parisian jeweller Amélie Viaene. The meeting took place just a few steps away from Place Vendôme for a nice start of the evening between confidences, gems, jewels and creation. Let's look back on this moment to introduce you to the beautiful work initiated by this amazing designer.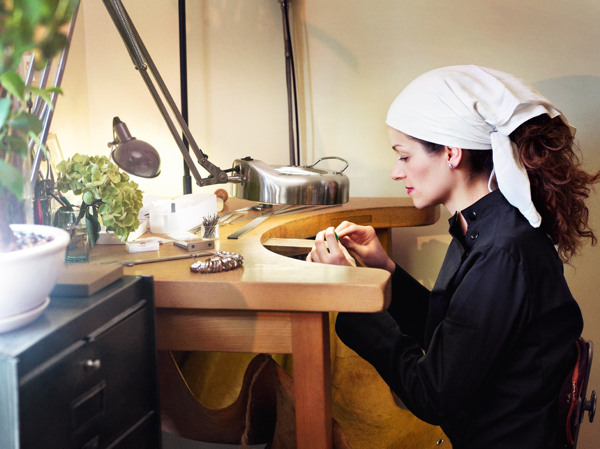 Amélie in her workshop. Photo: Christopher Jeney
Originally from the city of Troyes, Amélie arrived in Paris after her baccalaureate in applied arts. She is just 18 years old. Her first professional experiences led her to the world of modelling and then to the trade of luxury objects. But she never lost sight of her first desire: to learn jewellery making. In 2000, she joined the "Art of Jewellery" training centre of the Paris City Council.
She liked the courses and discovered the world of this professional sector: engraving, wax models, gemology, jewellery. Her teachers were very complimentary and thanks to a Fongécif grant, she took the plunge. She then took full-time classes at the BJO in Paris and was awarded her CAP Art du bijou et du joyau in 2003. She was then 23 years old.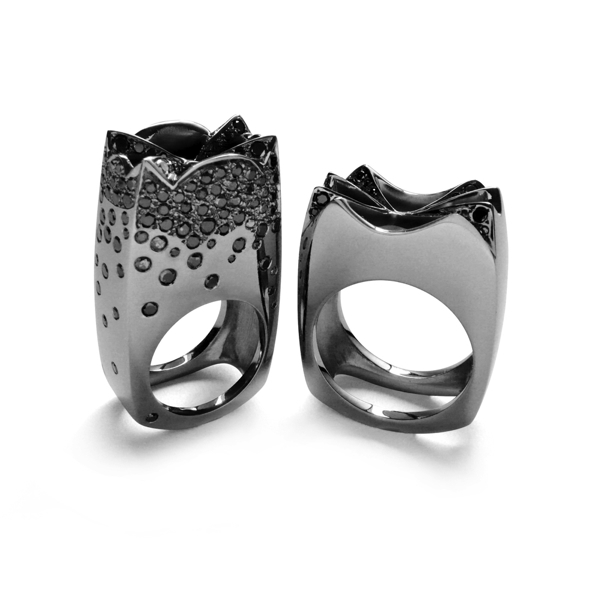 Les Gardiens pinky rings, blackened white gold and diamonds. For men and women. Photo: Amélie Viaene
After a few internships, her design skills earned her a job with a major jewellery design house. Nevertheless, she recognises that the lack of creative freedom does not suit her. She left after a few months. But this profession remains a sector where encounters are important and it is thus that a friend proposes her to exhibit in Singapore. She took the plunge and set up her own business. In 2005, her first creations were presented at the Gajah Gallery. This was followed by numerous exhibitions, including the Kara and Carrousel des Métiers d'Art shows, to name but a few.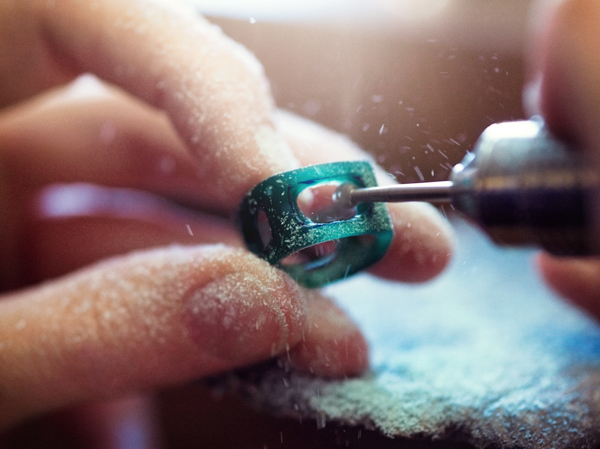 Wax sculpture. Photo: Christopher Jeney
Amélie openly admits that she likes to work mostly by hand. Working with wax suits her perfectly and allows her to directly design the desired volume without resorting to CAD. This allows her to"feel" the object and maximise its"harmony".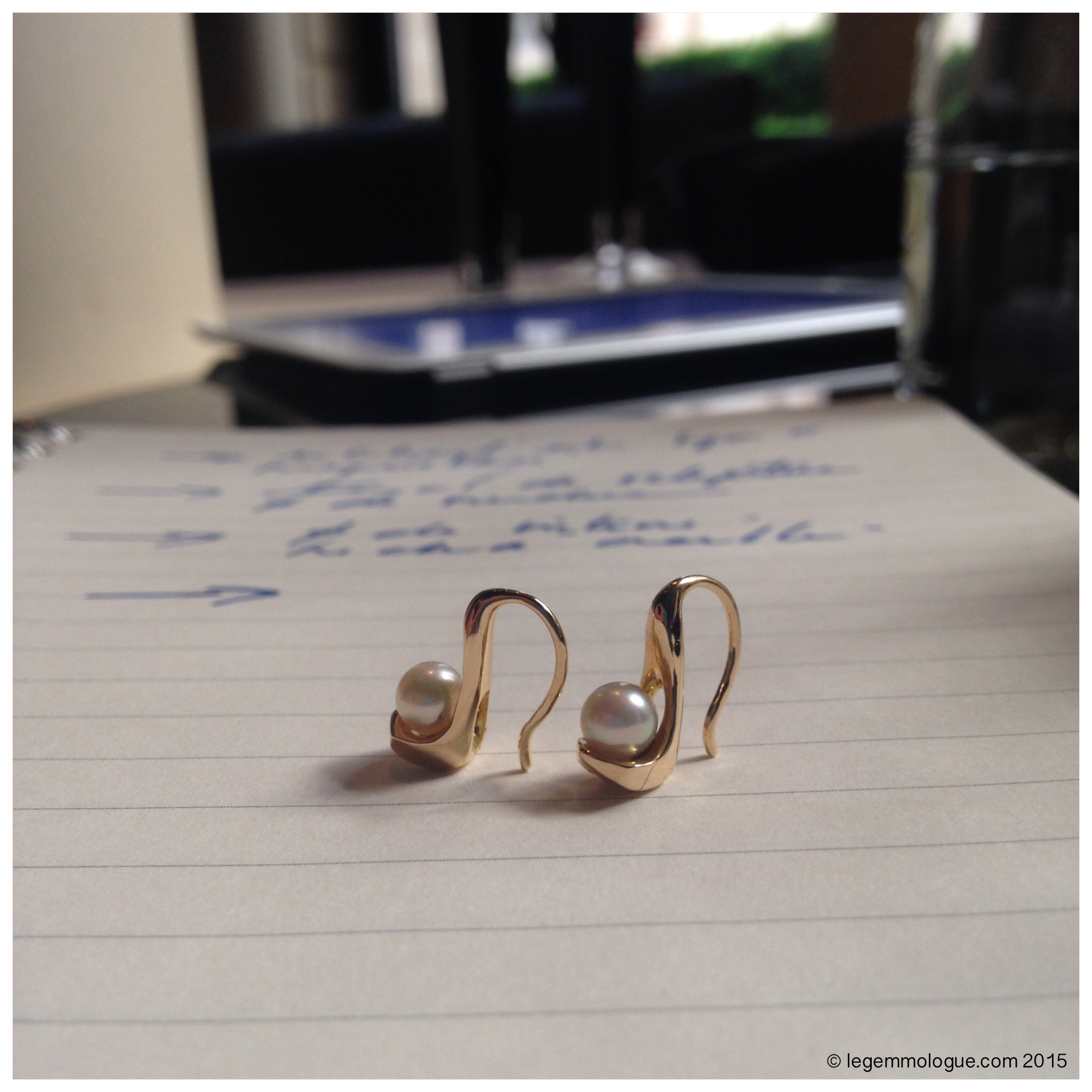 Akoya Heels earrings, yellow gold and akoya cultured pearls. Photo: The Gemologist
His initial interpretation of jewellery is thus more akin to sculpture. She then adds the work of craftsmen with whom she regularly collaborates: setter, polisher, hand engraver… She mainly designs unique pieces close to her customers. She has chosen to showcase her work on her beautiful website, which allows you to contact her to make an appointment with her. I advise you to do so if you like her work.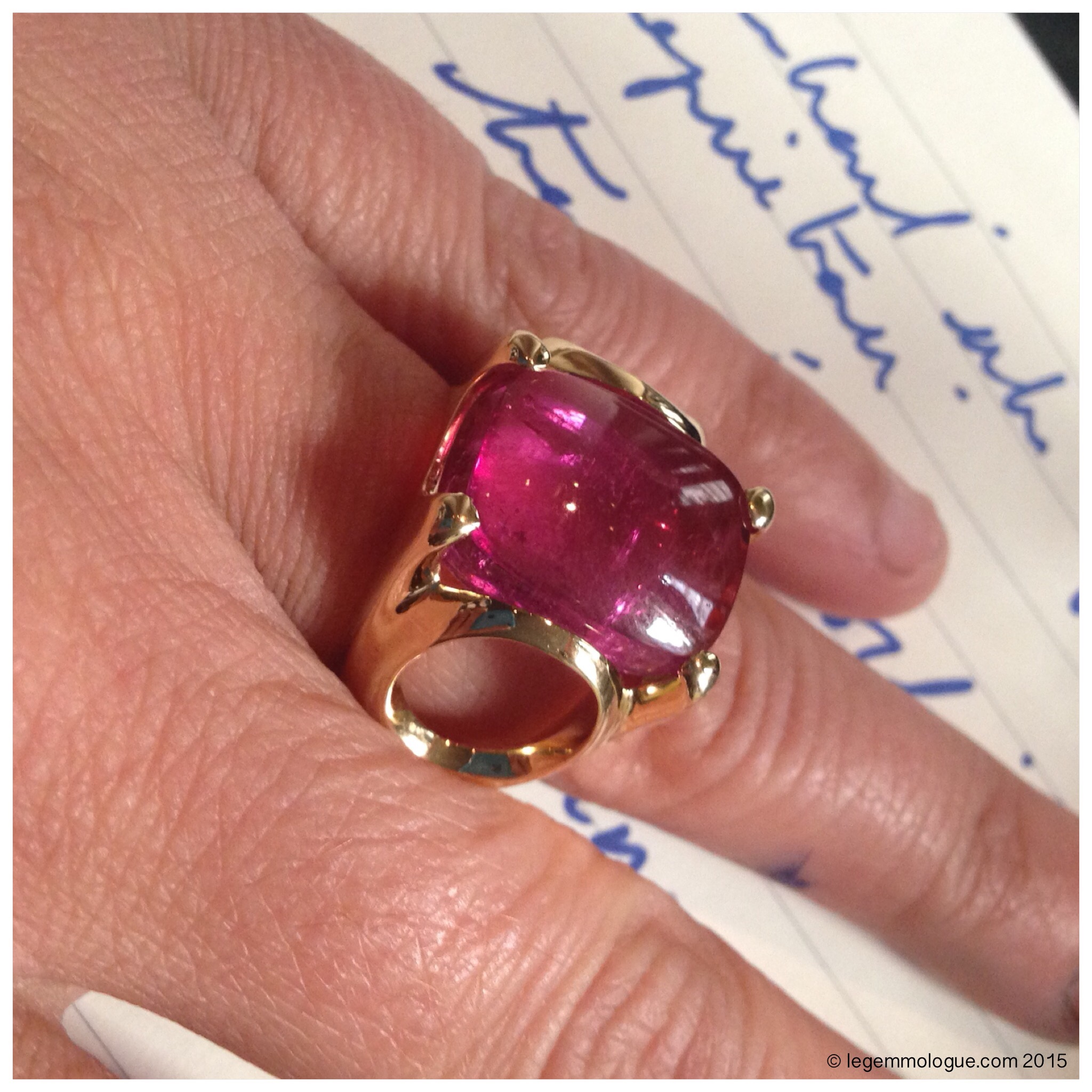 Yellow gold Ginza ring with pink tourmaline centre. Photo: The Gemologist
I was truly delighted by what she showed me a few weeks ago. Her work is beautiful and accomplished. The pieces are very well balanced, and the rings with large volumes are very pleasant to wear. The setting and polishing, remarkably done, give the pieces a perfect finish that I can only salute. So, take the time to admire her work and don't hesitate for a second to treat yourself to Amélie Viaene's beautiful creations!
www.amelieviaene.com
contact@amelieviaene.com
+33 (0)6.20.04.12.10
See you soon!