Trade fairs are often an opportunity for exciting encounters. And in this respect, the space of the Mission des Métiers d'Art de Lorraine did not disappoint me at all by its proposals and especially by the quality of these. And this is how I met the young designer Julie Varnier. So I suggest that you go and meet her and discover the pieces she makes in her workshop in the Meuse (55). And I might as well warn you, if it is completely different from what I usually show you, her jewels are nevertheless truly inspiring.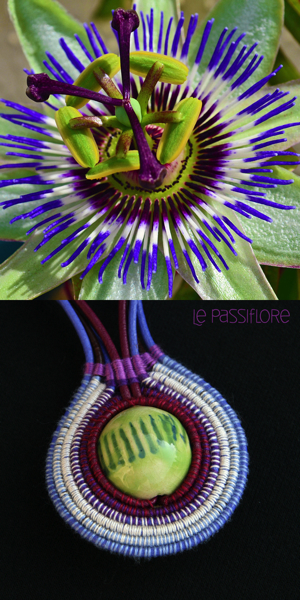 Passiflore necklace, leather, cotton and pearl. Photo: Julie Varnier
Julie is 27 years old and lives in the Meuse, in her village of Villers-Le-Sec. Textiles have been part of her life for several years now, as well as the creation of contemporary jewellery, and I wanted to tell you about her fascinating career. At the origin of all this, there is already a Baccalaureate option "Applied Arts" and especially an admission and a successful course in one of the most atypical art schools in Paris: the École Supérieure des Arts Appliqués Duperré.
Two years later, she obtained her Diplôme des Métiers d'Art (DMA) in textiles. But above all, this period was the opportunity for her to meet and work with Diana Brennan, who was her teacher. A textile designer from Australia, she introduced her students – including Julie – to the mastery of volume in textile creation. She also introduced her to the technique of basketry, which became one of the signatures of the pieces this young designer creates.
Bomarea collar, in leather and cotton. Photo: Julie Varnier
In order to obtain her diploma, Julie will have to submit a work on a given theme. She will choose a naturalist subject by taking inspiration from and reinterpreting the fauna and flora of Namibia. Africa comes to her through family, friends in Namibia, travels and finally it is obvious. And this is easily reflected in the work she presents to the public.
In 2009, after her studies, she set up a project with a friend to study and work on Wax, these typical fabrics from West Africa. Called "Terres de couleurs", they put it into practice with the help of the Paris Jeune Aventure and Envie d'Agir grants. 8 months of travel and meetings between Senegal, Mali and Burkina-Faso. It is then necessary to listen to Julie talking about this adventure, the possibility of entering the workshops and the work with the local craftsmen.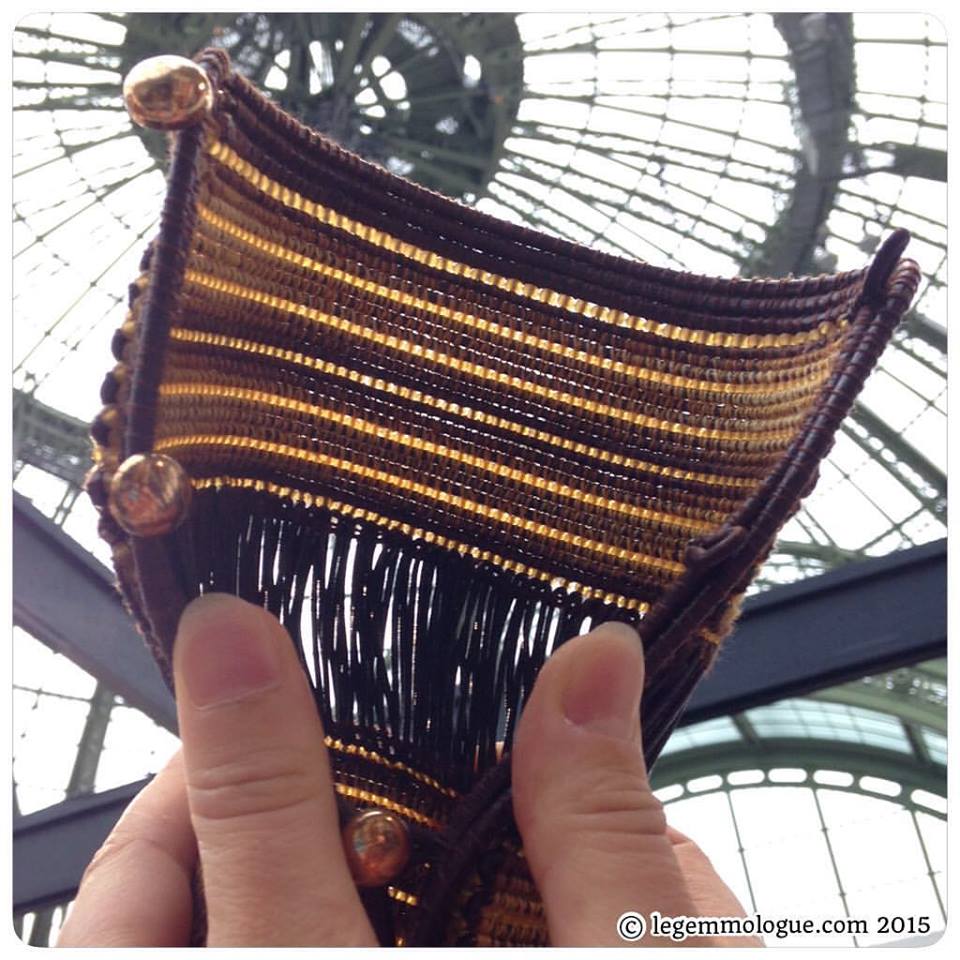 Impressive leather, cotton and pearl cuff presented in Julie's hands under the light of the Grand Palais' glass roof. Photo: The Gemmologist
It was during this trip that jewellery came into her life. First she made a small bronze loom, then she learned African bead weaving techniques. On her return at the end of 2009, she initiated a photo exhibition that lasted a month in Ligny-en-Barrois. It was at this time that she met the Mission Métiers d'Art de Lorraine.
Bomarea necklace, leather, pearls and cotton. Photo: Neozia Photographies
Then it was time to leave again. This time, she went to Bamako where she stayed for 6 months. She set up a workshop and worked on clothing and jewellery. Above all, she made the raw materials that constitute the very essence of her creations a little more her own: leather, cotton and pearls. She also realises that she lacks a certain technicality when it comes to sewing. In 2010, she returned to France and decided to resume her training.
She successfully passed a CAP (vocational training certificate) in flou sewing in Thaon-les-Vosges and then took a course in "Pattern making and flat cutting" at the Chambre Syndicale de la Couture de Paris. She then wanted to specialise in the technique of gradation, which consists of being able to modify the size of a garment, because before creating, Julie is above all a technician. She wants to master and manage the shape of the garment as well as the object she designs.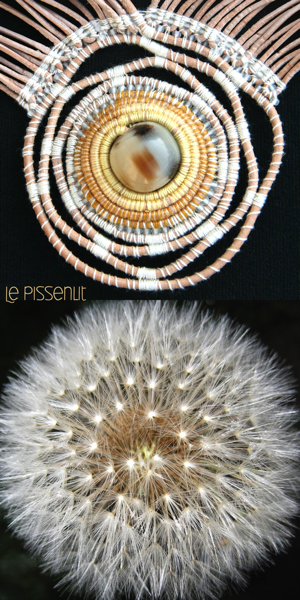 Pissenlit necklace, leather, cotton and pearls. Photo: Julie Varnier
Setting up her own business became obvious and she took the plunge in 2012 by launching the Atelier Kumb'ailée. She then divided her production into two distinct lines: pieces made from fabric scraps (Wax, Cotton, Basin) and pieces including basketry and weaving techniques based on leather, cotton and beads…
Detail of the technique on the Oeil de Paon necklace. Photo : Julie Varnier
She mainly proposes unique pieces for which everything starts with the drawing. Since the creation of her workshop, she has participated in several exhibitions such as Mode et Tissus or Le Petit Bazar . At the beginning of 2015, she had the honour of being selected for the Pôle Bijou de Baccarat as part of the fashion show project "De fil en bijoux" and thus to create sets to dress the clothes made by the designer Valérie Lamotte. Finally, we should mention that Julie was selected this year to be included in the book Femmes d'art des métiers d'art published by 11-13 éditions. The Grand Palais biennial event will allow her to exhibit her colourful and joyful creations to a select and demanding public!
I urge you to go and discover her at a forthcoming exhibition in Paris or elsewhere, but also to visit her website and give her a thumbs up on Facebook. She deserves it. And also, of course, to let yourself be tempted by one of her beautiful pieces.
Julie Varnier – Atelier Kumb'Ailée
www.kumbailee.blogspot.fr
kumbailee@gmail.com
(+33) 0672211753
See you soon!