The latest jewellery auction at Sotheby's saw a number of important records set for the various pieces in the catalogue. This is not surprising when you consider the fine selection that was offered to buyers from all over the world.
But today, I felt like writing a note on a remarkable piece that I did not mention in my post about the selection of jewels to watch at this auction: the necklace of the Viscountess Dowager Harcourt.
Lot 1737: gold and silver necklace set with diamonds. Estimated at $1.2 million to $1.9 million. Photo: Sotheby's
So let's take the story back to the beginning. A story that mixes French history and an important American jewellery house.
After the French Revolution, a turbulent political history followed. After the advent of the Third Republic, the country's Minister of Finance decided to put the entire collection of the former Crown Jewels up for sale. This was done in 1887, after having been on display for many years between 1878 and 1884.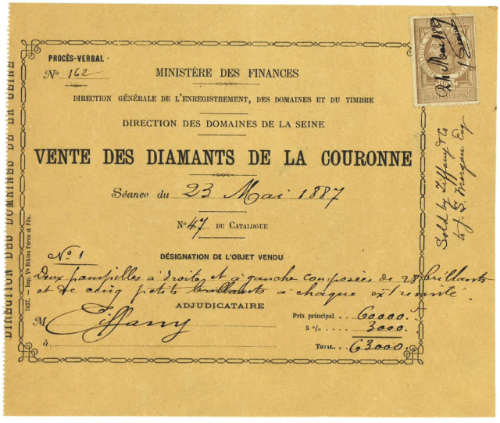 Sales document for two pendants consisting of 28 brilliants that Tiffany was to acquire. Photo: Sotheby's
Some of the jewels were cut into pieces and the collection was sold between 12 and 23 May 1887. Jewellers from all over the world travelled to Paris to acquire jewels and gems of exceptional quality at prices that would seem derisory today. The American firm Tiffany was present and it was rumoured that it bought almost a third of the collection.
The company is buying a piece described as a large tassel comb with 28 brilliants. This may be one of the two pieces illustrated in this document from the 1887 sale catalogue.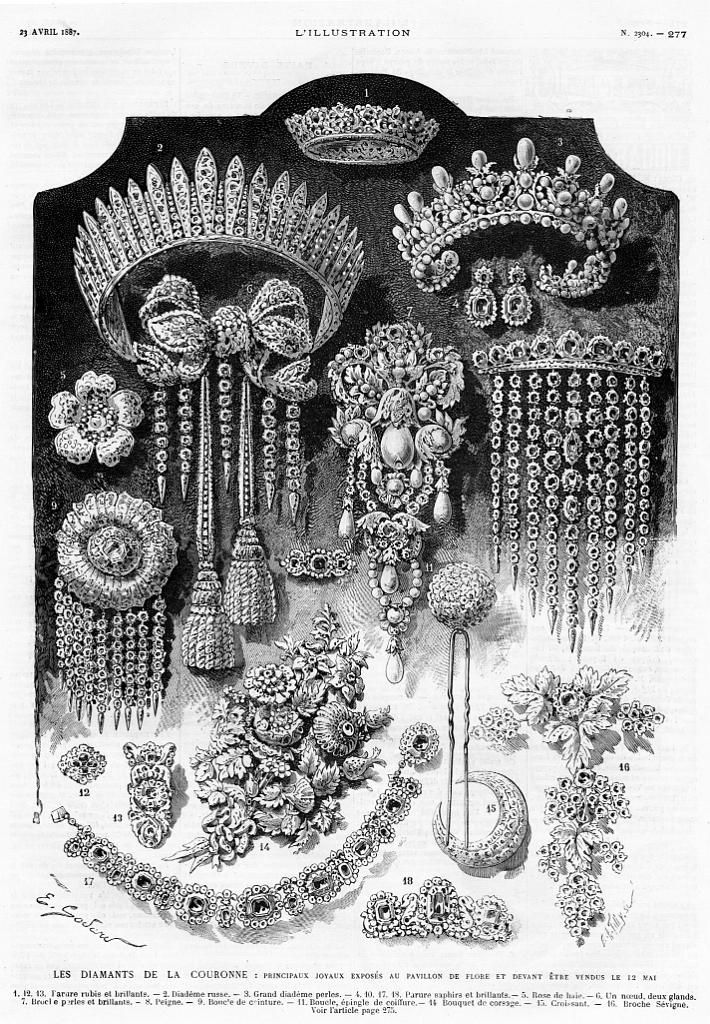 Engraving of a portion of the Crown diamonds published in L'Illustration in 1887. Photo: Pinterest.
The famous comb illustrated above. Perhaps it was a piece of this that Tiffany would buy.
In any case, the American jewellery house sold 28 stones a week later to Junius S. Morgan, an English banker. Morgan, an English banker. By inheritance, the stones passed into the collection of his granddaughter, Mary Ethel Burns. The stones were then reassembled into a necklace (the one in the Sotheby's catalogue photo) around 1900. She became Viscountess of Harcourt by marrying Lewis, 1st Viscount of Harcourt in 1899.
A few days ago, the necklace was acquired by Tiffany for 1.5 million dollars. The stones are therefore returning to the original purchaser, the 1887 French crown diamonds. It will be kept in the company's heritage collection.
See you soon!