During the last Salon du Patrimoine Culturel organised at the Carrousel du Louvre in Paris at the end of 2015, I met the jeweller Vincent Marinesse. Seduced by his contemporary jewellery exhibited in his space, I wanted to introduce you to his career and his creative work.
Vincent has been working in the jewellery industry for over ten years. After a professional Baccalaureate in Applied Arts, he went on to obtain a CAP at the Saint-Amand school, a passage through Lyon and above all a diploma at the BJOP in Paris.
White gold and diamond ring. Photo: Marinesse
For a little more than three years now, he has had a room in Auxerre where he receives his customers and regularly travels to Paris.
He works mainly on a made-to-measure basis, exchanging with his clients in order to define their desires and wishes as well as possible. He himself admits that he prefers this method of working to that of creating an annual collection. Although he does offer a few models, the discussion and the creation of an adapted proposal remain fundamental to his work.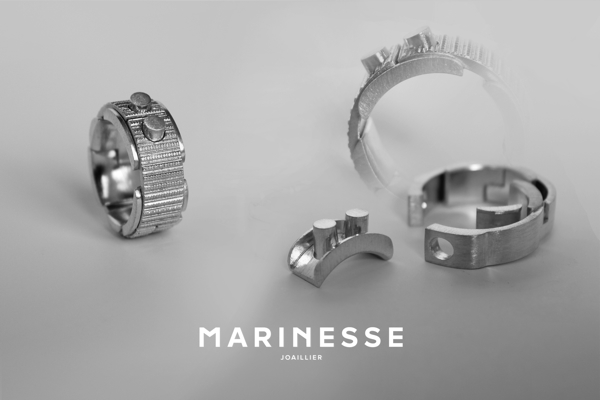 The Code ring. Photo : Marinesse
He works with all types of metals: gold, platinum and silver and admits to particularly appreciating the value of diamonds for the light that this gem emits. Inspired by many different fields, his creations oscillate between tradition and contemporary designs. Thus, the Code ring is a transformable and adaptable piece whose inspiration comes from the piece known as the Clef which, by its action, makes it possible to hold the wedges of a vault. The search for balance remains his guiding principle and he admits to being an admirer of Calder's creations whose famous mobiles are familiar to us… The Stabile necklace is the perfect synthesis. You can also discover a film showing its creation on the jeweller's website.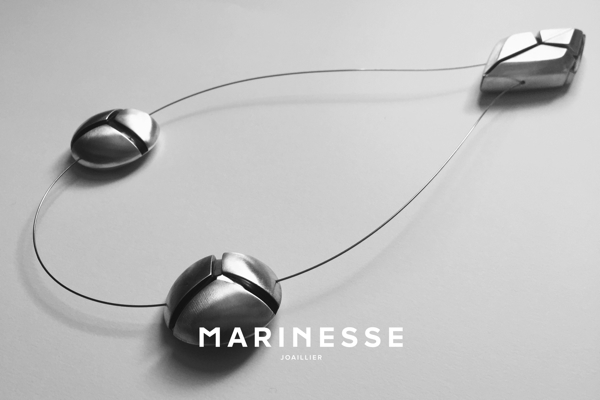 A new version of the Stabile necklace. Photo : Marinesse
If you wish to contact Vincent, you can make an appointment by phone at 0615320844 or send him an email: contact@marinesse.fr. I encourage you to meet him and maybe one of his creations will complete your jewellery box.
See you soon!