Anyone who is interested or passionate about the history of jewellery cannot ignore the existence of the Franco-American house of John Rubel. I recently closed the magnificent book about this company and gathering the memories of the Rubel family. This reading was all the more moving because this book is not yet published and it allows us to meet important personalities in the world of Parisian jewellery.
Sophie Mizrahi-Rubel
Once I had finished reading, I wanted to get to know the person who now embodies the house better. It was over a hot chocolate on Rue de la Paix that I asked Sophie Mizrahi-Rubel to tell me about herself, her family and her inspirations. Here is a look back at a very nice meeting, a"story of stones and girls" as she likes to define it…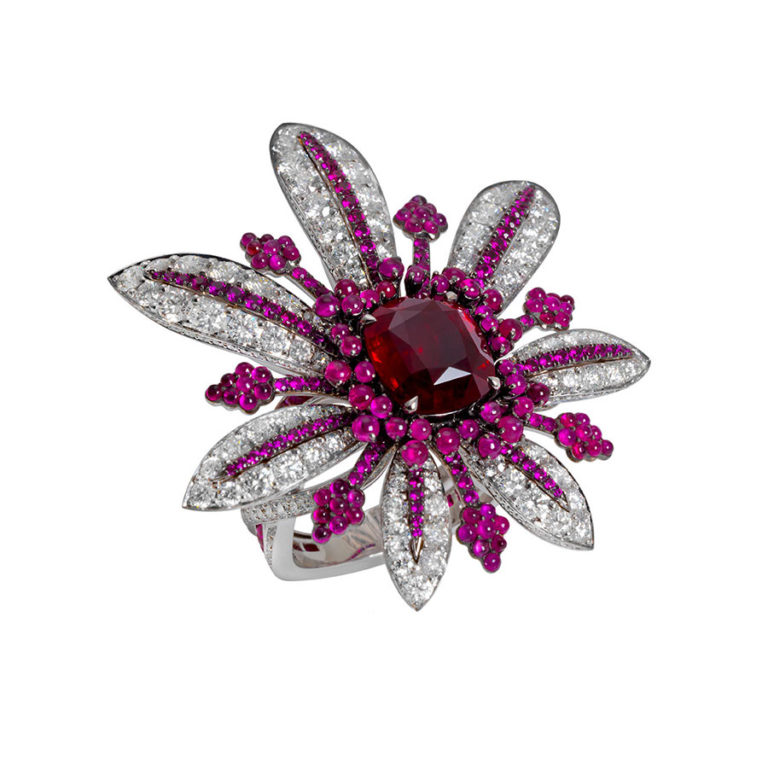 La Divine" ring in white gold, diamonds, rubies including a 4.09 ct centre from Mozambique (2015). Photo: John Rubel
The Rubel family is Hungarian and has a long history of involvement in the jewellery trade. John and Robert Rubel's parents owned a shop in Budapest. In 1915 when they arrived in France, they opened a workshop at 22 rue Vivienne. The company "Rubel Frères" quickly acquired an excellent reputation among the jewellers of the place and thus became one of the privileged workshops of the house of Van Cleef & Arpels, even sharing the same designer: Mr Maurice Duvalet.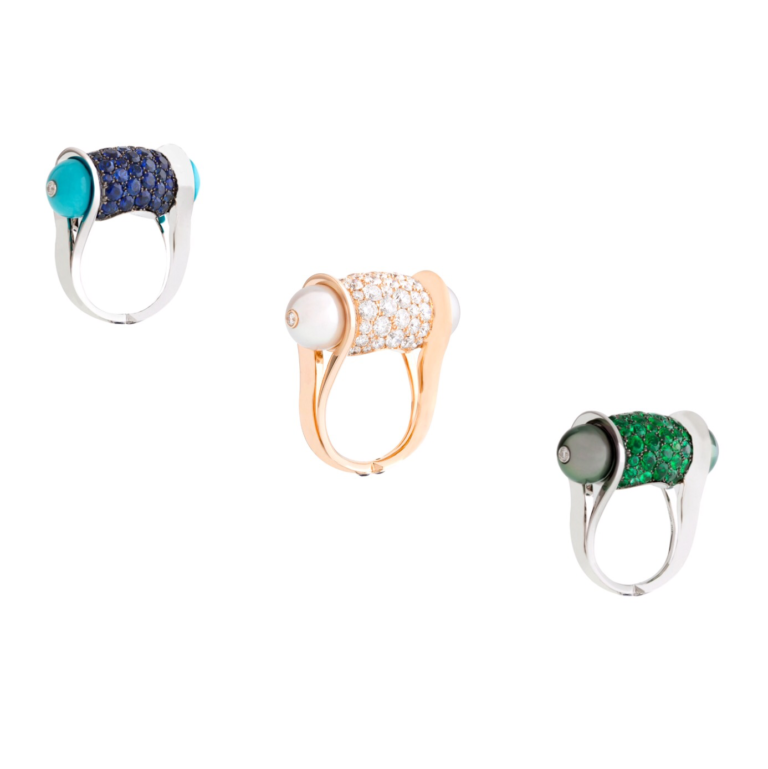 The "Ginger" ring is available in white or yellow gold, diamonds, sapphires, emeralds, cultured pearls or turquoise. The ring is infinitely customisable… This one is inspired by the "Rouleau" bracelet that was sold at auction in 2012. Photo: John Rubel
Throughout the 1920s and 1930s, the house wrote a rich chapter of history with emblematic creations from the inter-war period. And then, in 1939, everything changed. Van Cleef & Arpels had just moved to the United States and called the two brothers to oversee the manufacture of the house's American pieces. They left France for New York, where they stayed for over ten years. Time enough to create iconic models such as the ballerinas that still capture the hearts of collectors today…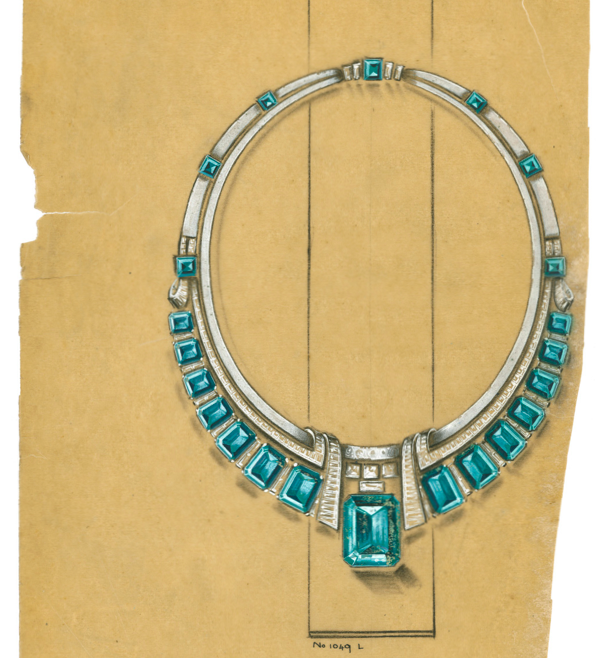 Necklace from the American period. Photo: Rubel family
The American success was there and the alliance with Van Cleef & Arpels ended in 1943 when the two brothers decided to produce their own models. The name John was then Americanised and the house of John Rubel was born. The first boutique was on 5th Avenue and in 1946, another in Palm Beach. They registered patents, had a corner at Saks and their creations adorned the outfits of elegant women like Ingrid Bergman. Just before settling in the USA, a trip through Mexico allowed them to become the exclusive representative of the Puiforcat house on American territory.
And in France? The war broke out and the young Marcel Rubel inherited the workshop with the departure of his uncles. He moved to 16 Avenue de l'Opéra. But times were hard and the situation catastrophic for all Jewish families. Marcel narrowly avoided his first arrest during a check on the workshop. But not the second. Then he fled, went into the free zone and hid until the Liberation.
After the war, the French workshop did not reopen and the Rubel family became involved in the diamond trade. This was another way of living out their passion for jewellery at a time when the family had lost a large number of its members. With the time of reconstruction also comes the time of return. In 1950, the John Rubel company closed its doors. Jean and Robert decided to return to France to be with their family. Thus, in 1956, Maison Rubel was born, a diamond dealer in which Marcel Rubel became one of the major players in Paris. And jewellery became secondary…
Reunion of the Rubel family in Paris in 1965: Didier, John, Marcel, Claude, Robert and Michel Rubel. Photo : Sophie Mizrahi-Rubel
Liberty" ring in white gold, diamonds, sapphires and a 6.22-carat natural and untreated Zambian emerald centre (2016). Photo: John Rubel
Sophie is Marcel's granddaughter. Trained from an early age in diamonds and coloured stones, her professional life was inevitably linked to the Parisian jewellery scene. Development director at Fred, she made a detour through the Cartier jewellery department to become Deputy General Manager of Mauboussin. And then in 2012, while tidying up the family home, she reopened a trunk containing all of John Rubel's archives, where several hundred drawings are waiting to be rediscovered.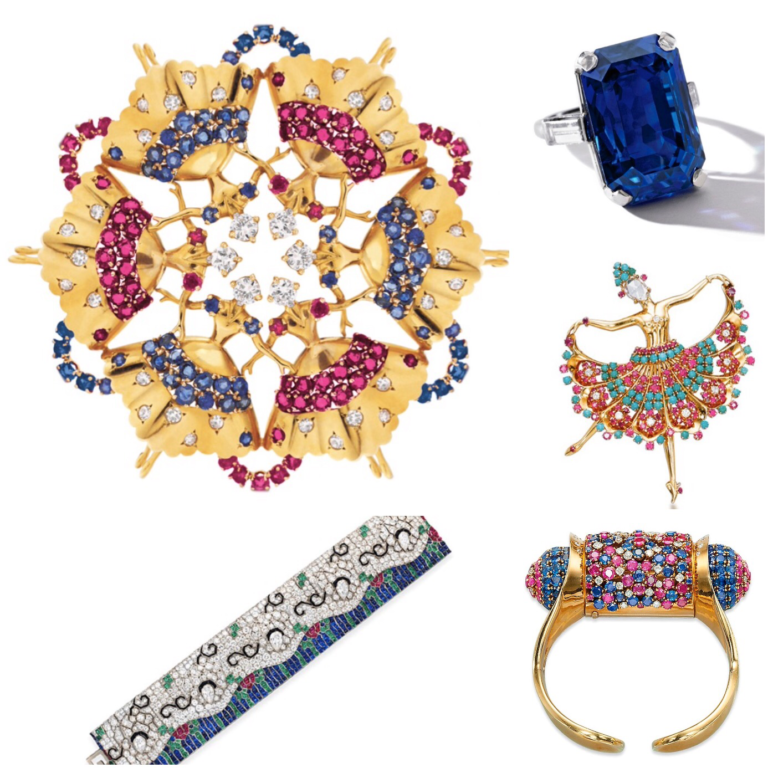 Some Rubel pieces sold at auction.
For several years now, pieces from the American period have been selling at high prices at auction. A pair of ear clips sold for $25,000 (est. $8,000-12,000) at Christie's in 2008; a ballerina doubled its high estimate in Geneva in 2010, selling for CHF 87,000; a rare "scroll" bracelet sold for almost CHF 70,000 (est. CHF 23,000-30,000) in 2012. But it is above all a remarkable ring in platinum, diamonds and sapphire centre that breaks all records: estimated at between $200,000 and $300,000, it was finally sold for over $780,000 in New York by Sotheby's. And the list goes on!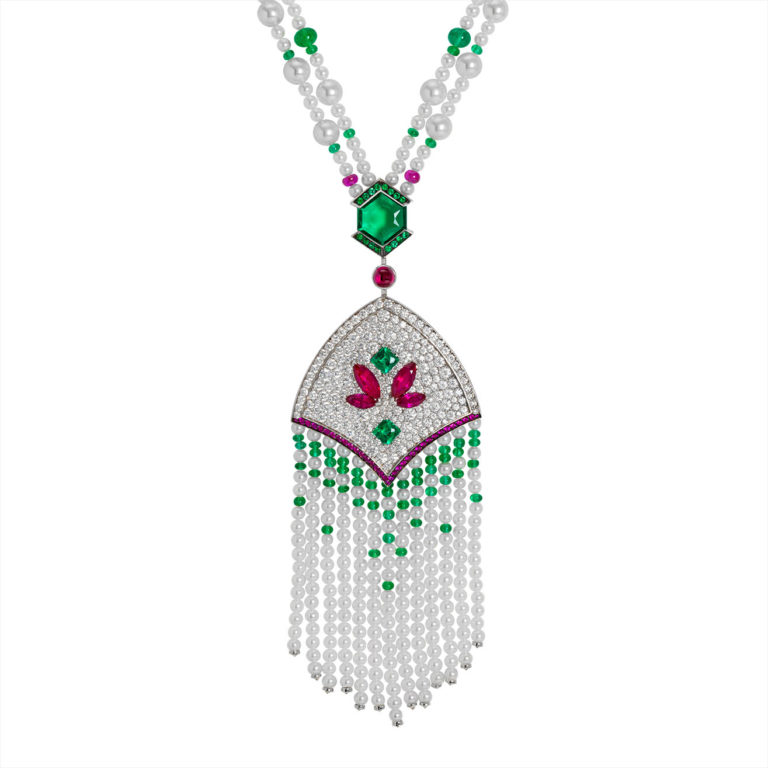 Mistinguett" necklace in white gold, diamonds, emeralds, pearls and rubies (2015). Photo: John Rubel
The discovery of the designs was like a trigger. Encouraged by many people, including her companion, a gem trader, she began to design several models inspired by the heritage left by her great-uncles: the "rouleau" bracelet became a ring, the ballerina's petticoat became the "Carmen" ring. Some pieces were also reissued, such as the "Amélia" pendant-vial patented in 1945.
Amelia" pendant in white gold, diamonds, sapphires and turquoise (2015). Photo: John Rubel
In September 2015, exactly one century after his uncles arrived in France, the house of John Rubel was officially relaunched. A first collection of high jewellery, very colourful and joyful, "Vie de Bohème" is unveiled with positive and laudatory feedback. In addition to the meticulous French manufacturing, the stones were meticulously chosen in an Art Deco spirit. The company offers pieces for different budgets: the Yoko and Ginger Light ranges, which are more accessible, but also high jewellery pieces such as the latest creations, the Zsa Zsa, Jolie Môme and Liberty rings. Sophie also offers made-to-measure pieces and regularly presents new creations that I always enjoy discovering. So don't hesitate to contact her!
Louise" ring in gold and natural rubies with a 3.02 ct centre from Mozambique (2016). Photo: John Rubel
Ring "Zsa Zsa" in white gold, diamonds and tourmalines including a 3.98 ct centre (2016). Photo: John Rubel
Several projects are in the pipeline for the house and the collection is currently on display at Doux Joaillier in Courchevel. It will return to Paris shortly. I'll tell you more about it!
John Rubel Paris
contact@johnrubel.com
Tel: +33 (0)1 70 37 57 77
See you soon!