If this name should be familiar to antique jewellery enthusiasts, chances are that many of you do not know it. It is therefore with pleasure that I received this information from Geoffray Riondet, an antique dealer in Lyon, who will be presenting in April at the Salon du Livre Rare et Objets d'Art at the Grand Palais, in collaboration with the expert Louis de Suremain, a set of unpublished drawings by this artist. These documents are part of a project to produce a catalogue raisonné that I am already looking forward to discovering and making known to you. They allow us to discover a little-known artist and to better define his artistic position.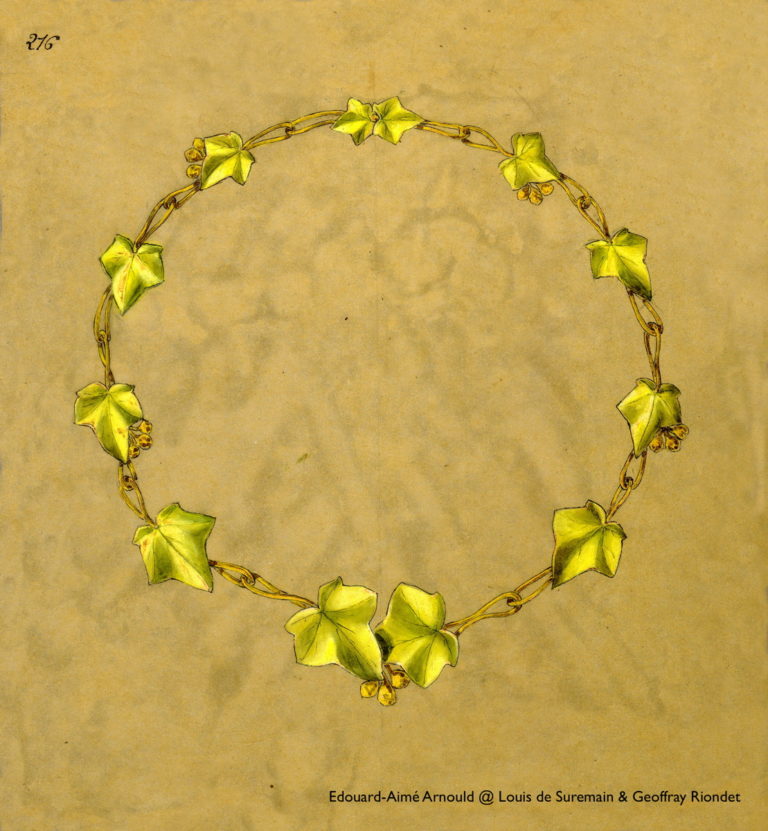 Louis-Amé Arnould was born on 1 May 1867. A bookbinder by training, he took over a workshop in 1890. He was soon surrounded by renowned artists such as Toulouse-Lautrec and Mucha. For those who know the very nice Forney library, rue du figuier in the Marais, know that you can consult his first poster catalogue there. Otherwise, this place is a must-see during a stroll in this very pretty district of Paris and I close my tourist parenthesis.
Jewellery came into Louis-Amé's life at the end of the 19th century through the artists he worked with. On 2 January 1899, he registered his hallmark and began designing his first collections. A renowned designer of the Art Nouveau movement, he even opened a branch at 15 rue Fontaine. His participation in salons such as that of the Artistes Français was always noticed, as were the artists to whom he opened his workshop, such as Alois Reinitzer and Manuel Hugé. He worked until 1940 and the workshop officially closed in 1945.
The drawing and the ring made. Photo: Geoffray Riondet / Louis de Suremain
I have known Riondet for many years now and I follow with great interest their initiatives around the valorisation of gemstones as well as historical jewellery. For example, they participated in the study of the Great Sapphire of Louis XIV kept at the MNHN in Paris and more recently became a sponsor for the presentation of the Crown Jewels collection exhibited at the Mineralogy Museum of Mines ParisTech since January 2016.
From 7 to 9 April 2017, the Grand Palais will host the Salon du Livre Rare et Objets d'Art. Under the glass roof, the finest antique dealers specialising in graphic documents will be exhibiting. If you want to know more about this event, I can only encourage you to go!
See you soon!