About eight months ago, I discovered Samuel Huguenin by chance during an exhibition organised by Ateliers d'Art de France in their gallery Collection – rue de Thorigny in Paris. He was exhibiting pieces entitled "Superstructure" made in gold and by hand that I found very interesting.
In the workshop. Photo: ©MarieChabrol/legemmologue.com
I was therefore surprised to receive an e-mail a few weeks ago suggesting that I come and meet him in his workshop in the 3rd arrondissement of Paris. It was with interest and curiosity that I accepted the invitation to meet a particularly friendly jeweller who is passionate about his work. It was an opportunity to discover his career but also his latest creations in which the so-called ornamental stones are used with taste and reflection.
Different ornamental stones used by the workshop: lapis lazuli, malachite, agate, jasper… etc. Photo: ©MarieChabrol/legemmologue.com
The knot rings are among the latest creations of the workshop: pietersite/variscite on yellow gold, moss agate/pyrite on yellow gold, agate/cacholong on yellow gold. Photo: ©MarieChabrol/legemmologue.com
The story begins a little before the year 2000. After a one-day internship in a jeweller's shop when he was in the ninth grade, Samuel decided to become a jeweller himself. Nothing predestined him for this path. There are a few watchmakers in the family history, but absolutely no jewellery professionals… Nevertheless, he entered the Lycée Professionnel Edgar Faure in Morteau where he prepared for and obtained his CAP and BMA. He worked for a while in Alsace before arriving in Paris in 2005. For almost five years, he worked in subcontracting workshops for the big houses and perfected his technique.
Goldfinch" brooch in yellow gold, diamonds, pietersite, onyx, coral and carnelian. Photo: ©MarieChabrol/legemmologue.com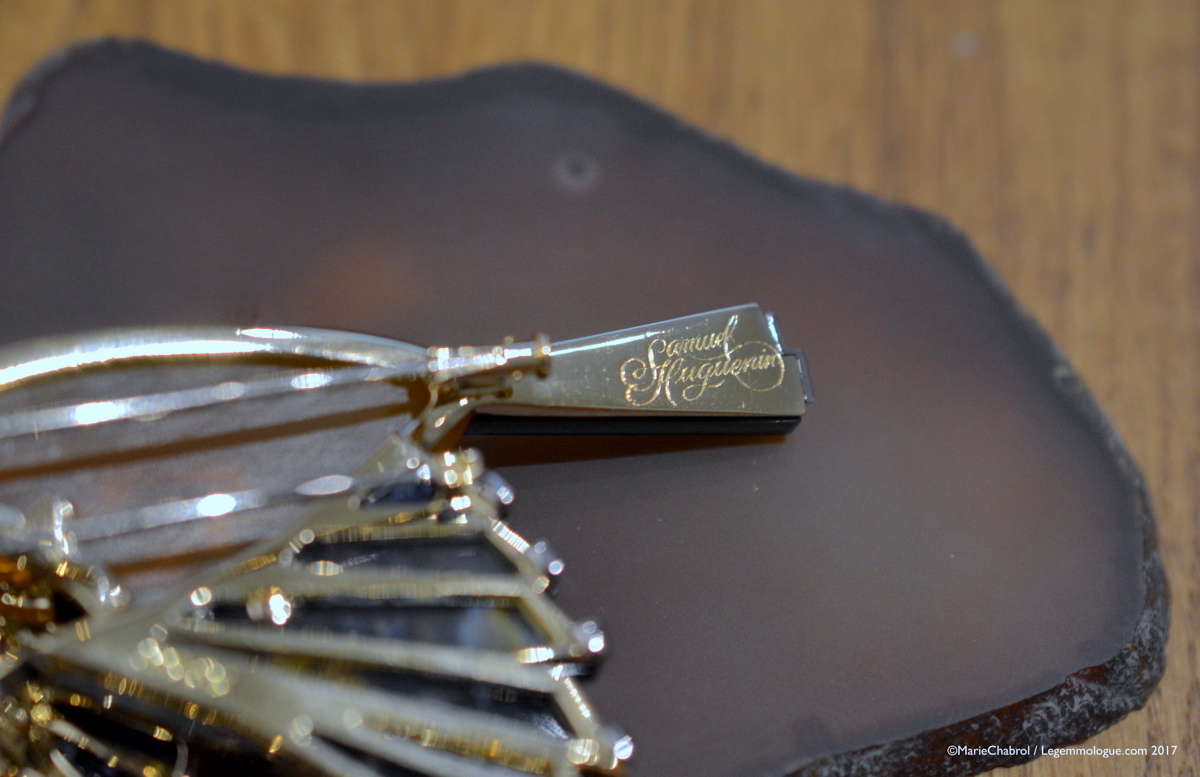 Detail of the hand engraving on the brooch. Photo: ©MarieChabrol/legemmologue.com
In 2010, he decided to set up his own business, opened a workshop in the Marais – a stone's throw from the 9th arrondissement, the historic district of Parisian jewellery – and initiated collaborations with specialised craftsmen for certain necessary stages of the manufacturing process (hand engraving, setting, polishing, etc.). Little by little, he created his own clientele of individuals and professionals. Always in search of training, he decided to learn enamelling in the large fire in order to develop this technique in his own creative work. The question then arose of how to make a matte enamel. Indeed, the firing process reveals the colour and shine of the glaze as I explained in this article. It is by trying and applying cutting techniques that he then considers ornamental stones. He then started to acquire equipment and began to look for training to become more independent on the subject. He then followed the courses of Pierre-Marie Lamouret, lapidary, who offers discovery courses but also long training courses on the subject.
Cutting an agate. Photo: ©MarieChabrol/legemmologue.com
Detail of a matrix opal. Photo: ©MarieChabrol/legemmologue.com
Back in his Parisian workshop, he concentrates on ornamental stones. He is interested in the traditional techniques of micro-mosaic but also in stone marquetry or pietra dura in Italian. For him, these techniques are more aesthetic and more graphic and give him great creative freedom. For a little over a year now, he has been developing a bespoke work around these materials: agate, lapis lazuli, common and noble opal, pietersite, malachite and associates gold and often faceted coloured stones to create contrasts that I find particularly successful. The frames are beautiful and refined. The result is elegant and effective. Among the latest important pieces from the workshop, a remarkable "Chardonnet" brooch that I find superb and that sublimates rarer materials in jewellery.
Double Knot ring in leopard opal, chrysoprase and moss agate on yellow gold. Photo: ©MarieChabrol/legemmologue.com
Samuel offers a very modern approach to ornamental stones. He manages to take advantage of atypical materials rarely used in our sector and deserves to have his work known. I know that, like me, you will appreciate his way of conceiving jewellery. If his work appeals to you, do not hesitate to contact him. He will be able to answer your questions and imagine with you the piece you want.
Samuel Huguenin
contact@samuelhuguenin.fr
0650025777
See you soon!