If there is one thing you have to remember about meeting Olga Corsini, it is her smile. Then her joie de vivre. And then her communicative passion for jewellery. So I suggest that you go and meet the woman who, a few months ago, launched the brand Pimpinella Jewellery.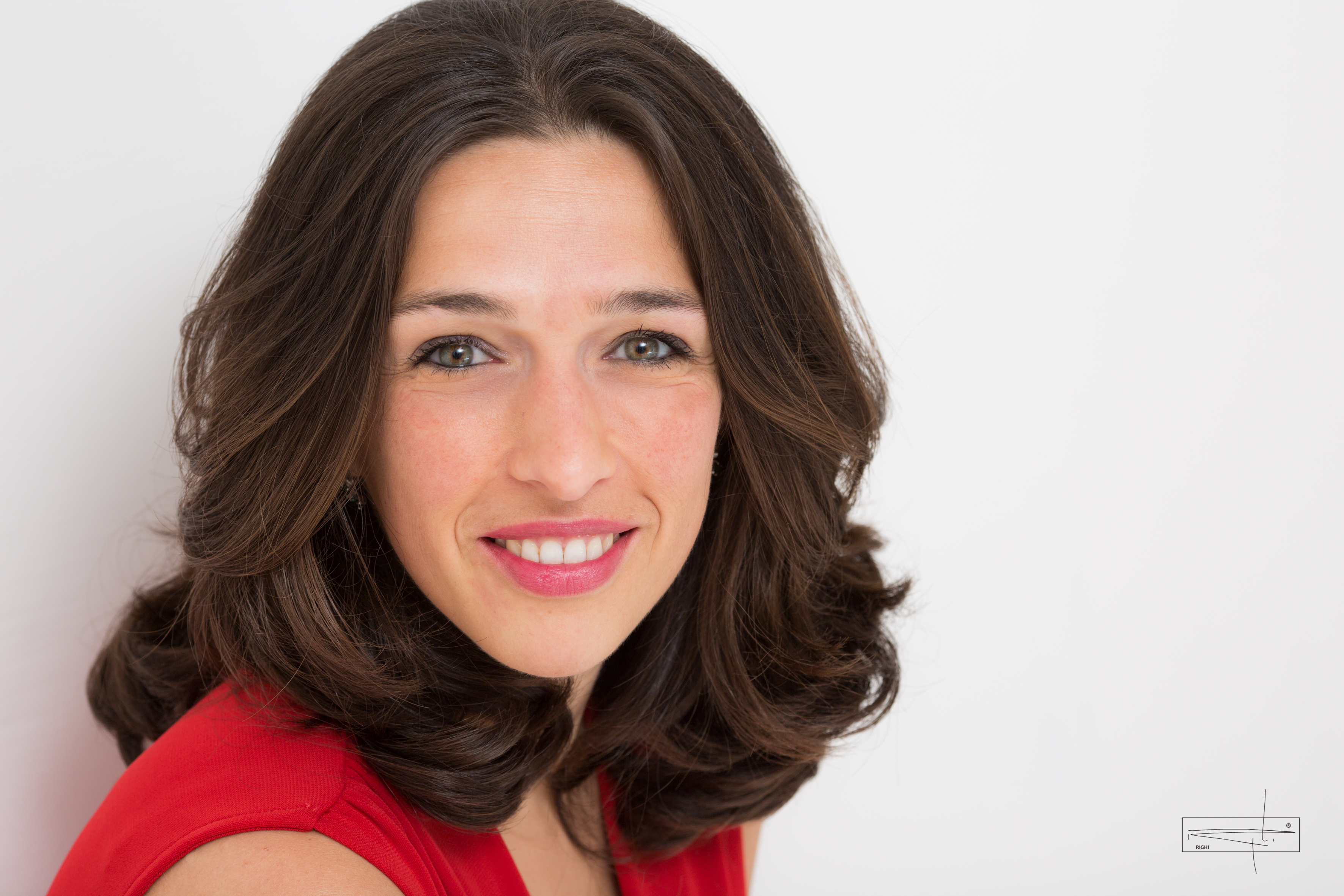 Olga Corsini. Photo: Pimpinella Jewellery
Vanilla rings in yellow gold, diamond, peridot, pink tourmaline and mother of pearl. Photo: ©MarieChabrol / legemmologue.com
Born in Florence, Olga received an international education from her mother – French and Spanish – and her father – Italian and Russian – and grew up in an artistic and cultural environment between Rome and Tuscany where the family owned the Villa Corsini di Mezzomonte. Jewellery has been a passion since her childhood. She knows the stones from her father who collects them. She was 14 when he gave her her first gem, an 11-carat aquamarine, and they decided to create the ring that would accompany it.
Anise Flower long necklace in pink gold. Photo: ©MarieChabrol / legemmologue.com
At the age of 16, she took jewellery design classes at the Art Goldsmith School in Florence and then entered theEuropean Institute of Design in Milan. Gifted in design, with an innate sense of volume, Olga graduated top ofher class. While she was finishing her studies, the Italian fashion house Bulgari organised a competition to recruit new talent for its creative team. For several months, she worked on this project in parallel with her studies. After winning the competition, she was finally recruited directly by Paolo Bulgari and joined the famous company, where she became the youngest designer. It was 2003. After several years, she joined Gucci in Florence to develop jewellery. Finally, she moved to Paris and became a designer at Chaumet where she developed high jewellery, watches and several of the company's flagship models. She admits that she is passionate about marketing and imagines pieces that must sell. This is her primary objective and one of her greatest strengths: to listen to her customers and create jewellery that they will like. Finally, she added a gemology degree to the ING to perfect her knowledge of gem materials.
Pepper bracelets in pink gold / diamonds and white gold / colourless and black diamonds. Photo: ©MarieChabrol / legemmologue.com
Design by Olga Corsini and creation of a unique ring. Photo: Olga Corsini
In 2011, she left France for Switzerland where she settled with her husband who had just founded Montres Valbray. At the same time, she developed her own design studio, imagining unique jewellery for clients but also advising jewellery brands. The idea of creating a line that she could distribute gradually took hold. Several elements guided her: pimpinella – the nickname given to her by her father when she was a child – is the Latin name for the green aniseed, a plant endemic to Tuscany, but also the name of the jewellery line The Officina Profumo – Farmaceutica di Santa Maria Novella. This place, historically known to all Florentines, is also called Antica Spezieria di Santa Maria Novella. Itis an ancient Italian apothecary's shop, now a perfume and body care house, located in Florence, in the conventual complex of the Santa Maria Novella Basilica. Opened in 1612 by Dominican monks, this pharmacy and perfumery is the oldest in the Western world still in operation.
Vanilla bracelet in yellow gold, diamonds and mother-of-pearl. Photo: ©MarieChabrol / legemmologue.com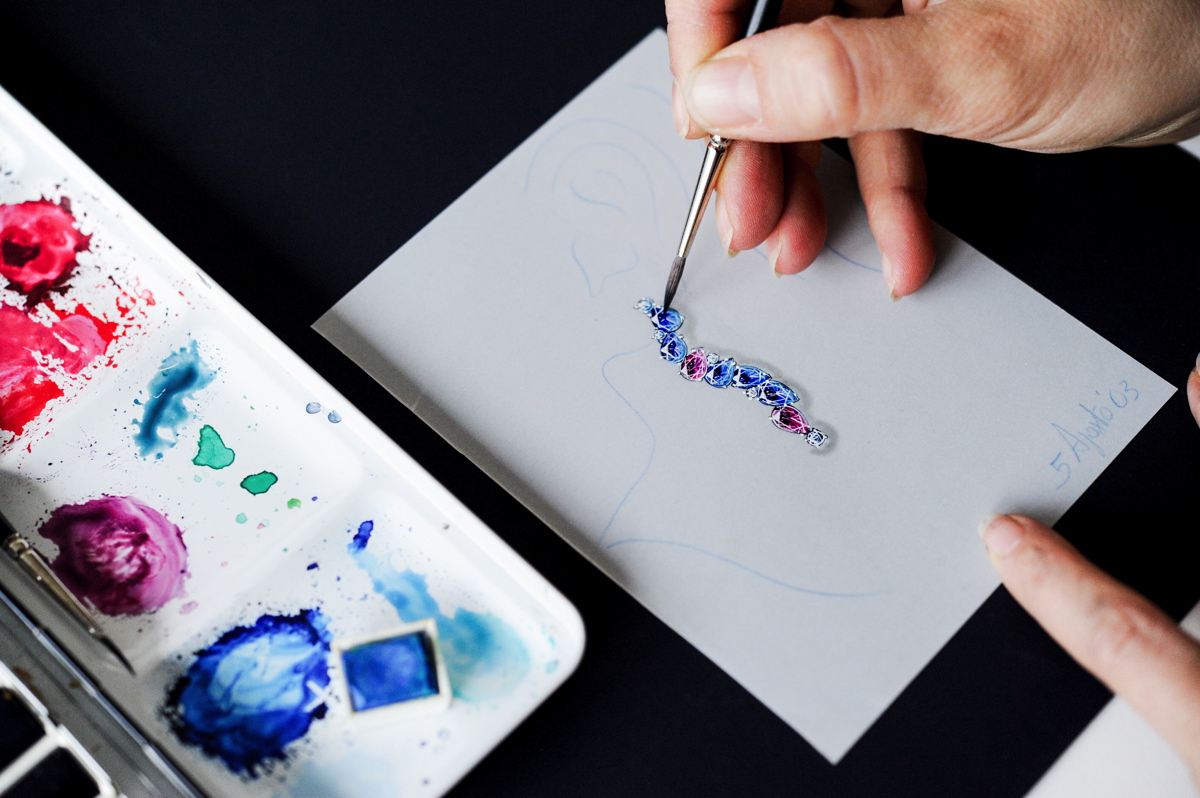 Design by Olga Corsini and creation of unique earrings. Photo: Olga Corsini
Pharmacy means plants. And more particularly medicinal plants, fragrant plants and therefore spices… whose curative virtues have been known for a very long time. Florence is also a city with a profoundly artistic tradition, which very early on was the origin of the merchants' guild called Arti di Firenze.
Pepper ring in rose gold. Photo: ©MarieChabrol / legemmologue.com
It was around this Florentine history that Olga Corsini began to develop what would become the fabric of her house. Spices have never been used as a working theme in jewellery and they offer amazing creative possibilities. Today, she offers three collections based on three very special spices:
Vanilla Vanilla offers a range in yellow or pink gold in which mother-of-pearl motifs are inscribed according to the Italian techniques of scagliola, which inlays stucco (sometimes coloured) into furniture, and pietra dura, which inlays hard stones creating remarkable marquetry
Pepper Pepper is available in bracelets and rings, with small hammered or diamond-set peppercorns on the wrists.
The Anise flower gives a set of pieces in pink gold, stamped with great finesse.
But there will soon be more, as the designer is already working on other spices that will soon be transformed into jewellery. So liquorice – liquirizia – but also coriander – coriandolo – should soon be available… and what I had the chance to discover already pleased me.
Vanilla necklace in yellow gold, sapphires, tourmalines, peridots and mother-of-pearl. Photo: ©MarieChabrol / legemmologue.com
To present her pieces, Olga chose a particularly bold approach by contacting delicatessens. Far from the muffled, sometimes impersonal salons, she installs her pieces for colourful events in absolutely adorable food shops where one wants to taste all the proposals. This is how I met her at the Epicerie Jeune Homme in the 7th arrondissement. A place I can only recommend to you. At first surprised by his initiative, the grocers were finally seduced and his next event will be held in Lausanne. I really liked Olga's pieces but I also agree with her vision of jewellery. They are well made, well thought out and easy to wear. And this is also what I want to share with you all, jewellery that makes us travel. Mission accomplished for Pimpinela Jewellery!
See you soon!