Over the last few weeks, I have discovered many books and taken the time to browse through them. But among the various titles, two absolutely caught my attention and seemed worthy of being part of a library dedicated to jewellery and – by extension – gemology. The first concerns the remarkable collection of men's rings by the Parisian gallery owner Yves Gastou. He is currently exhibiting part of his immense collection at the École des Arts Joailliers and has just published a sublime book with Albin Michel. The second is of course the very beautiful book on the Mogok region (Myanmar) which has just been published by Glénat.
1- "Men's Rings": highlighting an incredible collection /
Since the beginning of October, the Parisian dealer has been unveiling part of his collection, which he has been building up since he was a teenager, but which he has greatly enriched since 1975. The collection has grown to include more than 1500 rings, all very different. If some are signed, many are not. Some are famous: Django Reinhardt's or André Breton's for example. Whether they are in gold or silver, set or not, antique or modern, they must seduce the man to appear in his collection. He, who works on a whim, continues to add to this collection, which he is unveiling to the general public for the first time.
However, those close to him and his customers have long known of his love for men's rings. For beyond collecting them, Yves wears his rings that he has preciously accumulated. So it was time to show them off. Rings of Venetian doges from the 17th century, American biker rings from the 1970s, antique rings from ancient Egypt, vanity rings from the 19th century, enamel rings from the 18th century, rings of contemporary artists… This book retraces for the first time the great history of men's rings through seven themes: Neoclassicism / Chivalry / Gothic / Religion / Vanities / Ethnic / Curiosities.
The collection is served here by a very beautiful iconography. The rings were photographed by Benjamin Chelly, a portrait painter and above all a photographer of precious objects. 250 paintings offer the reader a look at rings, each more astonishing than the last. Delphine Antoine, Yves Gastou's companion and author of the portrait and captions, is an art historian specialising in Art Nouveau and the decorative arts. Harold Mollet, author of the introductory texts, is a specialist in 20th century decorative arts and design.
Far from books that are simply "beautiful", this one contextualizes the most beautiful pieces of the collection and provides many historical elements to better understand the most atypical pieces. A must have book! And if you can, an exhibition to admire until November 30th.
"Rings of Men" published by Albin Michel. 304 pages, 49 €.
2- "Mogok, la vallée des pierres précieuses": a magnificent journey to the heart of the Burmese mountains / "Mogok, la vallée des pierres précieuses": a magnificent journey to the heart of the Burmese mountains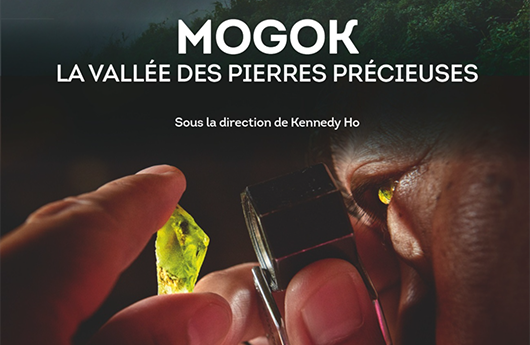 Burma, land of all gemological fantasies? This is certainly somewhat true. If there are several books on Asian gems and the Mogok region, there are few that skillfully mix science and travel. To the point of making it a book for the general public that is sufficiently documented to appeal to experienced gemologists as well. Because it must be admitted that almost everything has been said about this region of the world famous for its precious gems, of which rubies remain the most prized on the world market.
For this book, a team made up of Jean-Baptiste Rabouan (photojournalist), Candice Caplan (GGTL), Emmanuel Fritsch (University of Nantes, CNRS), Franck Notari (GGTL – AIGS) and Thomas Hainschwang (GGTL), led by Kennedy Ho (AIGS), travelled to the lands of Mogok in order to tell the story of what makes this territory such an exceptional place for gemmologists from all over the world
I had the privilege of receiving the book a few days before its release in France and was able to read it at my leisure. I particularly appreciated its balance, which makes it fully accessible to readers with no gemological knowledge. Of course, the book is served by a magnificent iconography and the sublime photos of Jean-Baptiste Rabouan. His eye as a reporter is fully expressed here and he knows perfectly how to capture "the" moment that will remain. Like the cover photo which shows Kennedy Ho examining a peridot, the reflection of which illuminates his eye. This photo, taken without any special effects, expresses all the intensity that can be put into the observation of a gem under a magnifying glass.
As for the content of the book, it is very complete, and offers several areas for discovery and reflection on this region of Myanmar and its gems. You will find historical and geological elements to understand why so many stones are found in this locality. The authors also analyse the dominant position of Mogok rubies on the jewellery market, but you will also discover that this region conceals treasures such as sapphires, peridots and magnificent spinels.
I can only recommend this book to you as well, especially since its very affordable price makes it an easy book to buy. And what better way to encourage you to go, perhaps one day, to discover Burma and who knows when the Mogok region will be fully opened to tourists…
"Mogok, la vallée des pierres précieuses", Glénat, 192 pages, 39,50 €
See you soon!