Dear English readers, this story was originally published under the title " Links in a chain " in the Rapaport Magazine and on Jewelry Connoisseur website. This translation is mine. You can read the original article through this link. Enjoy !
*****
The French high jewellery house Mellerio dits Meller is one of the oldest jewellery houses in the world, with roots going back to the 16th century. Laure-Isabelle Mellerio, the company's CEO and creative director, looks back on this history and shares her own inspirations.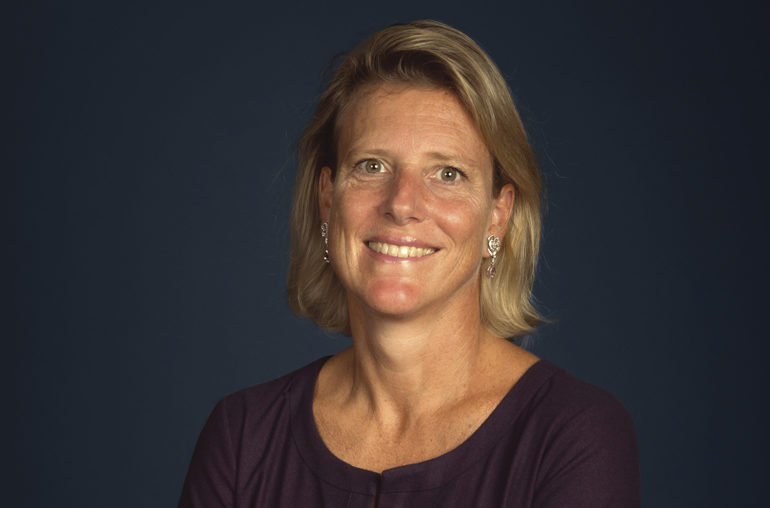 Ms Laure-Isabelle Mellerio. Photo: Mellerio
1-How do you manage Mellerio and the legacy of one of the oldest jewellery houses in the world?
Mellerio is a family business and this is extremely important. Also we have a very long term vision, because the house is not meant to be sold and must remain in our family. The next generation has four sons, one of whom, Como, is already working with us.
In addition, although profitability remains essential, we are not under the same pressure as young brands or houses, whose shareholders expect a quick return on their investments.
Add to that the fact that this is a very elegant house with a unique soul. We must therefore pay tribute to the whole Mellerio family, but also to the employees, the workshop managers and the skilled craftsmen who know how to build loyalty among our customers. Running this company requires a permanent benevolence to maintain the loyalty we have enjoyed for so long.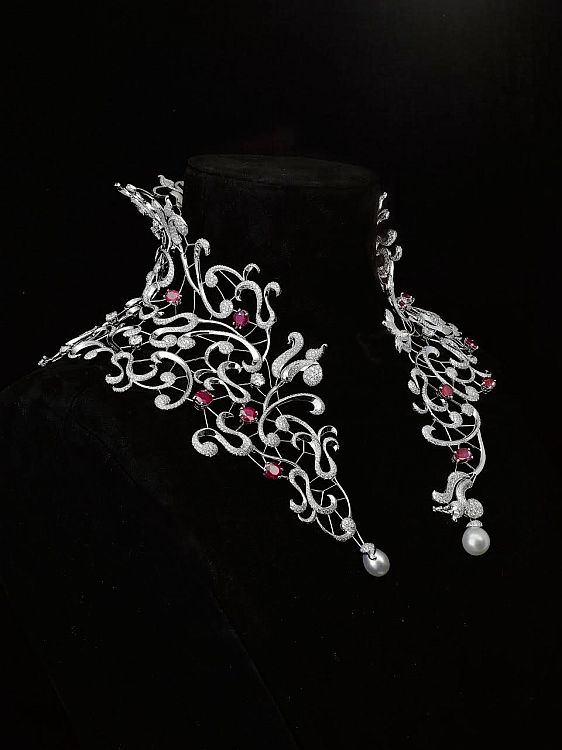 The Medicis necklace in white gold, diamonds, rubies and pearls. Photo: Mellerio
2-How does Mellerio's heritage inspire contemporary designs?
I am often asked if our heritage is a burden. But on the contrary, I find it extremely inspiring and exciting. There is a tendency to return to heritage, and that is one of our strengths, because we have never forgotten it. Also, if I lacked inspiration, I would just have to go down to the archives to get ideas.
My latest collections are based on this history. Having studied drawing and having a background in interior design, I always wanted to respect the codes of the houses I worked with. It is the same dynamic that guides me here: learning, noting recurring elements and reworking them without distorting them.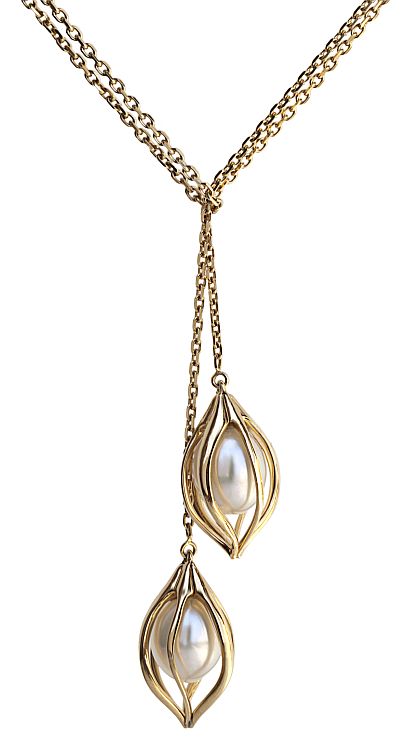 The "Bourgeons de lys" necklace in yellow gold and pearls. Photo: Mellerio
3-Do you feel that some of your creations are now emblematic?
This is a difficult question because my main objective is to perpetuate the spirit of the house. But I remember a customer who, after seeing my first collection, told me that I had kept the Mellerio spirit. So I said to myself that I had taken up the challenge and that was the best compliment I could receive. The Mellerio spirit is the freedom to create and propose. Our jewellery remains timeless and elegant and never goes out of fashion. This is perhaps our speciality, and it is the emblematic character of the house.
4- Do you perpetuate the house's very particular techniques?
Of course, although many of these techniques are found in other houses. But here we try to maintain the use of enamel, for example, which I am very attached to. I regularly try to incorporate ornamental stones that are often used for engraving or sculpture, and of course we have the Mellerio cut, which is a subtle mix of oval, pear and cushion, with 57 facets.
We have our own workshop, where almost all our production is done by hand. This is also what sets us apart from other high-end jewellery brands: we offer a meticulous service, from our collections and custom-made designs to the repair of antique jewellery. We are jewellery manufacturers and this is our business model.
The Mellerio cut. Photo: Mellerio
5- How would you define your style?
I like colour and volume. I am particularly attached to contrasts and effects between materials and stone sizes. When I imagine a collection, I play and that's what guides me. Nothing scares me… I love emeralds and I tend to use them a lot. But to define my concept of collections more generally, I design jewellery that I would like to wear.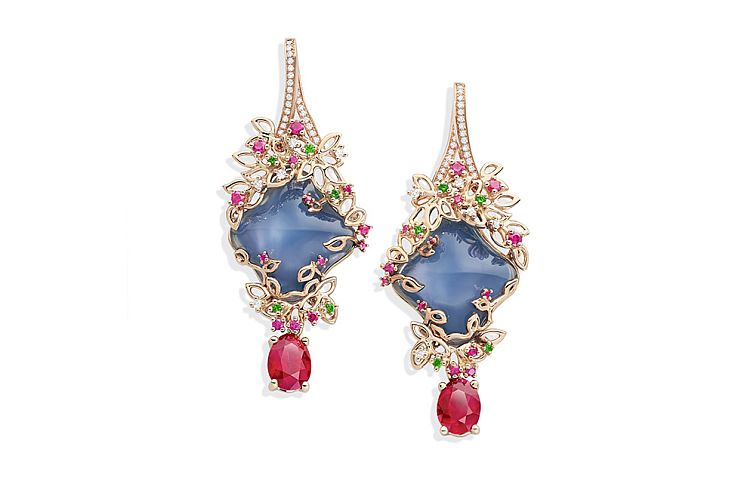 Lago earrings from the Isola Bella collection with gold, diamonds, chalcedony, rubies, sapphires and tsavorites. Photo: Mellerio
6- How would you describe the latest collection?
The latest collection is all about diamonds. It was a real stylistic exercise for me, with this desire to highlight this stone with which I usually work to complement coloured gems. The jewellery in this collection is really joyful. The lapis lazuli brings a lot to the pieces and the scarf necklace is really successful. The next collection will be another artistic journey!
Ciottoli ring from the Isola dei Pescatori collection set with a 4.52 carat cushion emerald, sapphires and chrysoprases. Photo: Mellerio
7-Mellerio's signature peacock egret was sold in June 2019 at Christie's "Maharajas & Mughal Magnificence" sale. How do you feel when antique jewellery from your house is sold?
We have been delighted to see this brooch at the various exhibitions and recently at this incredible sale in New York. This type of event helps to increase the popularity of Mellerio antique jewellery. Moreover, our creations are rare on the market. The peacock is the emblematic animal of the house, the one we regularly create. Long before Art Nouveau. So we were precursors. The first brooch was bought by a Spanish duchess in 1867 and I'm pretty sure it still exists. One day it might turn up again…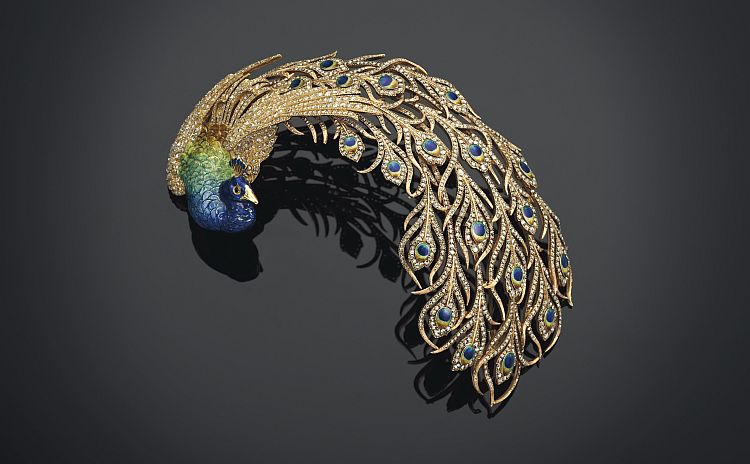 Diamond and enamel egret, circa 1905, from the collection of Maharaja Jagatjit Singh of Kapurthala. Sold at Christie's NY for over $730,000. Photo: Christie's
*****
A family home
The history of Mellerio dits Meller dates back to 1515, when the family of peddlers of small objects left Cravegia (Italy) for France. In 1613, the French regent, Marie de Medici, allowed the family to trade within the French kingdom without paying taxes. This right was an important step and lasted until the end of the reign of Louis XVI in 1792; Queen Marie-Antoinette is said to have bought a Mellerio bracelet in 1780.
In 1815, the family opened its shop on rue de la Paix and continued to build its reputation in the 19th and 20th centuries. Since 1955, the company has created the Ballon d'Or, an annual football award, and since 1981, the trophies for the French Open tennis tournament. In 2005, it launched the exclusive Mellerio size.
To celebrate the 400th anniversary of the privileges received from the regent, the house presented the Médicis necklace in 2013. A piece that required 4500 hours to complete.
See you soon!