Less than a year ago, Olivier Bachet – art dealer at his own Palais Royal – published, in collaboration with Alain Cartier, a beautiful book devoted to the history and style of the objects of the House of Cartier: cigarette boxes, pen boxes, fans, belt buckles, theatrical binoculars, pens, pill boxes, clocks, handbag components, decorative objects with no other purpose than to delight the eye and the soul. So many objects that have been created in the Cartier workshops since the company was founded and which continue to be created in absolute secrecy for the pleasure of a few privileged customers and collectors. These are also objects about which the House of Cartier communicates very little. Because discretion gives rise to desire. I had wanted to meet Olivier for a long time to talk about his book, and there have been a few obstacles, but I am happy today to present his work to you. Like what, waiting is always a good thing!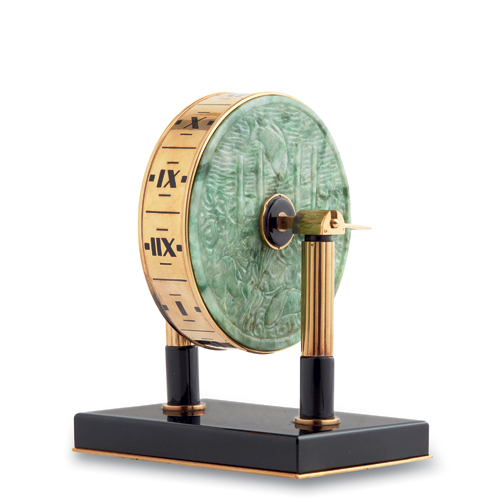 MYSTERIOUS CLOCK, CARTIER PARIS, 1938. Gold, jade, onyx, enamel. Signed Cartier. Patented. Gold hallmark with eagle head. Manufacture: Cartier. Private collection. On this clock the time is indicated not by hands but by an index marking the edge of a rotating drum. The drum is made of two Chinese jade discs of the 19th century with fish motifs. Inside, a ballast makes the drum turn by gravity. This model of clock is the subject of a patent application to the Ministry of Commerce and Industry. Photo: Olivier Bachet
I had the great fortune to be able to admire this book on several occasions at a jeweller's friend's. As luck would have it, I knew years before this project was to be carried out that it would see the light of day. It was therefore with great pleasure that I learned of the publication of this exceptional work. And it is also because it is exceptional and has a correspondingly high price that I have certainly been slow to tell you about it. The book actually consists of two volumes for a total of 1000 pages. It is priced at € 990, it is a limited edition of 200 copies and there is also an English edition. The project was born in Olivier Bachet's head in 2012 but he really started working on it from 2014. "I love objects and I find them underrated compared to jewellery. They are often much more difficult to make and require the implementation of very specific skills" Olivier says from the outset during our interview.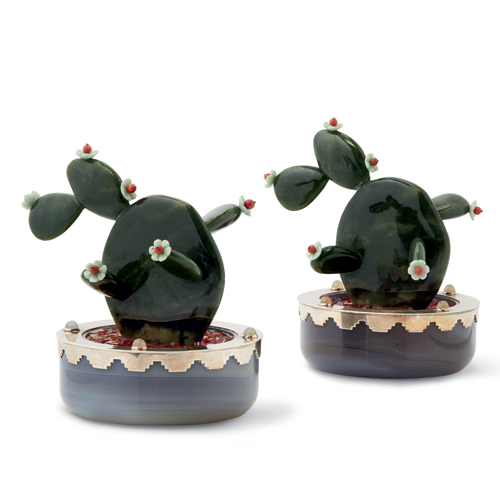 CACTUS, CARTIER PARIS FOR THE NEW YORK STOCK, CIRCA 1935. Vermeil, nephrite, agate, carnelian, jade, coral, moonstone cabochons. Signed Cartier Made in France. Manufacture: Fourrier, Linzeler. Private collection. The cabochon-cut moonstone used here to embellish the rims of the pots was mainly used at the beginning of the century to adorn the pushers of repeater clocks. Photo: Olivier Bachet
It took five years of hard work to write the book, but above all to gather 1500 objects and drawings, most of which are kept in an exceptional private collection. For therein lies the interest of this book, which is destined to become a reference on the subject of the Cartier precious object. Indeed, although several of the objects presented come from the Cartier collection, the vast majority are not kept by the company. At the same time, the book – produced in total independence – gives a very different reading from that which a purely marketing book might give. Here, it is a vibrant tribute to the craftsmen, designers and innovative capacity of the greatest jewellery house. And Olivier adds"the Cartier object is what corresponds most to my tastes. The house does not follow fashion, it makes it. This project was great to do because it allowed me to collect rare, amazing and remarkable objects with perfect craftsmanship."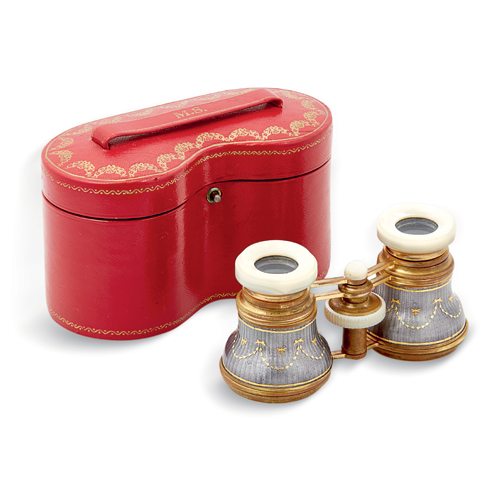 PAIR OF THEATRE BINOCULARS, CARTIER LONDON, CIRCA 1910. Gilt metal, enamel and mother-of-pearl. Signed Cartier. Palais Royal collection. Photo: Olivier Bachet
In addition to the beautiful illustrations and finely chiselled texts, Oliver Bachet and Alain Cartier have done some real detective work. The book is full of beautiful preparatory and technical drawings, but above all it devotes an entire chapter to the manufacturers who worked on the production of these delicate objects. More than 80 master hallmarks are revealed here with the history of the workshops: addresses, dates of inscription and deletion, specialities. A marvellous mine for amateurs, the curious and historians who wish to identify a manufacture and a place of conception. Finally, an essential question remains to be asked to Olivier, that of knowing if a more particular piece held his attention:"there are many" he answers me"but I can quote a very pretty cigarette box whose Greek frieze pattern is as simple as it is remarkable. For this box, we found the preparatory drawing by Charles Jacquot, the firm's in-house designer. And above all, an almost identical item kept in the Cabinet des Médailles where we know that Mr Jacquot often went for a walk. That's what'sfabulous, when you can identify the creative process from inspiration to final realisation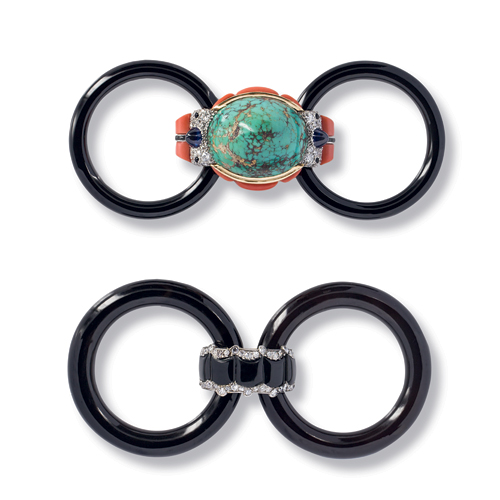 BELT BUCKLES, CARTIER PARIS, (1922). Gold, onyx, coral, turquoise, diamonds, sapphire cabochons. Unsigned. Gold hallmark with eagle head. Master goldsmith: Droguet. Private collection. This buckle was worn with a black silk belt. Henri Droguet made at least seven belt buckles in matrix turquoise and onyx for Cartier, including four in 1922. Photo: Olivier Bachet
The book is an object as unique as the delicate wonders it presents. A few copies are still available. You can contact Olivier directly or drop into one of the bookshops that distribute it, and this, as soon as the lockdown is over, unless they can deliver without the delivery men putting themselves in danger. Go to Bernard Letu (Geneva), Galignani, Le Bon Marché, Artcurial (Paris) or John Sandoe in London. The book will never be republished, it is the will of its authors to make it a rare object which will very quickly become a collector's item. So, if you can, I encourage you to buy a copy.
See you soon!