Dear French readers, you will find below the translation of my article " High-end heritage ", originally published in Rapaport magazine and on the Jewelry Connoisseur website. The American version can be accessed via this link.
*****
As more and more major houses offer collections with their own vintage jewellery, dealers and auctioneers are facing new competition.
A rare Belperron gold, platinum, diamond and emerald butterfly brooch from the 1940s. Sold by Aguttes in June 2018 for over €300,000 against an estimate of around €30,000-50,000. Photo: Olivier Baroin / Aguttes.
In March 2001, a historic exhibition opened at the Muséum National d'Histoire Naturelle in Paris, an exhibition that would revive the market for rare and signed jewellery. "Diamonds" was the name of this remarkable event, which was to be talked about for a long time. It brought together crown jewels from several countries – including France, Portugal, Denmark, Egypt and Indonesia – and drew on the archives and private collections of Tiffany & Co. and Cartier. Among others.
The event's sponsor was Robert Mouawad. 1.7 million for the exhibition's scenography and security, but he also loaned several of his brand's historical pieces. The ambitious exhibition was a great success, attracting 400,000 visitors. The jewellery houses in Place Vendôme – most of which had refused to participate in the event – began to realise the public's attraction to the jewellery heritage and history of French and international jewellery.
For many years, most of the major jewellery houses have been building their own private collections. Cartier has thus put in place a real internal policy around its heritage. Pierre Rainero, Director of Image and Heritage at Cartier, helped to start building an internal collection in the 1980s. Today, it includes just over 1,500 pieces. Van Cleef & Arpels currently has a collection of over 1,100 pieces, while Chaumet has accumulated several hundred pieces. In the United States, David Webb"sometimes buys very rare pieces for the museum collection," says Levi Higgs, the brand's archivist.
In fact, public interest in these heritage gems began to emerge in the 1980s, when two record-breaking sales marked a turning point in the auction world: Florence Gould's jewels fetched more than $8 million at Christie's in New York in 1984, and the Duchess of Windsor's collection fetched more than $50 million at a two-day auction held by Sotheby's in Geneva in 1987. Experts accepted and acknowledged that provenance and signature would now be key factors in future sales. Recent auction results have confirmed this trend: Christie's sale of the Al-Thani Collection broke some records last June with a total of more than $109 million, while Sotheby's auction of the Bourbon-Parme family jewels brought in more than $53 million.
But it was not until the late 1990s and early 2000s that jewellery houses began to formalise their heritage departments by recruiting historians and cultural graduates. These in-house departments have gone from having a single archivist in most cases to adding a range of new positions, such as project manager for exhibitions or publications and heritage director.
Indeed, history has become an inseparable part of the marketing of the major jewellers helping to keep buyers wanting more. "Heritage is an anchor," says Catherine Cariou, former heritage director at Van Cleef & Arpels, "it is the internal DNA of a house, and it is absolutely necessary to know it."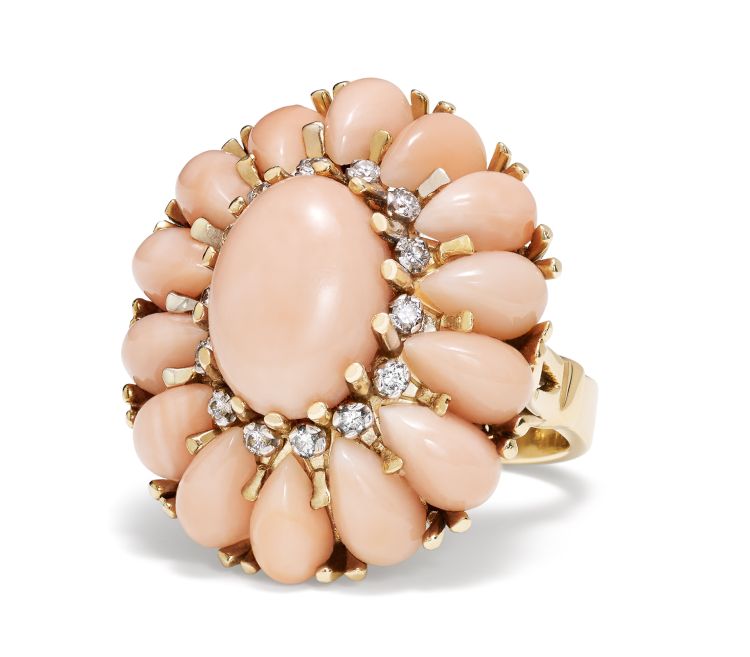 A yellow gold, pink coral and diamond ring from the William & Son Vintage Edit collection
OPENING UP TO THE GENERAL PUBLIC
Long before the "Diamonds" exhibition, Cartier was already holding regular exhibitions of its collection of vintage and historic pieces. The first exhibition dates back to 1989 and this type of event became more and more regular from 2004 onwards. Many other houses followed in the footsteps of the jewellery giant. These include Bulgari, Chaumet and Van Cleef & Arpels. But the houses must be careful not to "drown out" their message. And this is even more true now that the heritage departments of many companies are attached to their marketing and communication divisions.
Brands have been able to capitalise perfectly on the enthusiasm of international customers for vintage. In many shops, pieces acquired by heritage departments can be offered for sale. Van Cleef & Arpels, for example, opened a heritage gallery in its Place Vendôme shop in 2016. And some brands invite their customers to contact them when they have signed antique pieces. Like Boucheron, for example. On its website, a section encourages owners of its oldest jewellery to contact the company. Finally, Cartier regularly organises advertising campaigns offering to buy vintage pieces from the brand.
However, this shift is not always well accepted. The 2014 Paris Biennale des Antiquaires, for example, marked a turning point. That year, several jewellery houses offered vintage pieces on their stands, not just the new collections they were used to presenting. A change that did not sit well with the antique dealers and SNA members at the time. The event was a "breaking point", said several dealers who wish to remain anonymous.
What about today? Well, jewellery houses have become major players in the antique jewellery market, displaying their treasures at key industry shows such as Tefaf and Masterpiece London.
David Webb "Zebra" bracelet in gold, platinum, diamonds, enamel, 1963. Now on display at the Met Museum in New York.
AUTHENTICATION IS THE KEY
Two categories of vintage jewellery can now be said to be particularly sought after: signed pieces and those that have – in addition – certificates of authentication from the brand that made the piece(s). While the best dealers are able to speculate on the provenance of an unsigned piece, it is far more helpful if the papers confirm it. But over the past decade, it has become much more complicated to get these assurances from jewellery houses, dealers say. "Today,some houses are more reluctant to provide information," comments a Geneva-based auctioneer. "Cartier, Van Cleef & Arpels, and Boucheron charge for authentication when they agree to do it. With a cost of several hundred euros, this can be prohibitive for a small piece of jewellery valued at less than 5,000 euros." Many houses justify this by explaining the work that goes into tracing the history of a piece. "Every piece of jewellery, whether signed or unsigned, is thoroughly researched when it is authenticated. The process pays off," says Levi Higgs of David Webb.
But another perfectly understandable reason is to build up internal collections. Catherine Cariou explains that providing authentication is not in the house's interest if it wishes to buy the piece, as it " would increase the price considerably. Van Cleef & Arpels regularly buys to build up its heritage collection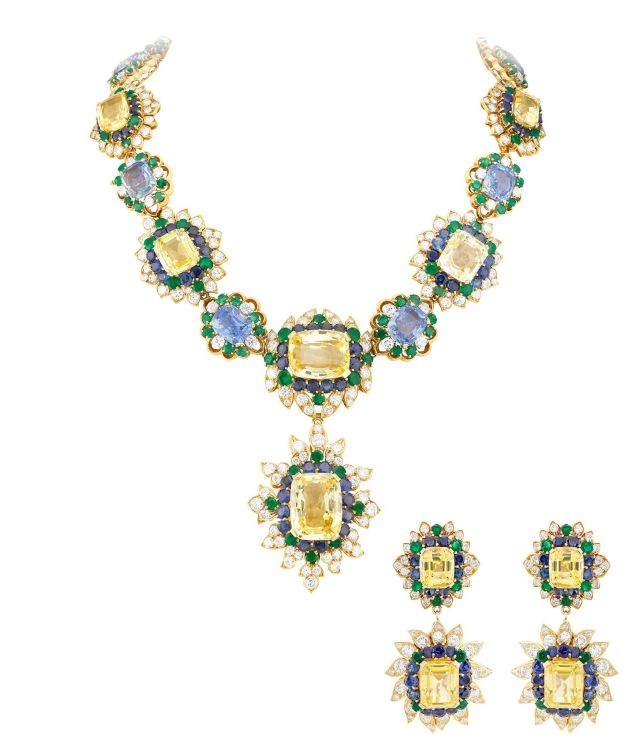 Van Cleef & Arpels set with earrings and necklace in yellow gold, diamonds, blue and yellow sapphires and emeralds, 1959.
CLAIMS AND DISPUTES
Archives are a mine of invaluable information and can become the subject of legal battles. A recent case involved the American company E. J. Landrigan, owner of Verdura, and French jewellery expert Olivier Baroin, who discovered and purchased Suzanne Belperron's personal archives in 2008 and subsequently published a book on Belperron jewellery. However, E.J. Landrigan, who had purchased the Belperron brand in the 1990s, objected to Baroin's use of the archives. The French courts determined that the documents could be used by Baroin. The French expert won his case at first and second instance.
The issue is particularly relevant because many jewellery houses in the United States use their archives to reproduce antique pieces, as Tiffany & Co. does with jewellery designed by Jean Schlumberger. E. J. Landrigan is one such company attempting to revive the Belperron and Verdura houses. Reissues of the latter's iconic Maltese Cross bracelet currently cost between $40,500 and $58,500, while a vintage piece can cost nearly $100,000. In 2004, two 1930 Verdura Cross brooches belonging to fashion journalist Diana Vreeland sold at Christie's for $192,300.
With prices still very high, signed vintage jewellery is a pretty solid investment. Convincing customers to invest used to be the job of auction houses and antique dealers. But now, with historic brands now playing in this field, the question is not so much whether people will buy, but who will be the first to sell the piece that collectors want.
A rare gold, diamond and enamel "Cicada" brooch by Boucheron from 1902. Unsigned but with a Boucheron certificate. Sold at Christie's Paris in November 2018 for over €335,000. Image: Christie's.
THREE JEWELLERS WITH VINTAGE CORNERS IN THEIR SHOPS
William & Son
For just over five years, renowned London luxury boutique William & Son – purveyor to the Queen – has offered a vintage space with unsigned pieces. "We are passionate about vintage jewellery," explains Clémence Mérat, jewellery consultant and former head of the company's jewellery department, "it's also an ecological commitment, as we give a second life to jewellery in perfect condition." In this refined space, customers can find pieces from the late 19th century to the 1980s. Restocking is based on discoveries that catch the department's eye.
Buccellati
A little over a year ago, the Italian jeweller Buccellati opened a space in its shops to display pieces from its own heritage collection. The jewels are authenticated and sold with a certificate and a copy of their archive drawings. If the original box no longer exists, the company will reproduce it identically. "There is a huge vintage collection that we have divided into different parts and [sent] all over the world to Asia, Europe and the US. This way everyone can enjoy and see this special collection," the company explains. Adding"All the vintage pieces represent Buccellati's signature design." A few months ago, the house was also selling some pieces at Sotheby's in an exclusive sale.
Fred Leighton
"For every beauty lover, there is a jewel. But for those looking for something unique, a pedigree piece, a boldly styled design, there's only one source: Fred Leighton. " A good way to introduce things and to remind us of the talent for finding rare pieces that this famous New York house possesses. And indeed, its Madison Avenue boutique is a prime source for unique signed jewellery pieces. The story began in the 1970s, when Murray Mondschein, owner of a clothing shop in Greenwich Village, started selling jewellery (he later changed his name to Fred Leighton to match the shop). Today, the company creates its own contemporary collections, but also displays its vintage jewellery on red carpets around the world, adorning Hollywood stars such as Meryl Streep and Nicole Kidman.
Buccellati yellow gold necklace with emeralds, pink sapphires and aquamarines, 1992. Sold for over €52,000 at Sotheby's Paris.

See you soon!
Cover photo: Christie's