Now that you can sit on a terrace with a coffee, tea or whatever, it would be a shame to miss out. If you are not accompanied, and to avoid scrolling endlessly on your laptop, the best thing is to be accompanied by a good book. Because you never regret this kind of meeting! And what better way than with books about jewellery. Here are some recent books to combine culture and relaxation.
1-"Bijoux anciens, découvrir, identifier & apprécier" (🇫🇷) – Flammarion – 15 euros
The book "Bijoux anciens, découvrir, identifier et apprécier" is written under the direction of the jewellery expert Geoffray Riondet, with the support of the ING, the National Institute of Gemmology, and prefaced by the artistic director of the Dior jewellery house, Victoire de Castellane. I have had the pleasure of knowing Geoffrey for twenty years, when the Riondet house was still his parents'. So it is with great joy that I discovered this little book, extremely well written and complete, whose idea he initiated and supervised the writing, accompanied by talented gemologists and historians such as Valérie Goupil, Anne Laurent or Gérard Panzer to name but a few. Published by Flammarion, it is available for 15 euros.
The book, which costs 15 euros, takes you on a journey of discovery of jewellery made between 1800 and 1950. Richly illustrated, it offers to immerse you in many different periods: the First Empire, the Restoration with the pieces of François-Désire Froment Meurice whose name alone lights sparks in the eyes of collectors. Of course, it is impossible to miss the Second Empire and the Belle Epoque with its platinum and diamond pieces. The Art Nouveau and Art Deco periods reveal incredible signatures such as Henri Vever, Lalique, Sandoz, Fouquet but also technical feats such as the mysterious setting of Van Cleef & Arpels which was created in 1934. The book ends with the Second World War and the Liberation, which saw the triumphant creations of Cartier and Mauboussin. You may not know that these pieces were nicknamed BOF in reference to the words Butter, Eggs, Cheeses, which were used to describe people who had become rich on the black market. In addition to the historical chronology, the interest of the book also lies in the explanation of the materials that went into the composition of the coins. Between gemmology and history, the authors are able to perfectly render the use, for example, of diamond pearls, coral or horn in the artistic movements mentioned above.
2-"Jewelry Stories, highlights from the Collection 1947-2019" (🇬🇧) – Arnoldsche Art Publishers – From 38 euros
Written under the direction of Barbara Paris Gifford, the book also serves as a catalogue for a permanent exhibition at the Museum of Arts & Design in New York. This museum, founded in 1956 by the American Craft Council and philanthropist Aileen Osborn Webb, was then called the Museum of Contemporary Crafts. In 1986, it moved to the corner of 40 West and 53rd Street and was renamed the American Craft Museum. In 2002, it became the Museum of Arts and Design, and in 2008 moved to its current location in Manhattan at 2 Columbus Circle.
The book presents the most spectacular pieces of the collection but also traces the history of modern and contemporary American jewellery. You will discover many designers, including names that I have already mentioned several times, here or in my video reviews: Sam Kramer, Fred Woell, Esther Knobel, Mallory Weston or William Clark to name but a few. Remarkably illustrated and documented, the book immerses you in the great dates of modern American history and the way this history has influenced the country's jewellers. You will discover funny, touching and sometimes surprising stories. I can only recommend it to you because I really enjoyed reading it and learned many anecdotes. Not to be missed!
3-"Ornament in transition, Silke Trekel Jewelry" (🇬🇧🇩🇪) – Arnoldsche Art Publishers – From 28 euros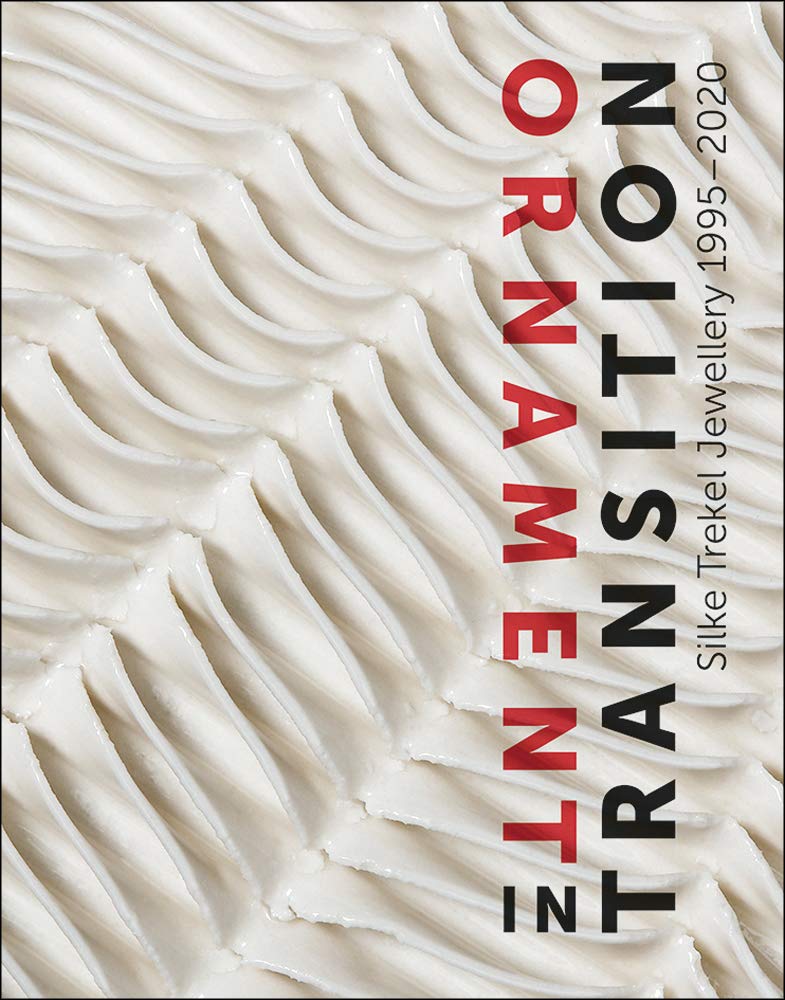 This book takes you to meet the jewellery artist Silke Trekel. Born in 1969 in Rostock, the historic port of the Hanseatic League, she worked in jewellery shops and then, at the beginning of the 1990s, decided to take her training in jewellery making very seriously. She chose the Burg Giebichenstein – University of Art and Design of Halle, Jewelry Department where she studied with Professor Dorothea Prühl. She also spent a semester in Singapore at the LASALLE College of the Arts. Since 1998, she has been living in Halle-on-Saale where she works as a freelancer. Her work has won numerous awards and several museums are fortunate enough to have some of her works.
Her work, halfway between jewellery and sculpture, is a tribute to all that surrounds her. No material stops her, Silke works equally well with silver, titanium, wood, iron, porcelain or enamel. The composition of her pieces leaves nothing to chance. Everything is perfectly thought out and assembled. A singular poetry radiates from each of his creations. The balance is perfect. Not too much, not too little. Silke does not make jewellery, so there are no stones on the pieces she offers. They are not necessary, as the jeweller has captured the soul of what a jewel should be with her extreme sensitivity. Few designers can claim to have succeeded in combining technique and sensitivity. It takes talent to achieve this. There is no doubt that it is present here. Available from 28 euros, the book is extremely well illustrated with high quality photos. You can immerse yourself in his work and discover his fascinating work. This book is necessary, so don't let it slip away.
See you soon!
Photo: ring "untitled (Ring II)" by Myra mimlitsch-Gray, MAD Museum NY Collection, 1993