Less than a year ago, in February 2021, the inaugural sale of the brand new auction house ARP for Art Research Paris took place. The catalogue was stunning. I was amazed and still am when I see the photos of the pieces. It was a great start for this young and promising auction house, which has since offered some very nice sales on various themes with particularly high-quality objects. But if I take the time to tell you about it, it's because on December 13th, ARP Paris will propose a nice session dedicated to jewellery and watches (and it's the firm Sancy Expertise that took care of the watch part). It was impossible to miss it! The catalogue is rich, with 218 lots, and I have selected 7 pieces that I liked for their history, their material, their signature and sometimes, well, a bit of everything. So I suggest you follow me in this discovery and I hope you will be there.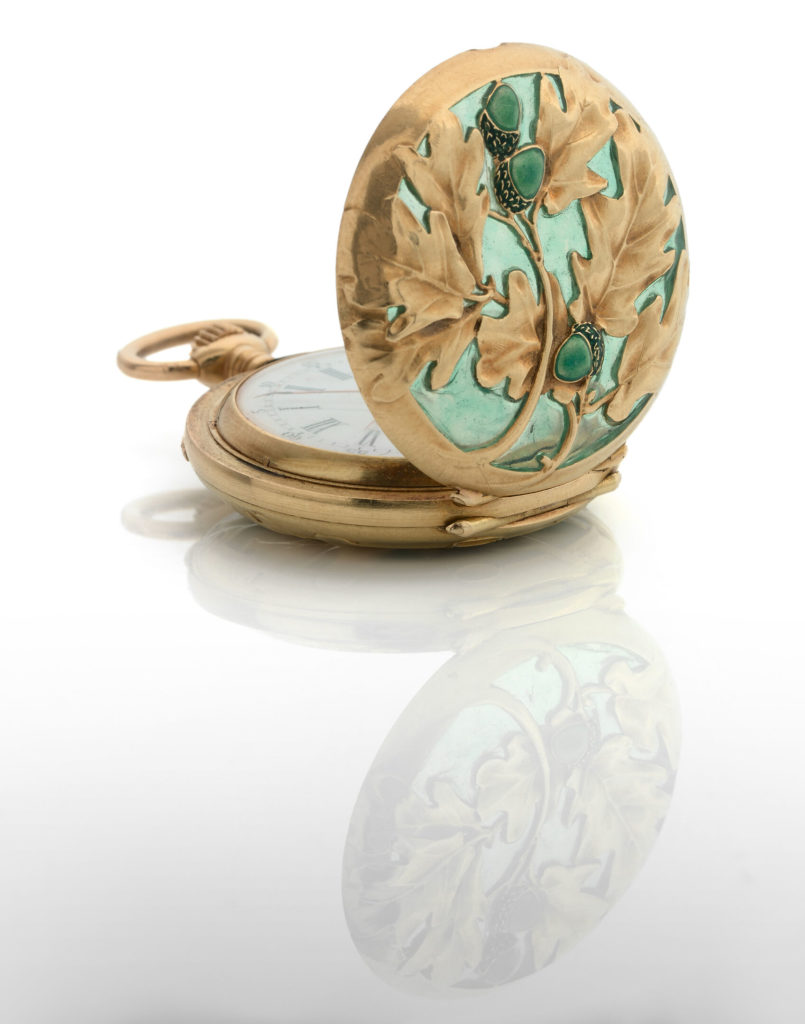 Lot 102: Lalique watch, circa 1900. Gold, enamel. Estimate between 30,000 and 40,000 euros. Photos: ARP Auction
The sale features this rare Lalique watch. It is an Art Nouveau watch, representing oak leaves, enamelled using the plique-à-jour enamel technique. Made in yellow gold, it is in an absolutely perfect state of preservation. So Lalique, of course, is no stranger to jewellery. His creations are all fabulous and bear witness to a fabulous era in terms of creativity and techniques. But let's get back to our gousset watch, if it is necessary to talk about it it is mainly because we know very little about it. Indeed, since 2005, only 8 watches have been auctioned. If we look a little further, we can learn from the magazine Art & Décoration of 1901 that a dozen pocket watches were made at the turn of the 20th century. Two of them are currently on display in the sublime Patek Philippe Museum in Geneva and the MAD in Paris also has two on the theme of pine cones. On this object, one must focus on the finesse of the workmanship, the very rarity of the object itself. Who will it appeal to and where will it go? Geneva, Paris, some other happy place, no doubt its new destination will mark only the happy hours. Horas non numero misi serenas..
Lot 103: Horn and glass comb by René Lalique. Estimated at €25,000 to €30,000. Photo: ARP Auction
Following on from the watch, it is also necessary to mention this blond horn and glass paste comb. This large "oatmeal" comb made around 1902-1903 is a small marvel of delicacy. Take two minutes to project yourself into a painting by Emile Friant or a representation by Alphonse Mucha. Soak up the spirit of these paintings, of these flower women as unreal as they are sensual, imagine these heavy buns that the women pin up with delicate combs to hold them back. And you will have the setting for which this comb was made. The craftsman who delicately carved the smallest details of this admirable object had golden hands. Everywhere, in the smallest scroll, the smallest grain, shines an incomparable naturalist poetry. This object deserves special attention as it is the epitome of plant delicacy.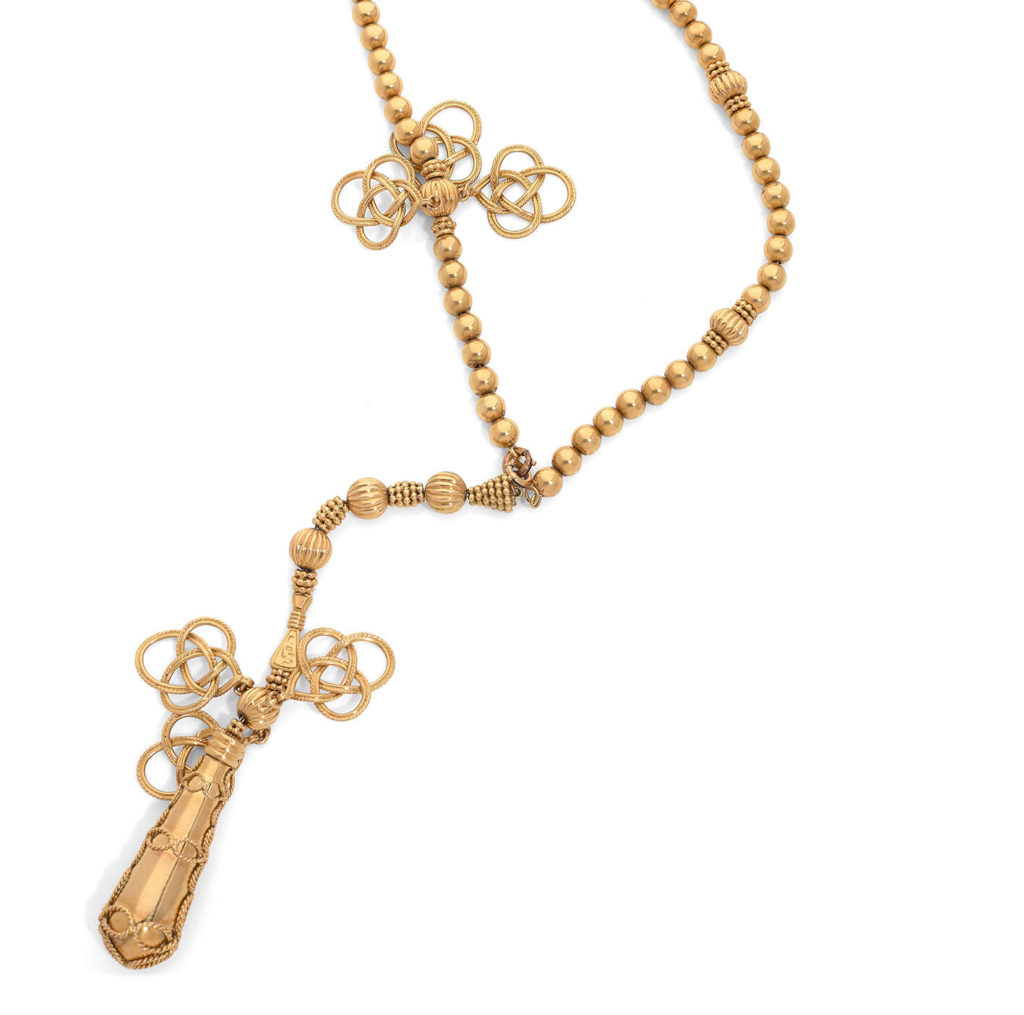 Lot 117: Cartier gold "Arabian necklace", circa 1950. Estimated at €30,000 to €50,000. Photo: ARP Auction
This "Arab necklace" signed by Cartier is a rare item on the market. Initiated at the end of the war, at the end of the 1940s (1947 to be precise), this jewel has had several names: "Arab saltire" and "Muslim rosary" are those that are used quite regularly. Although the jewel that is being auctioned at ARP Paris has been slightly modified to become a necklace, a bracelet and a removable pendant, it is nonetheless surprising, atypical and rare. I think I've only seen one since I've been haunting viewings and auction rooms. That's saying something. The object that will be sold in a few days weighs more than 170 grams, it is composed of gold elements mounted on a chain, itself made of gold. Cartier stopped making this collection in the early 1970s. The object is massive and imposing. But beyond its assertive character, the object is a jewel cut for a collector. For you will not often come across this model from the famous house with the little red boxes..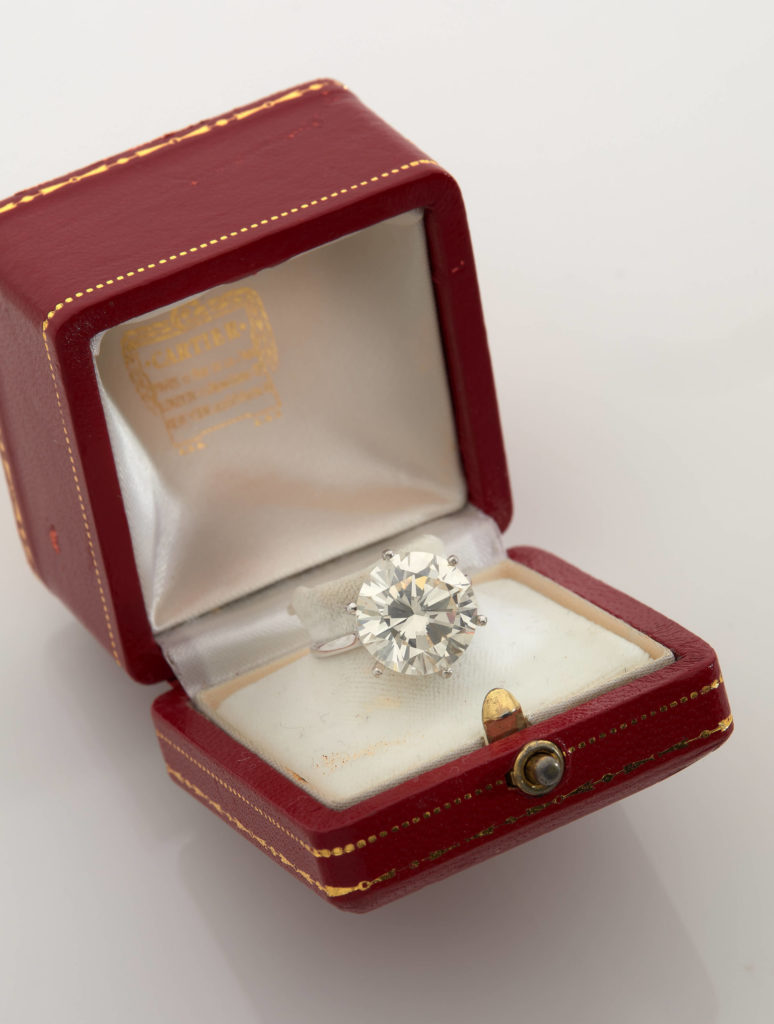 Lot 126: Cartier 11.16 carat platinum and diamond solitaire. Estimated at €100,000 to €150,000. Photo: ARP Auction
I am staying with Cartier for lot 126. It seemed impossible to pass up this platinum solitaire set with an 11.16 carat diamond. The family stone has been mounted in the 20th century but has a value appraisal from Cartier dated 15 October 1965 following verification by the CCIP laboratory, the predecessor of the Laboratoire Français de Gemmologie. An amusing detail, in 1965, the stone is declared pure with a 3x magnifying glass, since the techniques of diamond analysis have changed a lot… At the time, it is Mr Gobel who is the signatory of this document, director of the laboratory, he was a great man of the French gemmology. Graded L and VS2 in 2022 by the LFG, it is therefore tinted but not much included which is good news. Especially for an old stone at a time when the quality criteria were not as demanding as those demanded by today's jewellers. If you have a proposal to make, this stone could be a good starter!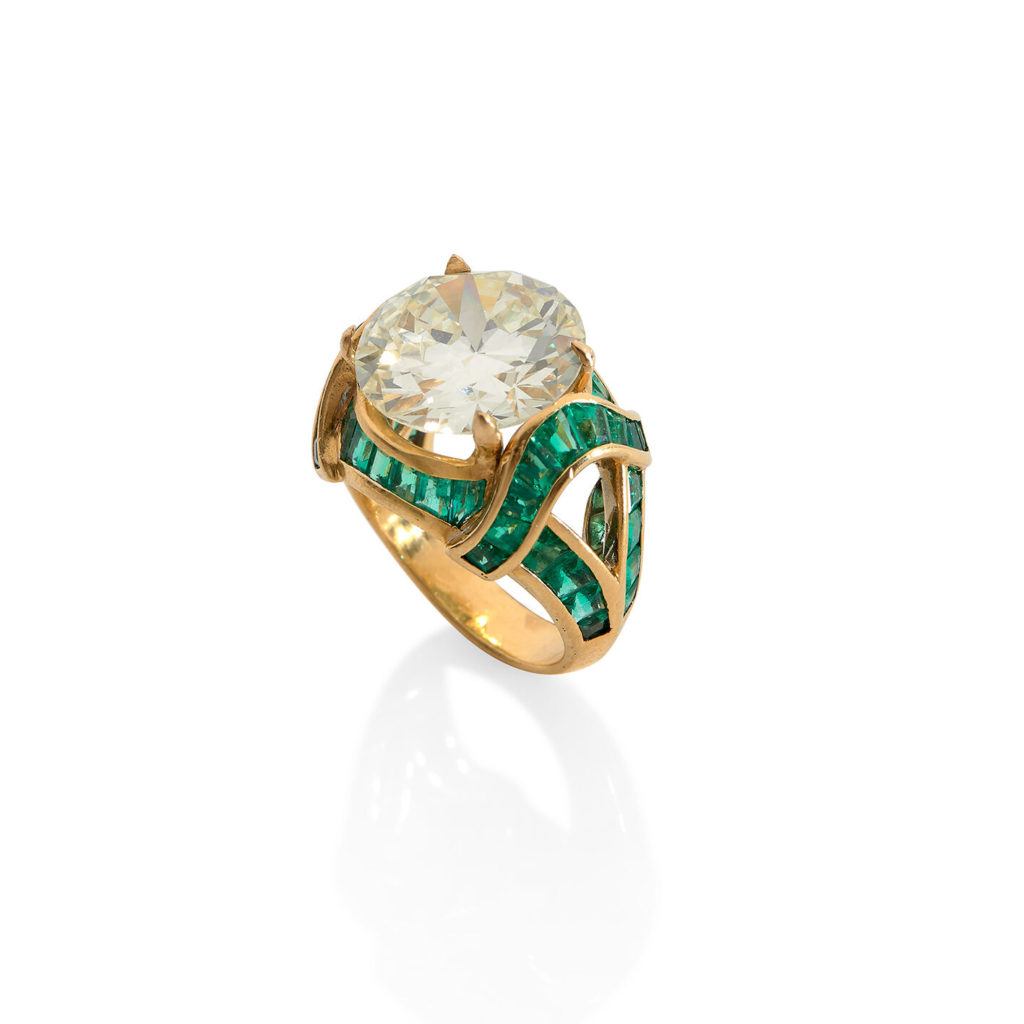 Lot 135: 9.12 carat gold, emerald and diamond Adler ring. Estimated at €80,000 to €120,000. Photo: ARP Auction
I love the cocktail ring. I find this piece of jewellery always uplifting. Often opulent, totally decadent as designers have attributed to it all the superlatives of creation, the cocktail ring is made to be seen. Nothing less. It has to shine, it has to be colourful, it has to tell stories and above all it has to make a statement. This ring from the late 1980s ticks all the boxes with its yellow gold, its calibrated emeralds and its 9 carat diamond graded M VS1. And if you add in the fact that this ring is an Adler, founded in 1886 and based in Geneva since 1972, then I say yes.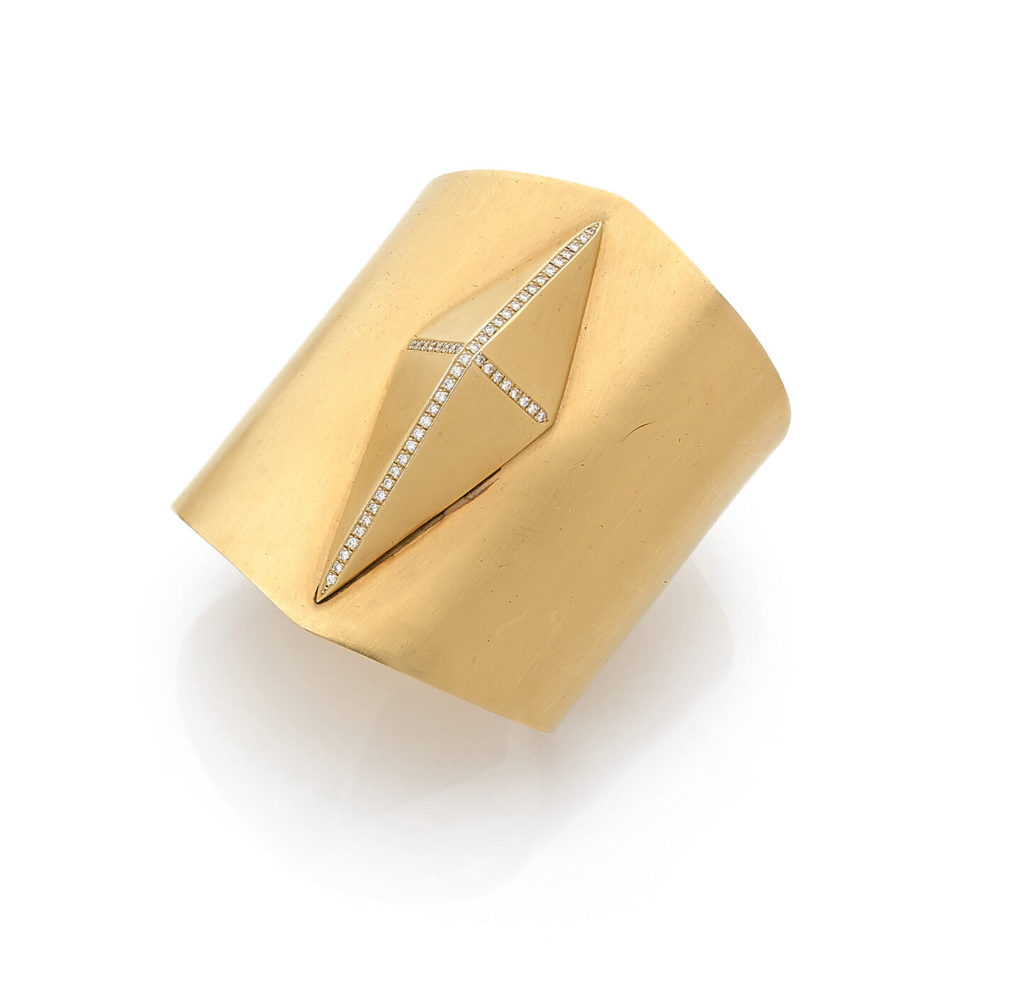 Lot 154: Gold and diamond cuff by Déborah Pagani. Estimated at €3000-5000. Photo: ARP Auction
The cuff is the statement jewel par excellence. Especially when it perfectly dresses the wrist or wrists. We all remember Jackie Kennedy's fabulous gold bracelets that left such a lasting impression on jewellery lovers. This one is signed by the designer Déborah Pagani, it is a modern piece, well in its time and effective. The geometric pattern goes with everything making this jewel very easy to wear or to combine. Simplicity also has its virtues!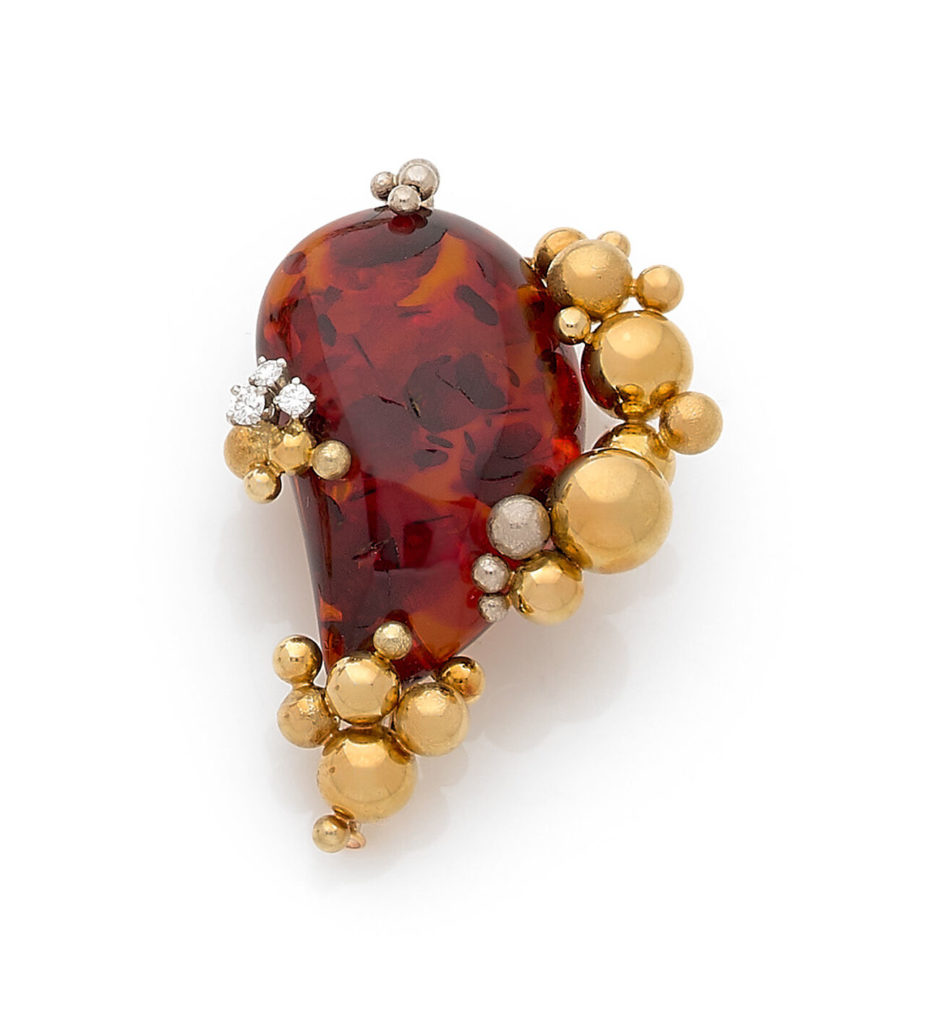 Lot 171: Gold, diamond, amber brooch by Gilbert Albert. Estimate between 1800 and 2500 euros. Photo: ARP Auction
There are some designers I can't resist. Gilbert Albert is one of those names that I hold in high regard. This house amazed me as soon as I entered the profession. I remember waiting for the jewellery releases as an apprentice, watching for his name and his latest creation. A lover of natural materials, he never ceased to push his creative limits to offer absolutely fascinating pieces. He left us in 2019, leaving behind a monumental body of work. The inaugural ARP Paris sale featured a number of pieces – all of them fabulous – and it is a pleasure to see this brooch in the next sale. Made of gold, diamonds and amber, it is really very pretty. It has that round, soft feel to it… It's a sweet piece of jewellery.
See you soon!