On 26 October, Aguttes will be staging its first fall auction with a lovely catalogue. 145 lots are waiting for a new owner. And as always, the selection is top quality, and I like all the jewels. I never tire of leafing through the catalogue, in which I found a few pretty pieces covering more than 200 years of jewellery history. That's a lot!
From Cartier to Suzanne Belperron, Art Nouveau to Art Deco, the jewels that appear on the pages tell pretty stories and whisper the lives of the elegant women who wore them. With this selection, I offer you 8 good reasons to go and bid at Aguttes in a few days' time.
1- A Restoration set (lots 1 & 2)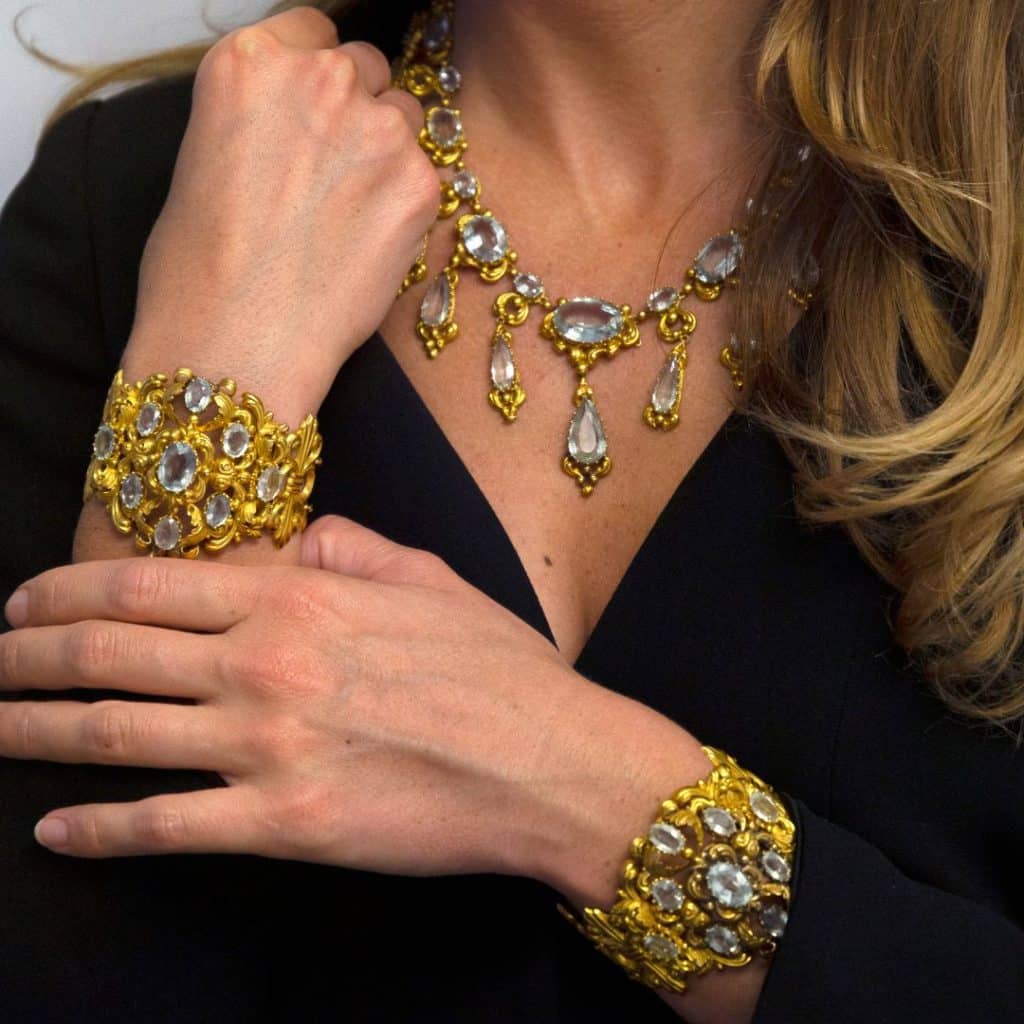 When I went through the catalogue, I realised that I spoke few about the early 19th century. And yet, among the pieces on sale on 26 October, there is a very fine Restauration set. In yellow gold set with aquamarines, it is particularly opulent and in keeping with the distinctive style of Charles X jewellery. The early nineteenth century was a volatile and troubled period of major political change.
After the fall of the 1st Empire and in a gloomy economic climate – Napoleon's campaigns had been costly… – the Comte de Provence and then the Comte d'Artois wanted to recreate the Ancien Régime. The period was characterised by high inflation (nearly 5%) and rising prices for raw materials such as gold and gemstones.
As a result, the jewellers of the time were inventive. Jewels were lightened, less expensive but more colourful stones were used and no expense was spared in terms of volume, often inspired by ancient jewellery. The skills of the jewellers were put to good use here, with results that were often remarkable, as on the bracelets and necklace that make up lots 1 & 2. Estimated at between €2,500 and €3,500 for each lot.
2- A transformable necklace (lot 5)
Transformable jewellery is an excellent invention! Imagine a piece of jewellery and the possibility of wearing it just about any way you like: necklace, bracelet, brooch, tiara, even in the most luxurious cases. I love the design and lightness of the acanthus leaves on this necklace (lot 5), which enhances the diamonds in the centre.
This motif, widely used in jewellery in the 19th century, was first used in Antiquity to decorate the capitals of the Corinthian order. But in the 19th century, artists who wanted to create their own distinctive style looked to bygone eras for inspiration. Around 1850, the Neo-Greek movement emerged, reviving the decorative elements of Greek architecture at a time when archaeological excavations were revealing forgotten sites.
This necklace immediately brought to mind two emblematic pieces of jewellery: the Princess Abamelek tiara (Boucheron, 1907) and the fuchsia tiara by Chaumet (although later than our necklace, as it was made in 1919 for Hedwige de la Rochefoucauld on the occasion of her marriage to Prince Sixte de Bourbon-Parme), which inspired the Soir de fête collection. I'll leave you to admire this collection and note the similarity of the motif. If the delicate style of this late 19th-century necklace from Aguttes appeals to you, it is estimated at between €5,000 and €8,000.
3- A Léopold Gautrait brooch (lot 29)
Léopold Gautrait is a well-known name to lovers of Art Nouveau jewellery. But for many, the name will conjure up either nothing or a number of misleading entries. L. Gautrait is often described as Lucien Gautrait.
A jeweller but above all a chiseller and modeller, his exact name was Léopold -Albert- Marin Gautrait, and he was born in Roullée in the Sarthe on 16 October 1865. With a name that undergoes numerous spelling changes in deeds and articles, the man is not easy to follow. In fact, he had close links with a number of major jewellery companies, especially Léon Gariod – located at 29 rue saint-Augustin from 1884 – who hired him and allowed him to sign his pieces.
The white enamelled brooch in front of us immediately reminded me of a Gautrait bracelet – very similar to our brooch – sold in 2007 by Bonhams. There's no denying that Gautrait has a style all his own, yet unlike many of his contemporaries, he remains unknown to the general public. If you are interested in acquiring this handsome signature, it will be on sale on 26 October. Estimated at between €2,000 and €3,000.
4- An imposing garland necklace (lot 40)
As the Great Depression came to an end in 1896, France, like other countries, entered La Belle Époque, an economic boom underpinned by the 2nd Industrial Revolution. The jewellery industry benefited from the craze for jewellery made from a metal that jewellers had finally mastered: platinum.
Used timidly since the second half of the 19th century, it was not until the development of furnaces and blowtorches that its melting point of 1768 degrees was reached, a far cry from that of the gold and silver traditionally used to make jewellery. In fact, platinum was not hallmarked until 1911.
Aesthetically, platinum made it possible to produce white jewellery that highlighted the diamonds, aided by the electric fairy with the arrival of the "popular lamp" between 1905 and 1910 in every home. This was the era of blouse fronts, necklaces to dress up décolletés and sparkling bracelets on wrists. While French fashion houses made the style their own, a number of German fashion houses, such as Koch and Kreuter, made a name for themselves.
Empress Eugenie had jewellery produced in the style of "Marie-Antoinette", and the jewellery industry seized on the neoclassical motifs of the 18th century: stylised bows and knotwork blossomed on the jewels. This imposing necklace, in platinum lace, is indicative of the period. Estimated at between €25,000 and €35,000.
5 – A rare "nest" brooch by Cartier (lot 61)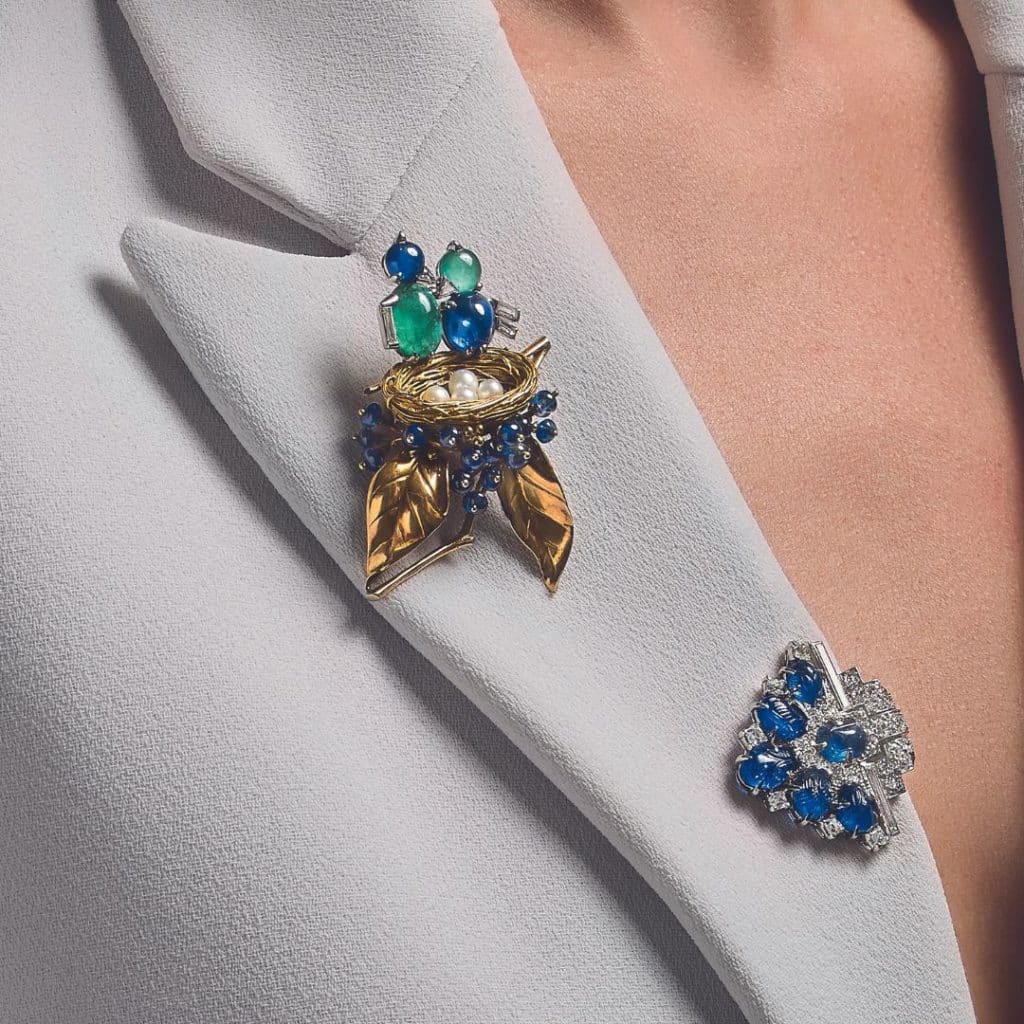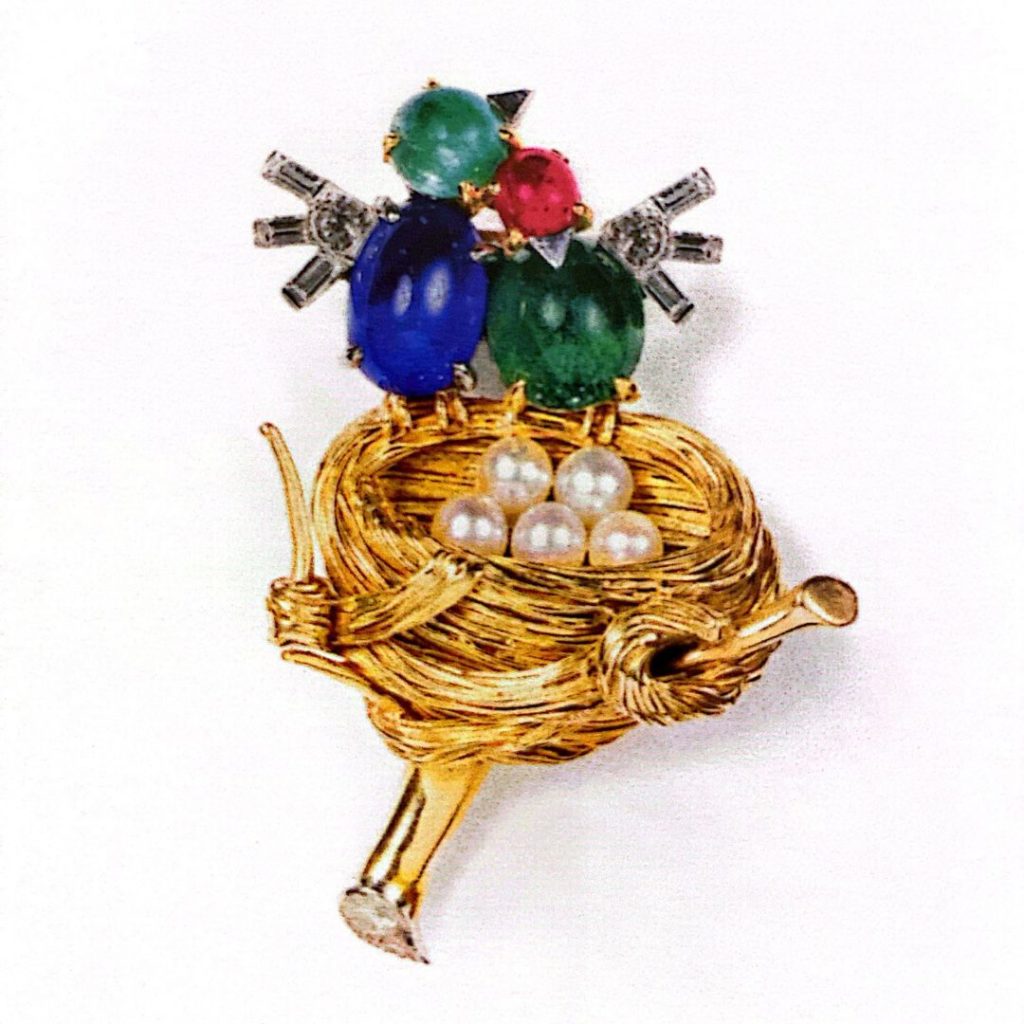 Birds at Cartier are first and foremost a symbol before becoming a stylistic signature. If I remember a swallow from 1935, the Cartier bird arrived in the 1940s. The brooch, based on a design by Peter (Pierre) Lemarchand, depicted a caged bird symbolising a city trapped by the invaders. It was displayed from 1942 onwards in the windows of the Rue de la Paix, and the story goes that it led to the arrest of Jeanne Toussaint.
The motif of the bird with the open cage was taken up again at the end of the war to signify the Liberation. This was true of Cartier, but also of Van Cleef & Arpels. The symbolism of the bird guarding its nest or its eggs, or sometimes its young, is not difficult to understand, especially for a piece of jewellery made around 1944. I can think of at least five Cartier brooches on this theme, ranging from the 1940s to the 1960s and 1970s.
The cousin of the piece on display at Aguttes dates from 1944 based on a 1943 design. Made of gold, platinum, diamonds, emerald, sapphire, ruby and pearl cabochons, it is kept in the company's collection as CL113A44, while the design is numbered ST43/BR08661. So, from my point of view, this jewel is absolutely unmissable! Estimated at between €13,000 and €15,000.
6 – A Dumond bracelet (lot 67)
You don't often see Dumond (or Dumont sometimes) pieces on the market, but perhaps the name Sellier-Dumond will ring a bell.
Albert Sellier founded his workshop in 1901 and moved to 37 boulevard de Clichy in Paris. He remained there until 1923. Two names were added to this first one. Sellier, Joly & Dumond was founded on 23 January 1923 at 15 rue des Petits-Champs.
It closed on 6 November 1925 and was re-born as Sellier & Dumond on 17 November 1925. I do not have the closing date, but the company changed its name again around 1933 to Dumont, Bouchard et Compagnie. In 1937, on 18 January, it became Dumond & Cie. Throughout its history, its symbol remained a saddle with a stirrup.
The company worked for Aucoc, Lacloche, Van Cleef & Arpels and won several prizes at the International and Colonial Exhibitions. Sellier-Dumond also designedthe famous cuff bracelet for Boucheron (malachite, jasper and ivory) in 1931 for the Exposition Coloniale Internationale, where it won the Grand Prix.
The modernist bracelet with its gold-moulded glass pieces is indicative of this period, with its geometric shapes and aesthetic that is as racy as it is effective. I particularly like it. Estimated at between €1,200 and €1,500.
7- A fabulous orchid (lot 94)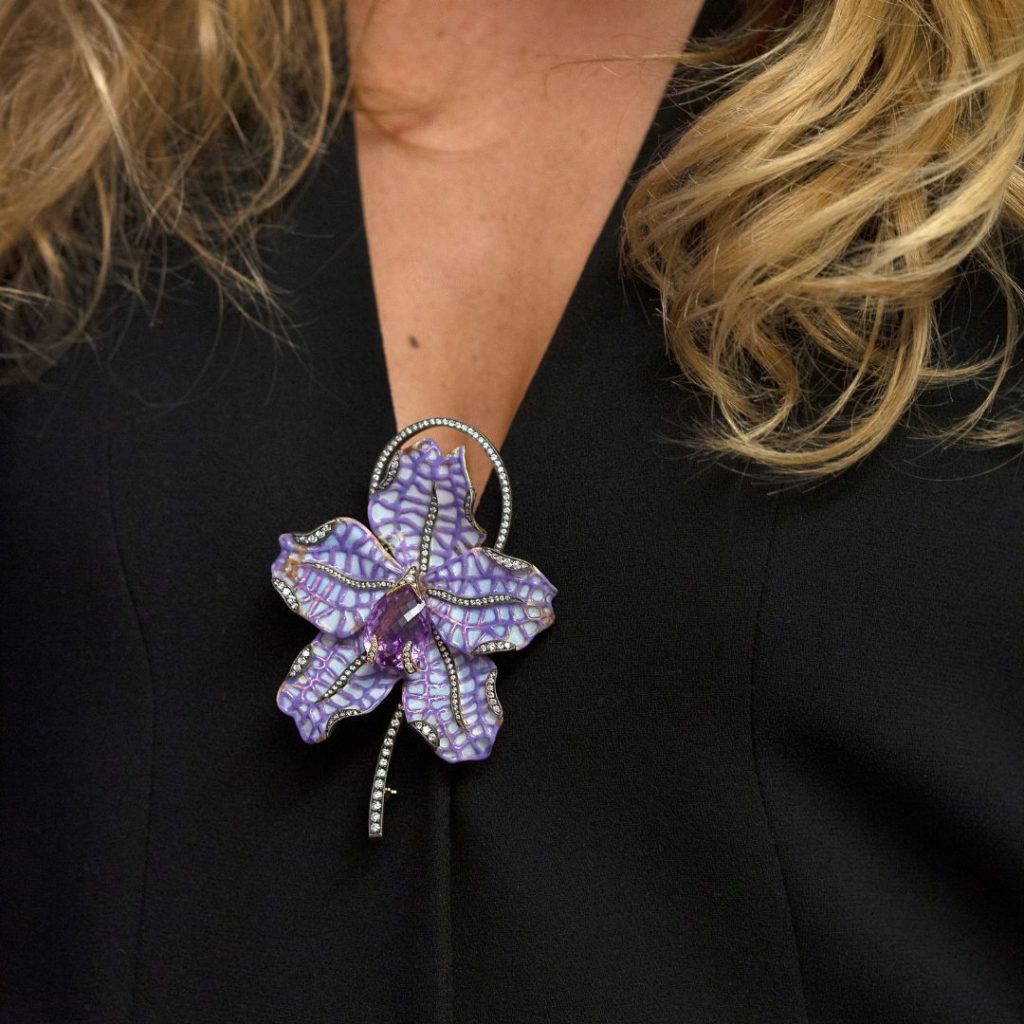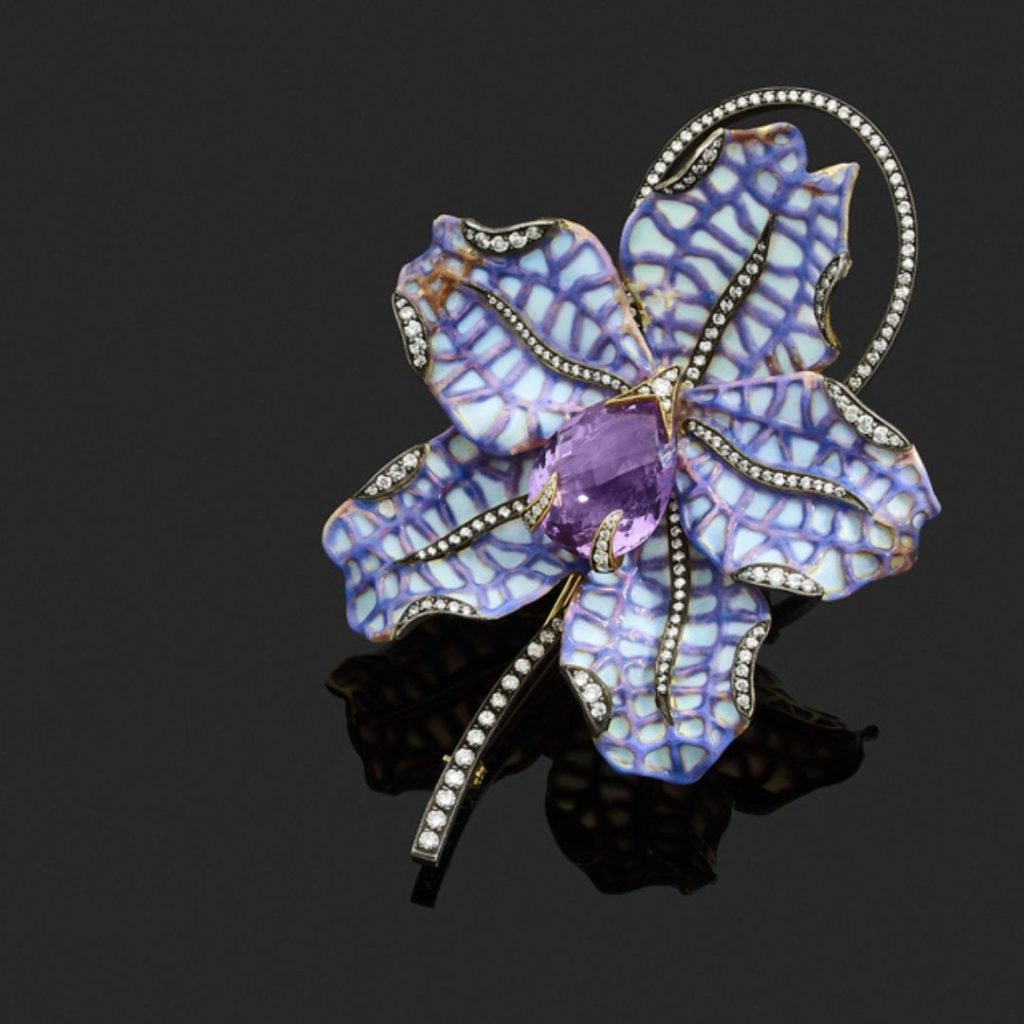 If you show me an enamelled orchid, I can't help but think of Paulding Farnham's fabulous pieces for Tiffany & Co. A botanical enthusiast, he created jewellery for the company between 1885 and 1908 that left its mark on the history of jewellery. I'm also thinking of Fouquet and, to a lesser extent, Thesmar. But some jewels keep their secrets.
Our imposing Vanda orchid, in silver and gold, is a beautiful anonymous piece. But that in no way detracts from its charm. Almost larger than life, this piece is well worth a look, so rare are they on the market, at least in this quality. Imagine it on the lapel of a collar or on the shoulder, and you'll understand the sensuality that emanates from this jewel. Estimated at between €5,000 and €8,000.
See you soon!