Parler de l'art du secret dans l'univers de la joaillerie, c'est évoquer ce qui caractérise le mieux le Métier : la discretion des ateliers. Depuis les hommes et les femmes qui y travaillent et ce pour des raisons de sécurité évidentes, jusqu'au bijou qui dissimule en son sein, tel un talisman, un ou plusieurs éléments que seul le propriétaire – souvent le porteur – peut connaitre. Depuis maintenant de nombreux siècles, l'objet joaillier est source de curiosité et il permet de très nombreuses fantaisies techniques, d'autant plus époustouflantes que l'on parle ici de miniaturisation extrême. C'est donc avec plaisir et émerveillement que j'ai pris le temps de découvrir la remarquable collection intitulée Le Secret que la maison a dévoilé à Paris lors de la semaine de la mode. Rébus, éléments escamotables, bijoux à transformation, double lecture… voila ce qui compose cet ensemble de plus de 65 pièces issu d'une collection qui, à terme, rassemblera 110 pièces. Dont beaucoup resteront secrètes. À l'image d'une maison qui communique peu et dont la première semaine de juillet représente un temps d'expression remarqué au vue de la réussite de cette présentation.
Speaking of the art of secrecy in the world of jewelery is to evoke what best characterizes the craft : the discretion of the workshops. From the men and women who work there for obvious reasons of security, to the jewel that conceals within it, like a talisman, one or more elements that only the owner – often the wearer – can know. For many centuries now, jewelery has been a source of curiosity, and it allows many technical fantasies, all the more astounding as we speak here of extreme miniaturization. So it was with pleasure and amazement that I took the time to discover the remarkable collection entitled Le Secret that the house unveiled in Paris during the fashion week. Rebus, retractable elements, transformation jewelery, double reading … here is what makes this set of more than 65 pieces from a collection that will ultimately collect 110 pieces. Many of which will remain secret. Like a house that communicates little and whose first week of July represents a time of expression remarked for the success of this presentation.
Il faut, je le crois, parler de l'effort, de la patiente et des trésors d'ingéniosité déployés pour mener à bien la fabrication des bijoux exposés. Au fil de la découverte de la collection, on prend inévitablement conscience du travail réalisé pour rendre un fermoir ou une charnière plus souple, pour permettre aux pétales d'une broche de se détacher presque sans effort ou pour faire éclore telle autre bague qui propose une lecture différente si on la porte ouverte ou fermée. Je pourrais aussi évoquer le sautoir Cachette qui renferme une bague sertie d'un rubis birman non chauffé de 2,33 carats ou cette petite demoiselle vénitienne qui peut se dissimuler sous son loup. Ainsi, le collier Pégase a nécessité depuis le dessin, la recherche des pierres jusqu'à la finalisation plus de 2200 heures de travail.
It is necessary, I believe, to speak of the effort, the patient and the treasures of ingenuity deployed to carry out the manufacture of jewelry exposed. In the course of the discovery of the collection, we inevitably become aware of the work done to make a clasp or a hinge more flexible, to allow the petals of a brooch to detach almost without effort or to hatch another ring that proposes a different reading if it is opened or closed. I could also mention the Cachette long necklace which contains a ring set with a 2.33 carat unheated Burmese ruby or this cute Venetian girl who hides her face behind her domino mask. Thus, the necklace Pegasus has required from the drawing, the search of the stones until the finalization more than 2200 hours of work.
Les pierres, justement, constituent l'un des attraits de la collection : saphir non chauffé de 45,10 carats en provenance du Sri Lanka, saphir birman non chauffé de 5,13 carats, diamant fancy intense yellow de 13,01 carats, émeraude no oil de 10,17 carats venant de Zambie ou encore appairage de saphirs colorés non chauffés de Madagascar totalisant plus de 142 carats. Il me faudrait encore vous parler de l'onyx et de la nacre – très présente -, de la sugilite, des grenats spessartites, du corail mais aussi des turquoises qui ponctuent les différents modèles.
Stones are one of the collection's attractions: 45.10 carat unheated sapphire from Sri Lanka, 5.13 carat unheated sapphire, 13.01 carat fancy intense yellow diamond, a 10.17 carat no oil emerald from Zambia or a combination of unheated colored sapphires from Madagascar for more than 142 carats. I would still have to tell you about onyx and mother-of-pearl – very present -, sugilite, spessartite garnets, coral but also turquoises which punctuating all the different models.
Je vous propose de découvrir certaines pièces de la collection dont certaines s'accompagnent de videos qui vous permettront de mieux comprendre la pièce et son mécanisme. Les bijoux sont pensés, ici, pour se regarder sur l'avant comme sur l'arrière. Ils offrent ce coté ludique, si cher à la maison Van Cleef & Arpels, qui ne peut que séduire l'enfant qui sommeille en chacun de nous.
I invite you to discover some pieces of the collection, some of which are accompanied by videos that will allow you to better understand the jewel and its mechanism. The jewels are thought, here, to look at the front as well as the back. They offer this playful side, so dear to the house Van Cleef & Arpels, which will seduce the child that sleeps in each of us.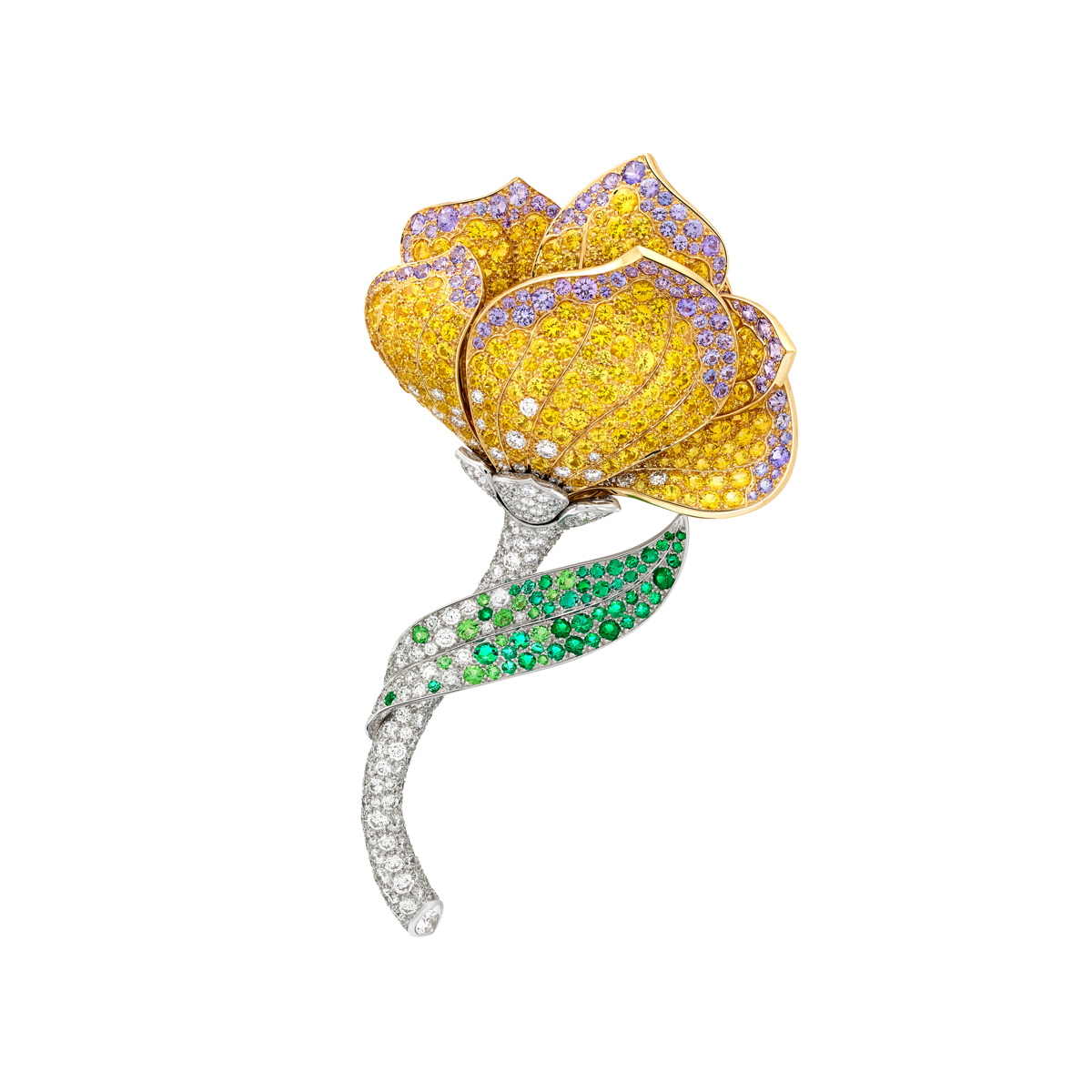 Le clip « Pétale de papillon » est en or jaune, or blanc, diamants, saphirs jaunes et mauves, émeraudes, grenats spessartites et tsavorites, onyx, sugilite. Clip transformable. La fleur cache un papillon qui peut se porter en broche, séparément de la fleur. The Pétale de papillon clip is in yellow gold, white gold, diamonds, yellow and purple sapphires, emeralds, spessartite and tsavorite garnets, onyx, sugilite. Transformable clip. The flower hides a butterfly that can be worn as a brooch, separately from the flower. Photo : Van Cleef & Arpels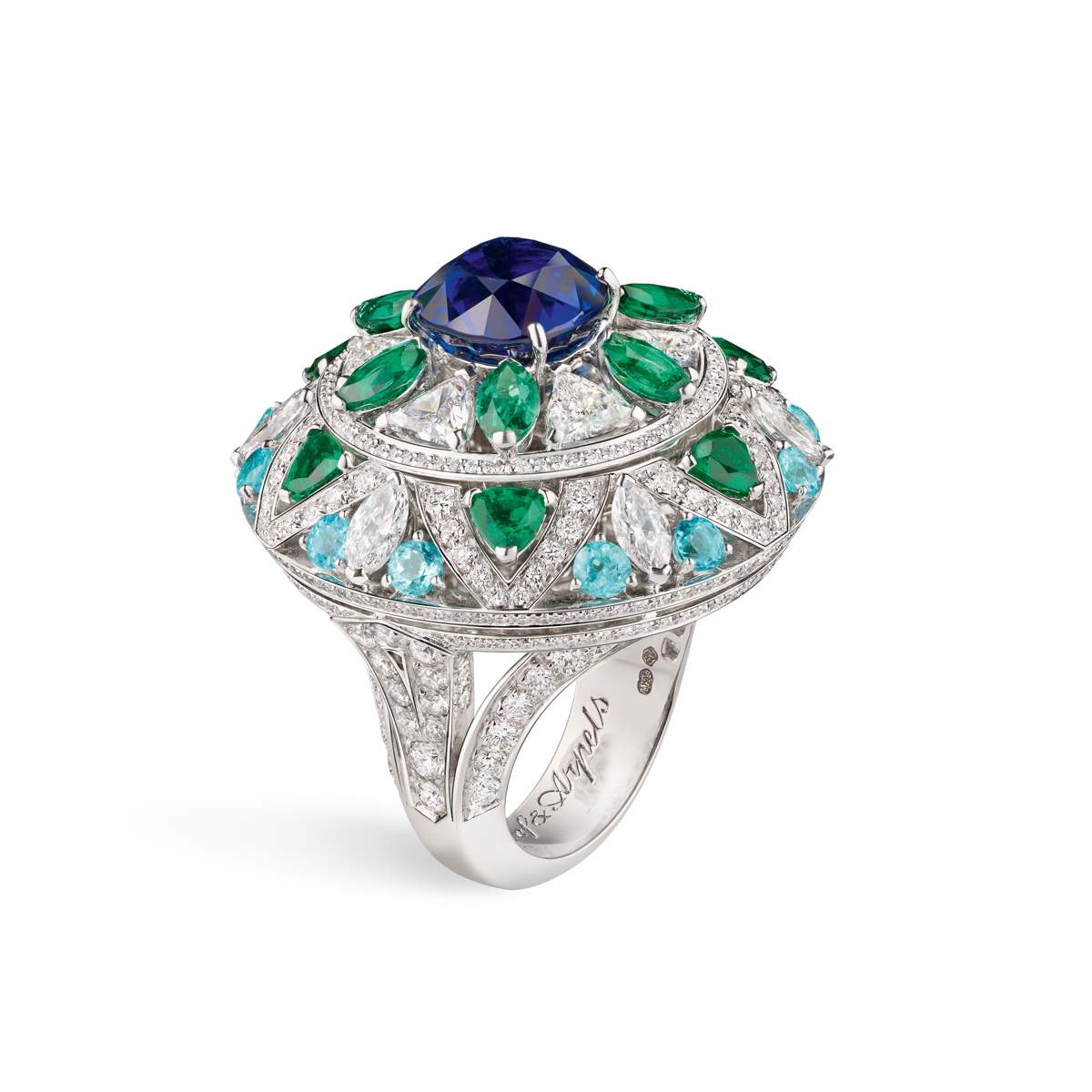 La bague « Fleur bleue » est en or blanc, diamants, émeraudes, tourmalines dites-Paraíba, un saphir taille coussin de 5,13 carats (Birmanie). Un quart de tour permet de soulever la partie supérieure et de révéler une citation d'Oscar Wilde : « Une vie sans amour est comme un jardin sans soleil ». The Fleur bleue ring is made of white gold, diamonds, emeralds, Paraíba-type tourmalines, a 5.13 carat cushion sapphire (Burma). A quarter of a turn makes it possible to lift the upper part and to reveal a quotation of Oscar Wilde: « A life without love is like a garden without sun ». Photo : Van Cleef & Arpels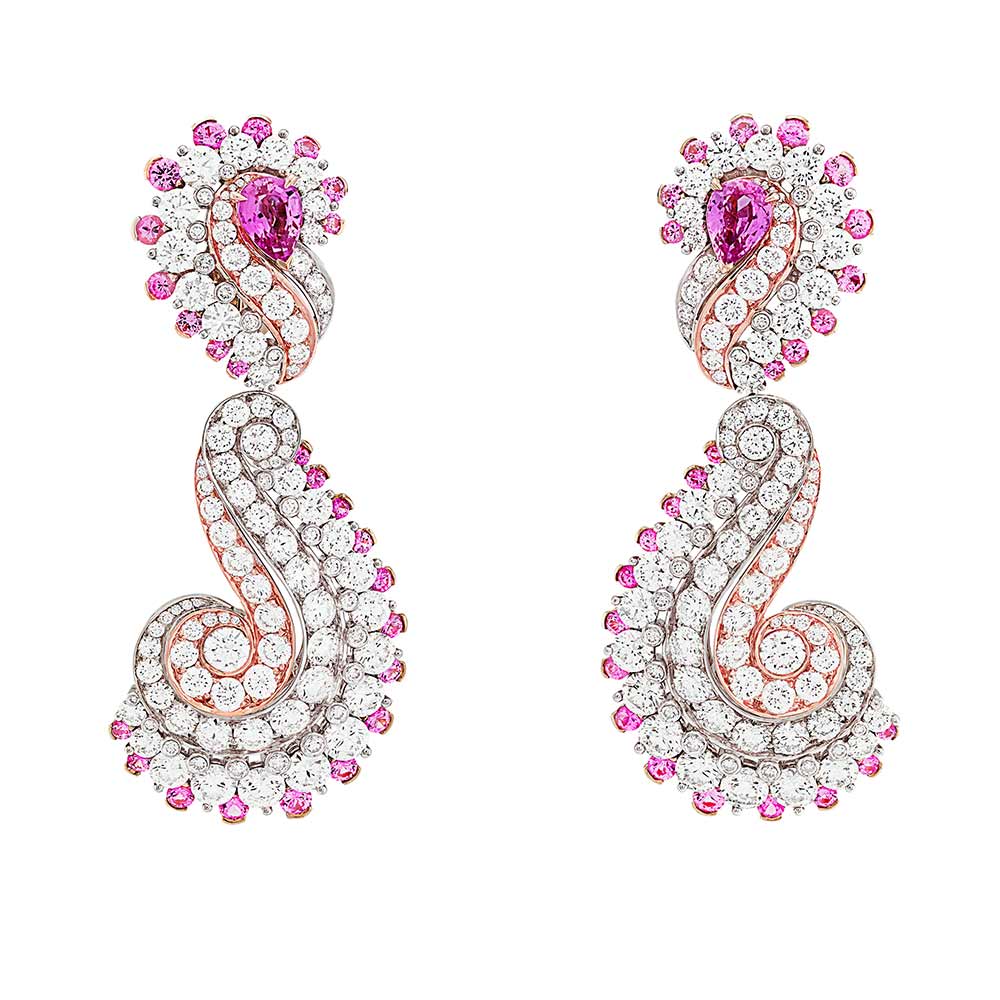 Boucles d'oreilles « Amour retrouvé » en or blanc, or rose, diamants, saphirs roses. Motifs d'oreilles transformables. Les motifs d'oreilles peuvent être portés seuls, tandis que les pendants détachables viennent se fixer sur une élégante base de clip. Earrings Amour retrouvé in white and pink gold, diamonds, pink sapphires. Transformable ear patterns. The earrings can be worn alone, while the detachable pendants are attached to an elegant clip base. Photo : Van Cleef & Arpels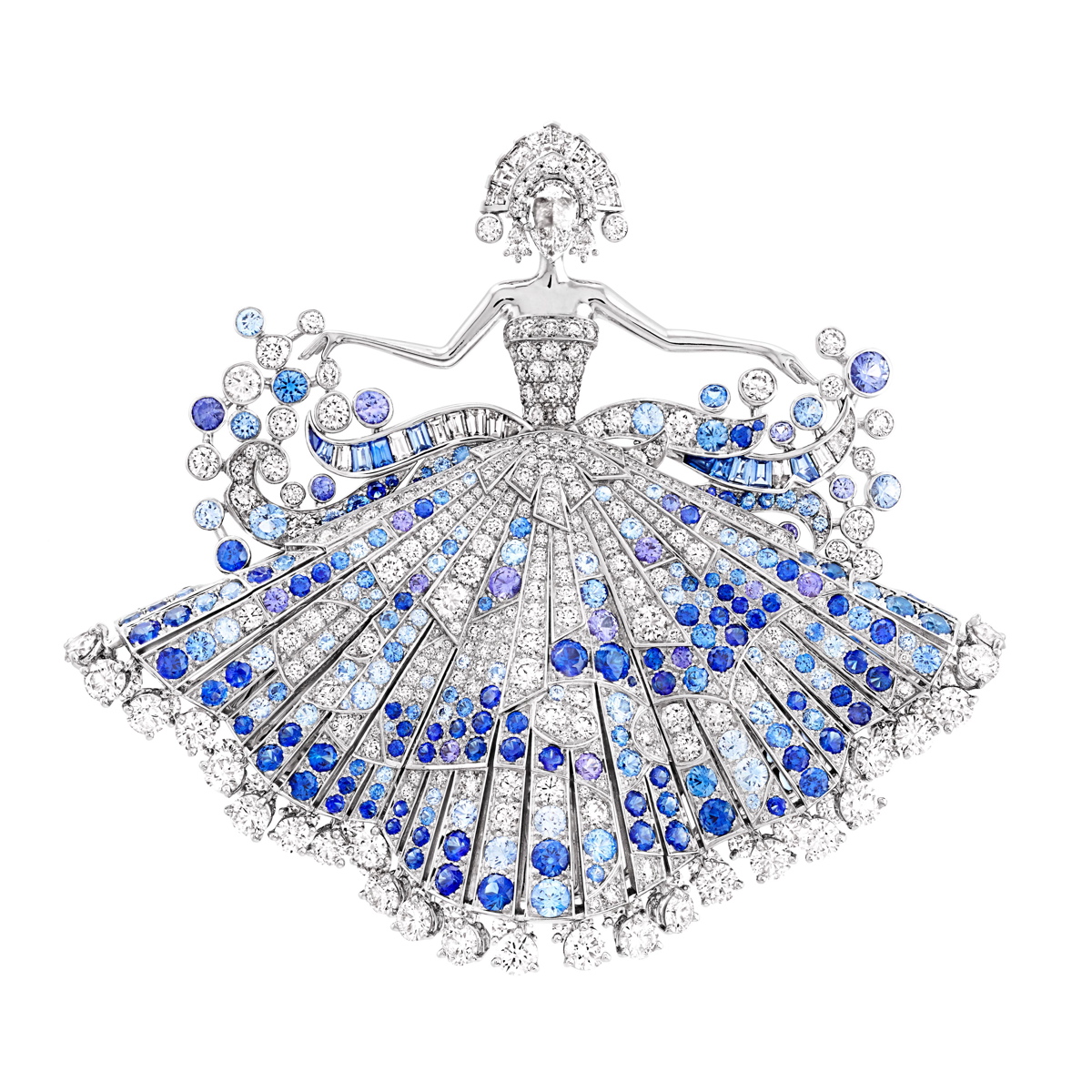 Broche « Métapmorphose du cygne » en or jaune, or blanc, saphirs de couleur, grenats spessartites, spinelles noirs, onyx, diamants. Cette pièce est inspirée d'un poème d'Alexandre Pouchkine où une princesse est transformée en cygne. Enclenchée par un mouvement de rotation au dos de la pièce, la métamorphose se produit véritablement: le buste de la jeune fille disparaît alors au profit d'un élégant cygne flottant sur les eaux. The Métamorphose du cygne brooch in yellow and white gold, colored sapphires, spessartite garnets, black spinels, onyx, diamonds. This piece is inspired by a poem by Alexander Pushkin where a princess is transformed into a swan. The metamorphosis is triggered by a rotating movement on the back of the jewel, and the bust of the girl disappears in favor of an elegant swan floating on the water. Photo : Van Cleef & Arpels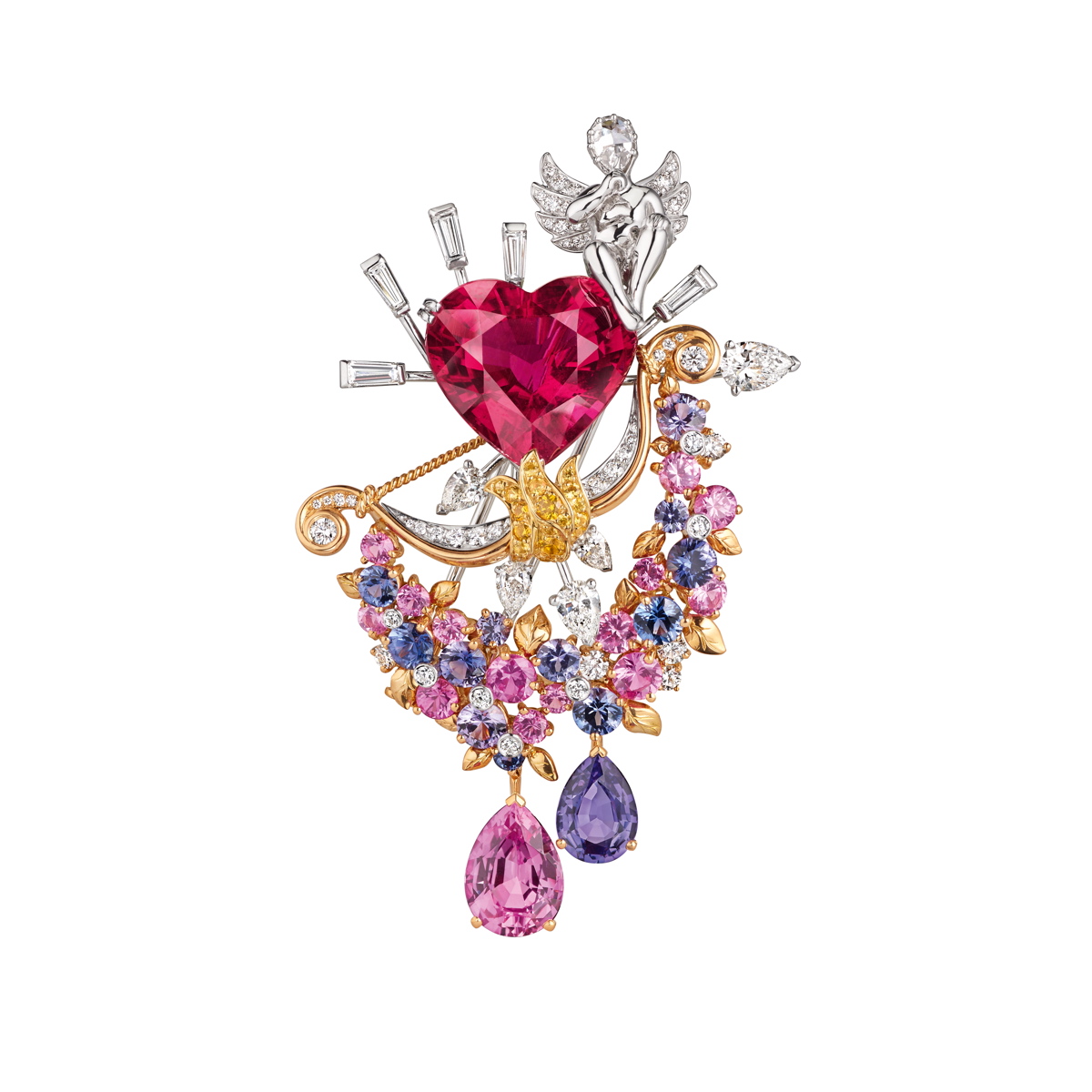 Broche « Secret des amoureux » en or blanc, or rose, or jaune, diamants, saphirs de couleur, un saphir rose-orangé taille poire de 2,74 carats (Sri Lanka), un saphir violet taille poire de 1,36 carats (Sri Lanka), une rubellite taille cœur de 12,04 carats. Cupidon invite le spectateur au secret d'un geste signifiant « chut ». Déjà figuré par la Maison dans les années 1940, il apparaît ici entouré de ses attributs traditionnels. The Secret des amoureux brooch in white, pink and yellow gold, diamonds, colored sapphires, a 2.74 carat pink pearl orange sapphire (Ceylon), 1.36 carat purple sapphire (Ceylon), a heart-shaped rubellite of 12.04 carats. Cupid invites the viewer to the secret of a gesture meaning « shhh ». Already figured by the House in the 1940s, it appears here surrounded by its traditional attributes. Photo : Van Cleef & Arpels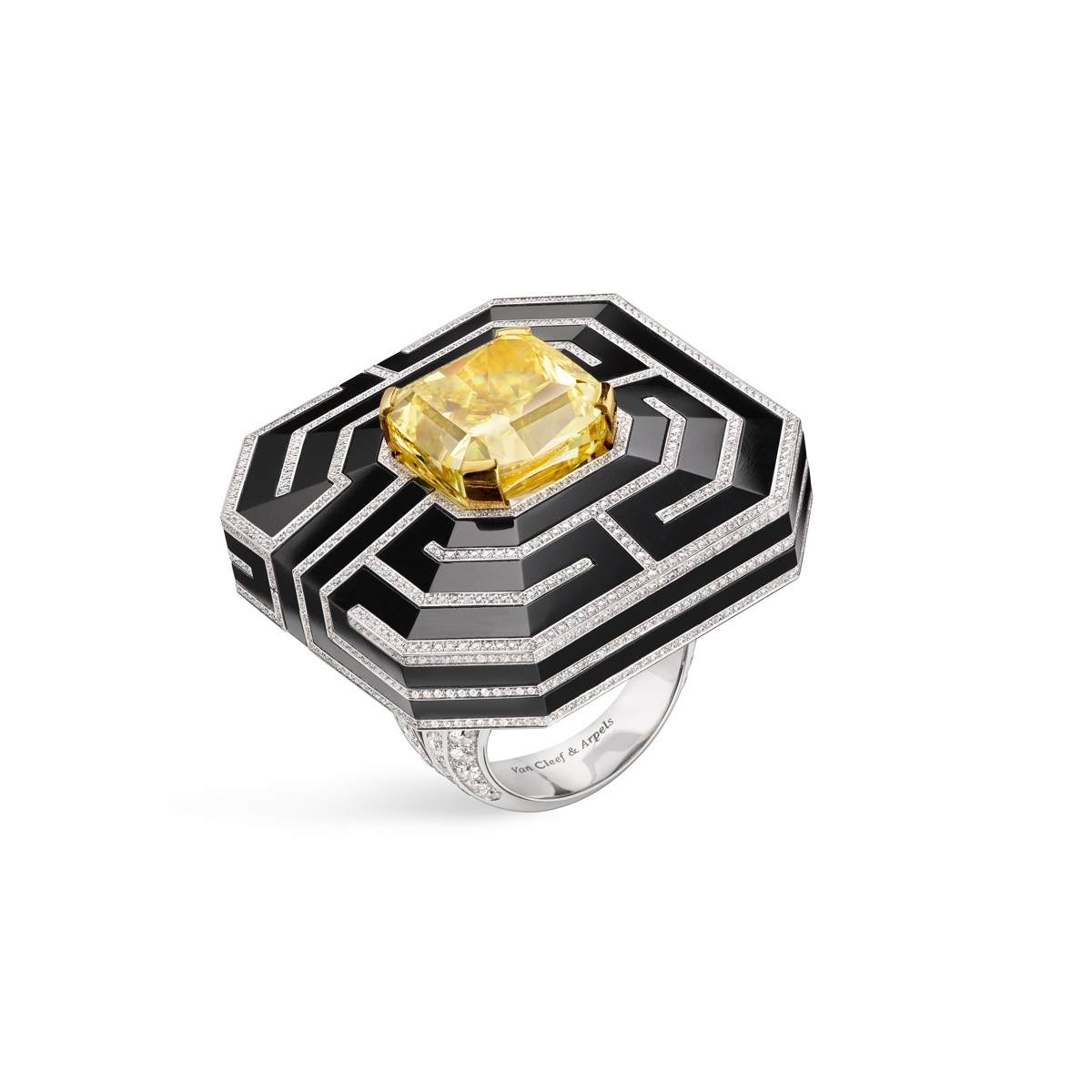 Bague « Labyrinthe » en or blanc, or jaune, diamants, onyx, un diamant jaune Fancy Intense yellow taille coussin de 13,01 carats. La bague invite le spectateur à la contempler sous différents angles pour retrouver son chemin. The Labyrinthe ring in white and yellow gold, diamonds, onyx, a yellow diamond Fancy Intense cushion-cut of 13.01 carats. The ring invites the spectator to contemplate it from different angles to find his way. Photo : Van Cleef & Arpels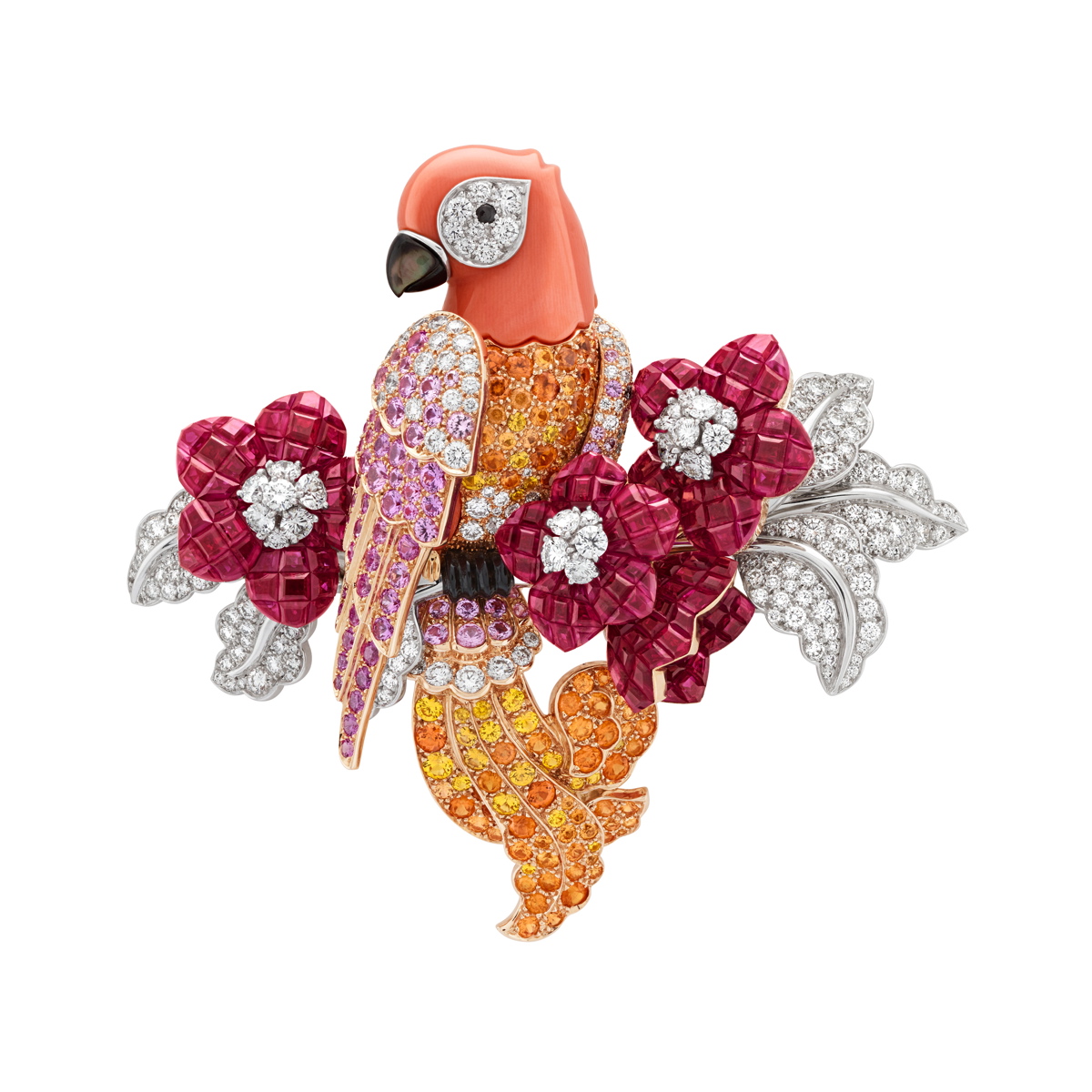 Broche « Sous son aile » en or rouge, or blanc, Serti Mystérieux™ traditionnel rubis, saphirs roses et jaunes, grenats spessartites, corail, spinelles noirs, onyx, nacre grise, diamants. Intégré avec soin à la pièce, le système d'ouverture de l'aile permet de découvrir l'oisillon blotti contre sa mère.  The Sous son aile brooch in red and white gold, ruby traditional mysterious  set™, pink and yellow sapphires, spessartite garnets, coral, black spinels, onyx, mother of pearl, diamonds. Integrated with care at the piece, the system of opening of the wing makes it possible to discover the nestling against its mother. Photo : Van Cleef & Arpels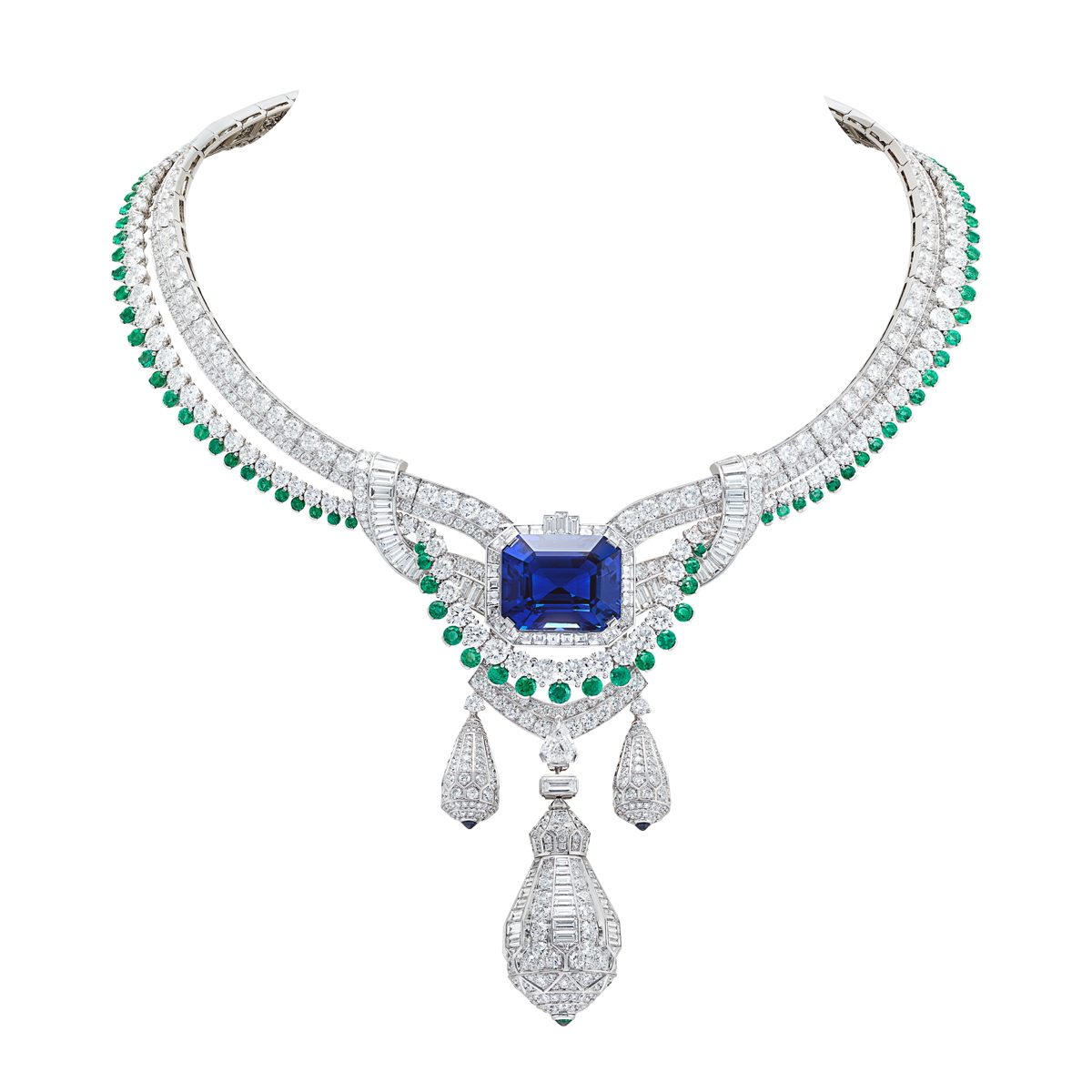 Collier « Pégase » en or blanc, diamants, émeraudes, saphirs dont un saphir taille émeraude de 45,10 carats (Sri Lanka). Clip détachable. Au sein de la pampille centrale, se dissimule une gurine miniature en or blanc, représentant Pégase. Selon les envies, le cheval ailé – célèbre créature de la mythologie grecque –, peut être gardé secret, révélé au grand jour, ou suspendu à un clip, en compagnie des deux autres pampilles détachables. The Pégase necklace in white gold, diamonds, emeralds and sapphires including a 45.10 carat emerald sapphire (Sri Lanka). Detachable clip. Within the central pampille is concealed a miniature in white gold, representing Pegasus. According to desires, the winged horse – a famous creature of Greek mythology – can be kept secret, revealed in broad daylight, or suspended from a clip, in the company of two other detachable pendants. Photo : Van Cleef & Arpels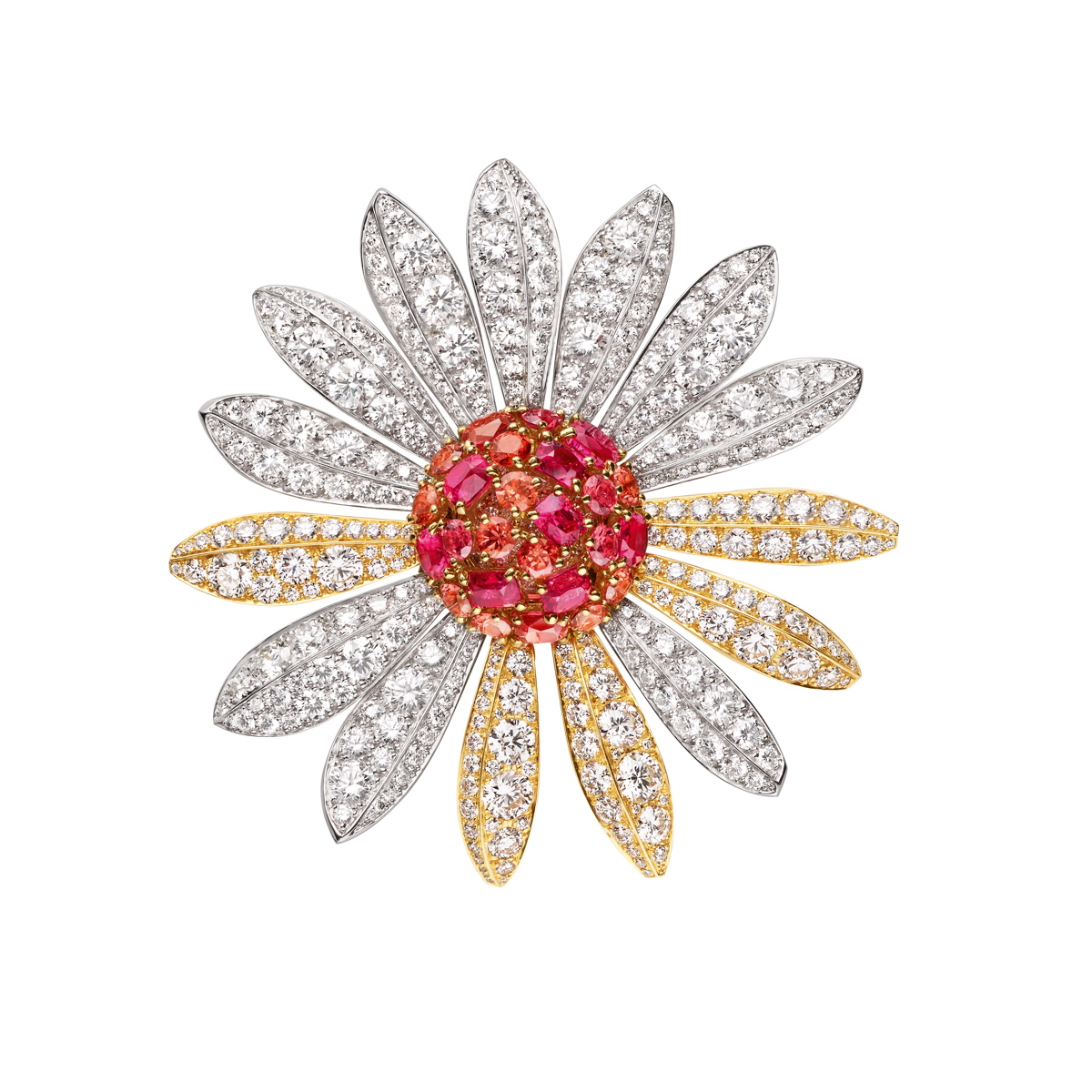 Clip « Marguerite d'amour » en or jaune, or blanc, diamants, spinelles orange et roses. Certains pétales sont dotés d'un mécanisme invisible permettant de les retourner délicatement avant de lire les messages gravés «Tendrement», «Passionnément», «Éternellement», «Infiniment» et « A la folie ». The Marguerite d'amour clip in yellow and white gold, diamonds, orange and pink spinels. Some petals have an invisible mechanism to return them gently before reading the messages « Tenderly », « Passionately », « Eternally », « Infinitely » and « To the madness ». Photo : Van Cleef & Arpels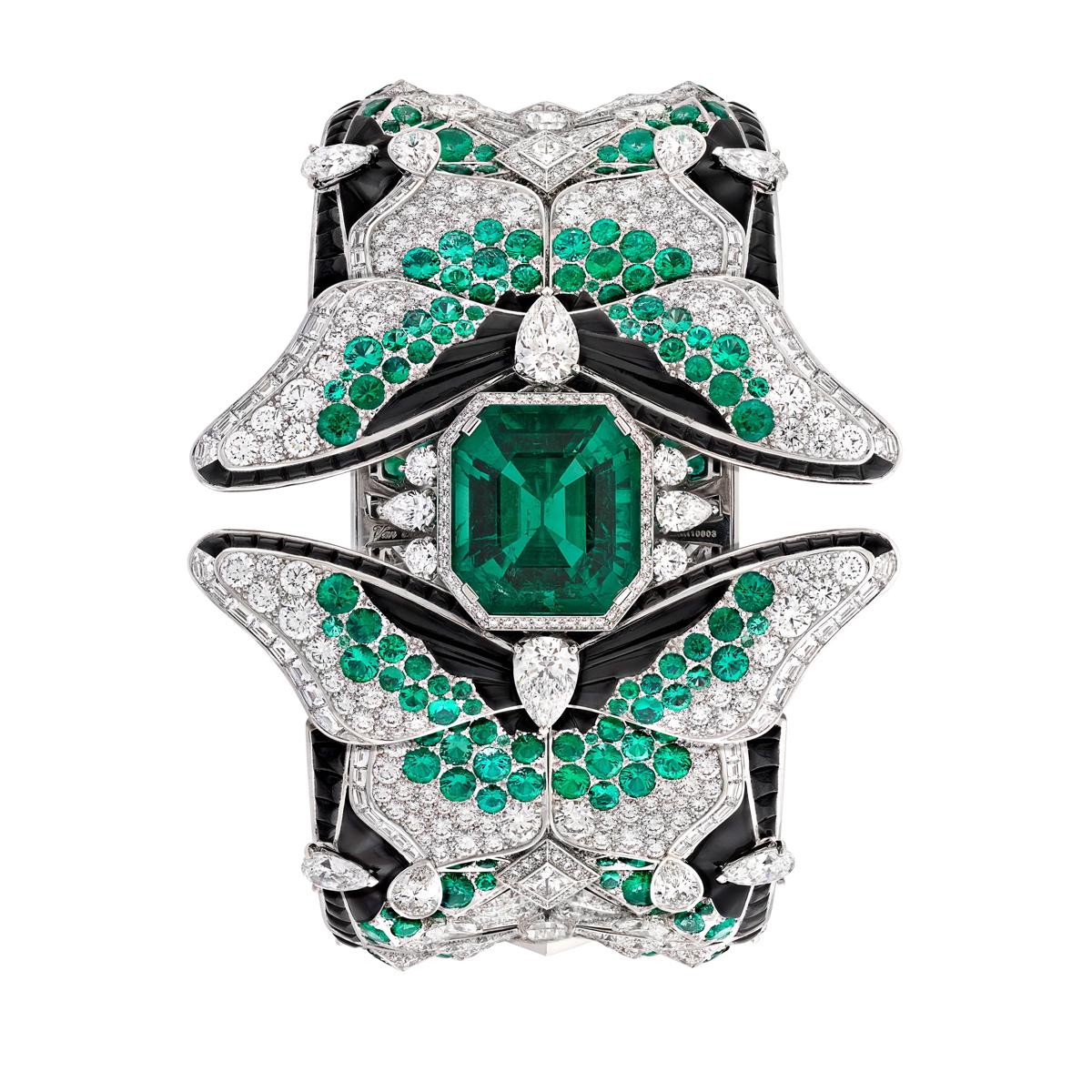 Montre « Papillon secret » en or blanc, diamants, émeraudes, spinelles noirs, onyx, nacre blanche, une émeraude taille émeraude de 14,57 carats (Colombie), mouvement mécanique à remontage manuel. L'un des papillons masque sous ses ailes inférieures un cadran en nacre, dévoilé du bout des doigts. The Papillon secret watch in white gold, diamonds, emeralds, black spinels, onyx, white mother-of-pearl, an emerald cut of 14.57 carats (Colombia). Mechanical movement with manual rewinding. One of the butterflies masks under its inferior wings a mother-of-pearl dial, unveiled with the fingertips. Photo : Van Cleef & Arpels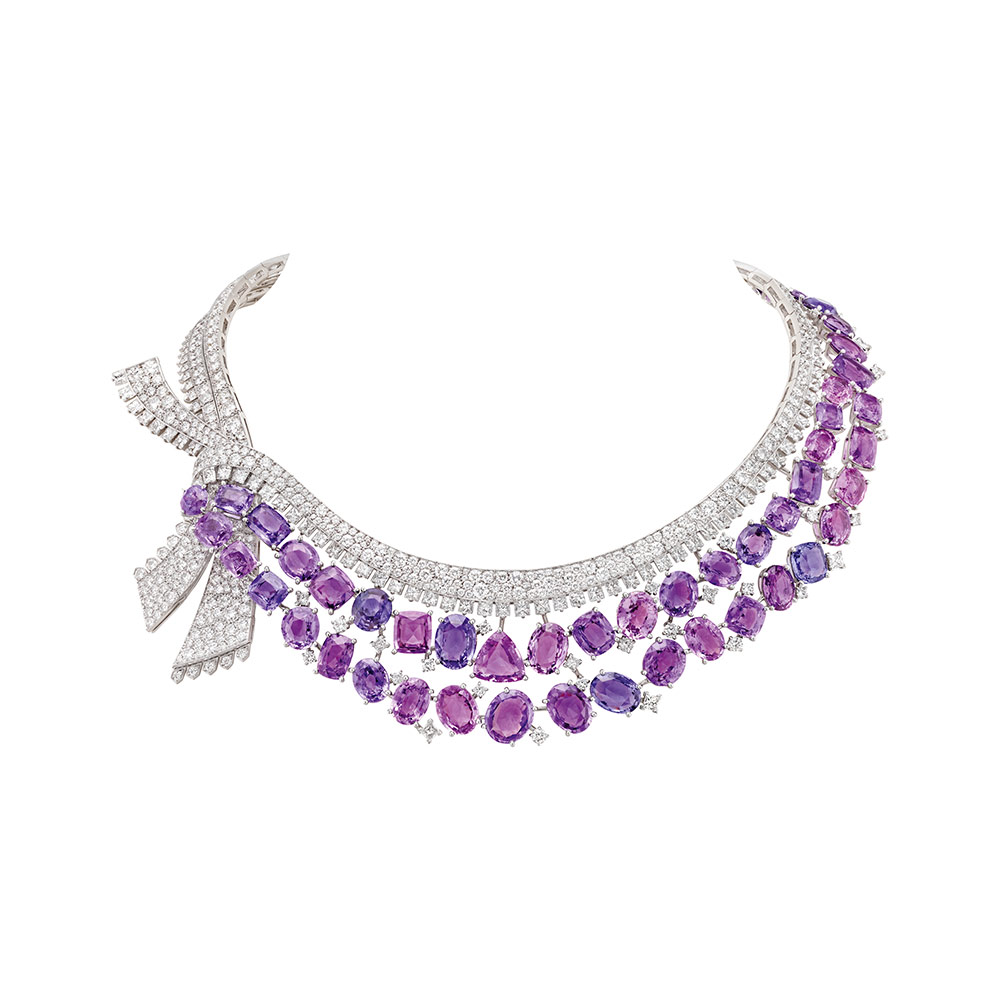 Collier « Message des hirondelles » en or blanc, or rose, diamants, saphirs de couleur, corail, émail rouge, 52 saphirs violets taille fantaisie pour un total de 142,10 carats (Madagascar). La surprise vient de son fermoir joaillier, écrin d'un secret. De part et d'autre d'un ruban noué, deux gracieuses hirondelles s'écartent pour laisser apparaître une enveloppe en or rose, scellée d'un cœur en émail rouge. The Message des hirondelles necklace in white and pink gold, diamonds, colored sapphires, coral, red enamel, 52 fancy purple sapphires for a total of 142.10 carats (Madagascar). The surprise comes from his jeweler's clasp with a secret. On either side of a ribbon tied, two graceful swallows move away to reveal a pink gold envelope sealed with a red enamel heart. Photo : Van Cleef & Arpels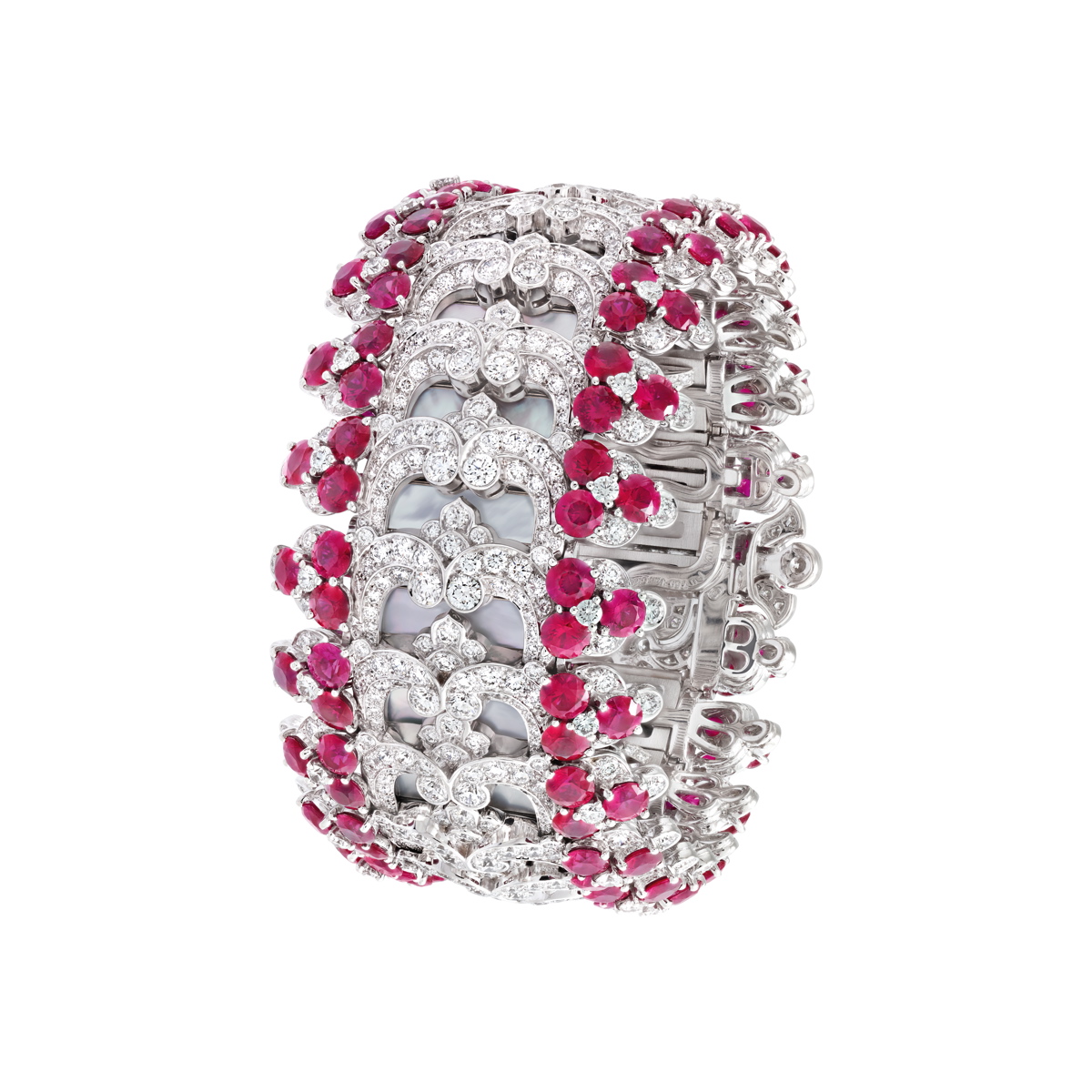 Bracelet « Dentelle secrète » en or blanc, diamants, rubis, onyx, nacre blanche. Visible dans les parties ouvertes, l'onyx sous-jacent peut être remplacé par de la nacre blanche grâce à un ingénieux système coulissant. Les matières alternent ainsi selon l'envie, du noir brillant au blanc irisé. The Dentelle secrète bracelet in white gold, diamonds, rubies, onyx, white mother-of-pear. Visible in open parts, the underlying onyx can be replaced by white mother-of-pearl thanks to an ingenious sliding system. Materials alternate according to envy, from glossy black to iridescent white. Photo : Van Cleef & Arpels
À bientôt !
See you soon !