Mercredi 5 juillet, il faisait plutôt chaud sur la Capitale et rendez-vous était pris pour découvrir la nouvelle collection de haute joaillerie imaginée par le designer italien Giampiero Bodino. La présentation avait lieu au Ritz, Place Vendôme, dans un salon cosy et frais donnant sur le jardin du palace. Les pièces, très joliment mises en scène, était exposées autour d'un jardin miniature recréé pour l'occasion et peuplé de plantes méditerranéennes.
Wednesday, July 5, it was rather hot on the capital and appointment was taken to discover the new collection of high jewelry designed by the Italian designer Giampiero Bodino. The presentation took place at the Ritz, Place Vendôme, in a cozy and fresh lounge overlooking the garden of the palace. The jewels, beautifully staged, were exhibited in the presence of a miniature garden recreated for the occasion and full of Mediterranean plants.
L'Italie est l'un des grands thèmes conducteurs de cette dernière semaine de la mode. La côte amalfitaine chez Piaget, les îles Borromées chez Mellerio et, bien entendu, la Méditerranée pour la maison Bodino qui pour la première fois depuis sa création dédie un thème à l'ensemble d'une présentation. Baptisée Mediterranea, la collection compte 19 pièces entre sautoirs, colliers, boucles d'oreilles et bracelets. Pour la première fois, le titane fait son apparition dans les propositions créatives de la maison pour un résultat très réussi sur la parure Tesori del Mare. Autre point important, les pierres sont beaucoup plus petites et donnent ainsi plus de raffinement aux pièces. Seule la parure Barocco célèbre des rubellites imposantes pour des poids respectifs de 169,88 ct sur le collier et de 25,30 ct sur les pendants d'oreilles.
Italy is one of the main important themes of this last fashion week. The Amalfi Coast at Piaget, the Borromean Islands at Mellerio and, of course, the Mediterranean Sea for the Bodino House, which for the first time since its creation dedicates a theme to the whole presentation. Called Mediterranea, the collection includes 19 pieces between long necklaces, necklaces, earrings and bracelets. For the first time, the titanium made its appearance in the creative proposals of the house for a very successful result on the jewelry set Tesori del Mare. Another important point is that the stones are much smaller and give more refinement to the pieces. Only the Barocco ornament celebrates impressive rubellites for weights of 169.88 ct on the necklace and 25.30 ct on the earrings.
Les matières choisies offrent une palette de couleurs intéressantes avec des confrontations entre opales roses et améthystes, saphirs bleus, béryls jaunes et opales de feu. Vous l'aurez compris, c'est une collection plus sobre que les précédentes mais elle est très joyeuse. Je vous emmène donc à la découverte de cette mer Méditerranée avec les pièces que je trouve les plus belles.
The materials offer a palette of interesting colors with confrontations between pink opals and amethysts, blue sapphires, yellow beryls and fire opals. It is a collection more sober than the previous but it is a very joyful one. So I invite you to the discovery of this Mediterranean Sea with the creations that I find most beautiful.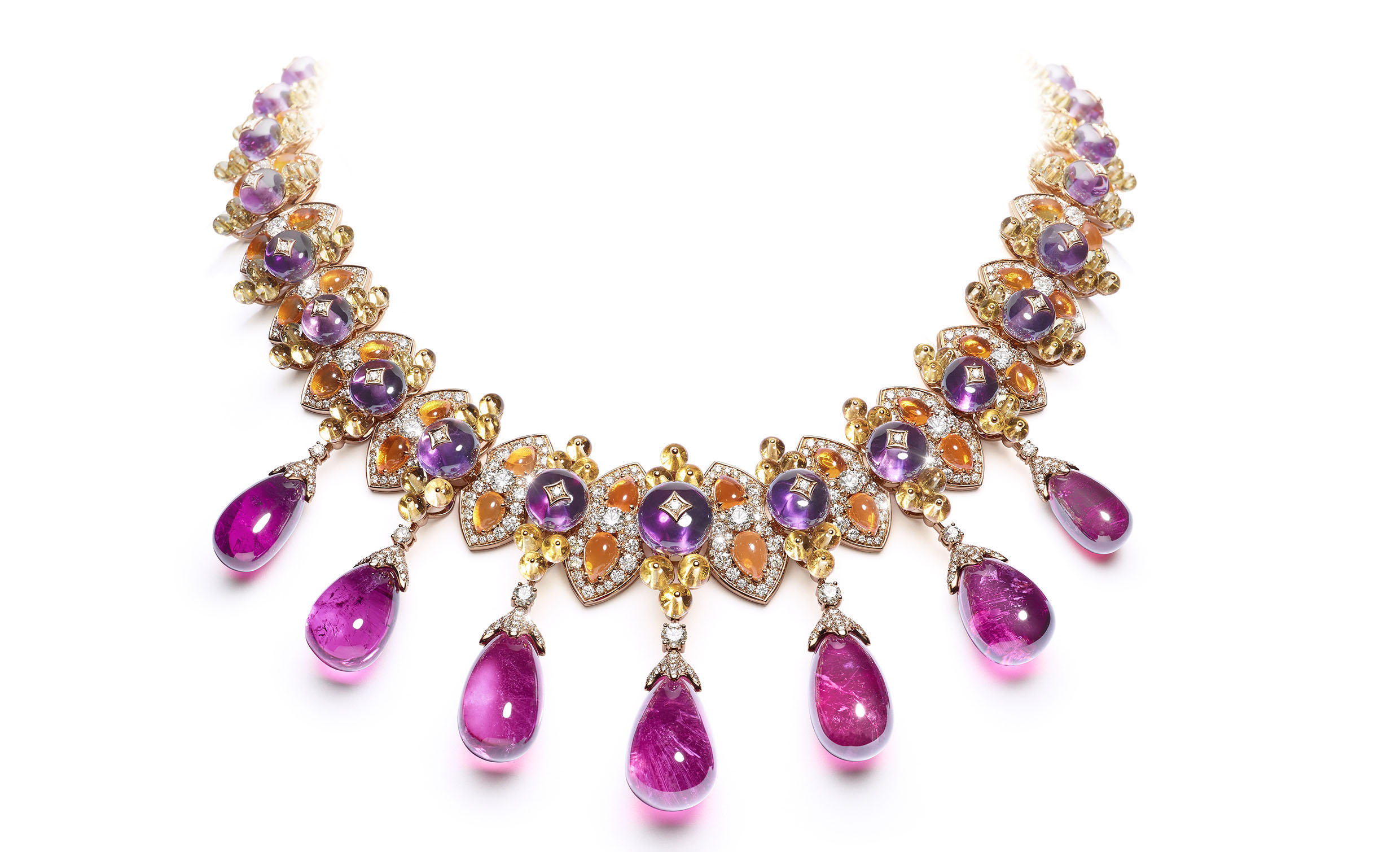 Collier Barocco en or rose, diamants, béryls jaunes, opales de feu, améthystes et sept rubellites (tourmalines roses) pour 169,88 carats. The Barocco necklace in pink gold, diamonds, yellow beryls, fire opals, amethysts and seven rubellites (pink tourmalines) for 169.88 carats. Photo : Giampiero Bodino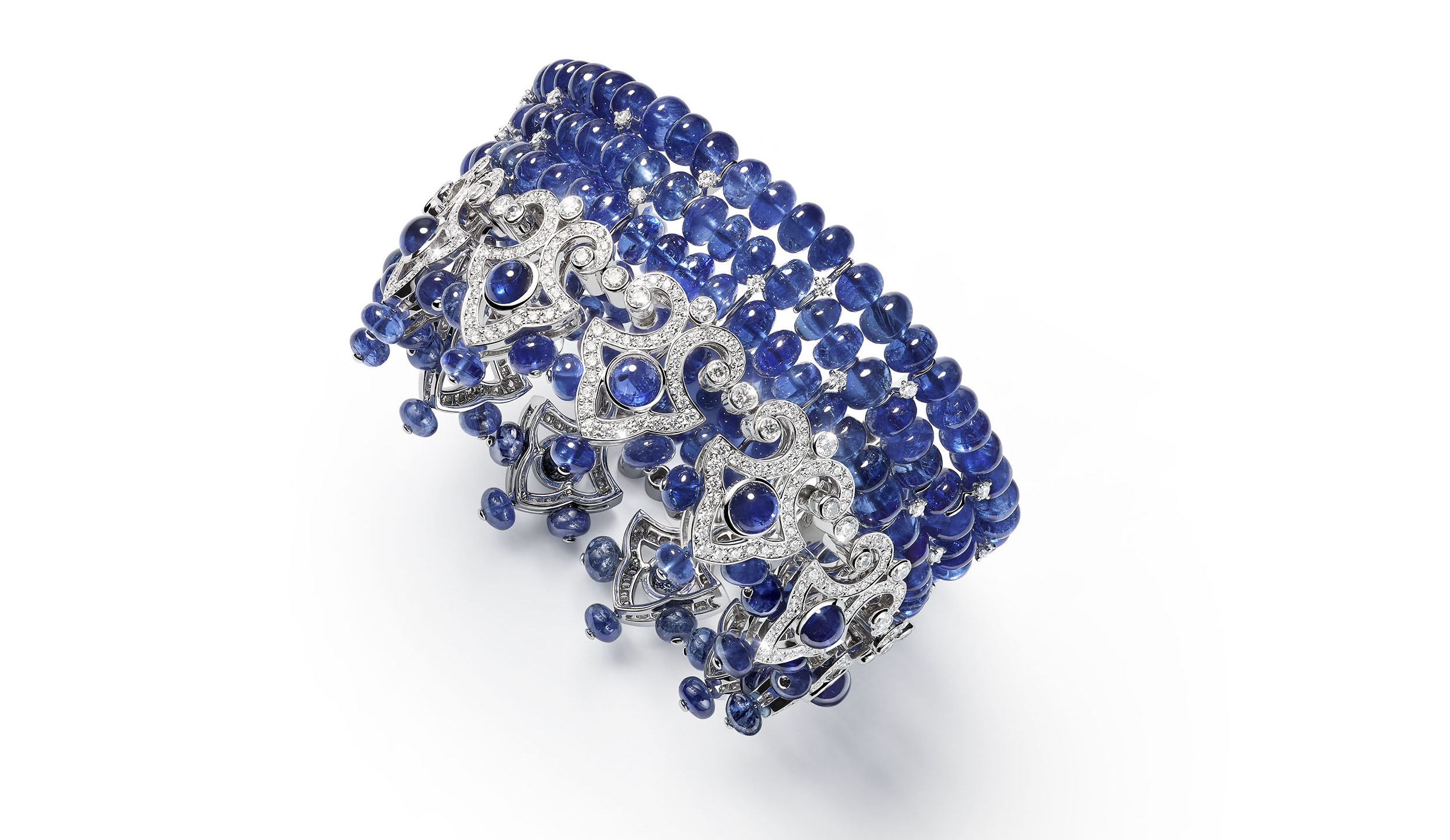 Bracelet Corona en or blanc, saphirs et diamants. The Corona bracelet in white gold, sapphires and diamonds. Photo : Giampiero Bodino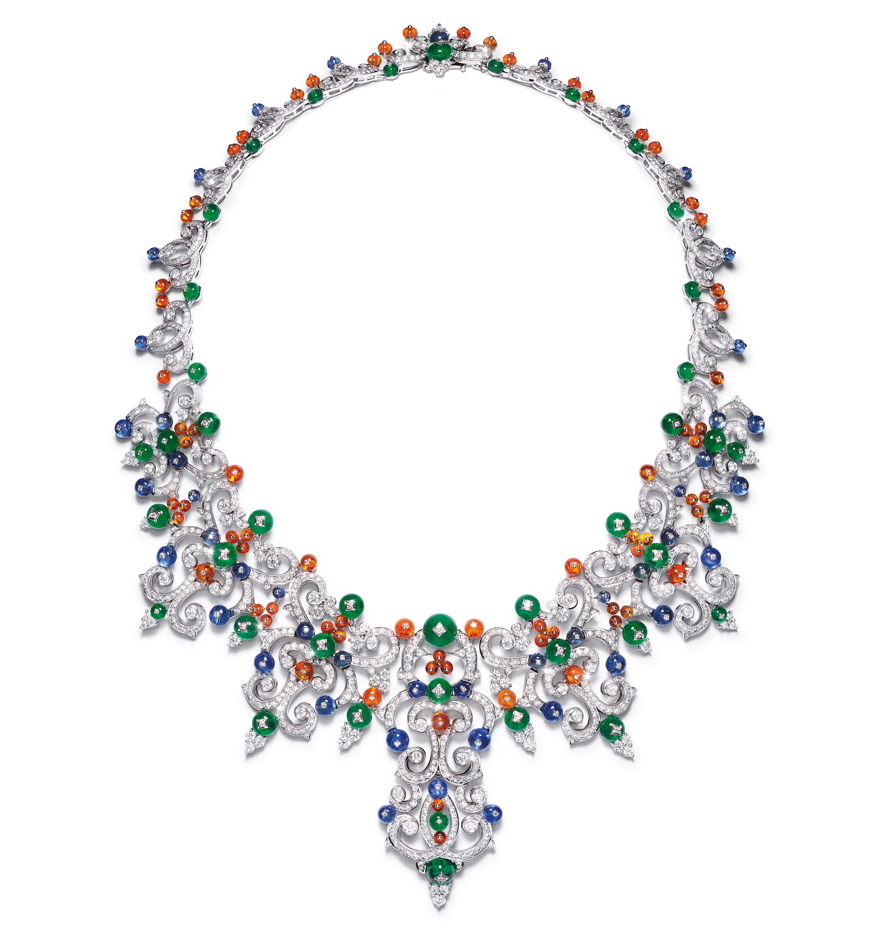 Collier Corona en or blanc, diamants, opales de feu, émeraudes et saphirs. The Corona necklace in white gold, diamonds, fire opals, emeralds and sapphires. Photo : Giampiero Bodino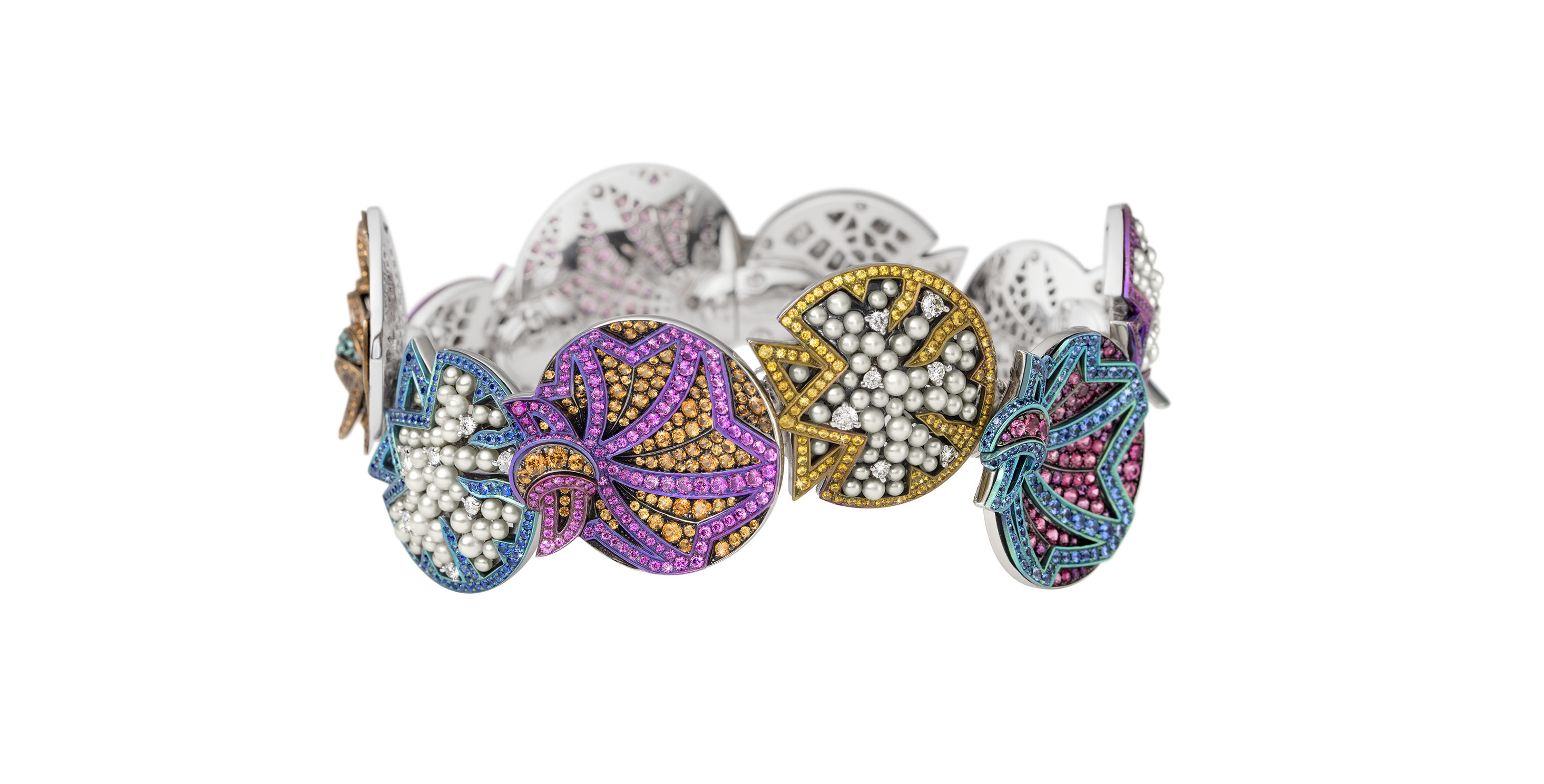 Bracelet Tesori del Mare en or blanc, titane, diamants, saphirs colorés et perles. The Tesori del Mare bracelet in white gold, titanium, diamonds, colored sapphires and pearls. Photo : Giampiero Bodino
Boucles d'oreilles Tesori del Mare en or blanc, diamants, tsavorites, tourmalines de type Paraiba, saphirs bleus et jaunes. Des billes de cristal de roche stylisent ici des bulles d'eau. The Tesori del Mare earrings in white gold, diamonds, tsavorites, Paraiba-like tourmalines, blue and yellow sapphires. Rock crystal balls figuring here water bubbles. Photo : Giampiero Bodino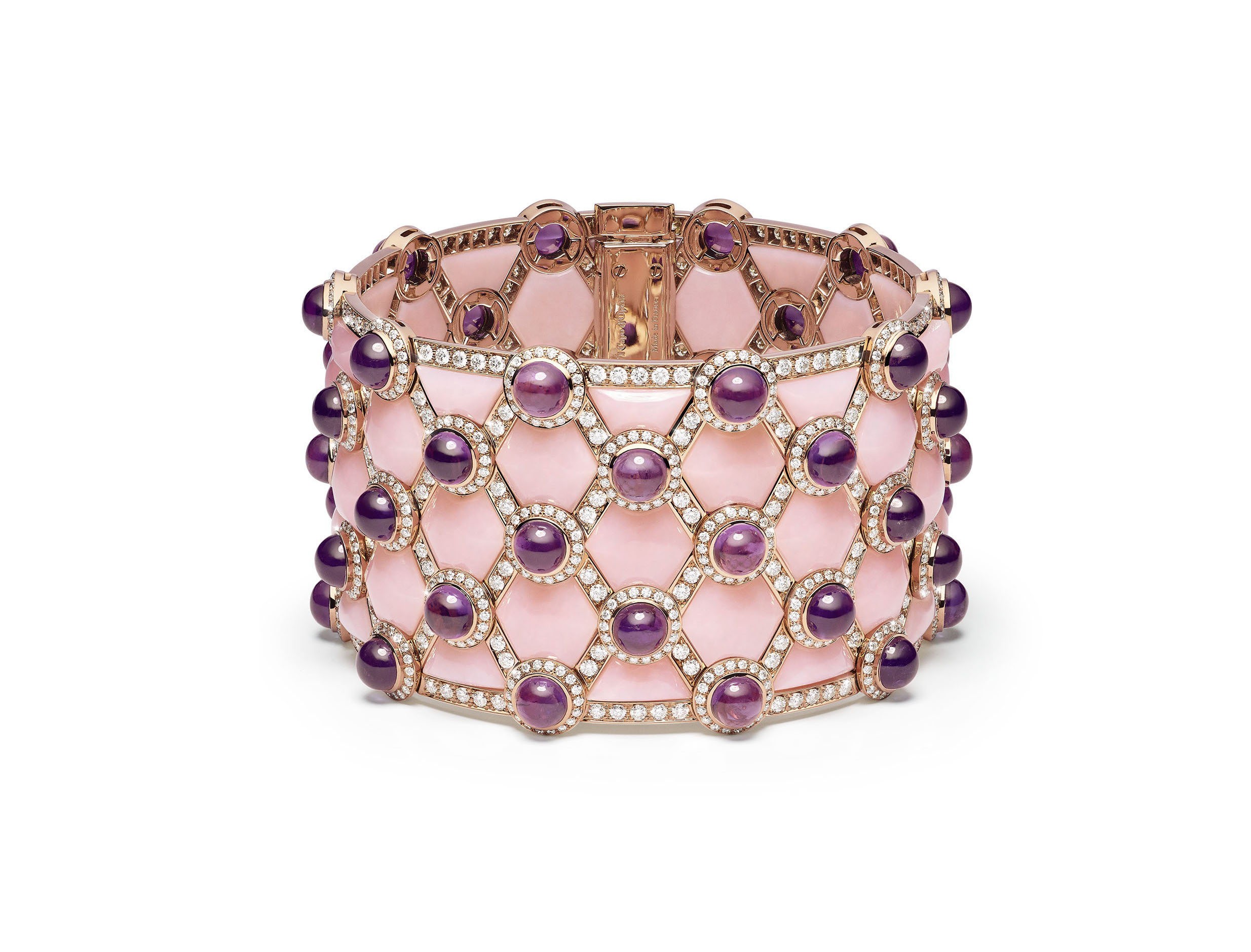 Bracelet Mosaico en or rose, diamants, opales roses et améthystes. The Mosaico bracelet in pink gold, diamonds, pink opals and amethysts. Photo : Giampiero Bodino
À bientôt !
See you soon !