A few days ago, I sat down in the office of a discreet house located in the 9th arrondissement of Paris – "Le quartier des diamantaires" – to meet two brothers who have been involved in the Parisian jewellery business for many years. But before introducing Laurent and Jean-Michel Cadik, let's take a look at a family saga that has its roots on the banks of the Bosphorus, in Istanbul…
Although the story began even earlier, the oldest family documents date back to the beginning of the 19th century. The great-grandfather made facings and shoes covered with fine pearls under the Sultanate, and the grandfather Jean Cadik became a trader in fine pearls and objets d'art. Many cousins also work in this sector. Based in the no less famous Grand Bazaar in Istanbul, they passed on to their descendants their passion for beautiful materials and objects. The family already has ties in France but also elsewhere in Europe, such as Switzerland. The children of this family were immersed in gems, fine pearls and jewellery from their childhood. This is enough to give rise to vocations, and not the least!
Bracelet with woven pompoms, all handmade by Michel Cadik. Freshwater cultured pearls, spinels and silk cord in trimmings. Photo: Maison Cadik
Michel Cadik, son of Jean Cadik and father of Laurent and Jean-Michel, was interested in stones from an early age. He continued his studies in Switzerland and perfected his skills with his uncle, Léon, who was one of the country's greatest experts in fine pearls. He learned the trade of pearl threading: fishnets, lace or pearl and stone tassels no longer held any secrets for him. He perfected the existing techniques but also developed his own manufacturing techniques.
The necklace shown above is a string of hand-woven balls made of spinels, sapphires and emeralds. Photo: Maison Cadik
Her first necklaces date from the 1960s, with pearls, multicoloured stones, sapphires, rubies, emeralds, spinels, onyx and coral, marking her creations with a timeless modernity. In the 1970s, woven tassels appeared in the sets and marked the remarkable style of this designer. After living in Switzerland, he returned to his father in Turkey and, in 1975, settled in France and built up a clientele in Place Vendôme, Rue Saint-Honoré and the Louvre des Antiquaires. The creations will never bear his name, but they will be sold all over the world. The orientalist and colourful style seduced many customers in France as well as in the Gulf countries, Michel Cadik creating unique pieces according to his inspiration and drawings.
Between two creations, Michel will meet his wife and 1984 will see the birth of Laurent, then 1987, that of Jean-Michel. "I remember playing with beads from the age of two or three. Our father worked at home, so we learned from him very quickly. When I was about eight years old, I used to play with pearls at his side," Laurent confided to us during this interview. Nevertheless, jewellery was not the first choice of the two boys. Laurent chose to study graphic arts, while Jean-Michel went on to study business. The return to his roots occurred in 2001 for the elder son, who began an apprenticeship in the Temple district (Paris 3rd). For ten years he trained in the trade and in 2003 he became the best apprentice in France in jewellery making. The creation of jewels as well as the restoration of old pieces give rhythm to his daily life. The idea of keeping the family business going will slowly come to fruition a few years ago.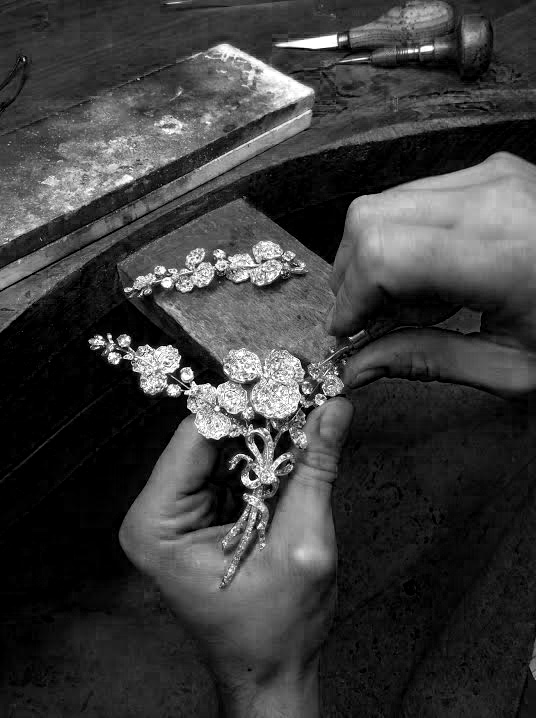 Work at the ankle: stage of manufacture of a solitaire on the first photo and stage of restoration with the verification of the original setting on a diamond brooch of the 19th century. Photo: Maison Cadik
Pair of combs in platinum, diamonds and tortoise shell made at the beginning of the 20th century by Boucheron. Restored by Cadik (photo).
Today, in the heart of the 9th arrondissement of Paris, Laurent Cadik perpetuates the history initiated by his family. The restoration of old pieces allows him to keep alive objects with strong emotional connotations for their owners. It also gives him the opportunity to continue training, as craft trades force him to constantly question his skills. " The technique does not suffer from approximation" he told us that evening. It finds its culmination in the work of creation in the service of a private clientele but also of merchants. Laurent proposes pieces that give pride of place to the material – mainly gold and platinum – and to gemstones – diamonds, spinels, tsavorites, sapphires, etc. – in order to satisfy the demands of those who want to have a piece of jewellery that is not only beautiful but also precious. – in order to satisfy the requirements of the people who come to meet him. The company currently has three employees. Committed to a process of transmission, an apprentice is part of the workforce of the house. Several outside Parisian professionals – setters, polishers, diamond cutters… – contribute their know-how by working closely with the company. Jean-Michel, who was present at this meeting, will join the adventure in a few months. After having been trained by his father but also with several diamond dealers, he wishes to bring his expertise in the continuation of the family adventure. "Working as a family is part of our heritage. A few years ago, we were already thinking about it, but without it being serious. Now it seems to be a matter of course
Creation ring in palladium-plated white gold, paved with 0.8 carats of tsavorites and 0.6 carats of diamonds. The centre is a 28-carat green tourmaline. Photo: Maison Cadik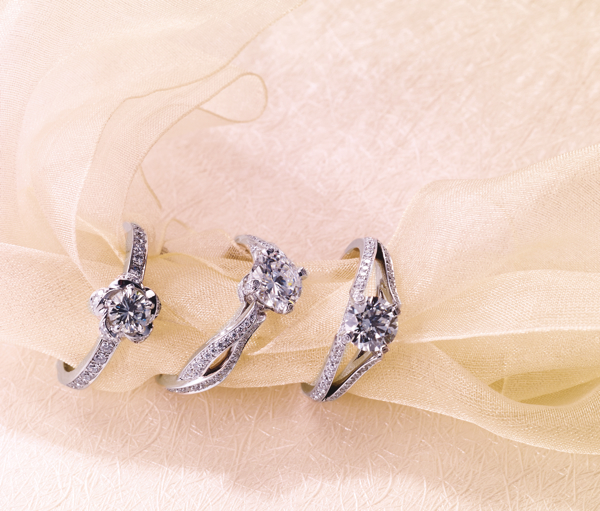 Set of engagement rings created by the house: 1- white gold palladium, pavement of 37 diamonds for 0.2 carats, diamond centre of 0.4 carats (client stone); 2- white gold palladium, pavement of 124 diamonds for 0.4 carats, diamond centre of 1.06 carats E Si1 (client stone); 3- white gold palladium, pavement of 80 diamonds for 0.6 carats, diamond centre of 0.9 carats E (client stone)
Meeting Laurent and Jean-Michel means taking the time to listen to people who are passionate about the jewellery sector. The anecdotes are numerous and the stories as tasty and brilliant as the creations that the workshop offers. When asked where they will be in a few years, "in our own boutique, I hope, and why not on Rue Saint-Honoré! We'll see," says Laurent with a big smile. And that's all the good we wish them!
Diamond solitaire on platinum, 5.8 carat centre stone (client stone). Photo: Maison Cadik
If you would like to contact Cadik, a website is available to help you discover more about the workshop: www.cadik.fr
You can also make an appointment directly by calling 09 83 27 17 21 or by e-mail at the following address: contact@cadik.fr
See you soon!