All it took was a bracelet that will be auctioned in London in the next few days to remind me of a forgotten family and a story with drawers.
A bracelet, which made me remember that I had documentation at home and that it was perhaps worth telling you a little about the history of these houses because their stories are intertwined…
1 – Le Roy & Fils, now L. Leroy & Cie
Our story begins in 1730 with the birth of Basile Le Roy. Fate could have given him any kind of life, but in 1747 he was apprenticed to a famous watchmaker, Joseph Quétin. Basile thus opened the way to a great and famous family of French watchmakers. He remained a worker throughout his life and it was his son who set up the company. Charles Basile, born in 1765, became a master watchmaker and bought a shop from the Duke of Orleans in 1785. The Duke of Orleans, in need of cash, opened the Palais Royal in Paris to trade and many merchants and craftsmen settled under the arcades. This area of Paris was to become the home of the watchmakers. This address – 13-15 galerie Montpensier, Palais-Royal – would remain the family's for more than a century.
But the Revolution was in full swing, and with a name like that, it was not a good idea to stay in a neighbourhood haunted by revolutionaries. A real estate operation later and Charles-Basile disappeared for a few years. It is known that he signed his plays Elyor during the Terror. He came back and made a name for himself under the reign of Bonaparte.
In 1805, he became "Watchmaker to the Emperor", then "Watchmaker to Madame Mère". From 1810 onwards, he was so successful that he had to develop collaborations in Switzerland and in the French Jura in order to fulfil all the orders. In 1828, his son Charles-Louis joined the company, which changed its name to Le Roy & Fils . It is important to understand that the history of this company is closely linked to those of other watchmaking factories, whether through marriages in the family or through the careers of the employees who made the company famous. One of the founders of the Swiss company Patek Phillipe started out in this company.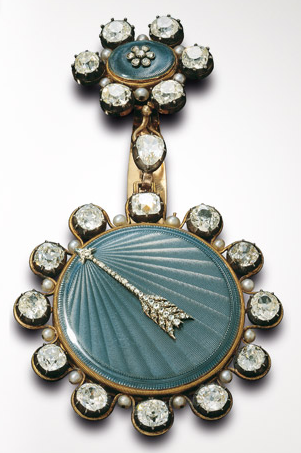 Exceptional and rare "à tact" medallion watch, in gold, guilloché and enamelled, set with 17 ct of diamonds. Signed Le Roy – Horloger de S.A.I. et R. Madame à Paris, n°3191, circa 1810. Collection of the Patek Philippe Museum. Photo: Patek Philippe Museum, Geneva.
In 1845, the house was sold to Casimir Halley Desfontaines. The family's descendants did not wish to take it over, and ten years later the company set out to conquer the English court. Established in 1854 in Regent Street, then in New Bond Street, the company renamed Le Roy & Sons became "Queen Victoria's Watchmaker" in 1863. It delivered timepieces throughout Europe. It should be noted that from the 19th century onwards, the timepieces were enamelled and decorated with stones such as diamonds and sapphires.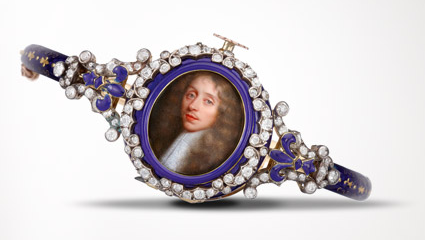 Small gold pocket watch, enamelled and set with diamonds, modified to be mounted on a bracelet, commissioned by the royal interest in 1874. Case signed Le Roy & Fils, "To The Queen", 57 New Bond Street, London – Paris. Made in France and engraved with the Royal Crown. Circa 1875. Collection of the L.Leroy Museum. Photo: L. Leroy.
In 1879, Desfontaines hired the young Louis Leroy, whose family was also in the watchmaking business. In 1883, George Halley Desfontaines took over from his father. Then in 1888, Jules Halley Desfontaines took over after the death of his brother. He appointed the young Louis as partner. It was he who took over the company in 1889 and gave it its new name: L.Leroy & Cie, formerly Le Roy & Fils .
Théodore-Marie Leroy, watchmaker and father of Louis and Léon Leroy, who gave the definitive name to the company L. Leroy & Cie, was born in 1826. He was a watchmaker in the Navy and was awarded the Legion of Honour (1884). He is above all a manufacturer well known for his chronometers. His workshop was at 88 rue de Varenne.
Letterhead of the Théodore Leroy company, chronometer manufacturer. He was the father of Louis and Léon Leroy.
The end of the 19th century saw the opening of a workshop in Besançon, then the arrival of Léon Leroy, Louis' brother. In 1899, the company moved to Boulevard de la Madeleine in the 8th arrondissement of Paris. Throughout the 20th century, the clientele remained prestigious and ensured the constant recognition of the company. I will quickly focus on the Leroy 1 watch created in 1900, a small masterpiece of watchmaking, which remained the most complicated watch in the world until the creation by Patek Philippe of the Calibre 89. The company does not produce jewellery, but you will notice that many of the watches have particularly elaborate workmanship allowing for the presence of jewellery elements.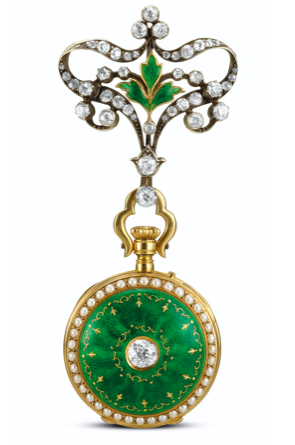 Gold and silver watch set with diamonds, circa 1905, Le Roy & fils. The piece is engraved: "To The King", Le Roy & Fils, 57 New Bond St, London. Sold at Sotheby's in 2013 for €6200. Photo: Sotheby's
In 1935, Louis (without descendants) died and Léon transferred the business to rue du Faubourg Saint-Honoré. It remained at this address until 1980. Léon's heirs sold the house at that time. In 2004, a new chapter began to be written for this illustrious company. Miguel Rodriguez bought the company and its archives, then integrated it into the Festina-Lotus group. It is now a single watchmaking company. The archives reveal that almost 400,000 pieces were made during the two centuries of the company's existence… An astonishing figure!
At the beginning of the 19th century, another family of watchmakers was established in the Palais Royal: the Leroy family. According to the information I have, the company was founded around 1813. It is located at 114 and 115 (perhaps even 116 at one point) galerie de Valois. Examples of mid-19th century designs can be found in auctions. The house bears the name Leroy & fils.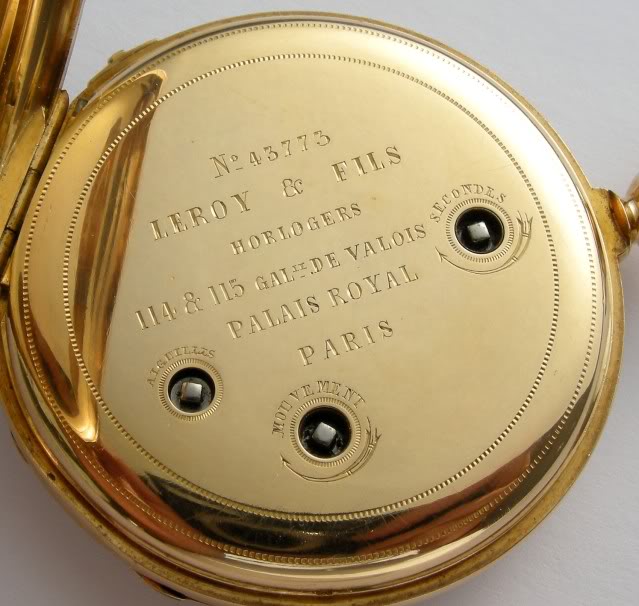 Example of an engraving on a Leroy & fils watch, in yellow gold, circa 1850. Photo: The pocket watch specialist.
No. 13802 Chased gold extra-flat pocket watch, with movement border and engraved foliage and scroll back. White enamel dial with Roman numerals. With its chased and openworked gold clasp. Chimera hallmark, 19th century. Signed Leroy et fils, horlogers du Roi, galerie de Valois n° 114, Palais Royal. Photo: Gazette Drouot.
It seems, and this is highly probable in view of the exchanges that took place and continue to take place in this trade, that Théodore Leroy was able to work with other famous watchmakers and particularly the Lepaute family. Nevertheless, a lot of information that can be found seems to be wrong, the dates do not always correspond. It is therefore with great caution that I write this article. I will update it with great pleasure if you have additional information. I find traces of the house as early as 1823 in the Bulletin d'Encouragement pour l'Industrie Nationale. He was awarded the title of King's Watchmaker by Louis-Philippe in 1835. Around 1850, it seems that the company was bought by Jean-Auguste Fraigneau, himself a watchmaker. And it kept the name Leroy & fils.
However, after 1883, Leroy & fils seems to have been based at 35 av. de l'Opéra in Paris. And it did not leave this address until the closure of the company around 1960. Watches with bevelled parts existed from the end of the 19th century and jewellery appeared in the 1930s. The company, which sold wristwatches, proposed pieces most often made of platinum, diamonds and coloured stones (rubies, sapphires, emeralds).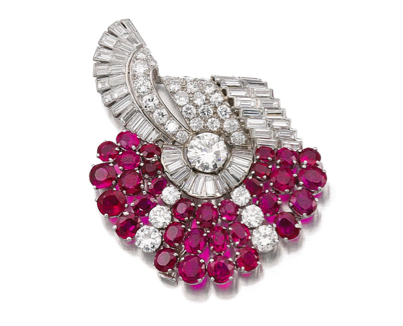 Platinum, diamond and ruby brooch dating from 1935. Signed and numbered Leroy et fils. Sold at Sotheby's in 2013. Photo: Sotheby's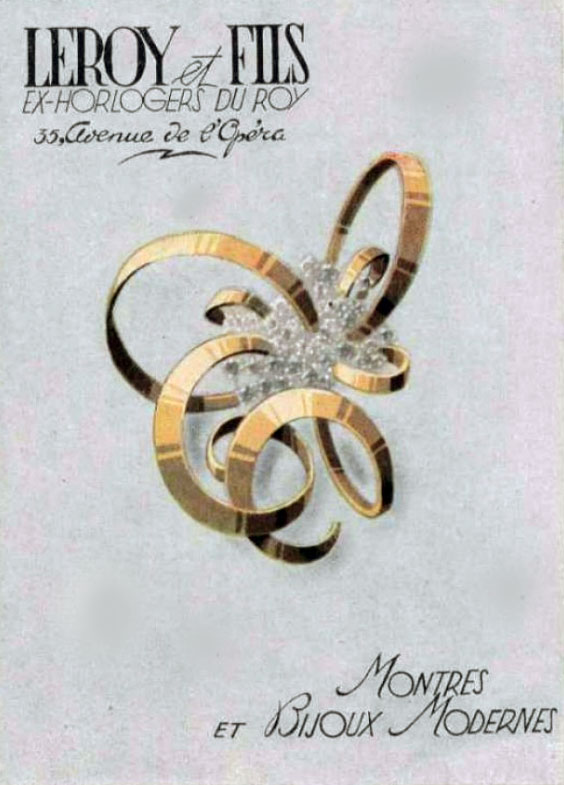 These two advertisements date from 1942 and 1943 and are taken from the Officiel de la mode. You can see some examples of the pieces that the house offered. Photo: Edition Jalou
See you soon!