On Friday 19 December, I left my studio to go a little further up in the 9th arrondissement of Paris, just on the border of Pigalle and Montmartre. A bohemian, artistic neighbourhood, full of adorable little designer boutiques. An infinitely inspiring neighbourhood…
That evening, a few days before Christmas, the shops are beautifully decorated and the lights illuminate the streets. So I start walking up rue des martyrs to rue Henry Monnier where Myrtille Beck, a jewellery designer, has been working for six years.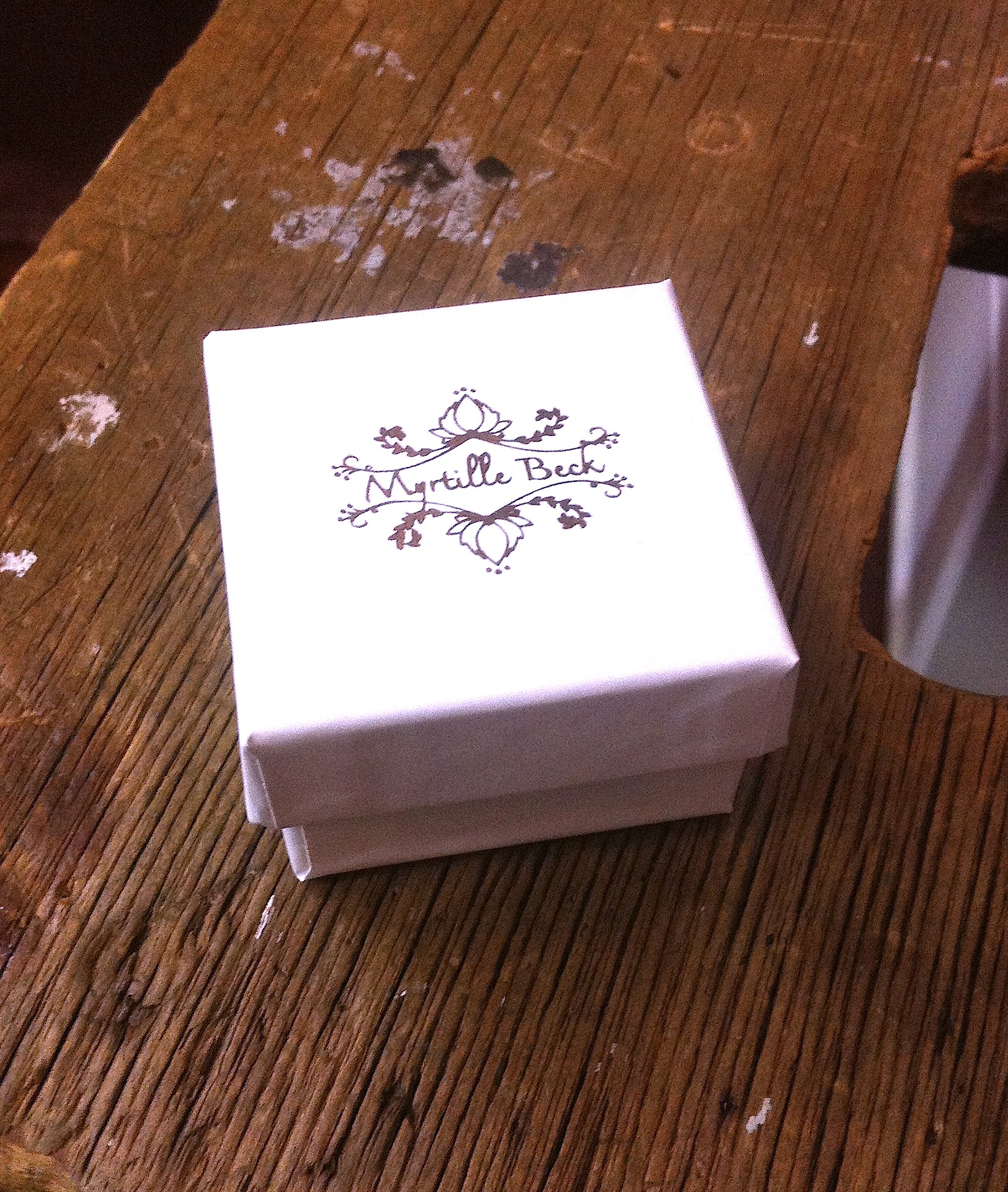 Personalized case of the workshop. Photo: The gemmologist
She welcomes me with a huge smile in her carefully decorated shop and apologises for being so overwhelmed with orders to finish for the end of year celebrations. So I sit down in the workshop, next to her workbench where we start to discuss her background, mine, her jewellery, her inspirations and of course – as when two people working in jewellery meet – the craft! And while talking, she starts soldering on different projects that she shows me as we go along… Yellow gold, coloured sapphires, tourmalines, diamonds come out of small boxes…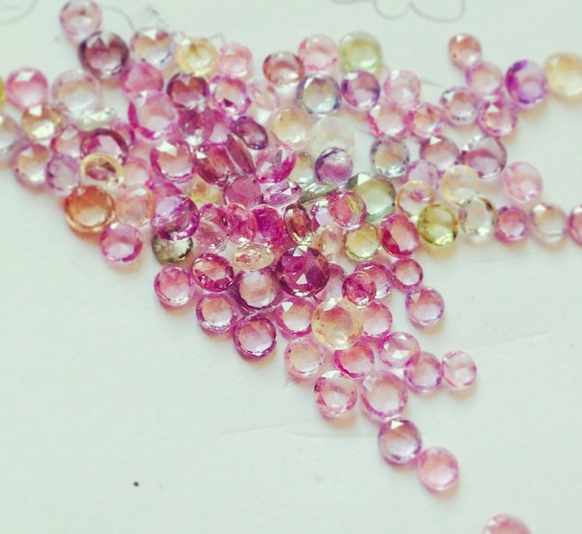 Lot of coloured sapphires . Photo : Myrtille Beck.
Precious rings, made of 925 silver ‰ and 750 gold ‰. Photo: The Gemologist
Myrtille started in jewellery almost 20 years ago. Originally, she was tempted to study fashion design before realising quite quickly that it was accessories that interested her much more. A jeweller friend advised her to look for an apprenticeship in order to get a foot in the door. So it was in Nice that the adventure began. She successively validated a CAP in this city, then another and her BMA at the Lycée Nicolas Flamel in Paris. The South of France, then, then Paris, for work but also because her husband also practises his profession there. At first employed in several large workshops, she practised her trade and the Parisian demands of jewellery making. Then in 2008 she decided to set up her own business, in order to give free rein to her imagination and to work on more personal projects. A very good idea!
I discovered the work of this designer via the Instagram network where she publishes – like me – pictures on a daily basis. And I quickly fell in love with her half-ancient, half-poetic universe. She distils beautiful stories, beautiful encounters and above all lifts the veil on her work through her photos.
Yellow gold rings, sapphires and pink cut tourmalines . The pieces here are all unique. Photo : Myrtille Beck
Myrtille seeks her inspiration in the jewellery heritage and history, but she is also inspired by her customers and her discoveries, which enrich her imagination. A batch of fancy cut stones or coloured cabochons and several unique rings are born. A traditional and artisanal work, to propose pieces of great finesse to her customers: all-gold rings or set with coloured gems, bracelets and pendants can be seen and worn. But the designer can also – in collaboration with you – work out a personalised project. So, take a walk around Pigalle, drop by Myrtille Beck's boutique and take some time to chat with her and admire her work, it is well worth the diversions! And maybe you will be tempted by one of her creations…
Myrtille Beck Precious Jewellery
30, rue Henry Monnier – 75009 Paris
See you soon!