I was lucky enough to meet Xavier Massonnaud at the Mineral Expo show in December 2014 and to make friends with him. After a few exchanges, I was certain that I had the necessary material to tell you about his career and thus introduce you to his creative work in jewellery.
Originally from Rochefort, in the Charente Maritime region, Xavier began his career at the age of 15. His childhood in Nantes is strongly linked to his professional choice. As a child, the window of the jeweller Daguzé, located on rue Crebillon, inspired and fascinated the future jeweller. He remembers "enormous" stones with fascinating colours for the child he was then. M. André, a jeweller in the room, was to be his teacher for several years. A student at the Saint-Amand School, he obtained his CAP in 1991 and his BMA in 1992. In 2006, he was awarded the SEMA prize for contemporary creation. He likes the profession because of its high standards and technicality.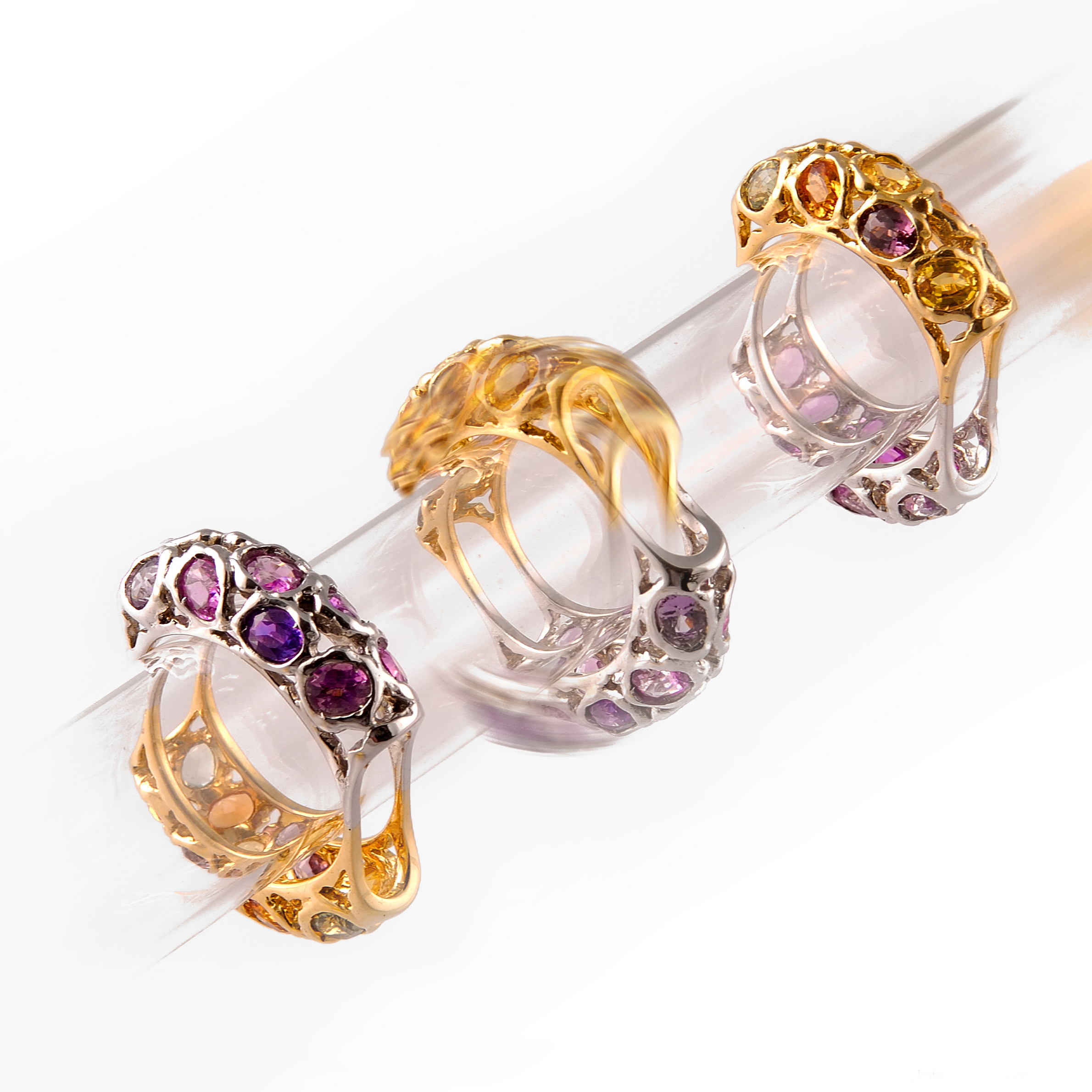 Reversible ring in yellow and white gold, coloured sapphires. Photo: Xavier Massonnaud
In 1994, he set up his own business in Cholet, followed by a boutique in Angers in 2000 and finally Paris around 2008. A few months later, he decided to close the various showrooms he owned to move back to the bedroom. He then wanted to refocus on his work and thus rediscover the very essence of his work as a craftsman, especially since he has been involved in heritage restoration since 2005. Following a project for Monseigneur Bruguès, Bishop of Angers, and the award of the SEMA prize, he was contacted by the heritage services of his region. This is how the jeweller became involved in art restoration, authorised by the DRAC of Maine et Loire, to work on restoration projects concerning jewellery and goldsmith's objects. Among its most important interventions, let us quote:
The Treasure of the Cathedral of Nantes in July 2006
The Treasure of the Cathedral of Angers in October 2007
Restoration of goldsmith's items for the Main Altar of the Cathedral of Luçon in July 2008.
He likes restoration because of what it transmits. This is a point common to all art restorers: to allow an object to continue to live within a family or a community and thus to enhance a personal heritage. On many occasions, he has refused to melt down family jewellery brought in as gold supplies. For these pieces that tell stories are also the memories and souvenirs of the people who have worn and passed them on.
Bilbao ring, yellow gold, diamonds and emerald. Photo: Xavier Massonnaud
Since the beginning of 2015, the jeweller has taken up residence in a house in the Deux-Sèvres where he has also set up his workshop. And his customers have naturally followed him. Xavier's creative work is first and foremost a work of architecture. Straight lines, angular shapes, and a real preference for geometry and material effects.
Contrasts guide him, raw stone, worked gold, glossy metal opposed to brushed gold, the frames – imposing – do not leave indifferent. Stones obviously inspire him: tourmalines, coloured sapphires, spinels, garnets are at the centre of his work and bring a little more light to his creations.
Yellow gold and tourmaline ring. Photo: Xavier Massonnaud
He has also recently decided to market these famous gems in tandem with Lionel Clipet, a gemologist based in Bangkok, Thailand, who has been in the profession since 2008 after graduating from the ING, then the DUG in Nantes, specialising in Antwerp and then at the AIGS. The two have known each other for several years now, but the Planet Gems project has been running for two years. By joining forces, they now want to offer natural and certified stones to a clientele looking for gems but also the possibility to show them off on a custom-made frame. A website will soon be online but you can already follow them via an official Facebook page.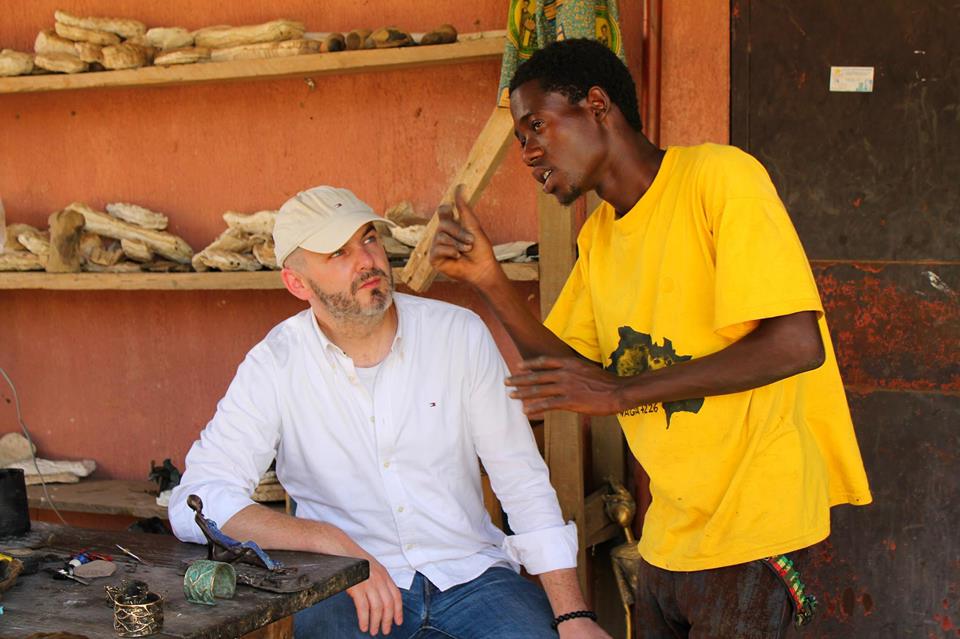 Xavier Massonnaud with Zakaria Kologo. Photo: X.M.
Beyond gems, Xavier Massonnaud is involved in a project that is particularly close to his heart. Over the last few years, thanks to numerous trips to Asia and especially to sub-Saharan Africa, the jeweller has discovered a wealth of know-how in the various countries he has visited: Nigeria, Guinea, Mali, Burkina Faso, etc. He thus initiated the association Les Ateliers du Monde, which aims to develop training courses leading to a diploma for African craftsmen. He would like to set up courses in gemology, jewellery, gem cutting, but also sewing, etc., to enable the workshops on site to enrich their knowledge.
It is with this in mind that he initiated Humanity Paris a few months ago, a commercial project that aims to bring together international craftsmen and designers whose objective is to disseminate their know-how "while sharing human, ethical and moral values, and thus structuring a creative and professional vision of the highest quality". A website will soon be launched, and in the meantime you can follow the news of this project on the Facebook page dedicated to it.
Bronze bracelet by Zakaria Kologo for Humanity Paris. Photo: Humanity Paris.
Finally, Xavier has been working for several years in the field of photography with many NGOs such as Terre des hommes, Save the children or ASTM. He initiates photo exhibitions and conferences whose main subject is the living conditions of workers in the mines. The aim is to make the general public aware of the harshness of the work in the mines.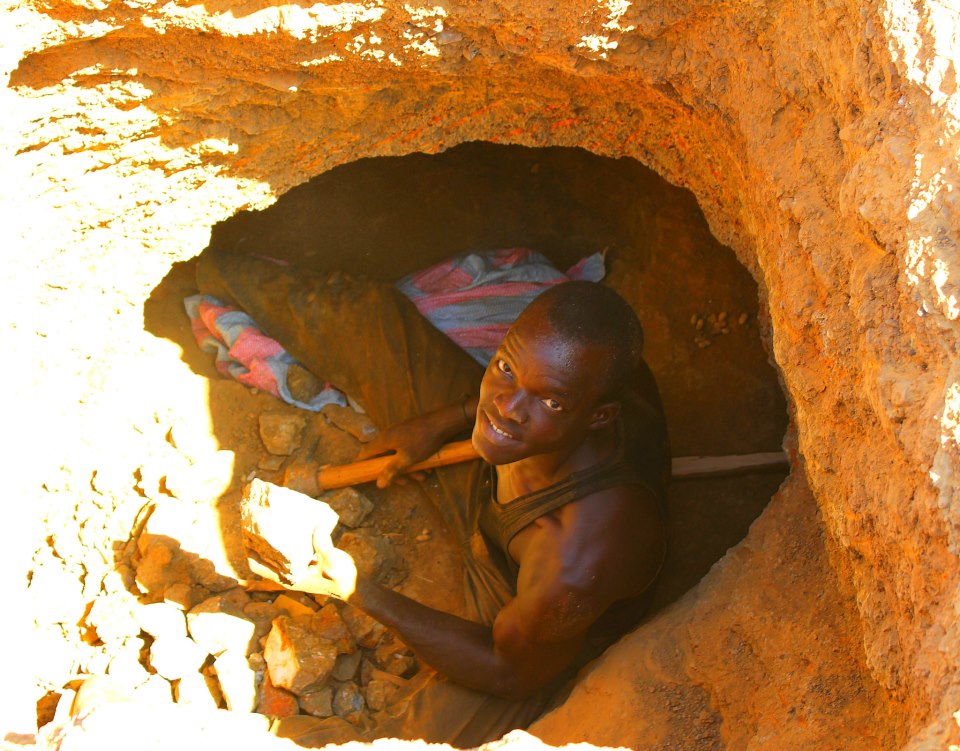 Working in a gold mine in Burkina Faso. Photo: Xavier Massonaud
See you soon.