Tuesday evening, in the 9th arrondissement of Paris, the weather is fine. I am about to meet a jeweller whose colourful creations have been punctuating my journey into jewellery for several years.
Marc Alexandre welcomes me in his workshop, in the middle of posters signed by Mucha and art objects that decorate the place where he has been working for more than fifteen years: the former workshop of a lapidary, which he has rehabilitated. So I suggest that you take a look at his career path.
When he left the third grade, Marc Alexandre knew two things: he was manual and meticulous. So he needed a job that allowed him to work with his hands. At the time, he went to a technical high school to prepare for an F10 baccalaureate (microtechnology). As he explains with a smile: " I saw myself making bolts all my life, so I quickly started thinking about what I really wanted to do with my ten fingers!
White gold and diamond ring. Design and photo by Marc Alexandre
Since his childhood, the jeweller has been passionate about models. His grandfather's workshop becomes a real playground during the summer. And the reading that has always followed him, a source of unlimited inspiration. And ideas are becoming clear, why not jewellery, watchmaking or dental prosthesis… So he enrolled to prepare for entrance exams to various schools.
The one at the Nicolas Flamel high school was the first one and embracing the trade became obvious. Jewellery – whose technicality and complexity are its backbone – became a real playground for him. From there, with a CAP (fancy, jewellery and jewellery) in his pocket, he joined the Guillochon company. Alain Limon, then head of the workshop, took him under his wing to perfect his knowledge. An animal sculptor and jeweller, he is one of those craftsmen who have the sacred fire with an innate intuition for working and sculpting the material. And this will deeply mark Marc Alexandre's work.
Swan ring in white gold and Ethiopian opal. Design and photo by Marc Alexandre.
In the mid-90s, he decided to take the plunge and set up his own business. He quickly started working with auction houses to do jewellery restoration. Antique jewellery is ideal for understanding how it is made and allows – through the practice of its restoration – an understanding and transmission of empirical knowledge: " They had less equipment than us, the pieces are complex and yet remarkably simple with a perfectly mastered manufacture

In the early 2000s, he decided to launch himself more officially into the creation of custom-made pieces. He presented his work for the first time at the Hôtel Dassault during an exhibition dedicated to jewellery designers. He wanted to make his own models and bring to life what he had been conceptualising in his writing for many years. This also coincided with the arrival of Ethiopian opals on the gem market. And then it was a real revelation.
Pendant representing a dragoness and her precious treasure. Percée is made of blackened silver and Ethiopian opal. Photographed in the hand of the designer. Photo: Marc Alexandre.
It will be a journey during several weeks, the discovery of deposits and buried cathedrals, the meeting with the inhabitants. He liked the material so much that he decided to learn how to master and cut it. He bought a lapidary bench and set to work. " I had to relearn everything! But this apprenticeship was a journey of initiation, just like the discovery of the country. He then experimented with free cutting and then with cabochon, which gives this stone its full brilliance: " a mineral rainbow". He brings in raw material and specialises more and more to the delight of his customers. The next step will be opal sculpture.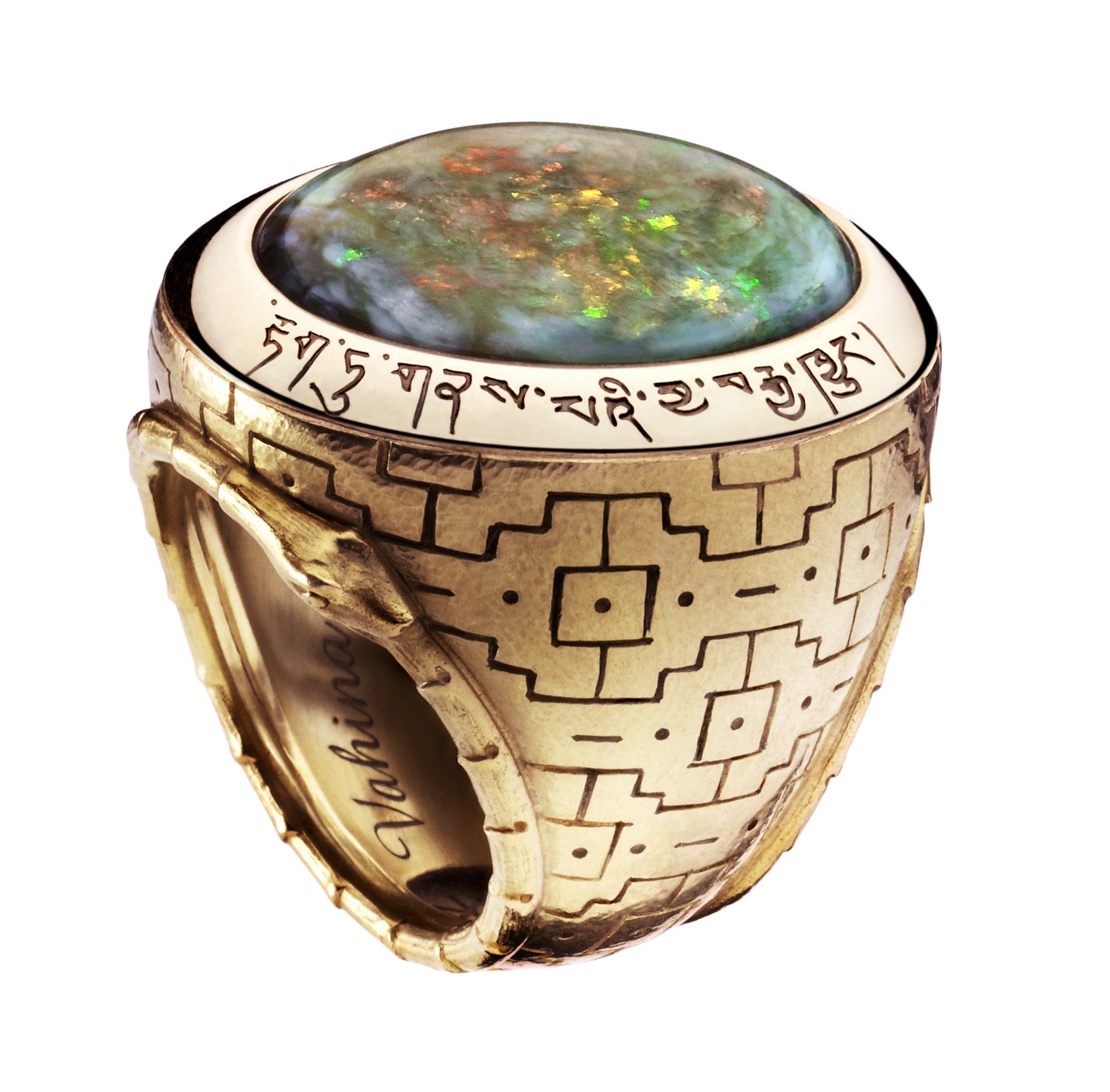 Ring La nuit de Vahina, in yellow gold and opal. Unique piece. Creation and photo by Marc Alexandre.
These stones then find a real place on the creations of the workshop and are completed with sapphires, tourmalines, garnets or spinels. The creation starts with the writing to be translated into the object like the series of La nuit des temps which proposes very personal unique rings.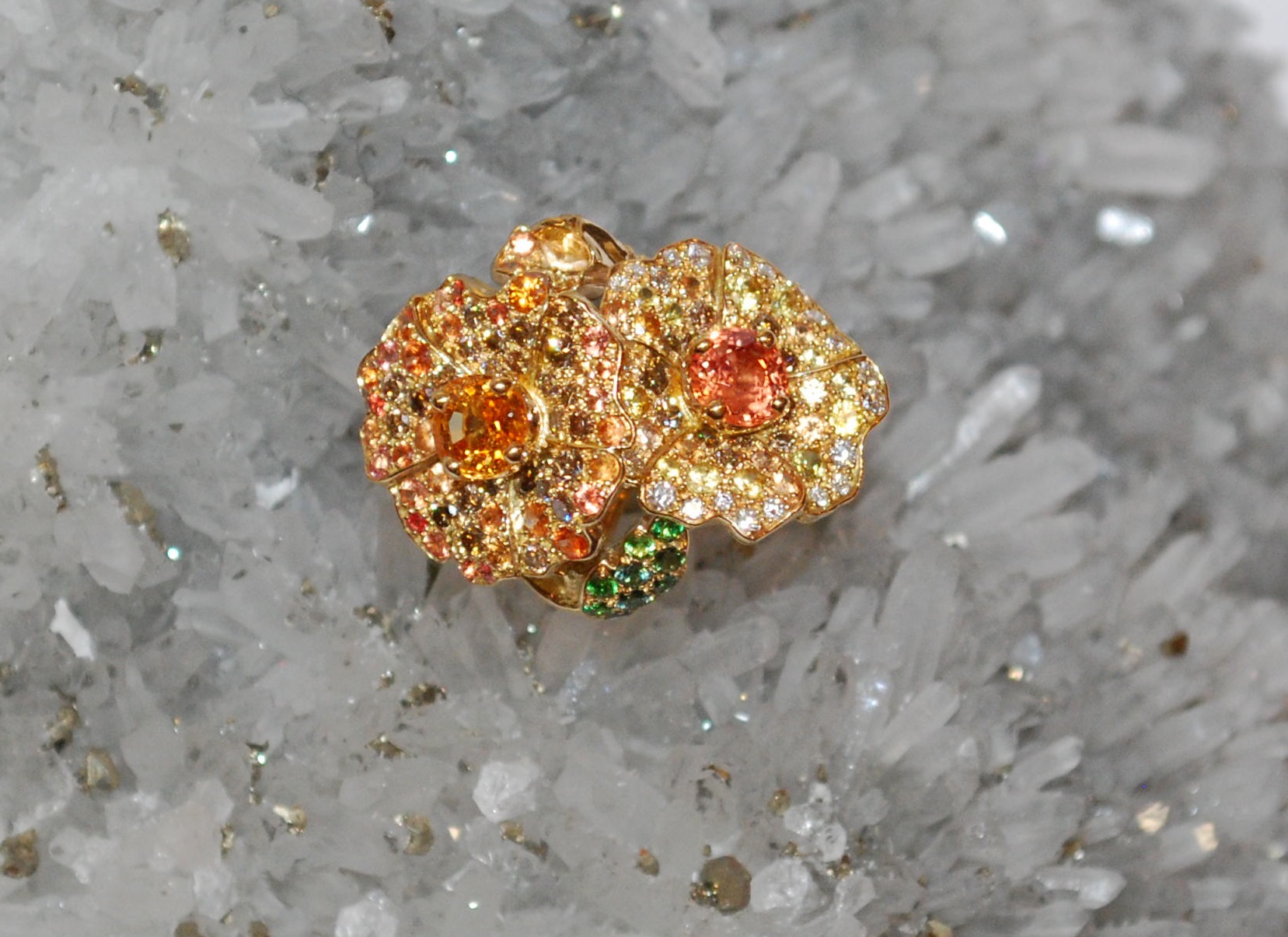 Flowers ring in yellow gold, coloured sapphires, diamonds and tsavorite garnets. Design and photo by Marc Alexandre.
Beyond the creation, there is the transmission. An essential step for the continuity of the profession. For two years, he was a teacher at the Rue du Louvre: " an incomparable exchange with the students! He hopes to be able to repeat this experience one day.
Discussing with Marc allows you to better understand his vision of the profession and his conception of jewellery. If you are interested in his work, you should contact him and go and meet him in his workshop in the 9th arrondissement of Paris. He receives by appointment only and invites you to contact him by e-mail: contact@marc-alexandre.com
You can also go to the Matières d'Art gallery in the 3rd arrondissement of Paris where he has a permanent exhibition of his work. This place, about which I have spoken at length, is a real incubator of talent!
See you soon!