Amongst the good news of the new year, I am looking forward to the opening of the Parisian boutique of the Russian jeweller Ilgiz Fazulzyanov, also known as Ilgiz F., whose remarkable work with enamel is sought after by amateurs and collectors all over the world. Nevertheless, he remains little known to the general public in France and this is why his installation in the French capital is excellent news. It shows that Paris is definitely a capital of jewellery and that its dynamism around the arts and crafts and the big houses is a breeding ground for independent designers and more confidential houses that find here an enlightened public in constant search of novelties. The last fashion week was for me the opportunity to ask a few questions to the designer who was visiting the city.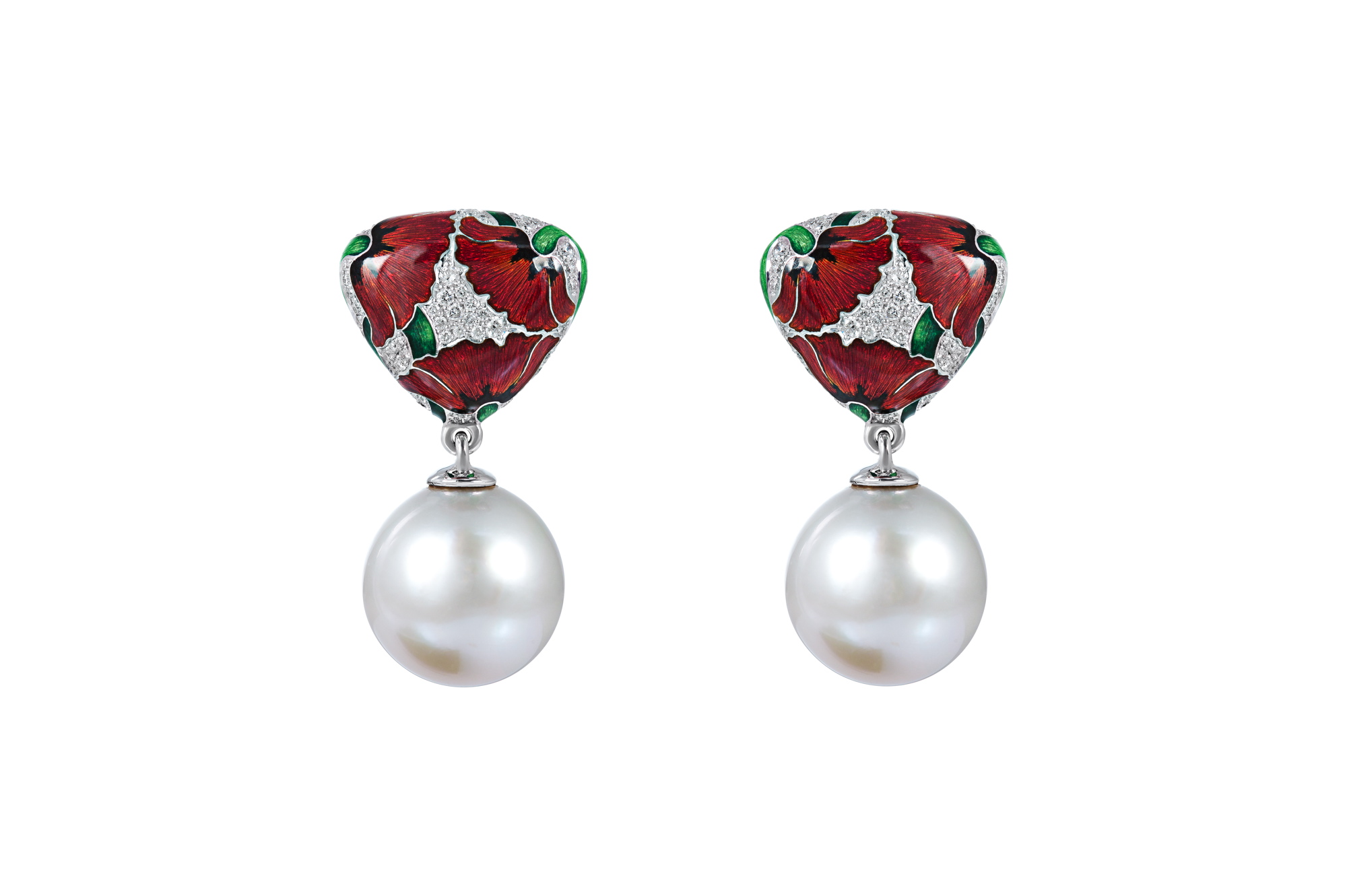 Gold, diamond, cultured pearl and enamel earrings. Photo: Ilgiz F.
Enamel has long been part of Russian artistic traditions. The Fabergé company was for a long time the most famous in Russia, offering remarkable pieces that were the joy of the imperial family at the time and today are the delight of connoisseurs. Europe has also had its great names and great periods: jewellery made a good place for it in the 19th century, but even more so during the Art Nouveau and Art Deco movements, where more geometric motifs replaced the luxuriant vegetation that was very much in vogue at the time. However, the latter had long been known and used in the East. In France, it was widely popularised by Lalique and is often found on pieces from Verger and Lacloche, to name but a few.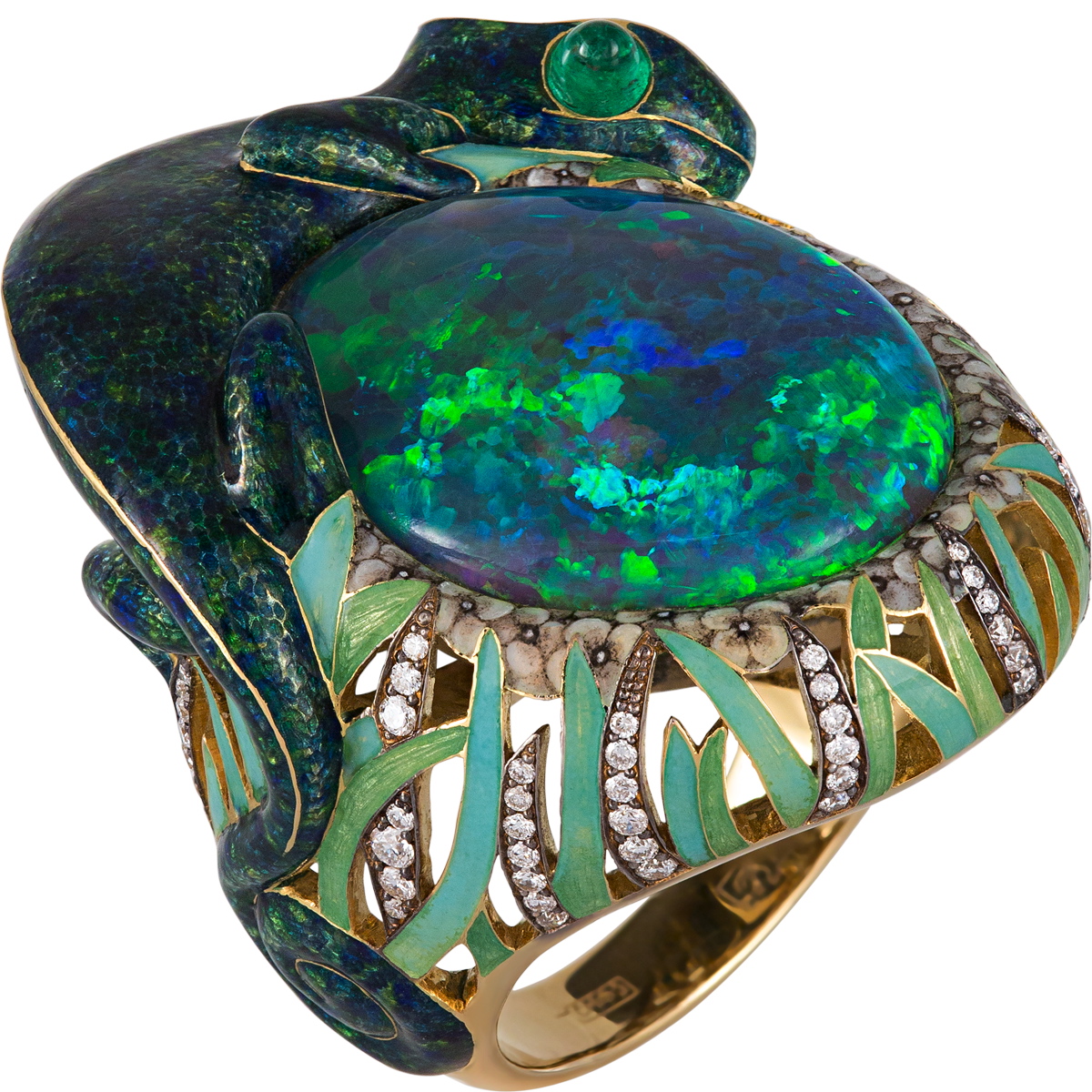 Yellow gold, diamond, enamel and Australian opal ring. Photo: Ilgiz F.
Fazulzyanov was founded in 1992. Originally from Zelenodolsk, in the heart of Russia, he studied at the Kazan School of Art, where he received his degree. Soon after, he began to imagine his own pieces and created his own workshop, initially producing glass objects, then works in painted silk, and finally moving on to jewellery. Enamel came into his practice in 1995. After training, he began to use it on jewellery and found a palette of colours close to his initial training in painting. His move to Moscow in 1999 was an inevitable turning point in his career and in the recognition of his studio. He then became more international.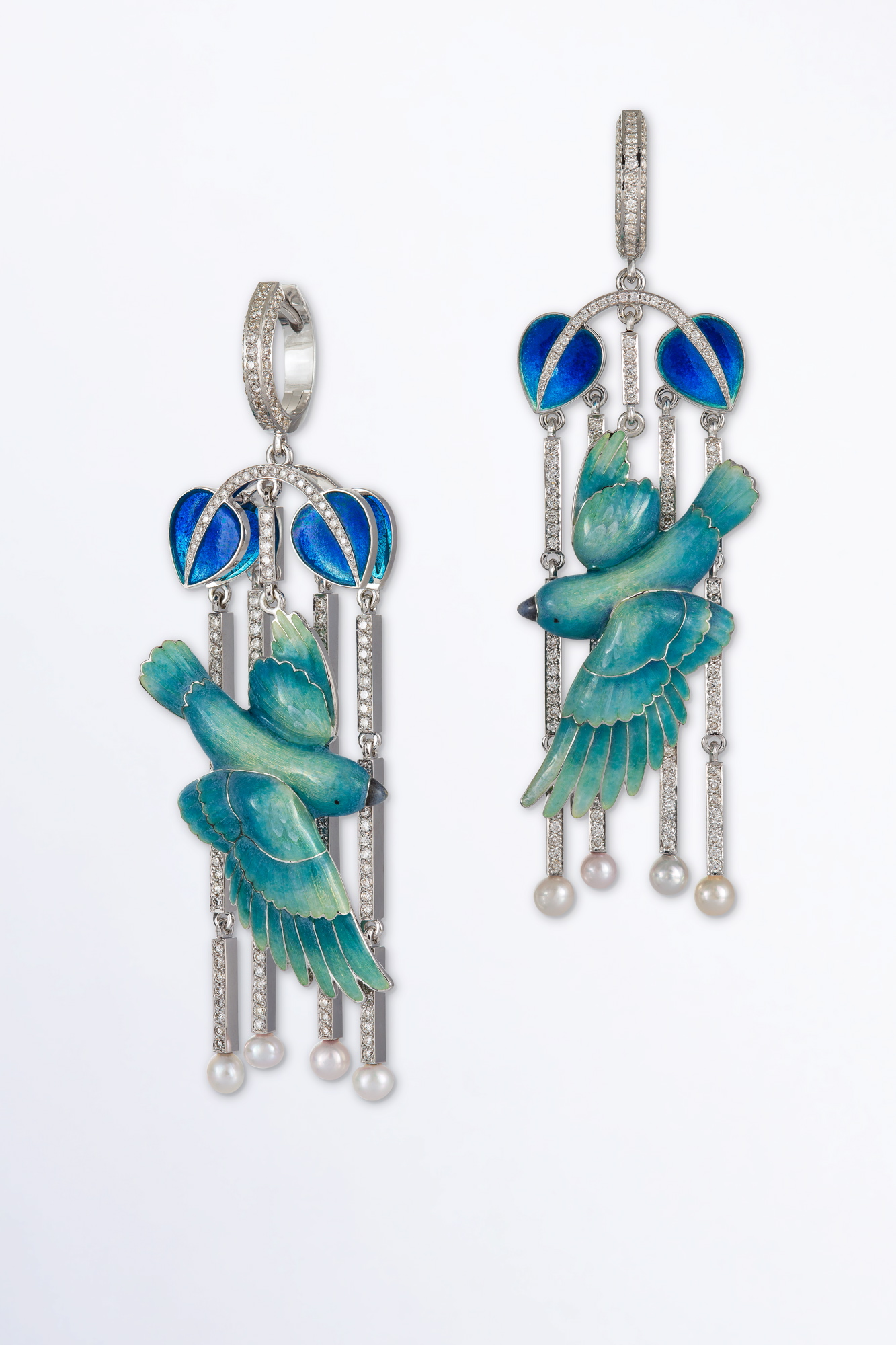 Gold, diamond, pearl and enamel earrings. Photo: Ilgiz F.
Gold, diamond, enamel and rock crystal earrings created for the 25th anniversary of the house. Photo: Ilgiz F.
A turning point came when he presented his pieces at the Oscars in 2010, and they were widely reported in the press. They were all the more noticed because they featured cultured pearls engraved and cut by the world-renowned lapidary Victor Tuzlukov, whose work is now acclaimed by the entire gemological community. Finally, in 2011 and 2013, it twice won the International Jewellery Design Excellence Award, which crowns the recognition of the exceptional know-how of the workshop and its craftsmen.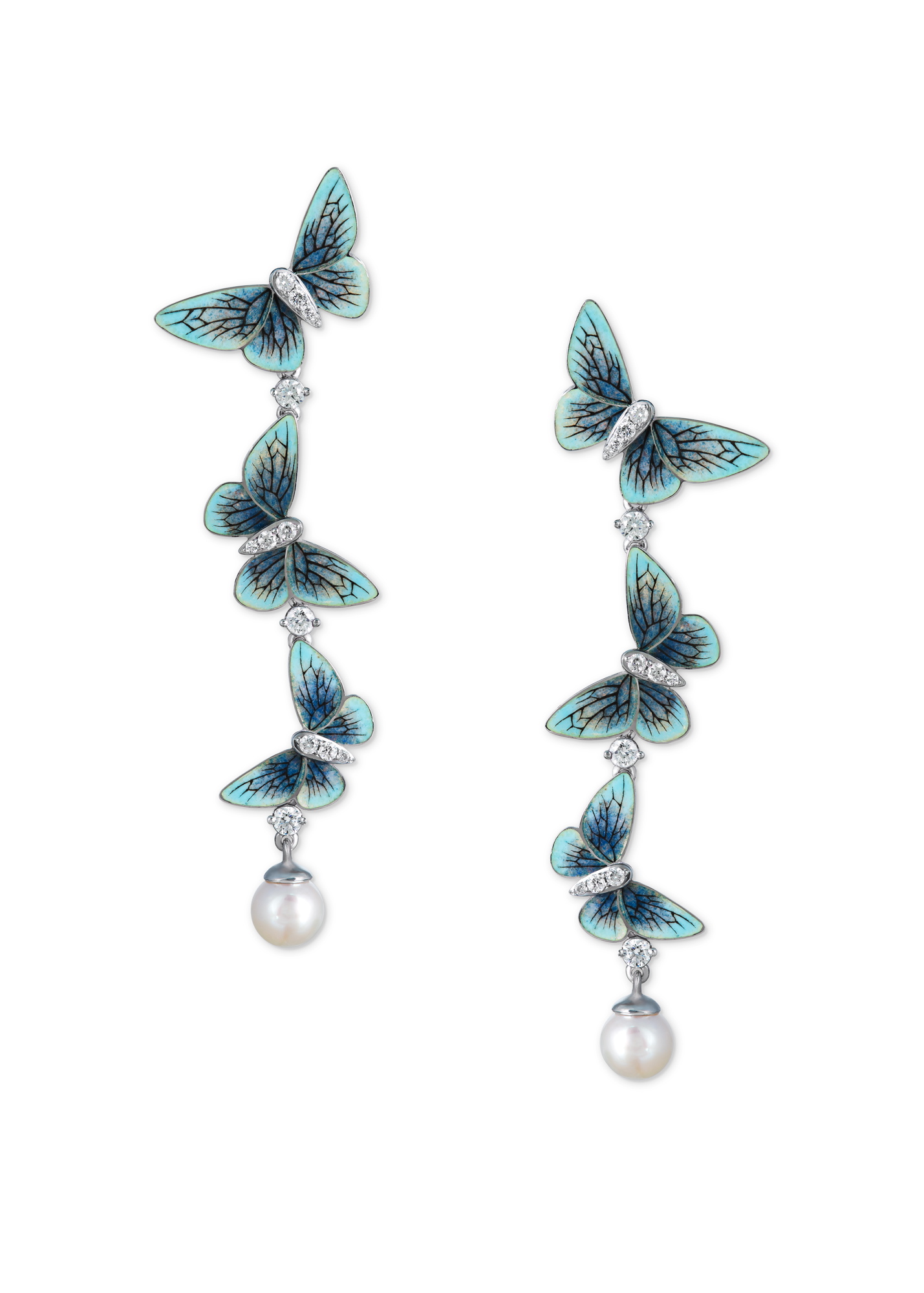 Gold, diamond, pearl and enamel earrings. Photo: Ilgiz F.
The year 2016 saw the presentation of a solo exhibition of his works in the Kremlin in the Ivan the Great Bell Tower where more than 300 works are on display to the public. The museum also acquired several pieces to be included in its permanent collection. Today, the workshop produces more than 400 pieces per year, the majority of which are unique pieces made following a special order. For the 25th anniversary of his company, the new collection that was presented succeeded in perfectly combining enamel and transparency by playing with the presence of rock crystal set on the enamelled jewellery.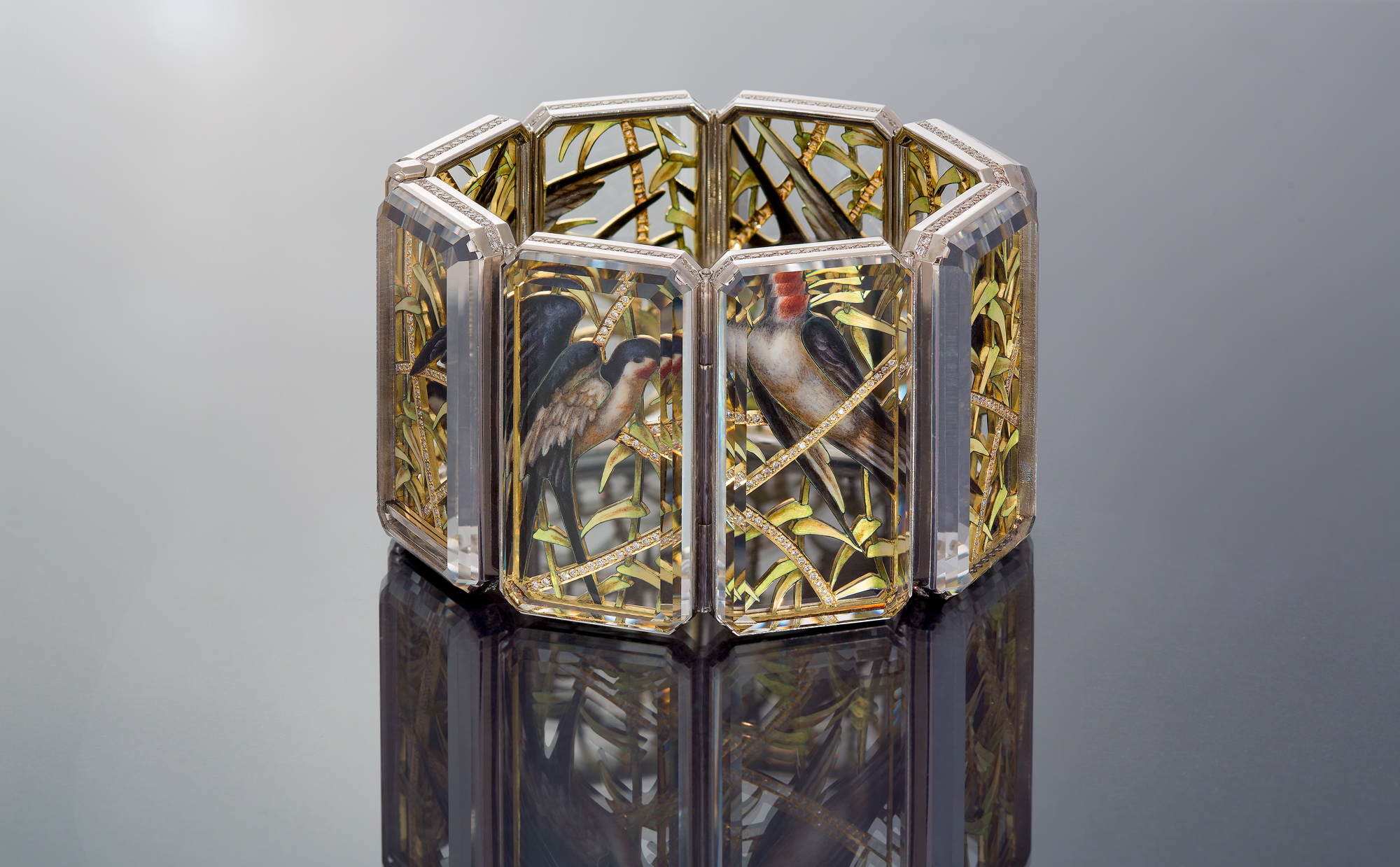 Gold, diamond, enamel and rock crystal bracelet created for the 25th anniversary of the house. Photo: Ilgiz F.
1- Dear Ilgiz, you are going to open your first boutique in Paris and we are already looking forward to discovering your creations. Why did you choose this city in Europe?
I asked myself the question: London, Geneva, Monte Carlo, Tokyo, in these cities people already know me, whereas Paris is a place apart. Like 200 years ago, people go there in search of art, in search of inspiration. It is a centre of artistic ideas. Besides, France and Paris are the first places I visited abroad. It is a source of inspiration in its own right and it is here that the techniques, styles and artistic currents that I love were born.
2- You are considered a master of enamel and you offer your customers remarkably enamelled jewellery. How did you discover this material and finally decide to integrate it into your creations?
I am a painter by training and when I started working on shapes for jewellery pieces, the available colour palette started to be insufficient. That's why I turned to enamel, it allowed me to mix shapes and colours.
3- You are inspired by Art Nouveau. Is nature still the best source of inspiration for jewellers?
Yes, for me nature is the most important source of inspiration. I love flowers, for example. I have a house in the country, and I have planted a rose garden there where I come to recharge my batteries.
4- Your latest pieces created for the 25th anniversary of your company are technically interesting, perfectly combining quartz and enamel. Can you tell us a little more about this collection and the link developed between transparency, colours and light?

Quartz is a unique stone, since the dawn of time it is considered to have magical powers. It is full of energy, just remember the crystal balls of the fortune tellers. It is a stone that shares its energy. On the basis that each of my works is filled with my creative energy, my soul, my philosophy, thanks to quartz I give it back entirely to the buyer. 25 years is an excellent time to pass on all your experience in this way. The most difficult thing is to find the perfect balance between transparency, colour and light. I've always loved old carved sideboards with doors that had glass windows in them. You could see inside the treasures that their owners kept. There was something mystical and magical about it. It is on these childhood impressions that I decided to create this collection, where through the facets of the quartz one can glimpse what I keep deep inside me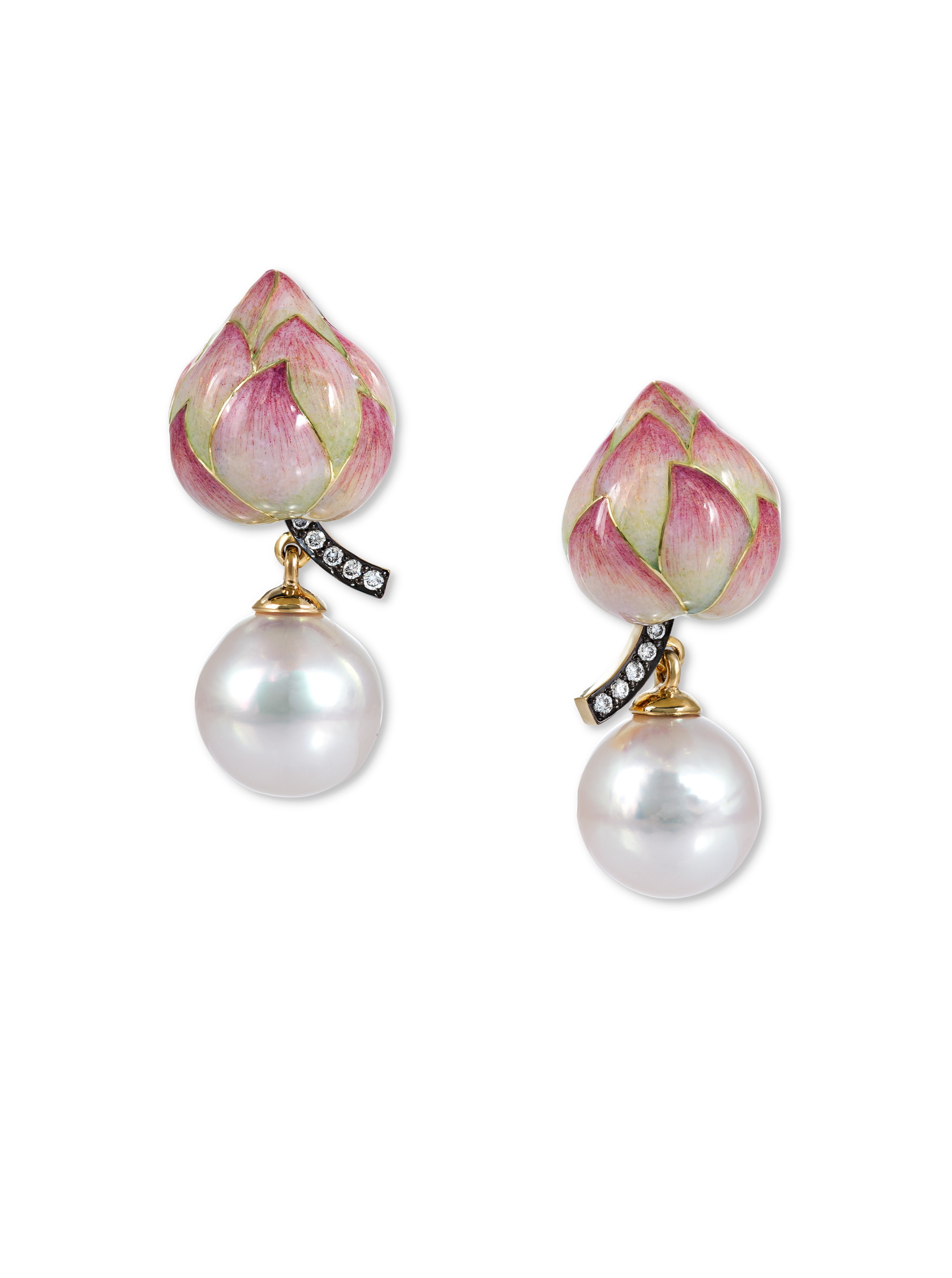 Gold, diamond, pearl and enamel earrings. Photo: Ilgiz F.