A few days ago, while it was freezing cold in Paris, I spent the evening in Italy. There was no need to fly. I simply hopped on a metro and went to the Galerie Elsa Vanier, located on rue de l'Odéon in the 6th arrondissement, to meet Caterina Murino, who had granted me an appointment for the opening of the second exhibition of her new jewellery collection, as I had not been able to attend the opening and had missed it in January at the Galerie Charrandeau.
And for about an hour and a half, I left the grey skies to join the sun, the Mediterranean and the Italian heat that makes this beautiful country so charming and attractive! And, I must admit, this meeting was rich, pleasant and above all I had the pleasure to talk at length with a person with multiple facets.
Notte de Anime collection in yellow gold and rough sapphires from Sri Lanka. Photo: Caterina Murino Jewelry
Caterina is an actress. But before that, Caterina was born and raised in Sardinia. "Her island, as she likes to describe it, is an important part of her daily life, even though her career often takes her far from it, as she now lives between Paris and the rest of the world. Born in Cagliari, she left Sardinia for Rome where she took acting classes before making her debut on Italian television in the early 2000s. The general public discovered her in Alain Berberian's "L'enquête Corse" in 2004 and the roles followed one another from then on. In 2006, she became the James Bond Girl in the film "Casino Royale" and was willingly seduced by Daniel Craig who played a particularly charismatic and charming James Bond. But beyond this role that made her famous, she has also worked with Alexandre Arcady, John Irvin, Jack Huston and will soon be starring in the next film by the excellent Julien Boisselier.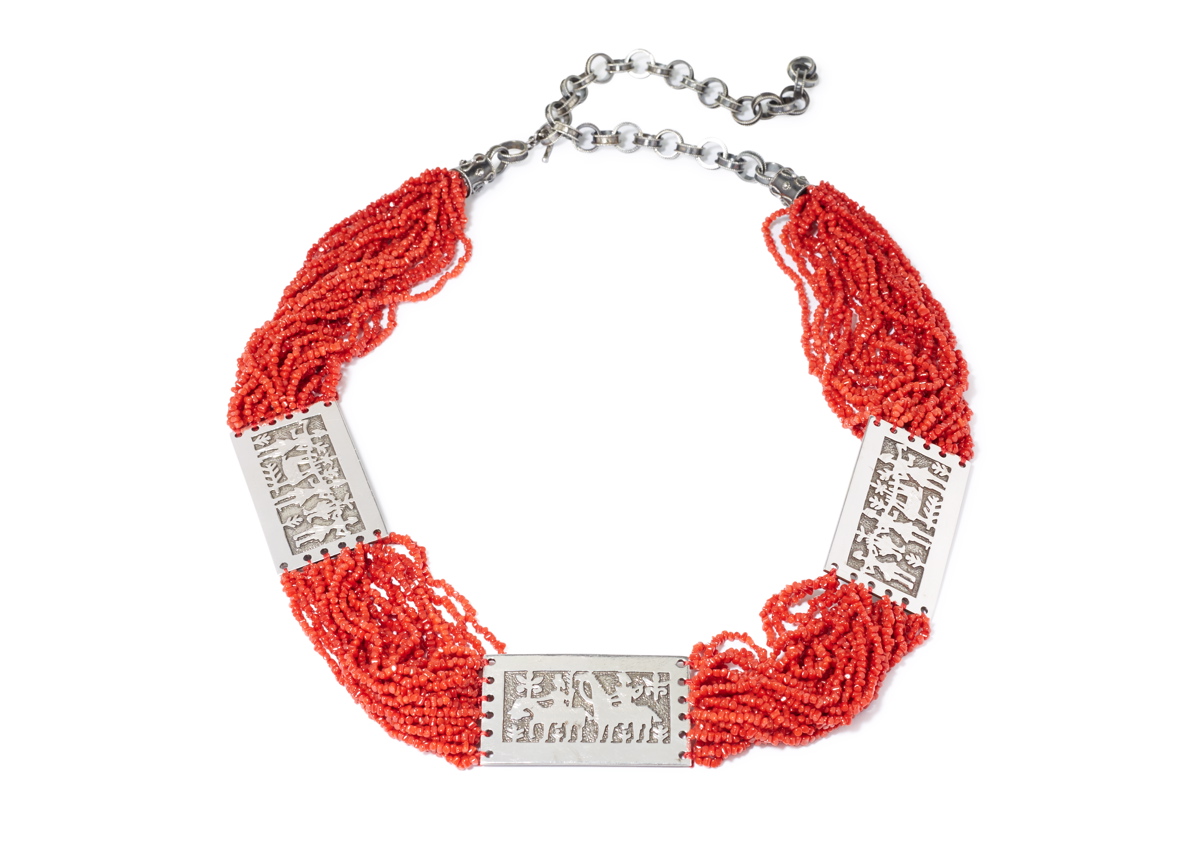 Silver and red coral belt from Sardinia. Photo: Caterina Murino Jewellery
Jewellery is also an image story for the woman who was one of the most beautiful faces of the Chaumet house but who has also represented De Grisogono and Mauboussin. But jewellery is also part of her family history and her Sardinian culture. When I arrived at the gallery, I first noticed the coral pieces. And that's what we started talking about. Several years ago, I studied coral as part of my gemology studies and I looked into the case of Corsican, Sardinian and more widely Mediterranean fisheries because the history of the links between these cultures and this resource is fascinating!
The Fede Sarda according to Caterina Murino, here in yellow gold. Photo: Caterina Murino Jewellery
In Sardinia, jewellery has nothing to do with the high jewellery we are used to. But this is also due to the history of the island and the successive settlements by the Nuragic and Phoenician cultures, which later came under Carthaginian domination. From this history, we will remember above all that the island has been deeply marked artistically and culturally by this presence. The Sardinian filigree is a perfect example: discreet jewellery, remarkably executed by specialised craftsmen and made of gold or silver. The technique combines metal threads(filo or filum in Latin) and small metal grains(granum = seeds or granules). It originated with the Etruscans (you must have heard of granulation!) and was passed on to the Arab peoples, including the Phoenicians, who invaded and then left their mark on this small strategic island in the Mediterranean Sea. If 20 years ago, there were several hundred craftsmen who were the custodians of this know-how, today there are less than ten or so who make these traditional jewels themselves and on the spot, the most emblematic of which is the Fede Sarda, the Sardinian ring that is passed on from mother to daughter in families on the occasion of major events such as a wedding or a birth.
Rings in white gold, diamonds and natural, untreated star sapphires from Sri Lanka. Photo: Marie Chabrol
It is here, in this historical heritage, that Caterina sought her inspiration and the jewellers who created her sketches. She revisits the Fede Sarda by transforming it into necklaces and earrings, giving new life to traditional jewellery that had been forgotten. She creates pieces in yellow gold as well as in white gold. Her travels have allowed her to bring back beautiful raw and starry sapphires from Sri Lanka, she associates them with light and airy frames. The gold wire twists around the gems, bringing a shine to the stones that are deliberately left in their initial shapes; the star sapphires accompany rings in gold and diamonds, recalling the lovely legend of the name Sarde – S'ard in the ancient language – which would mean dancer under the stars. Coral is revisited here in belts and necklaces, the pieces are completed with engraved silver plates in homage to the Bronzetti Sardi; bronze statuettes from the Nuraghic period whose most important collection on the island is in the museum of Cagliari, Caterina Murino's home town.
Fili di Vento ring in yellow gold. Photo: Caterina Murino Jewellery
Finally, the Fili di Vento rings, in yellow and white gold (made in Sardinia), are sold in aid of AMREF, the leading African public health NGO, of which the actress has been an ambassador since 2006. As such, she is one of the spokespersons for the Stand Up for African Mother campaign, which aims to train 15,000 midwives by the end of 2018 to fight against maternal and infant mortality in Africa. A great project to support!
Detail of a silver plate with a Bronzetti Sardi design. Photo: Marie Chabrol
You can discover Caterina's collections and commitment at Galerie Elsa Vanier until 30 December 2017. It's a must-see!
See you soon!