In the 6th arrondissement of Paris, just behind the Church of Saint-Germain-des-Près, there is a discreet shop that deserves to be discovered. Don't be afraid, ring the bell and push open the door to enter a world where wood, stone and pleated paper welcome you. Hidden in this setting is the talented jeweller Anaïs Rheiner and her remarkable floral work. Crumpled, hammered and polished gold and coloured gemstones await you. A whole world is offered to you, rings that you pile up and collect according to your desires, earrings that delicately dress up the ear that reveals the indiscreet lock that you put back in place… But above all, there is Anais, her cascading laughter, her passion for gardens and her welcome that makes me want to stay for hours with her to discuss jewellery over a cup of tea.
Anais Rheiner. Photo: ©MarieChabrol
Anais is also an incredible story, made of travels and a lot of willpower. Don't be shy, we'll just make a detour through Switzerland before reaching the colourful and warm lands of Zimbabwe… Shall I take you with me?
Two rings in yellow gold, diamonds, green tourmaline, pink sapphires, orange sapphires and amethyst. Photo: ©MarieChabrol
1981, Anaïs was born on the shores of Lake Geneva in Lausanne. A few months later, she leaves Switzerland for Africa. Her father, a geologist, is recruited by the mining industry for a mission lasting several years. As for her mother, passionate about raw minerals, she imagines and initiates her own jewellery design company. But there is no question of jewellery here. Her domain is necklaces, often imposing and colourful, made mainly of gems of African origin. In the early 90s, Anaïs' father's mission came to an end, but the family no longer wished to leave Zimbabwe, and more particularly Harare, where they had been living for over ten years.
Yellow gold and apatite ring. Photo: ©MarieChabrol
Since her teenage years, Anaïs has assiduously frequented her mother's boutique workshop. There she learned about stones, the marriage of colours, and pearls that appeal. She also discovered metal, mainly silver, and what can be done with it when you know how to work it and master it. At 18, with her E-Level in her pocket, she decided that jewellery would be her profession. She joined The Gold Center workshop in Harare where she stayed for two years. This on-the-job training was deeply beneficial and formative.
Rings that are collected. Three rings in yellow gold, pink tourmaline for the most important stone, pink and orange sapphires. Photo: ©MarieChabrol
But the political situation in Zimbabwe was deteriorating and so was its economy. She therefore decided to leave for Mozambique. This country, which she already knew well, had inspired her for a long time because of its cultural links with Portugal, of which it was one of the colonies until 1975. She settled in Beira where she opened her own shop. She stayed there for a few years. At the age of 24, she felt that she lacked both practice and theory. Her instinctive approach had its limits. She returned to Harare and enquired about the various jewellery training courses on the African continent. Finally, she decided to go to South Africa and joined the city of Durban and its renowned University of Technology. She stayed there for three years and obtained her Fine Art and Jewellery Design Degree. In the meantime, she also trained for a few months at Saint-Martins in London.
Yellow gold, diamond, apatite and morganite ring. Photo: ©MarieChabrol
Once her diploma was validated, the question arose as to what to do with it. Settling in Durban is impossible for her. But to understand this, you have to understand the situation in South Africa. Although apartheid is a distant memory, it has left lasting traces in the relations between the communities. The political situation is complex, with racial conflicts between Zulus, Boers and Hindus particularly acute. In addition, there is the issue of security for women. After three years of living in this climate, she decided to return to her almost native Harare. A few weeks later, she flew to Paris where her sister works.
Yellow gold ring with diamonds and a 4-carat rubellite tourmaline centre. Photo: ©MarieChabrol
The arrival in the French capital was not without its problems for the woman who had only known Africa, its cultures and above all countries where the administrative system had absolutely nothing to do with France. In search of a place to work, she took over an old wine cellar and set up a small boutique to sell the necklaces and jewellery made in her mother's workshop. This was in 2007. She also started to produce her own jewellery very gradually. In 2010, she joins the Ateliers d'Art de France and tries several times the Maison & Objet show. I met her very briefly in 2014 when I had just returned to Paris, she was then participating in the Biennale Révélations with her first gold and diamond collections. It was at this time that everything came together quite quickly. The Banque Populaire Foundation noticed her and awarded her a grant. She used this sum to renovate and completely rethink the boutique on rue Cardinale. Thus was born the identity of Anaïs Rheiner and her official installation as a jewellery designer.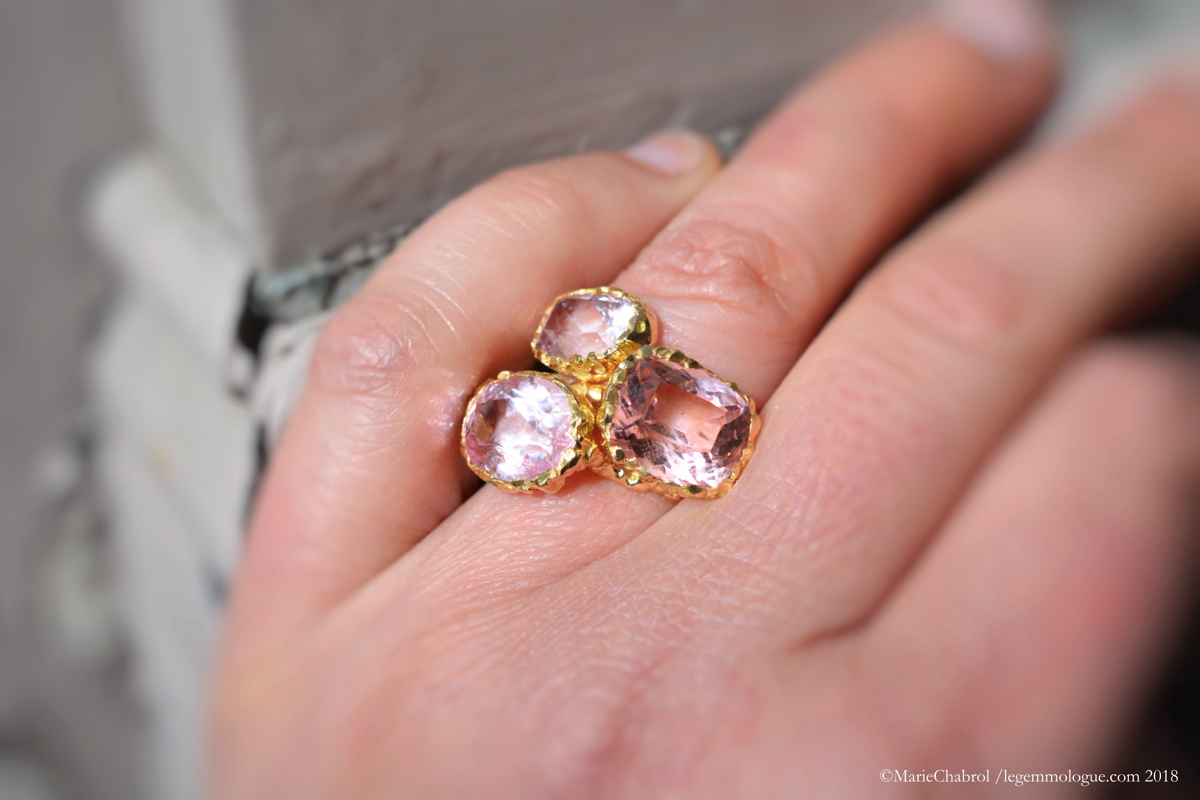 Three yellow gold and morganite rings. Photo: ©MarieChabrol
As Anaïs likes to learn, she started chasing courses with Wiga Mikulski. She has been perfecting her technique for three years now. 2017 is also the year of the stones. Until then, it was all about diamonds and tiny coloured stones. Her meeting with a Brazilian trader changed all that and she started to integrate tourmalines, morganites, apatites, tanzanites and even grandidierites into her pieces.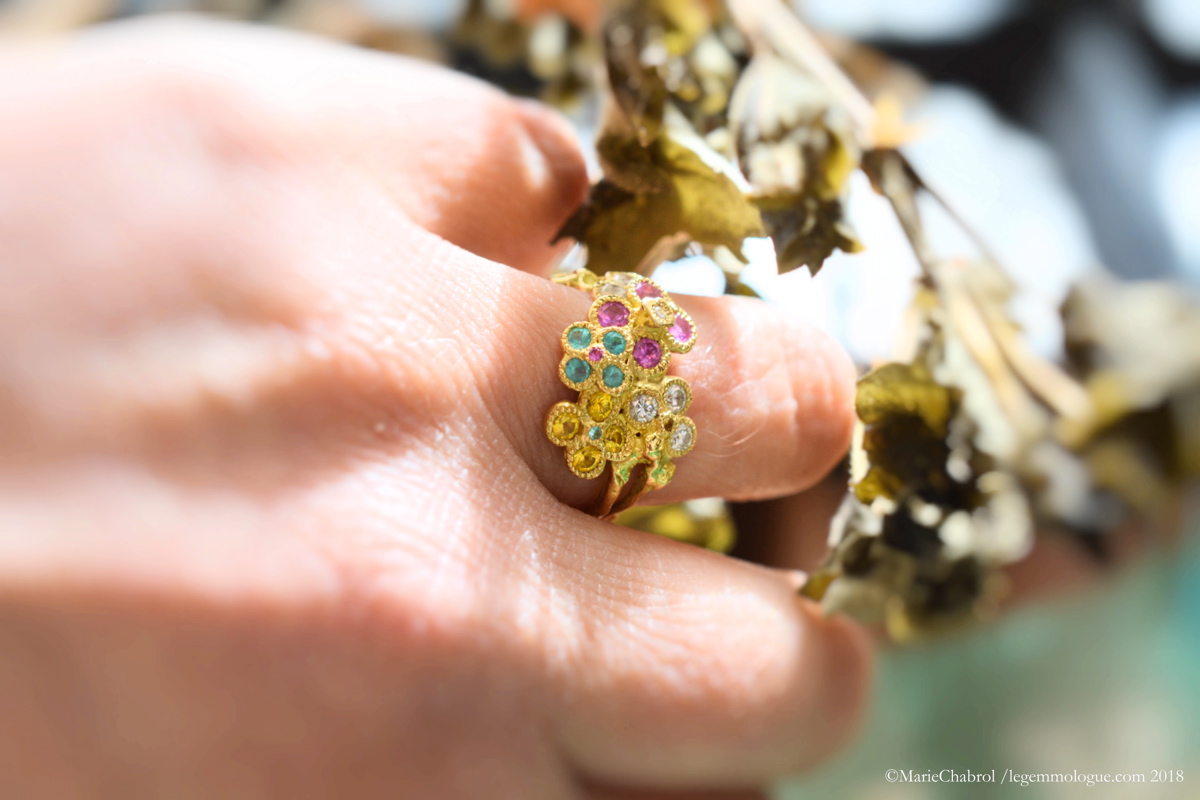 Yellow gold ring, diamonds, yellow and pink sapphires and Paraiba tourmalines. Photo: ©MarieChabrol
Her jewellery is light, full of detail, as joyful as Anaïs. Colourful, close to the skin, her jewels can be collected, mixed, and dress the hands with luminous reflections. This is an address you must visit. And if you are not in Paris, the house has just opened an e-shop that will allow you to admire the pieces and, I hope, to contact this talented young jeweller!
See you soon!
*****
Anais Rheiner
6 rue Cardinale, 75006 Paris
Telephone: +33 (0)1 40 46 02 39
contact@anaisrheiner.com