To close my series of articles on fashion week and the different collections I was lucky enough to discover, I wanted to take a look at entities that do nothing like everyone else: Alexandre Reza, Lorenz Baümer, Lydia Courteille, Mellerio dits Meller and Suzanne Syz. These five houses have proposed smaller collections (often less than 15 pieces) with pieces far from the story telling and incredible staging that the biggest French and international houses have offered us. Bold and unclassifiable, this is a good way to talk about their creations which are very different from what we have been offered this month of July 2018. Poetic, surprising and even surreal, I invite you to discover what seduced me in their different approaches.
alexandre Reza
Alexandre Reza still has a taste for beautiful materials, a tradition that is now carried on by his son Olivier. Among the new pieces, I particularly liked a ring set with a very beautiful Colombian emerald and a piece where the setting of two marquises makes it really surprising. This cut, which is often difficult to show off correctly when it comes to large stones, is perfectly used here for an elegant result on the hand. In addition, the very nice technical realization of this setting where the metal is completely forgotten to sublimate only the stones.
Double Swing" ring composed of a 3.08 carat navette diamond, a 3.59 carat Fancy Intense Yellow navette diamond, 30 baguette diamonds for 1.94 carat, 0.20 carat of Fancy Pink diamonds and 0.22 carat of Yellow Orangy diamonds. Mounted on yellow and white gold. Photo: Alexandre Reza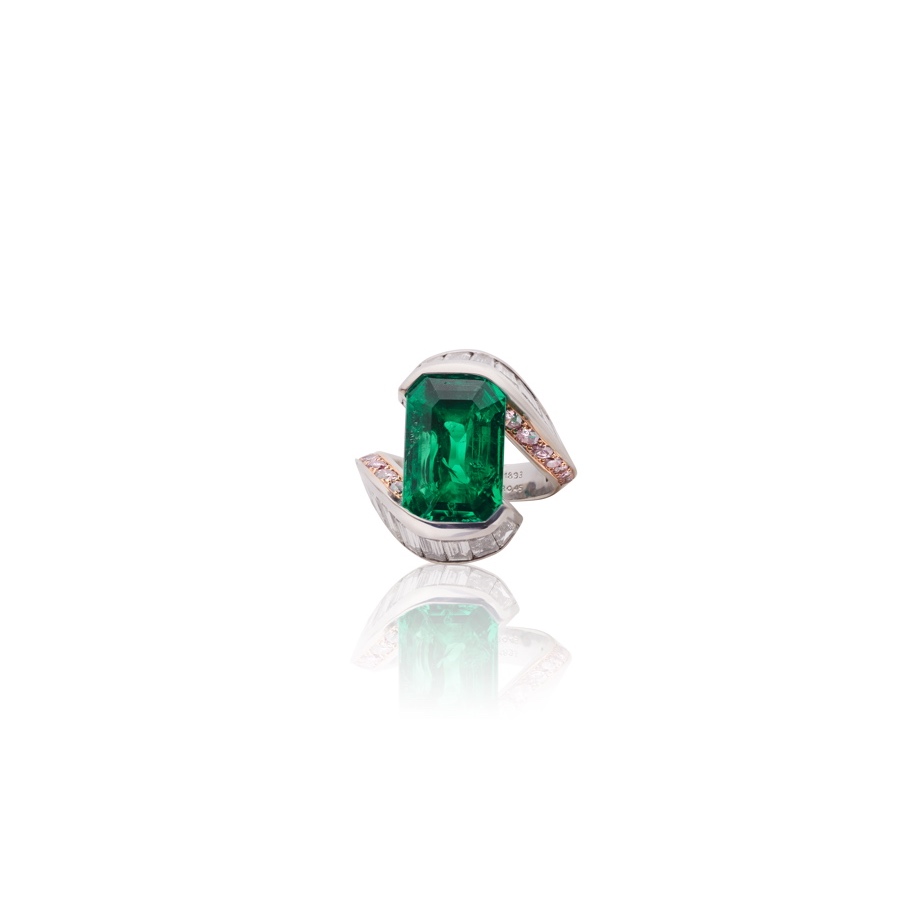 Swing Rectangle" ring composed of a 5.33 carat emerald-cut Colombian emerald, 24 trapeze-cut diamonds for 3.65 carats and 0.45 carat of Fancy Pink diamonds. Set in white gold. Photo: Alexandre Reza
*****
lorenz Baümer
Installed for many years now in the heart of Place Vendôme, the designer unveiled in the heat of July the Black Magic collection inspired by artists such as Soulages or Hartung. Known as a collector of contemporary art, the designer has drawn on extremely qualitative references to offer a series of pieces in which black becomes colour and subtly highlights all the shades and reflections of the lacquers and stones that enhance it.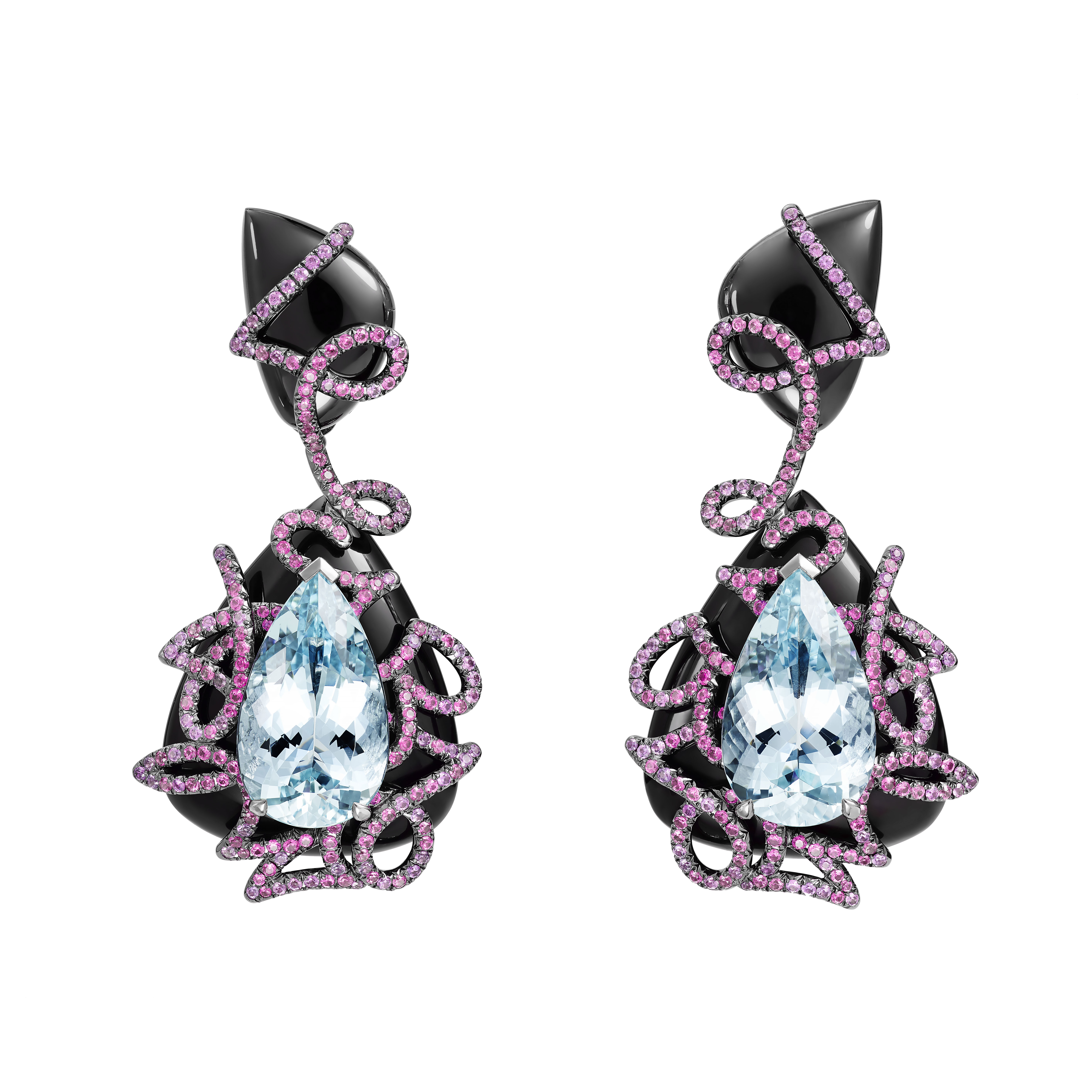 Light Painting" earrings in black rhodium-plated gold, pink sapphires, onyx and aquamarines for 22.72 carats. Photo: Lorenz Baümer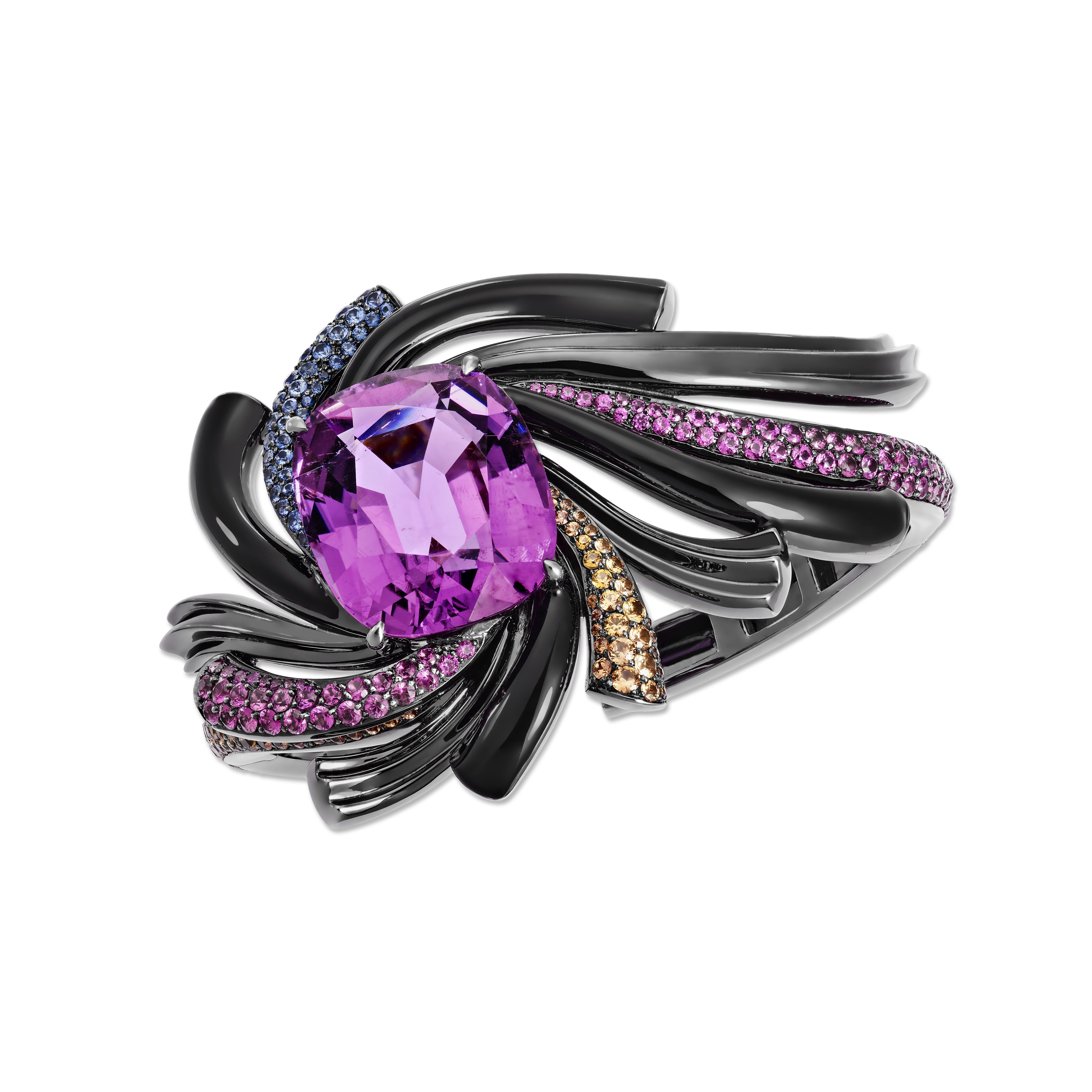 Ring "Nebulae" in black rhodium-plated gold, coloured sapphires and violet tourmaline for 32.29 carats. Photo: Lorenz Baümer
Ring "Etincelles" in black rhodium-plated gold, black diamonds, pink sapphires, tourmalines including a 12.34 carat centre. Photo: Lorenz Baümer
*****
lydia Courteille
True to her unbridled creative spirit, Lydia Courteille has designed two collections for this new fashion week. The first one, "Pro-Création", asks the question of the egg and the chicken…. And proposes surprise eggs containing a multitude of small animals ranging from chicks to rabbits mounted on springs, frogs and crocodiles. A festive, joyful and humorous set. The second collection is much more figurative. With "Okavango", she dedicates this series of rings to the famous nourishing river of Africa and also to the myth of Narcissus who could not help admiring his reflection. Here the water is represented by polished hematite pieces that reflect the animals as if staged at the water's edge. One of my favourites: the lioness in jasper which I find truly graceful…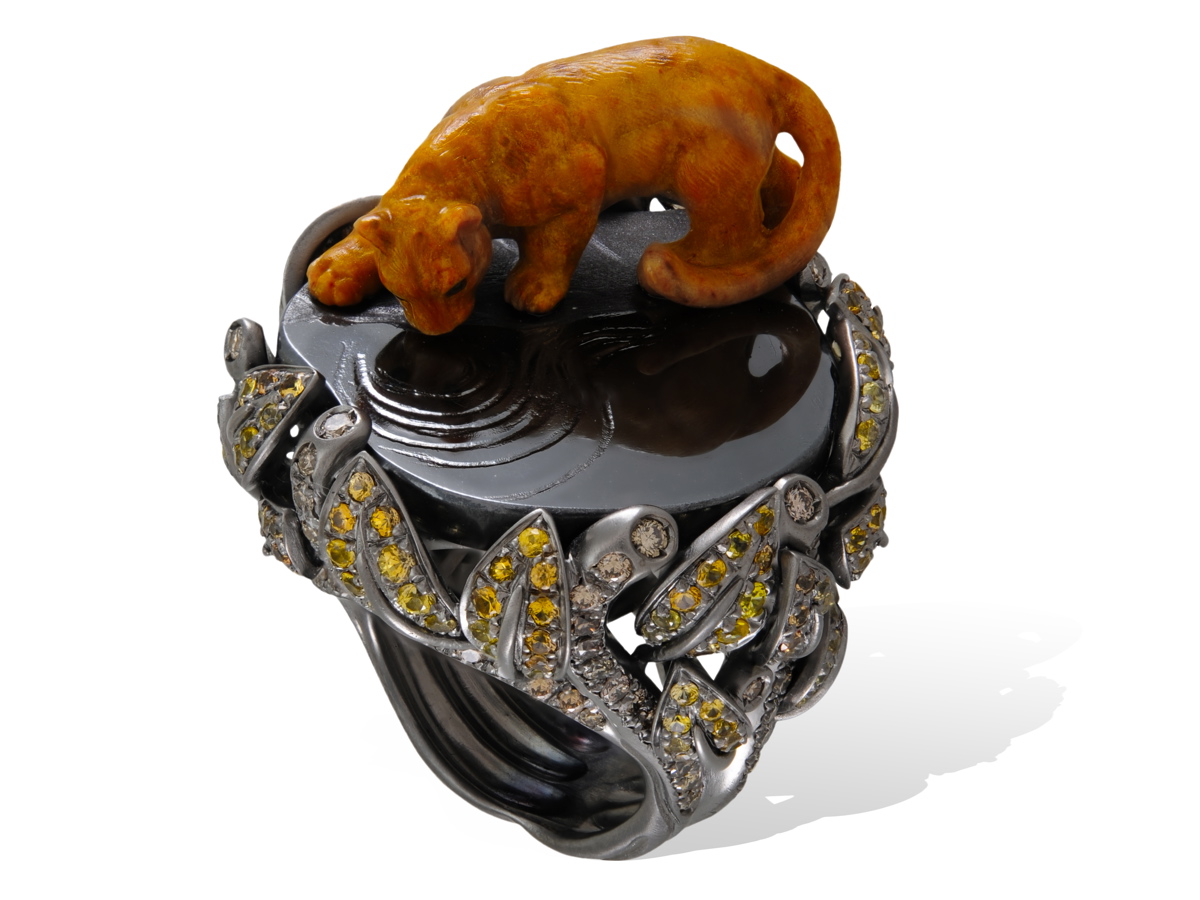 Ring in black rhodium-plated gold, diamonds, garnets, hematite and jasper. Photo : Lydia Courteille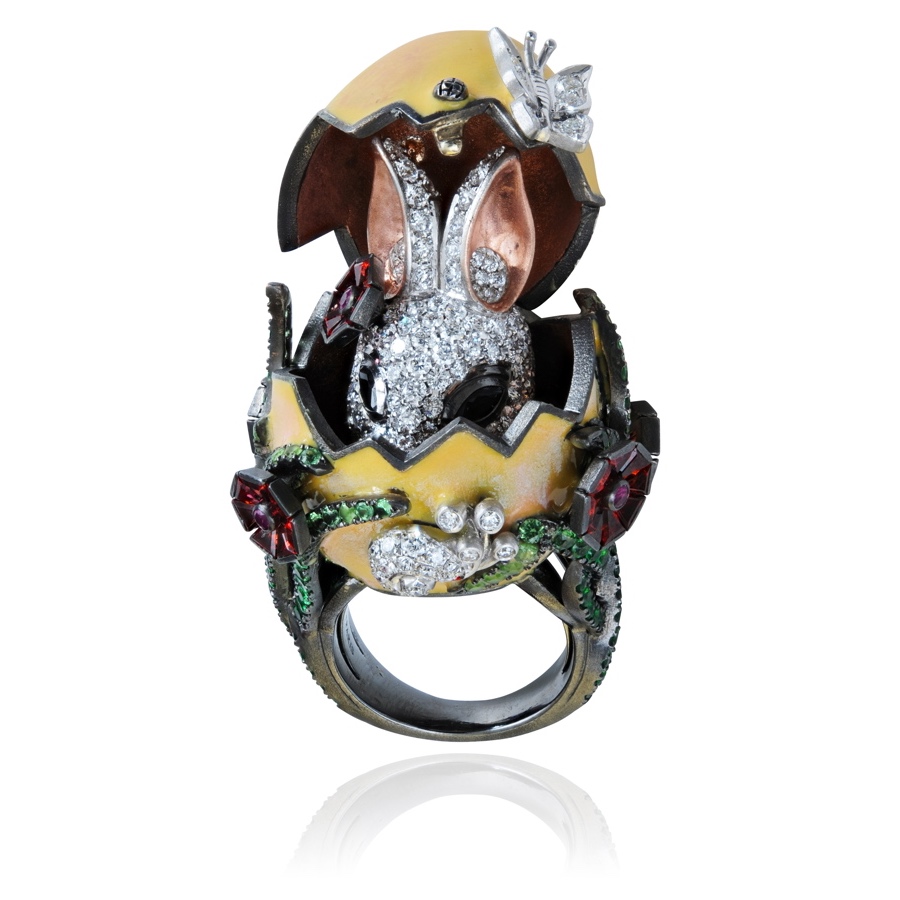 Ring "Lapin" in black rhodium-plated gold, enamel, diamonds, garnets and sapphires. Photo : Lydia Courteille
Ring in black rhodium-plated gold, diamonds, garnets, hematite and chalcedony. Photo: Lydia Courteille
*****
mellerio dits Meller
After the very beautiful first chapter devoted to Isola Madre, which paid tribute to one of the five Borromean islands, Laure-Isabelle Mellerio drew on the Italian history of the famous house on the rue de la Paix and took a closer look at the magnificent Isola Bella, which is particularly well known for its remarkable gardens. Extraordinary architecture, visionary and daring design, importation of rare and distant species, ingenuity of the hydraulic system… everything was done by the different generations of the Borromeo family to transform the natural qualities of a simple rock into an enchanted and sophisticated garden. From this incredible place nestled in the middle of Lake Maggiore, the creative director of the house has created a graphic and colourful collection inspired by the rigour of the gardens that evoke those "à la française". The result is pieces full of volumes and curves where the thousand-grain setting gives the impression of a multitude of stones like so many leaves on a box tree. As for the colours, bright and luminous, they recall the very essence of these Mediterranean gardens. The work is refined, almost racy I might say. Very beautiful Mellerio.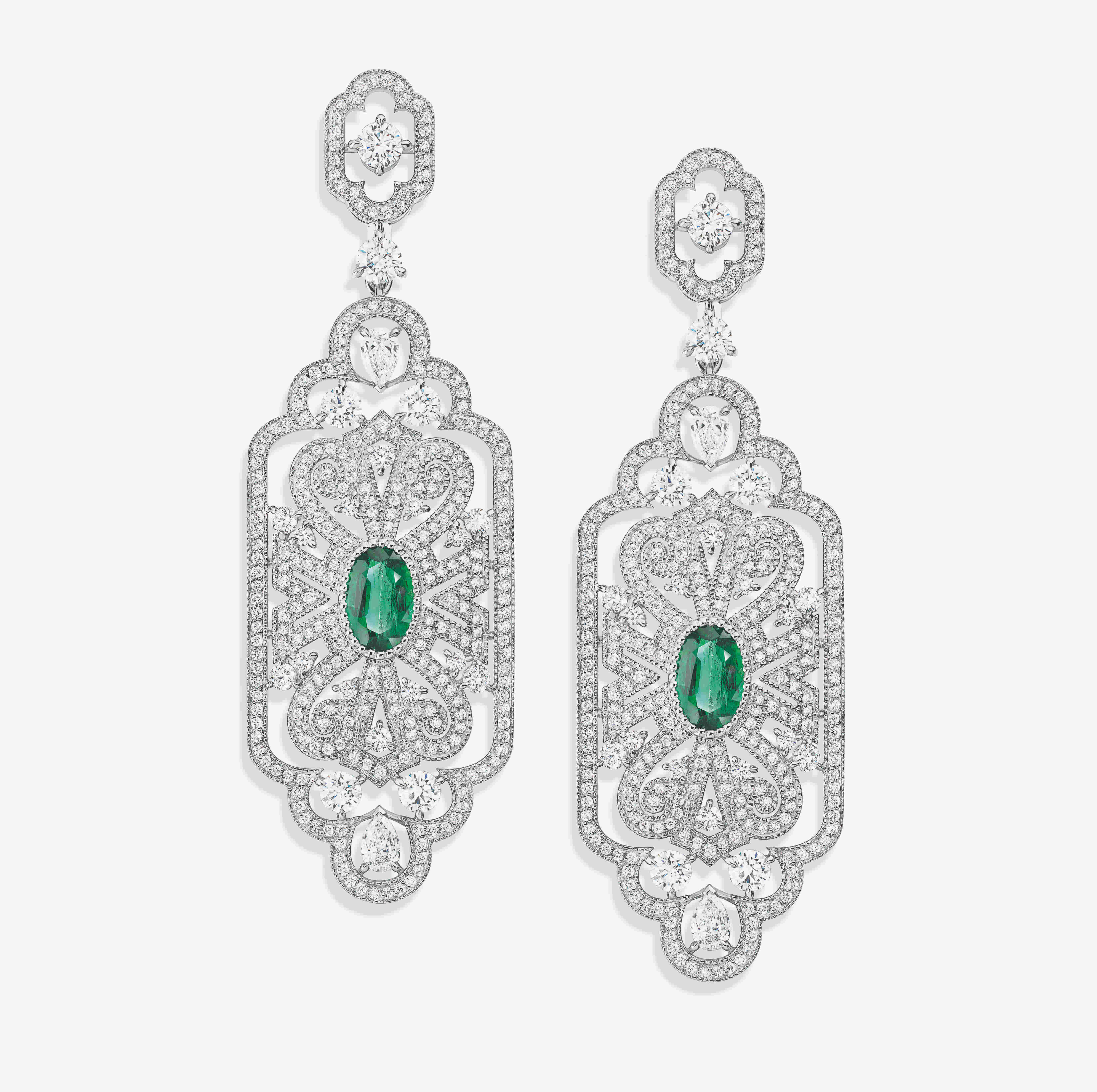 Arabesca" earrings in white gold, diamonds and emeralds for 2.56 carats. Photo: Mellerio dits Meller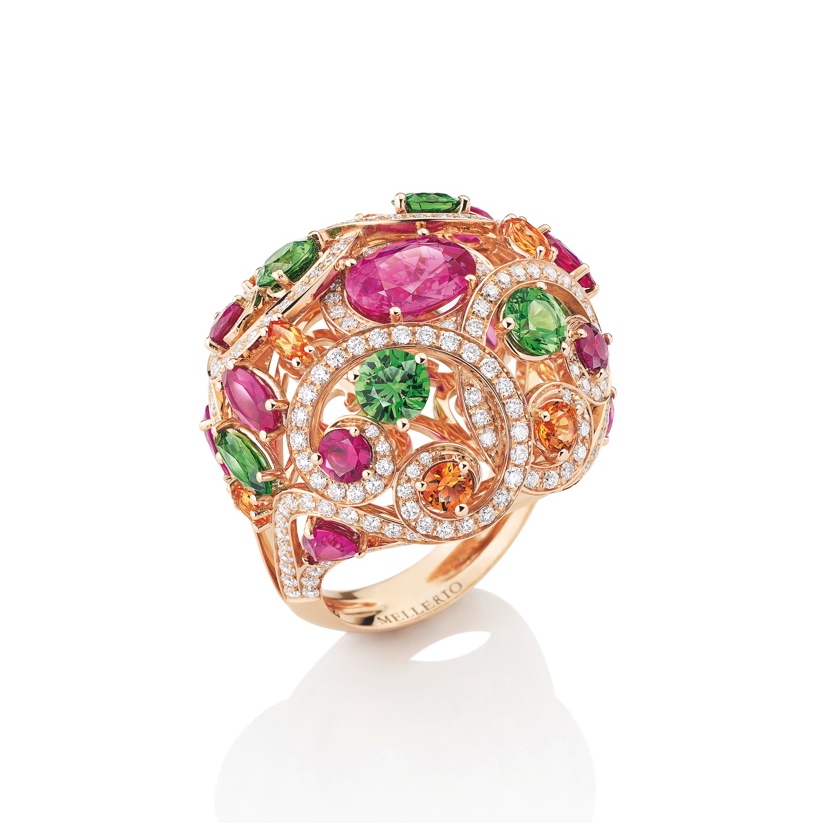 Millefiora" ring in pink gold, diamonds, pink sapphires, tsavorite and spessartite garnets, 1.82 carat pink sapphire centre (unheated, Burma, LFG). Photo: Mellerio dits Meller
Madreperla" ring in white gold, diamonds, sapphires including a 3.11 carat Sri Lankan centre (unheated) and mother-of-pearl. Photo: Mellerio dits Meller
*****
suzanne Syz°
Of all the presentations, I often wait feverishly for Suzanne's presentation. This talented and humorous designer offers some very funny and atypical pieces every season. These are entirely made in Geneva by high-flying craftsmen who are not afraid of Suzanne's technical challenges and ideas. So much the better because it allows us to discover refreshing and playful jewellery. In this month of July, I adopted for a few minutes her earrings representing fruit baskets or her ring set with a magnificent paraiba tourmaline. Her coloured aluminium pieces were really beautiful and elegant. Special mention to the use of real vinyls for the realization of a ring and a pair of earrings. The next challenge for the designer is to turn them around and listen to the music!
Earrings in coloured aluminium and diamonds. Photo: Susanne Syz
Sunny" ring in rose gold, enamel, diamonds and vinyl. Photo: Suzanne Syz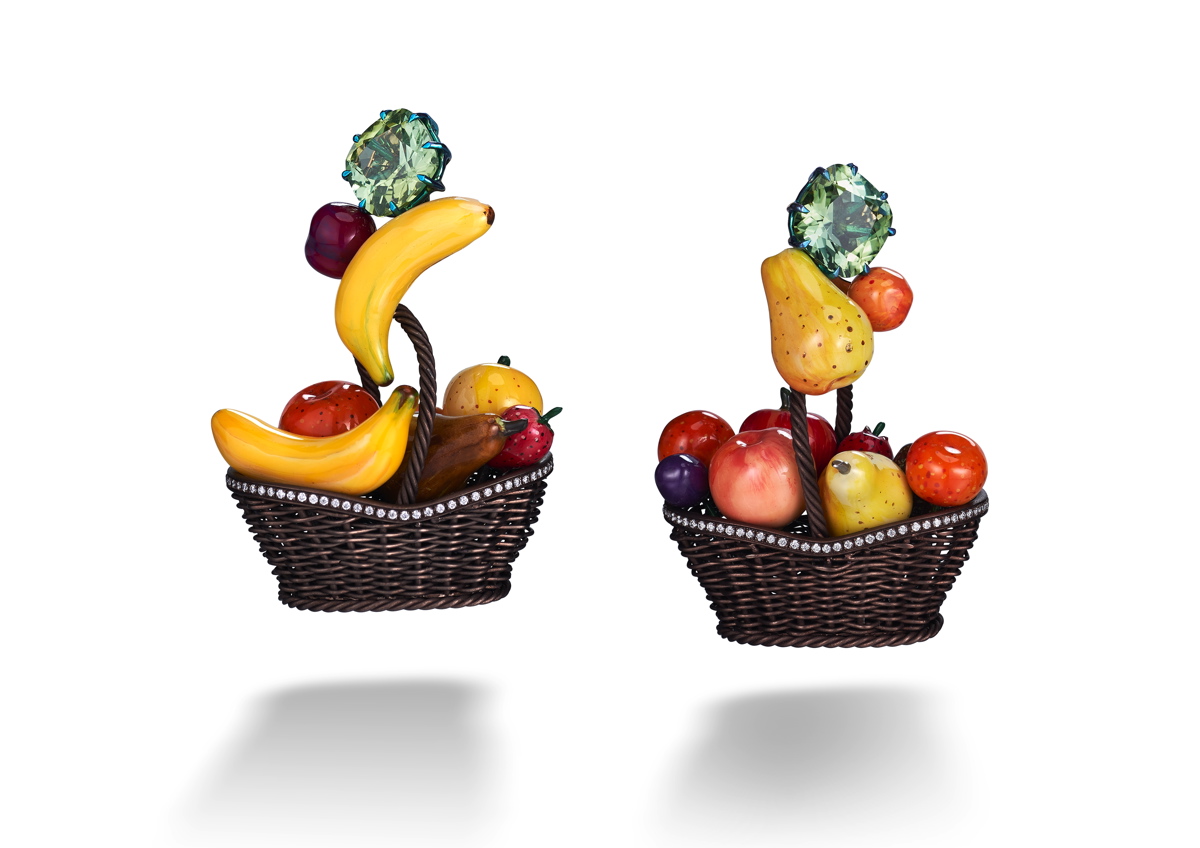 Shop till you drop" earrings in gold, titanium, diamonds, enamel and green tourmalines. Photo: Suzanne Syz
See you soon!