Pour clôturer ma série d'articles sur la semaine de la mode et sur les différentes collections que j'ai eu la chance et le bonheur de découvrir, j'ai eu envie de me pencher sur des entités qui ne font rien comme tout le monde : Alexandre Reza, Lorenz Baümer, Lydia Courteille, Mellerio dits Meller et Suzanne Syz. Ces cinq maisons ont proposé des collections plus petites (souvent moins de 15 pièces) avec des pièces loin des story telling et des mises en scenes incroyables que nous ont offertes les plus grandes maisons françaises comme internationales. Audacieux inclassables, voila une bonne manière de parler de leurs réalisations qui sont très différentes de ce que nous a proposé ce mois de juillet 2018. A la fois poétiques, étonnantes et même surréalistes, je vous invite à découvrir ce qui m'a séduit dans leurs différentes démarches.
To close my series « PFW » on the fashion week and the different collections that I had the luck and the happiness to discover, I wanted to look at entities that do not do anything like everyone : Alexandre Reza, Lorenz Baümer, Lydia Courteille, Mellerio dits Meller and Suzanne Syz. These five houses have proposed smaller collections (often less than 15 pieces) with pieces far from story telling and incredible staging that have offered us the largest French and international houses. Audacious and unclassifiable, here is a good way to talk about their collections that are very different from what proposed us this month of July 2018. Both poetic, surprising and even surreal, I invite you to discover what has attracted me in their different creations.
°Alexandre Reza°
Il y a toujours ce goût pour les belles matières chez Alexandre Reza dont la tradition est désormais perpétué par son fils Olivier. Parmi les nouvelles pièces, j'ai plus particulièrement aimé une bague sertie d'une très belle émeraude colombienne et une piece où le serti de deux marquises rend celle-ci vraiment surprenante. Cette taille, souvent difficile à mettre correctement en valeur quand il s'agit de pierres importantes, est ici parfaitement utilisée pour un élégant résultat sur la main. Parallèlement, s'ajoute la très jolie réalisation technique de cette monture où le métal se fait complètement oublier pour ne sublimer que les pierres.
There is always this taste for beautiful materials at Alexandre Reza whose tradition is now perpetuated by his son Olivier. Among the new pieces, I particularly liked a ring set with a beautiful Colombian emerald and a piece where the setting of two marquise-cut diamonds makes it really surprising. This cut, often difficult to put properly in value when it comes to important stones, is here perfectly used for an elegant result on the hand. At the same time, there is the very nice technical realization of this jewel where the metal is completely forgotten to sublimate only the stones.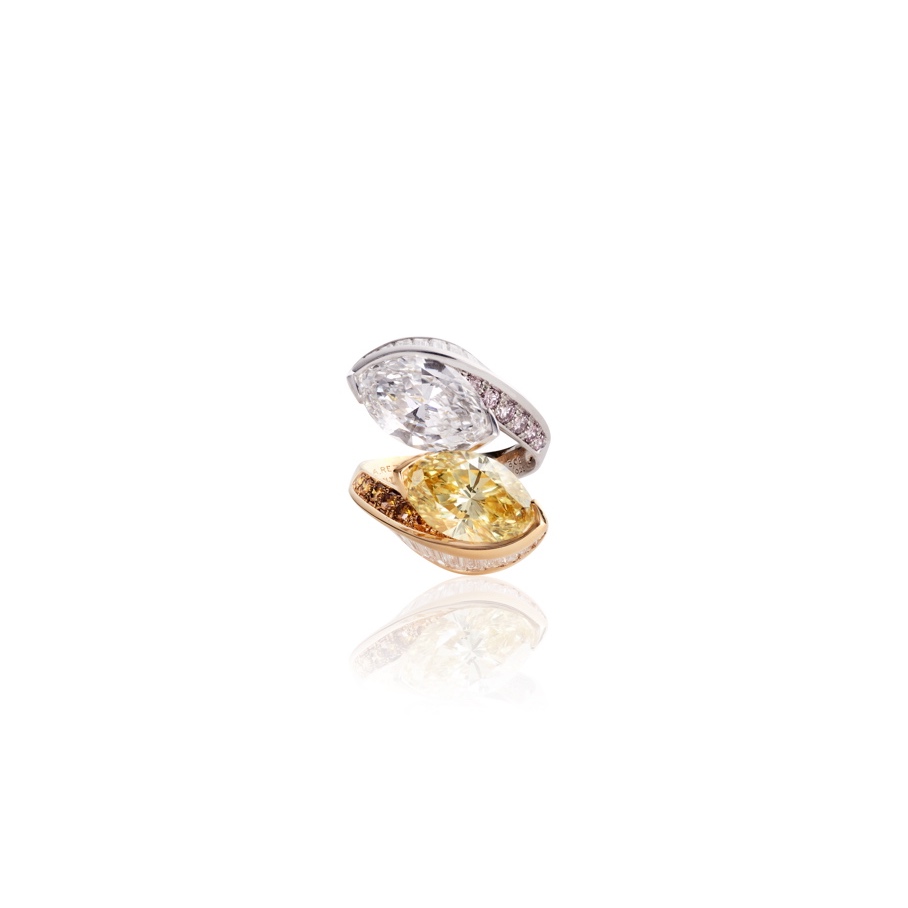 Bague « Double Swing » composée d'un diamant navette de 3,08 carats, d'un diamant Fancy Intense Yellow navette de 3,59 carats, de 30 diamants baguettes pour 1,94 carat, de brillants Fancy Pink pour 0,20 carat et de brillants Yellow Orangy pour 0,22 carat. Montée sur or jaune et blanc. The « Double Swing » ring consisting of a 3.08 carat marquise-cut diamond, a 3.59 carat Fancy Intense Yellow marquise-cut diamond, 30 baguette diamonds for 1.94 carat, Fancy Pink brilliants for 0.20 carat and brilliant Yellow Orangy for 0.22 carat. Mounted on yellow and white gold. Photo : Alexandre Reza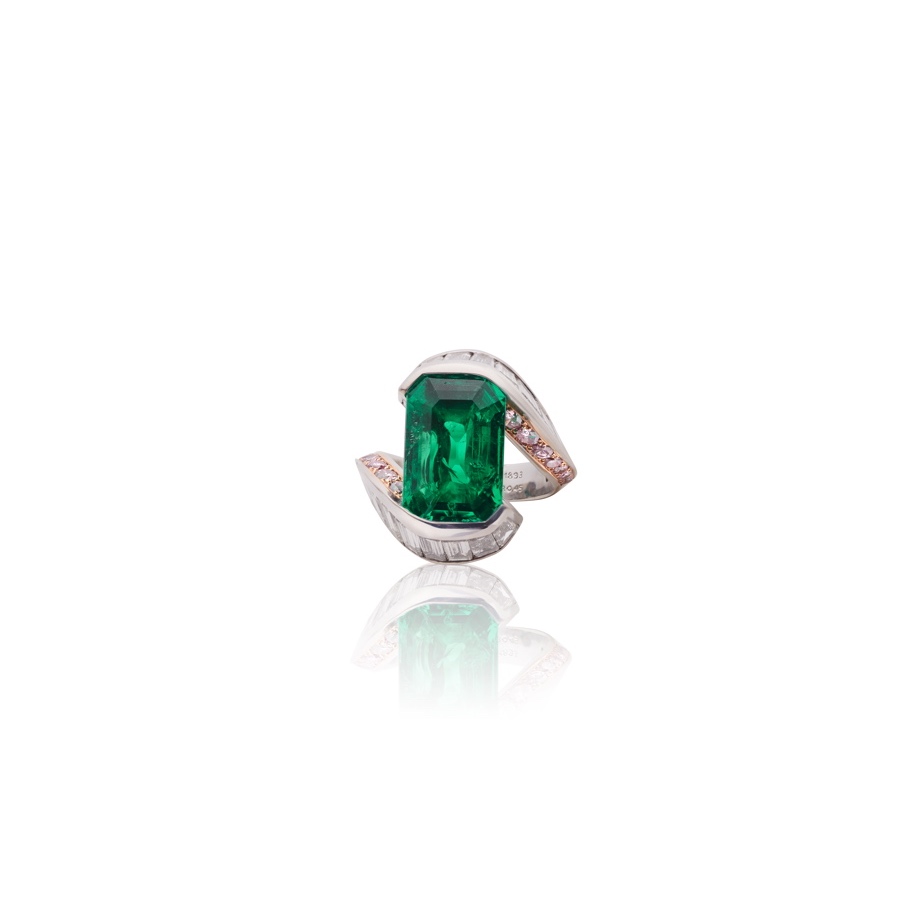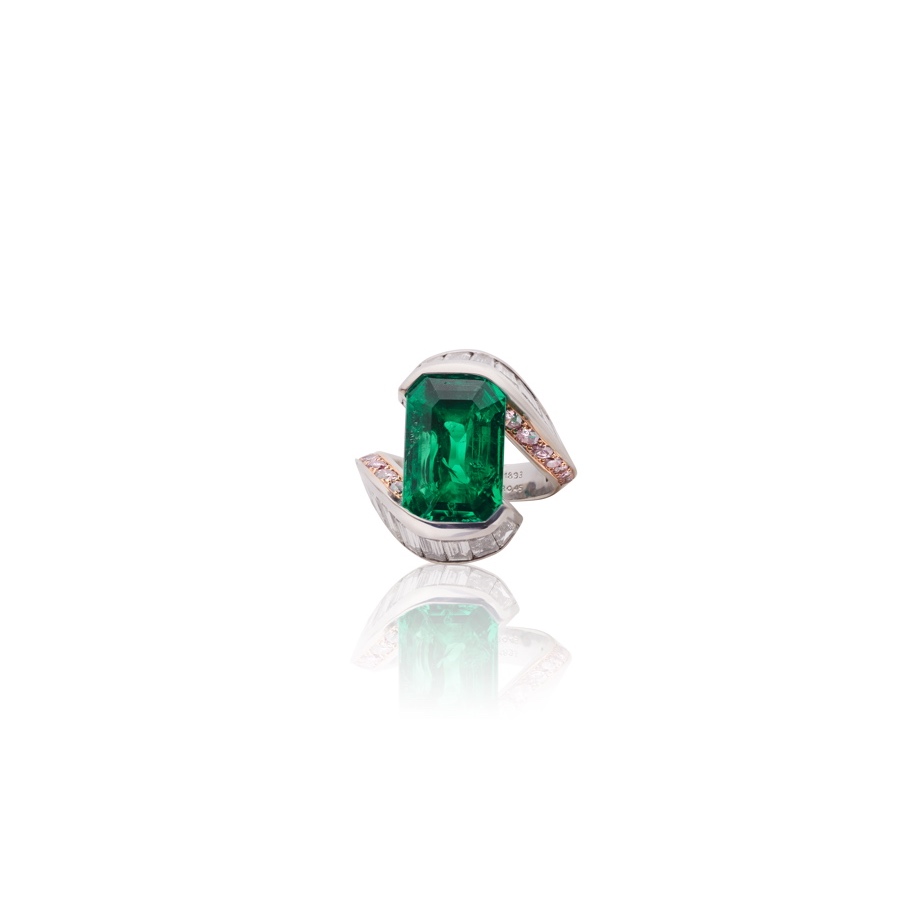 Bague « Swing Rectangle » composée d'une émeraude de Colombie taille émeraude de 5,33 carats, de 24 diamants taille trapèze pour 3,65 carats et de brillants Fancy roses pour 0,45 carat. Montée sur or blanc. The « Swing Rectangle »ring featuring a Colombian emerald-cut emerald weighing 5.33 carats, 24 trapeze- shaped diamonds weighing 3.65 carats and Fancy pink brilliants weighing 0,45 carat. Set on white gold. Photo : Alexandre Reza
*****
° Lorenz Baümer °
Installé depuis maintenant de nombreuses années au coeur de la Place Vendôme, le designer a dévoilé dans la chaleur de juillet la collection Black Magic inspirée par artistes tels que Soulages ou Hartung. Connu pour être un collectionneur d'art contemporain, le créateur a donc puisé dans des références extrêmement qualitatives pour proposer une série de pièces où le noir se fait couleur et relève de manière subtile toutes les teintes et reflets des laques et pierres qui le subliment.
Based for many years now in the heart of Place Vendôme, the designer unveiled in the heat of July the Black Magic collection inspired by artists such as Soulages or Hartung. Known to be a collector of contemporary art, the designer has drawn from extremely qualitative references to offer a series of pieces where black is color and subtly raises all the colors and reflections of lacquers and stones that sublimate it.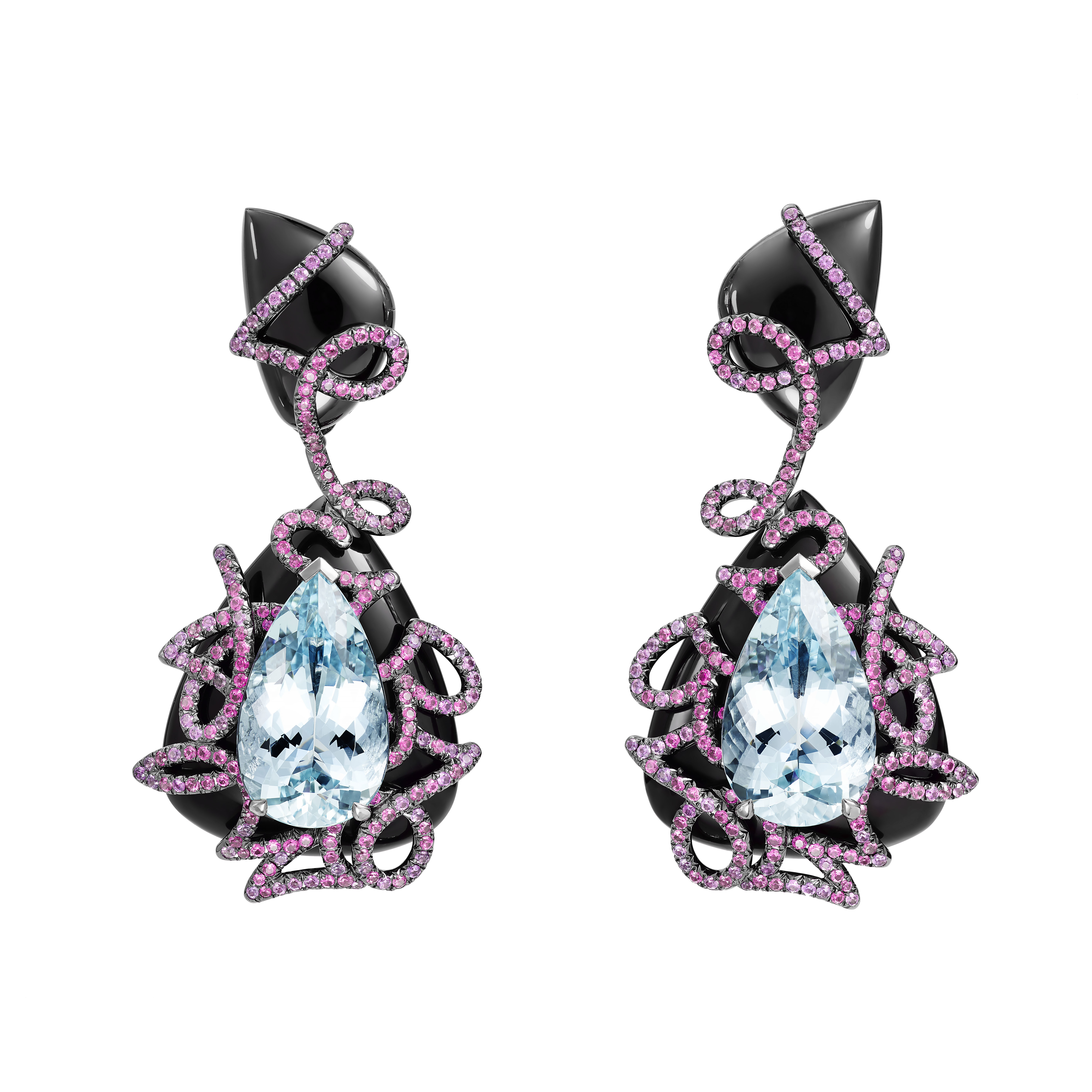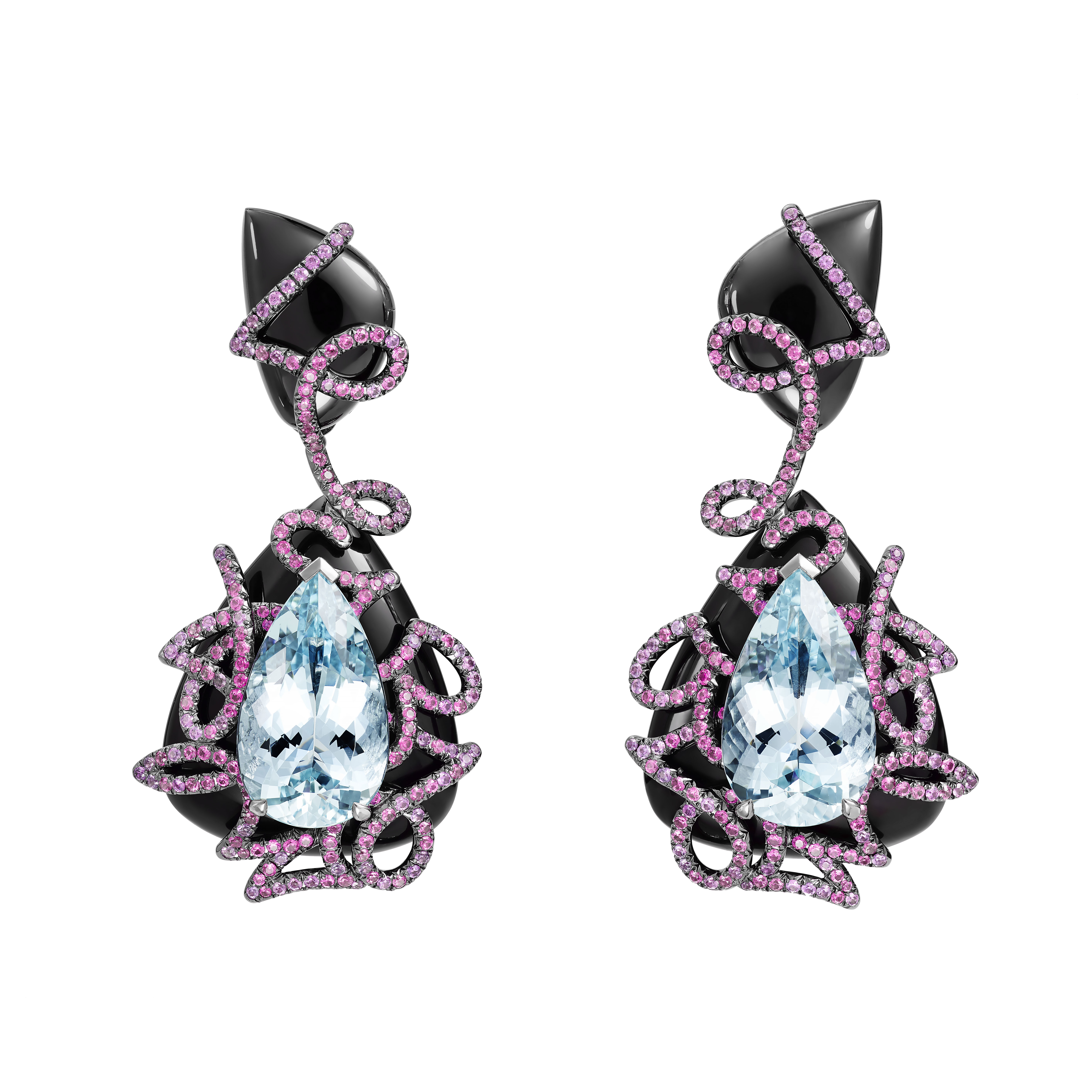 Boucles d'oreilles « Light Painting » en or rhodié noir, saphirs roses, onyx et aigues-marines pour 22,72 carats. The « Light Painting » blackened gold earrings featuring pink sapphires, onyx and 22,72 ct aquamarines. Photo : Lorenz Baümer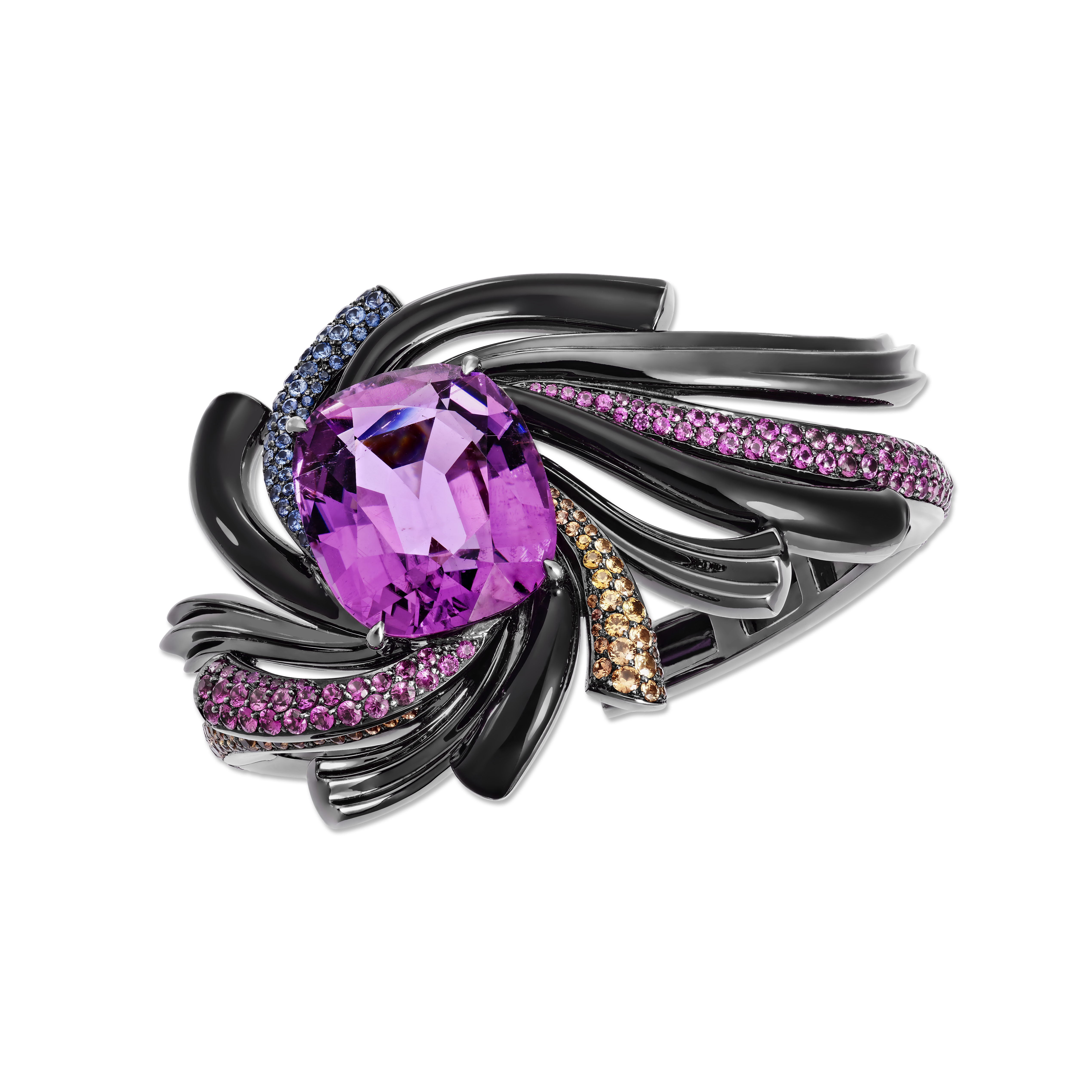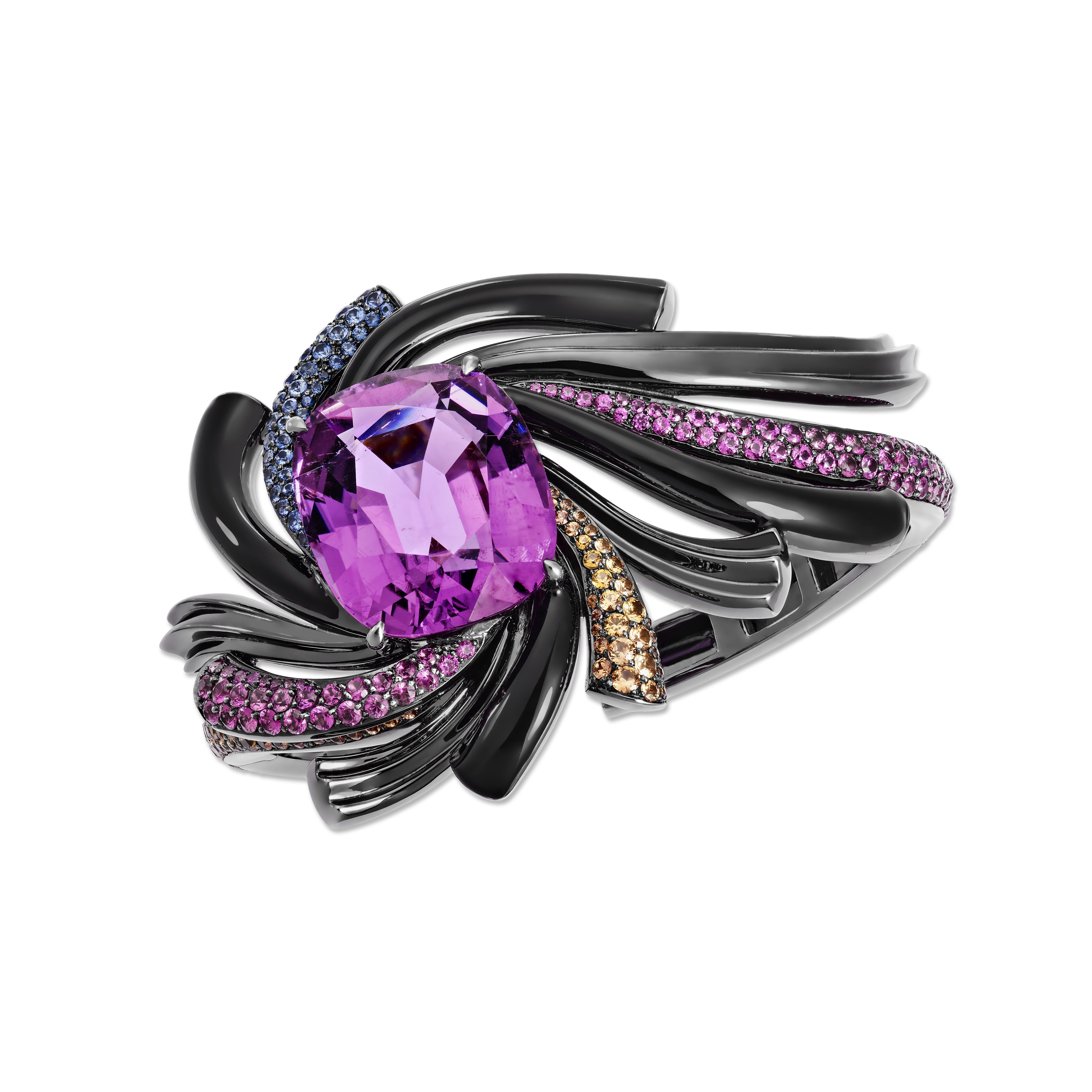 Bague « Nébuleuses » en or rhodié noir, saphirs colorés et tourmaline violette de 32,29 carats. The « Nébuleuses » ring featuring colored sapphires and an impressive 32,29 ct violet tourmaline. Photo : Lorenz Baümer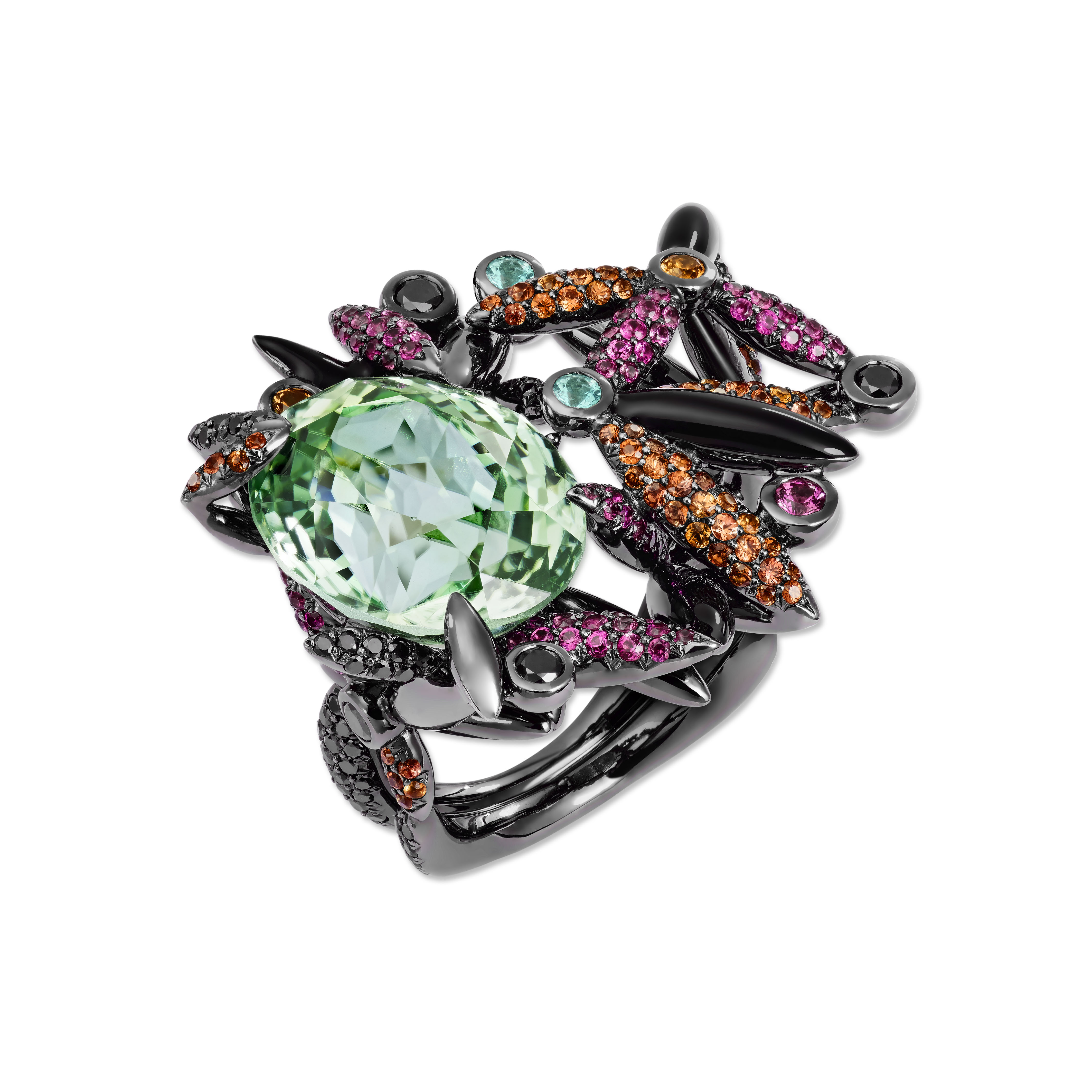 Bague « Etincelles » en or rhodié noir, diamants noirs, saphirs roses, tourmalines dont centre de 12,34 carats. The « Etincelles » bblackened gold featuring black diamonds, sapphires, tourmalines. The center stone is weighing 12,34 carats. Photo : Lorenz Baümer
*****
°Lydia Courteille° 
Fidèle à son esprit créatif débridé, Lydia Courteille a imaginé deux collections pour cette nouvelle semaine de la mode. La première « Pro-Création » pose la question de l'oeuf et de la poule…. Et propose des oeufs surprises contenant une multitude de petits animaux allant du poussin au lapin monté sur ressort en passant par la grenouille ou le crocodile. Un ensemble festif, joyeux et plein d'humour. Le deuxième collection est bien plus figurative. Avec « Okavango », elle dédie cette série de bagues au célèbre fleuve nourricier d'Afrique et aussi au mythe de Narcisse qui ne pouvait s'empêcher d'admirer son reflet. Ici l'eau est figurée par des pièces d'hématite polie qui reflètent les animaux comme mis en scène au bord de l'eau. L'un de mes coups de coeur : la lionne en jaspe qui je trouve véritablement gracieuse…
Faithful to her incredible creative spirit, Lydia Courteille has imagined two collections for this new fashion week. The first « Pro-Creation » raises the question of the egg and the hen …. And offers surprise eggs containing a multitude of small animals ranging from the chick to the rabbit mounted on spring through the frog or the crocodile. A festive, happy and full of humor set. The second collection is much more figurative. With « Okavango », she dedicates this series of rings to the famous feeder river of Africa and also to the myth of Narcissus who could not stop to admire his own reflection. Here the water is represented by pieces of polished hematite that reflect the animals as staged at the edge of the water. One of my favorites: the jasper lioness who I find truly graceful …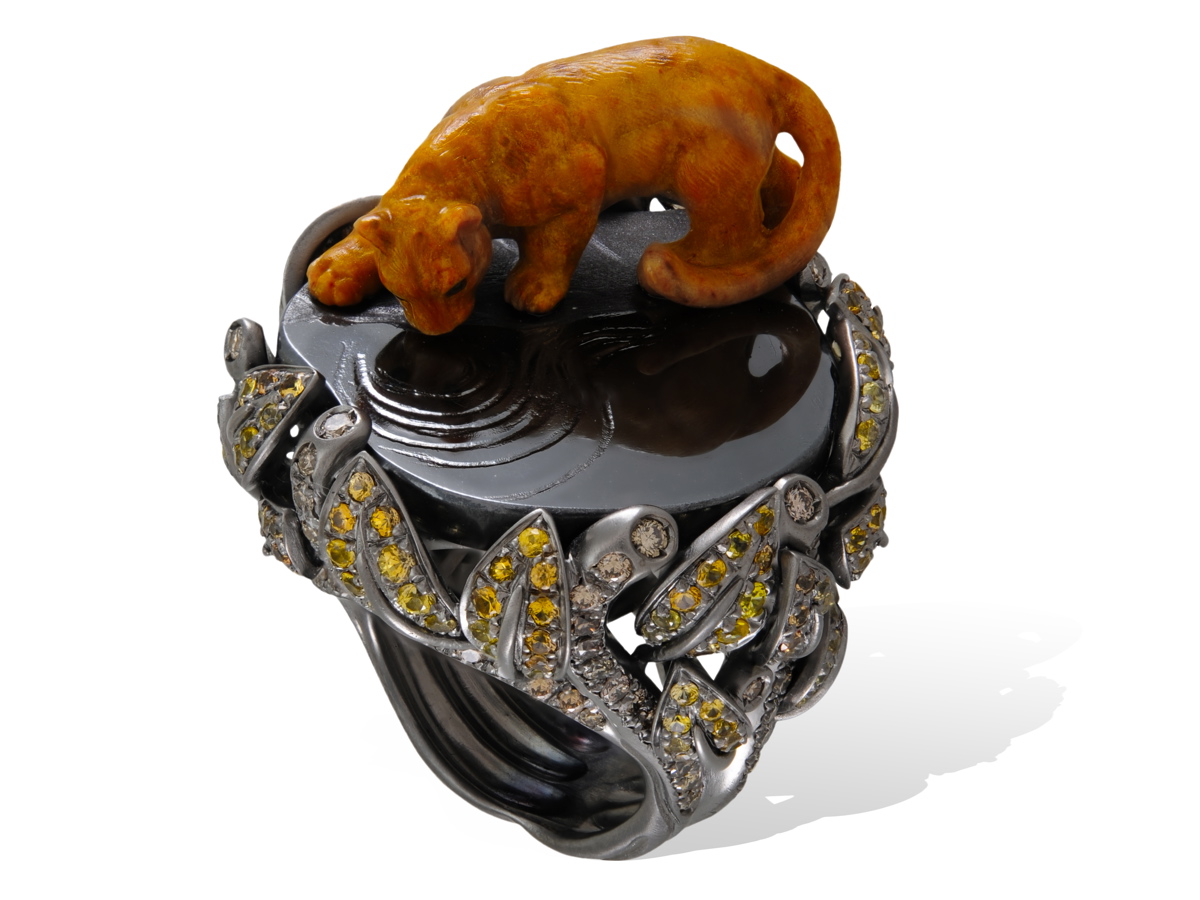 Bague en or rhodié noir, diamants, grenats, hématite et jaspe. Blackened gold ring featuring diamonds, garnets, hematite and jasper. Photo : Lydia Courteille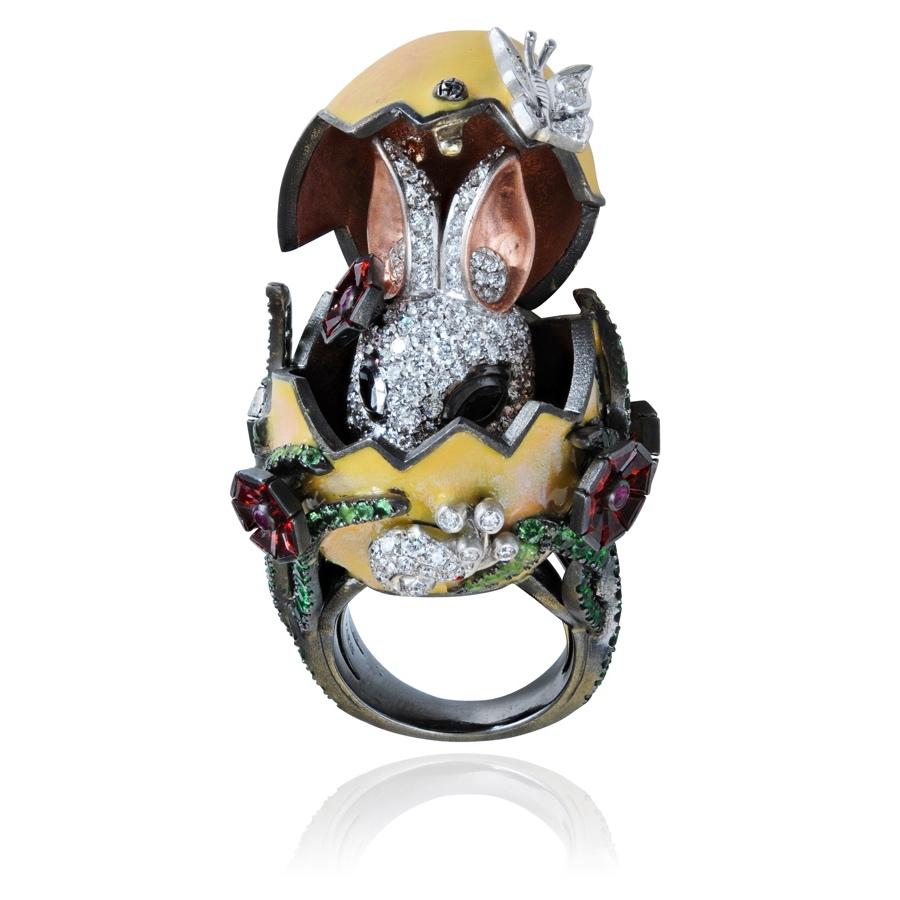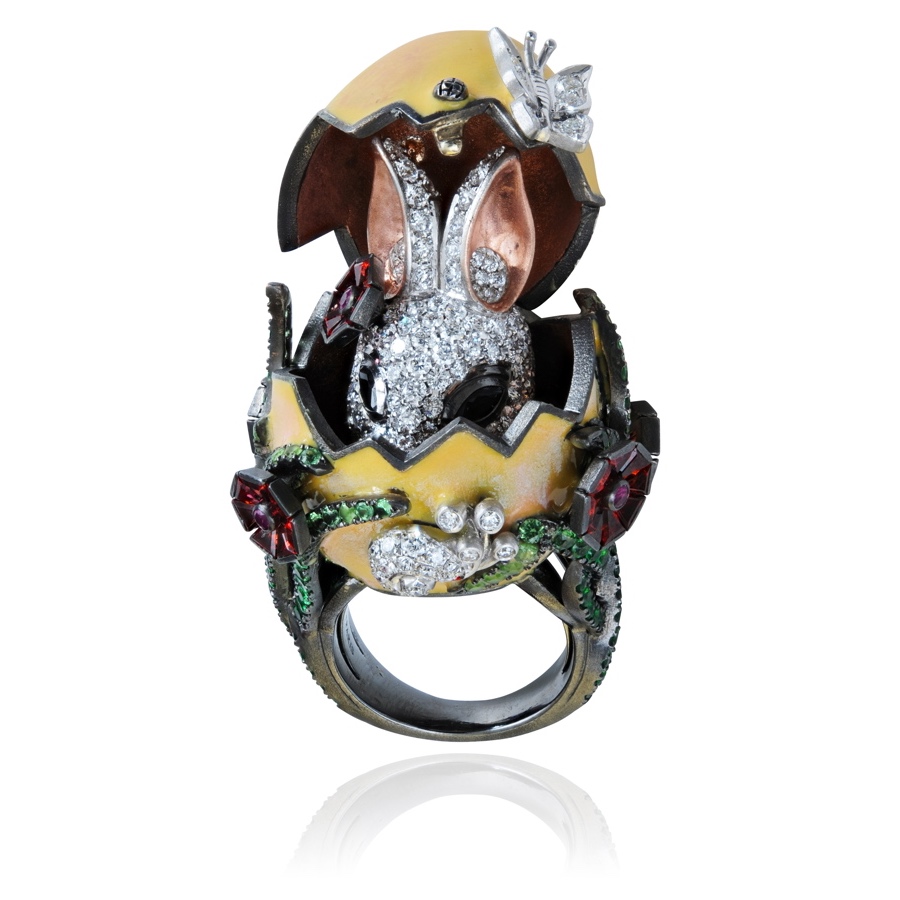 Bague « Lapin » en or rhodié noir, émail, diamants, grenats et saphirs. The « Lapin » blackened gold ring featuring enamel, diamonds, garnets and sapphires. Photo : Lydia Courteille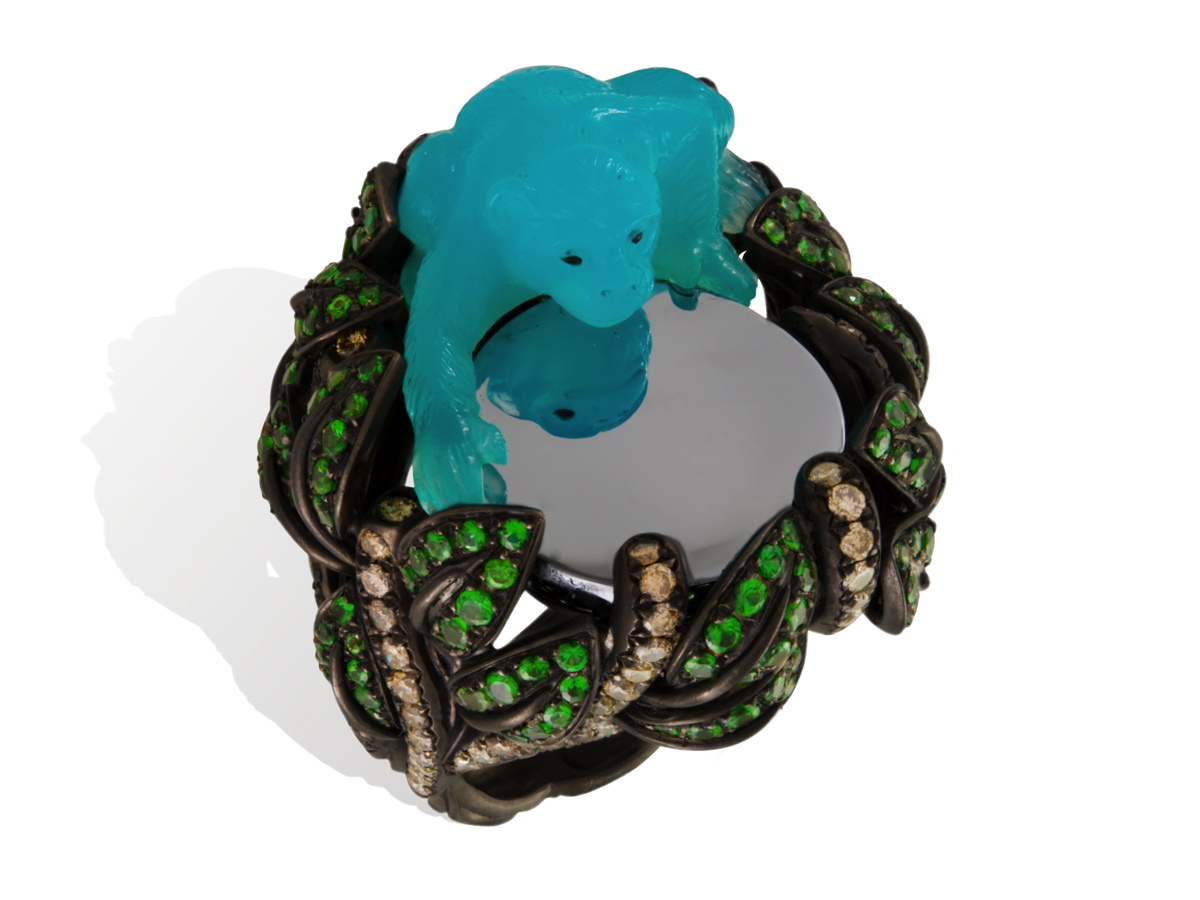 Bague en or rhodié noir, diamants, grenats, hématite et calcédoine. Blackened gold ring featuring diamonds, garnets, hematite and chalcedony. Photo : Lydia Courteille 
*****
°Mellerio dits Meller°
Après le très beau premier chapitre consacré à Isola Madre et qui rendait hommage à l'une des cinq îles Borromée, Laure-Isabelle Mellerio a puisé dans l'histoire italienne de la célèbre maison de la rue de la Paix et s'est intéressée de plus près à la magnifique Isola Bella particulièrement connue pour ses remarquables jardins. Architecture extraordinaire, conception visionnaire et audacieuse, importation d'essences rares et lointaines, ingéniosité du système hydraulique… tout fut mis en œuvre par les différentes générations de la famille Borromée pour transformer les qualités naturelles d'un simple rocher en un jardin enchanté et sophistiqué. De ce lieu incroyable niché au milieu du lac Majeur, la directrice de la création de la maison en a fait une collection graphique et colorée inspirée de la rigueur des jardins qui évoquent ceux « à la française ». En résulte des pièces pleines de volumes et de courbes où le serti mille grains donne l'impression d'une multitude de pierres comme autant de feuilles sur un buis. Quand aux couleurs, éclatantes et lumineuses, elle rappelle l'essence même de ces jardins méditerranéens. Le travail est raffiné presque racé pourrais-je dire. De très beau Mellerio.
After the beautiful first chapter dedicated to Isola Madre, which paid homage to one of the five Borromeo Islands, Laure-Isabelle Mellerio drew on the Italian history of the famous house on the rue de la Paix and was inspired by the beautiful Isola Bella particularly known for its remarkable gardens. Extraordinary architecture, visionary and daring design, rare species, ingenuity of the hydraulic system … everything was implemented by the different generations of the Borromeo family to transform the natural qualities of a simple rock into an enchanted and sophisticated garden . From this incredible place nestled in the middle of Lake Maggiore, the creative director of the house has made a graphic and colorful collection inspired by the rigor of the gardens that evoke those « French ». It result full of volumes and curves jewels where the mille grains setting gives the impression of a multitude of stones like so many leaves on a box tree. When the colors, bright and vivid, recall the essence of these Mediterranean gardens. The work is refined almost elegant I could say. A beautiful Mellerio new collection !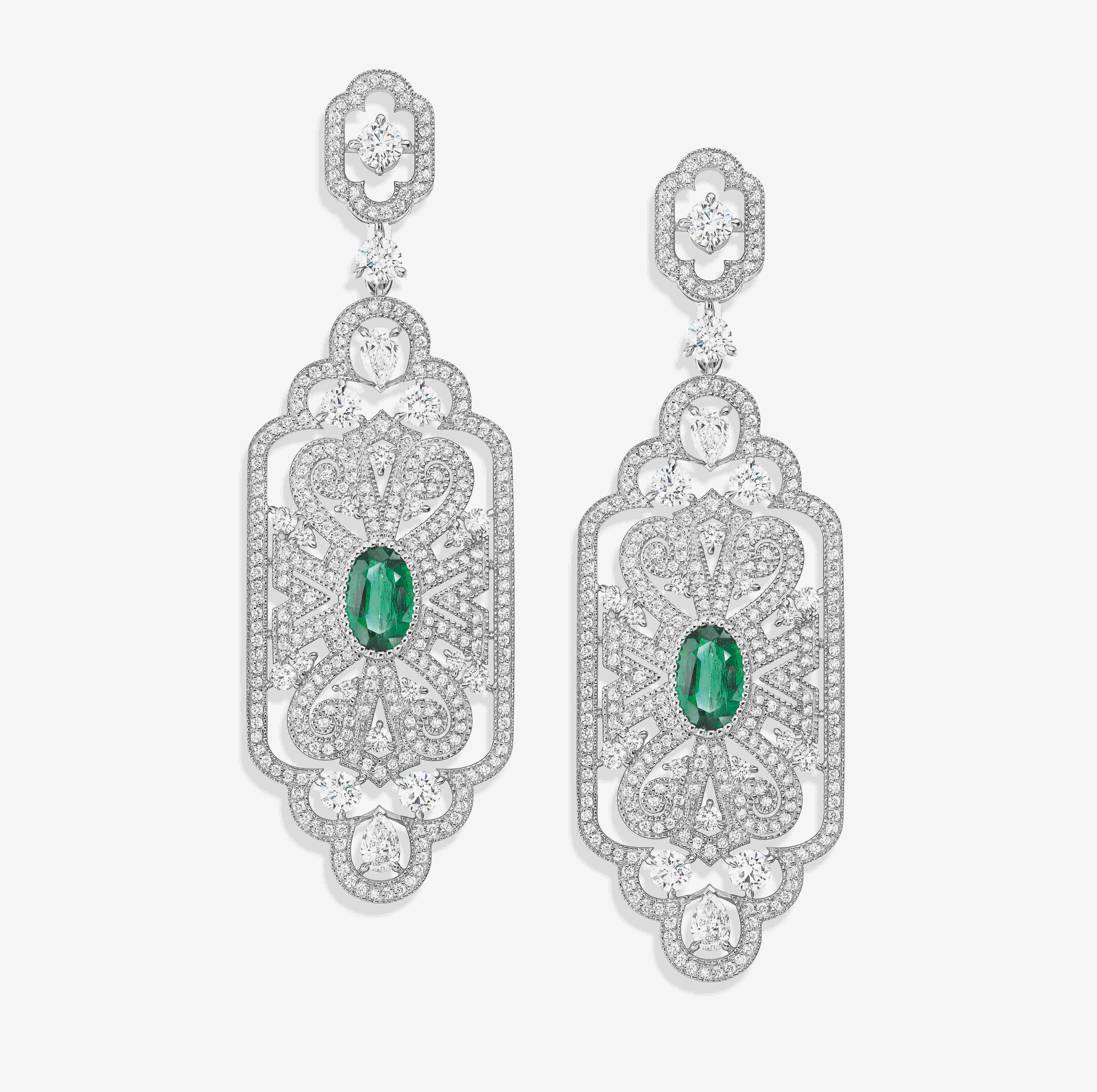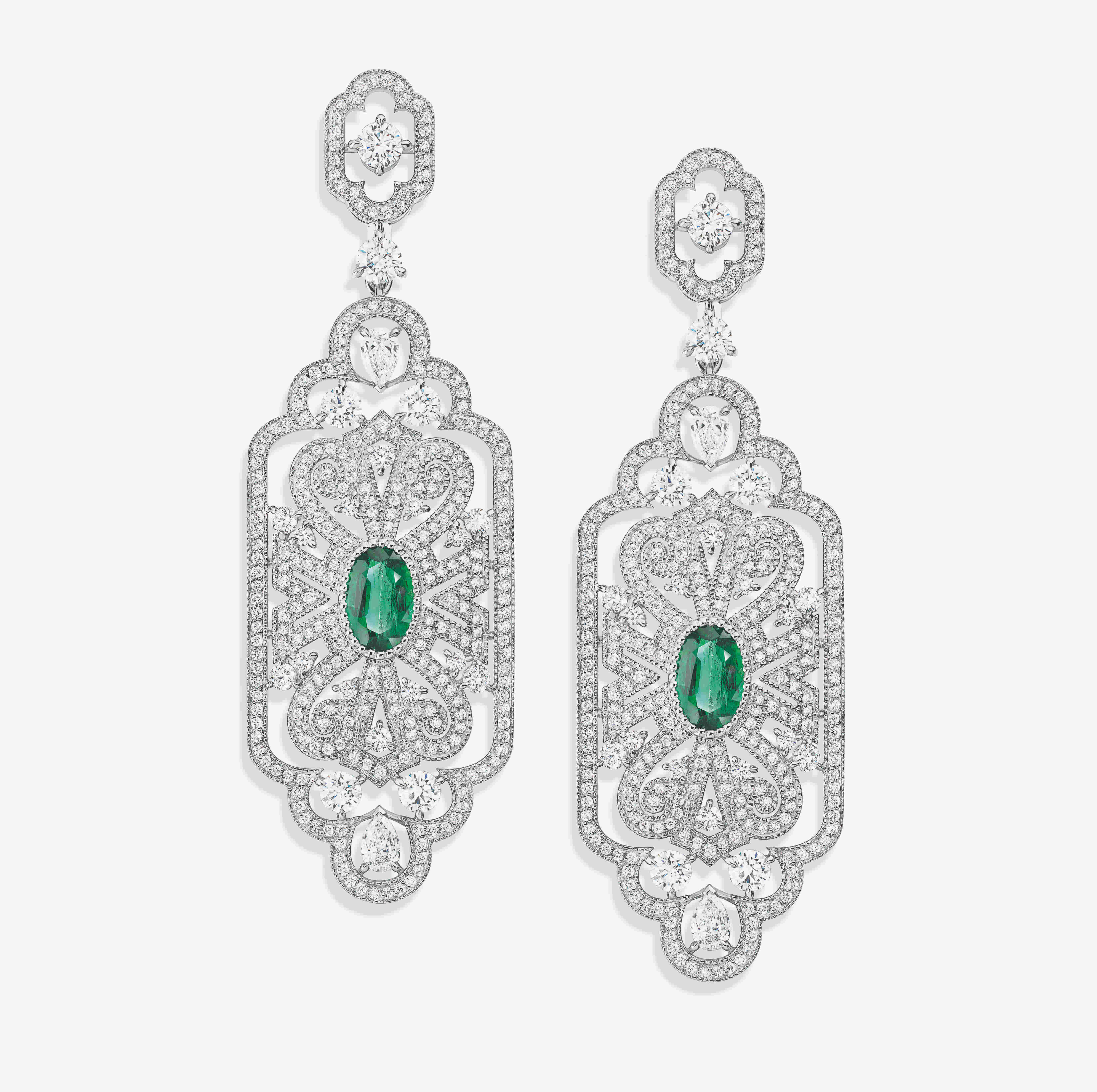 Boucles d'oreilles « Arabesca » en or blanc, diamants et émeraudes pour 2,56 carats. The « Arabesca » earrings featuring white gold, diamonds and 2,56 ct emeralds. Photo : Mellerio dits Meller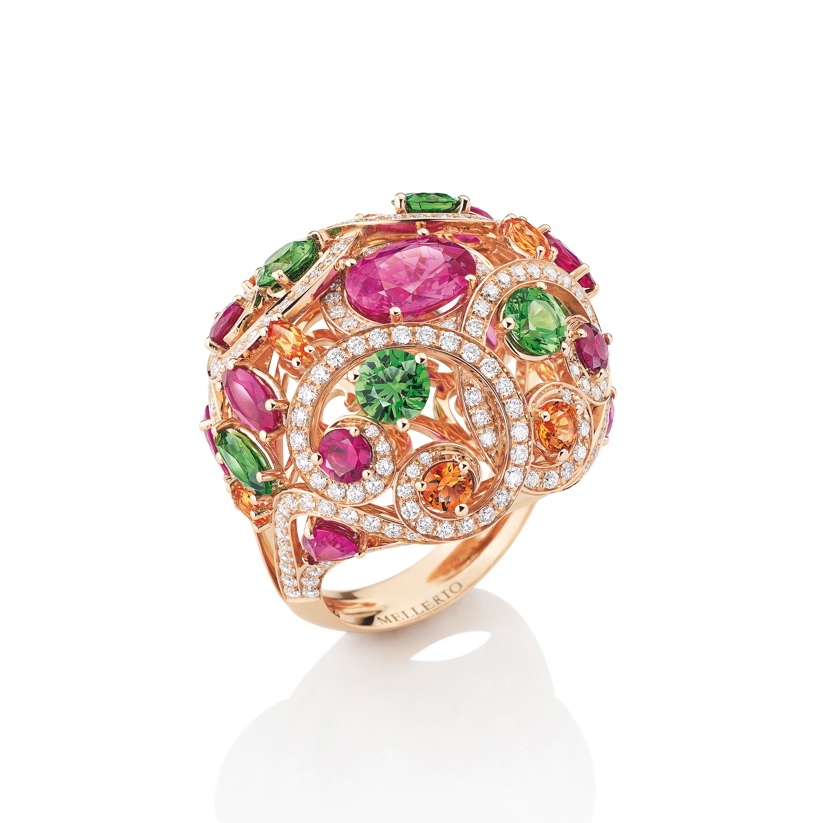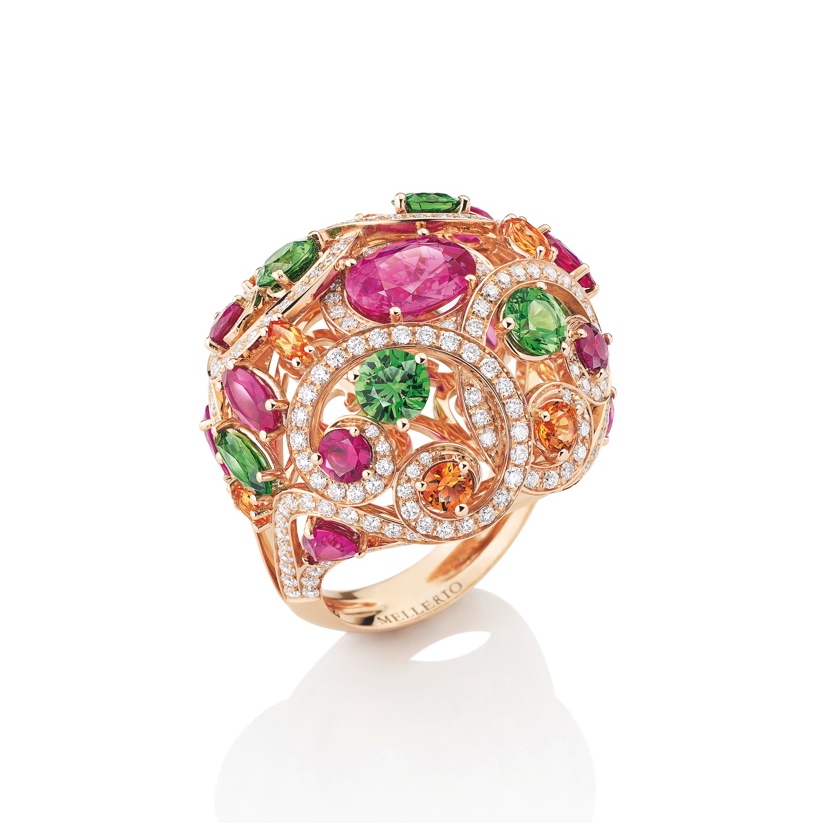 Bague « Millefiora » en or rose, diamants, saphirs roses, grenats tsavorites et spessartites, centre saphir rose de 1,82 carats (non chauffé, Birmanie, LFG). The « Millefiora »pink gold ring featuring diamonds, pink sapphires, tsavorite and spessartite garnets. The center stone is an unheated 1,82 Burma pink sapphire (LFG). Photo : Mellerio dits Meller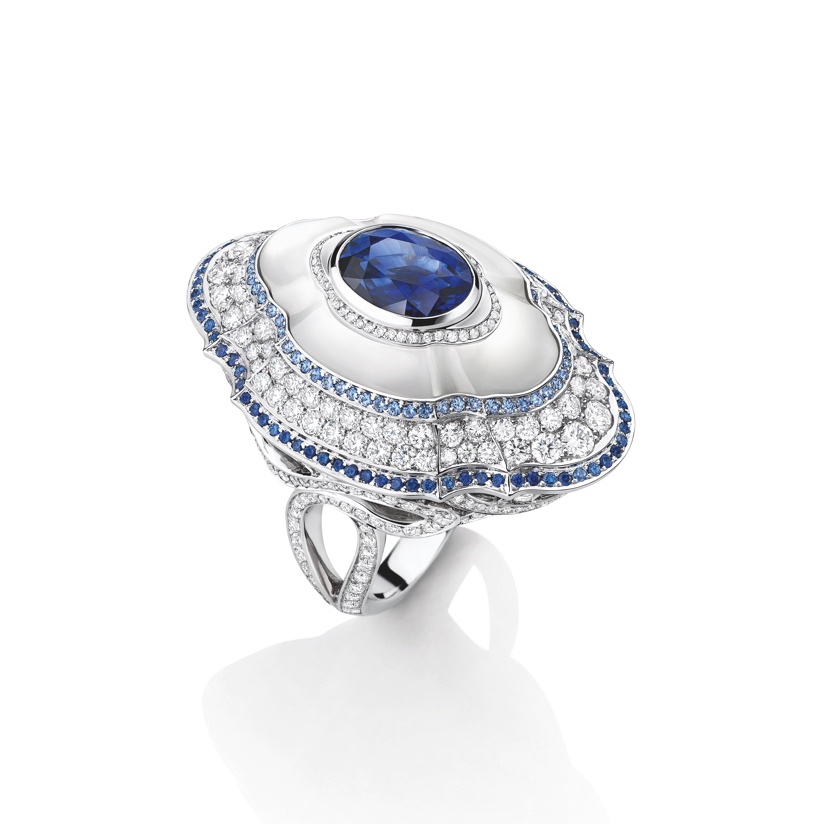 Bague « Madreperla » en or blanc, diamants, saphirs dont centre du Sri Lanka (non chauffé) de 3,11 carats et nacre. The « Madreperla » white gold ring, diamonds and sapphires. The center stone is an unheated Ceylon 3,11 sapphire. Photo : Mellerio dits Meller
*****
°Suzanne Syz°
Parmi toutes les présentations, j'attends souvent fébrilement celle de Suzanne. Cette designer bourré de talent et d'humour propose à chaque saison des pièces atypiques extrêmement réjouissantes. Celle-ci sont intégralement réalisées à Genève par des artisans de haut vol à qui les défis techniques et les idées de Suzanne ne font pas peur. Tant mieux car cela permet de découvrir des bijoux rafraichissants et ludiques. En ce mois de juillet, j'ai adopté durant quelques minutes ses boucles d'oreilles représentant des paniers de fruits ou sa bague sertie d'une magnifique tourmaline paraiba. Ses pièces en aluminium coloré étaient vraiment superbes et élégantes. Mention spéciale à l'utilisation de véritables vinyls pour la réalisation d'une bague et d'une paire de boucles d'oreilles. Prochain défi pour la créatrice : les faire tourner pour en écouter la musique !
Among all the presentations, I often wait feverishly for Suzanne. This designer, full of talent and humor, offers each season enjoyable and atypical pieces. All are entirely realized in Geneva by high-level craftsmen who are not afraid of Suzanne's technical challenges and ideas. Good news because it allows us to discover refreshing and fun jewels. In this month of July, I adopted for a few minutes her earrings representing baskets of fruit and her ring set with a magnificent paraiba tourmaline. Her colorful aluminum pieces were really beautiful and elegant. Special mention to the use of real vinyls for the realization of a ring and a pair of earrings. Next challenge for the designer : let the music plays !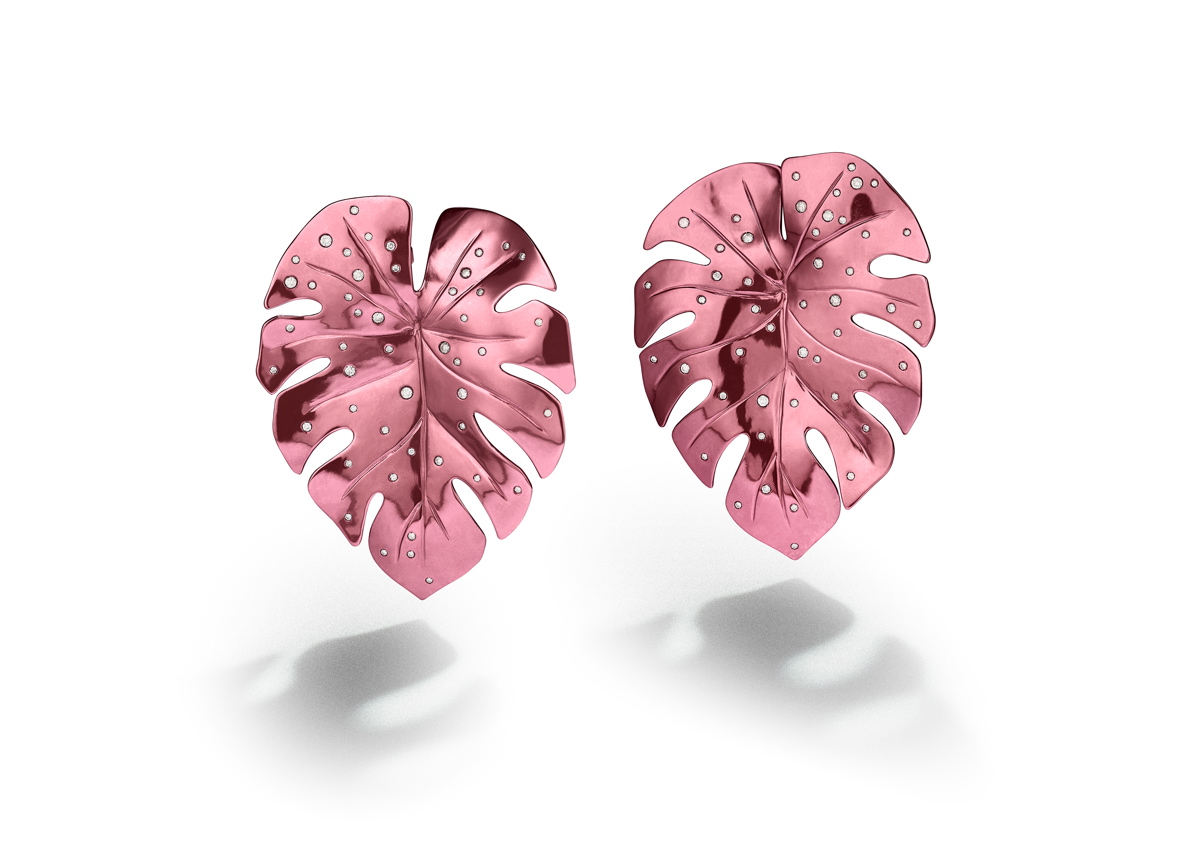 Boucles d'oreilles en aluminium coloré et diamants. Plated aluminium earrings featuring diamonds. Photo : Susanne Syz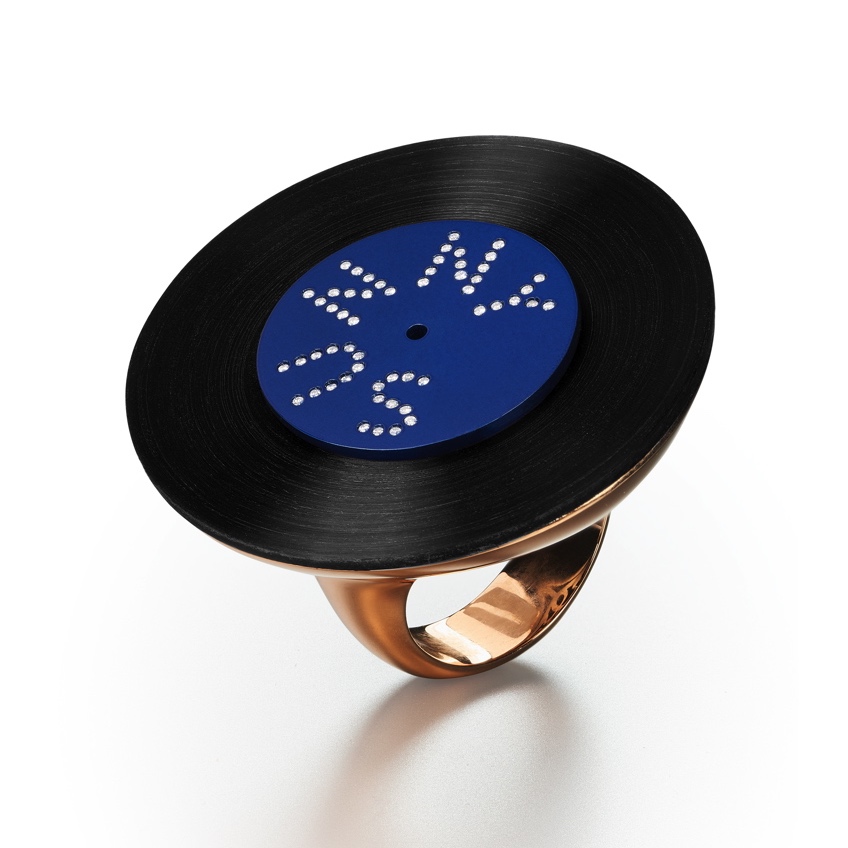 Bague « Sunny » en or rose, émail, diamants et vinyl. The « Sunny » pink gold ring featuring enamel, diamonds and vinyl. Photo : Suzanne Syz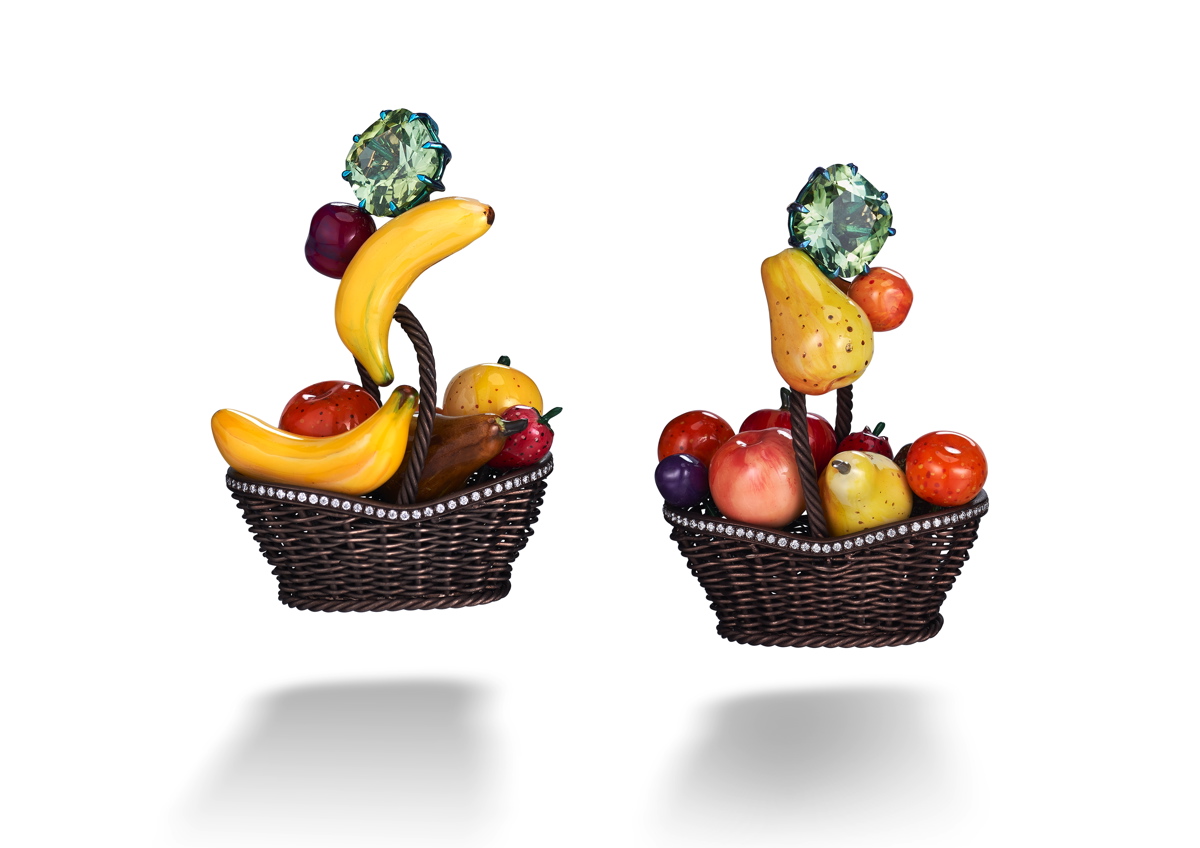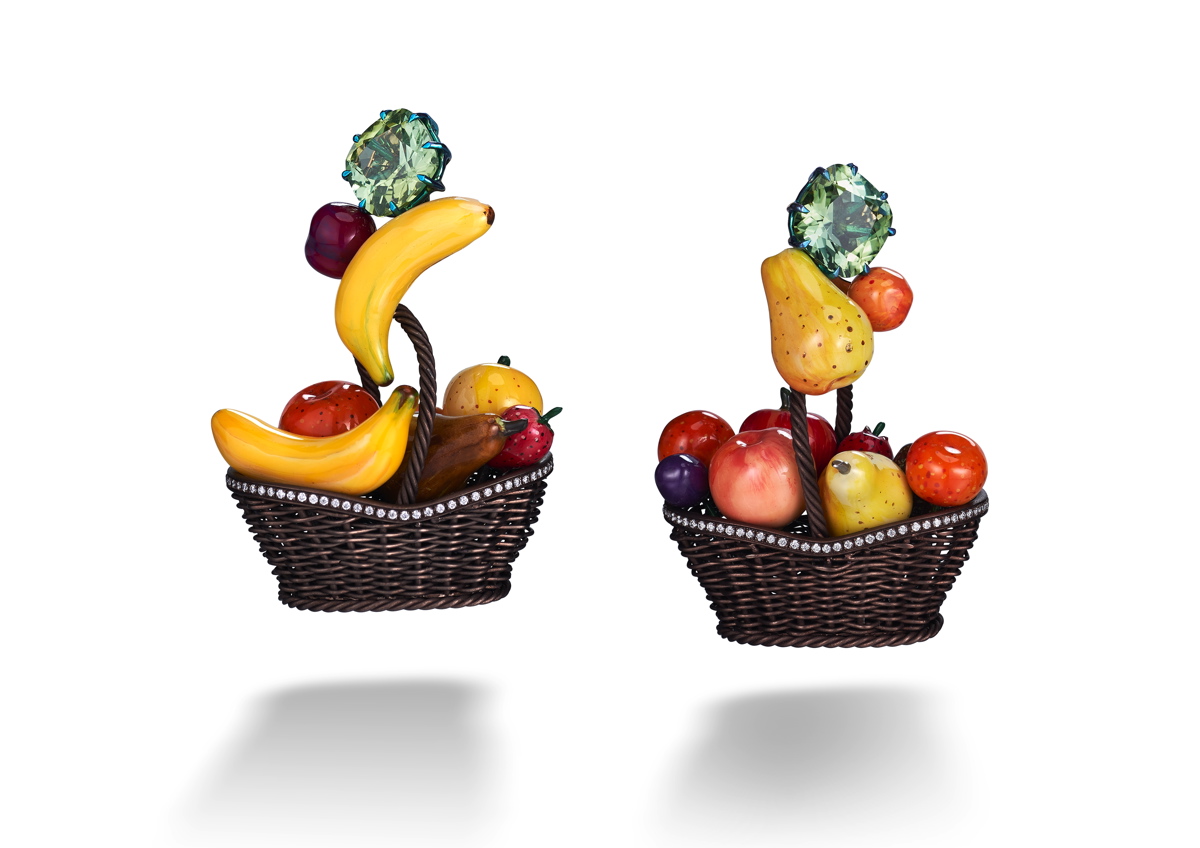 Boucles d'oreilles « Shop till you drop » en or, titane, diamants, émail et tourmalines vertes. The « Shop till you drop » titanium and gold earrings featuring diamonds, enamel and green tourmalines. Photo : Suzanne Syz
À bientôt !
See you soon !