I had to wait almost five years to finally meet Gabriel Leibacher. My first "encounter" with this promising young jeweller dates back to a visit to the Galerie Matières d'Art, which I talk to you about quite regularly because it exhibits several jewellers and designers that I appreciate, such as Marc Alexandre, Julie Robrolle, Karen Gay, Anne Emptas and Akiko Minami. Among the pieces that caught my attention were pens made of precious wood, some of which were set with an opal… Gabriel was not in Paris at the time, but in Alsace, and we never managed to see each other. Things have since changed and I had the pleasure of interviewing him at length on the occasion of the event Le Carré Joaillier where he was exhibiting some of his creations with the man who accepted him into his workshop: Marc Alexandre.
Gabriel Leibacher. Photo: ©MarieChabrol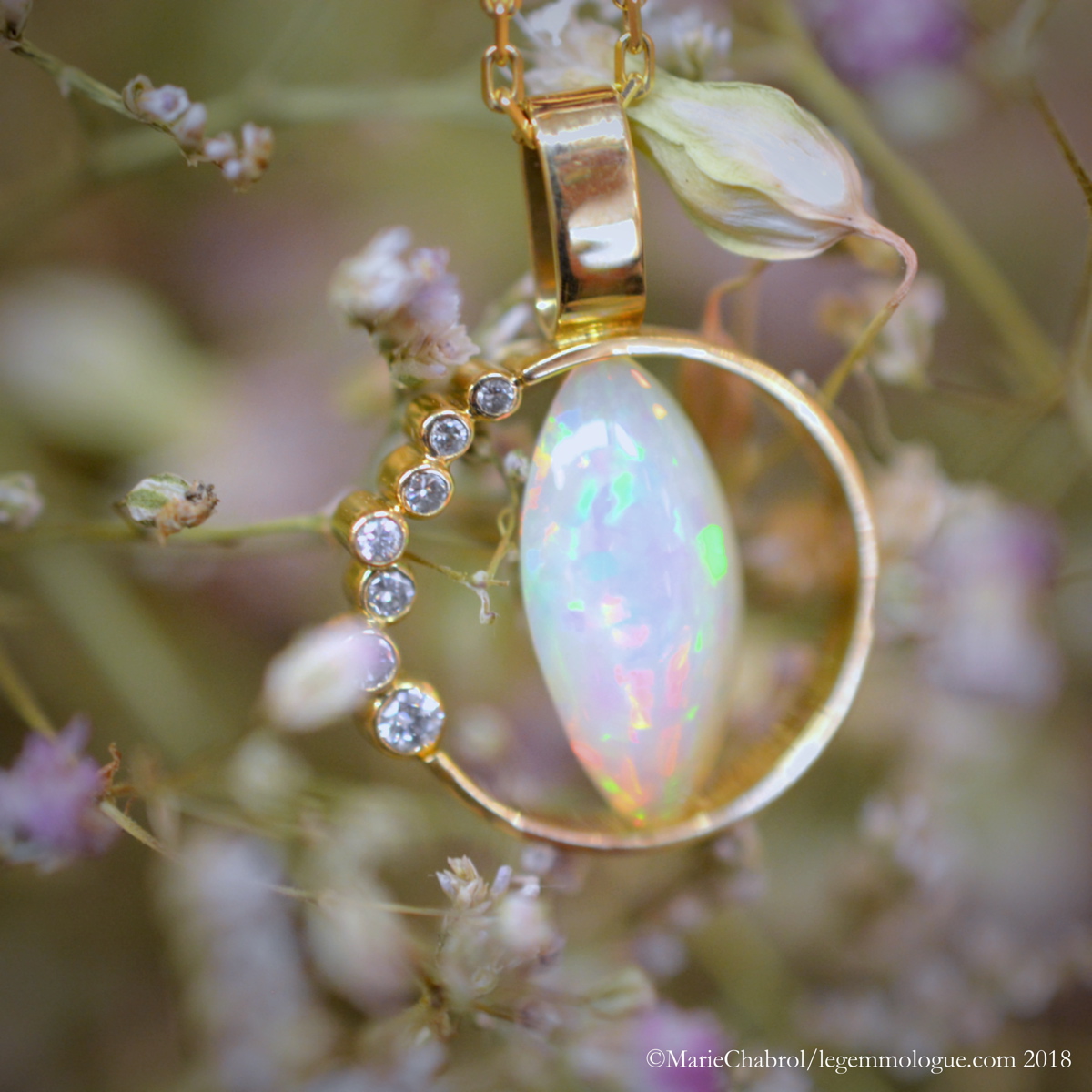 Yellow gold, diamond and opal pendant. Photo: ©MarieChabrol
Gabriel's encounter with jewellery goes back some fifteen years. But the encounter with craftsmanship goes back to his childhood. Born in Lausanne, Switzerland, he comes from a family of violin makers and his father practises this profession in Colmar, Alsace. Music, of course, was also part of his environment, so he studied the cello until his literary baccalaureate. Although violin making was never the profession he wanted to pursue, it is thanks to it that he met jewellery. Since he was a child, he spent time in his father's workshop and began to tinker with parts that needed to be changed on instruments and bow makers. This is how he started to make his first jewellery, mainly with ebony scraps, in a self-taught and empirical way.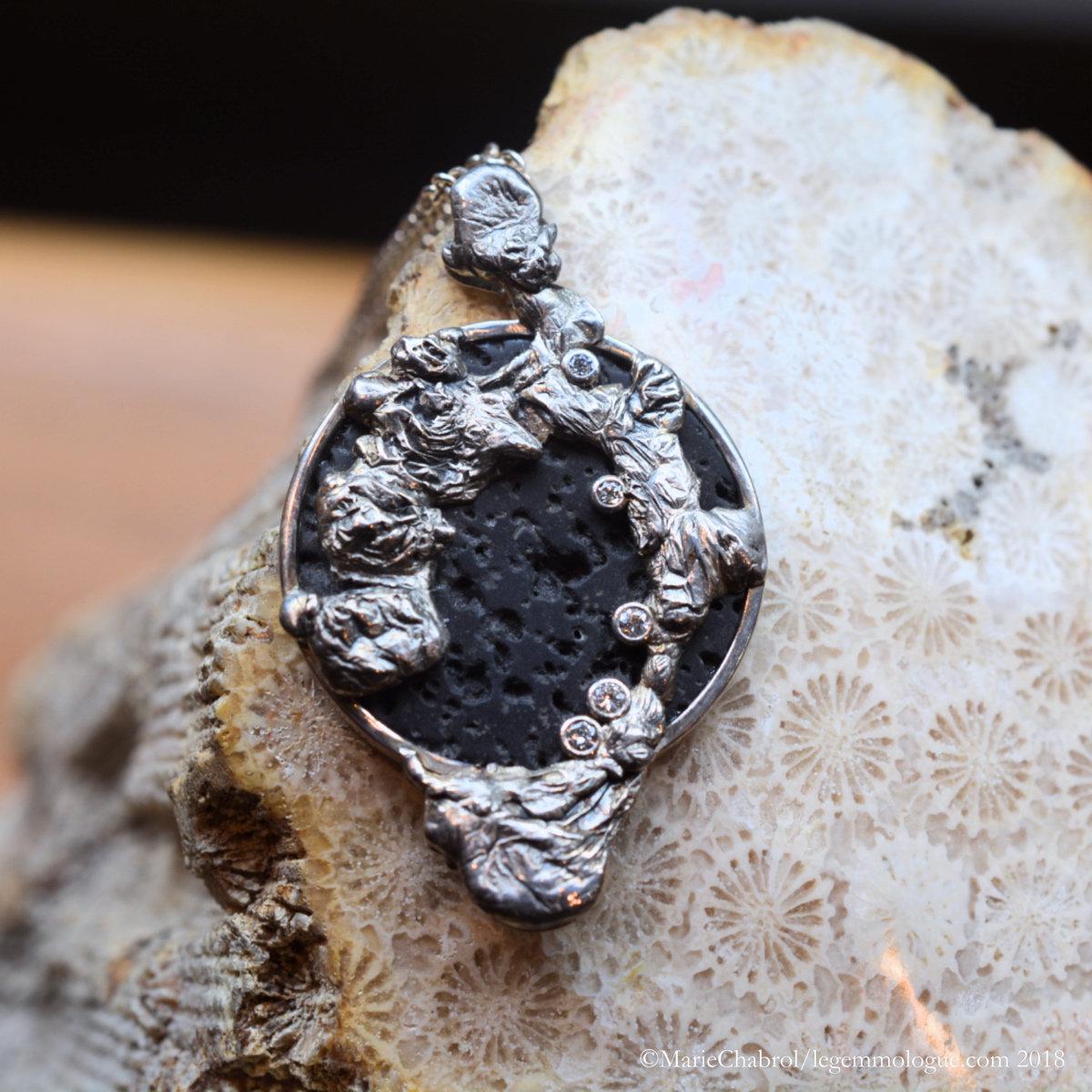 Silver, lava stone and diamond pendant. Photo: ©MarieChabrol
Yellow gold and diamond earrings. Photo: ©MarieChabrol
When the time came to choose his training, he joined the AFEDAP in Paris, where he obtained a CAP in the Art of Jewellery, followed by an additional qualification in jewellery. This choice was guided by an exchange with the contemporary jeweller Christophe Burger, who encouraged him to pursue this path, which he liked. However, it was not to pure jewellery that he turned when he took his first professional steps. A meeting with the textile designer and jewellery creator Tzuri Gueta convinced him to join this company, where he stayed for more than three years as product manager. He then discovered a world where fabrics and silicone are the main materials. Perfect to get his imagination going!
Silver and meteorite ring. Photo: ©MarieChabrol
*****

"I liked the character and the workshop. It was completely new and very exciting."

Gabriel Leibacher

*****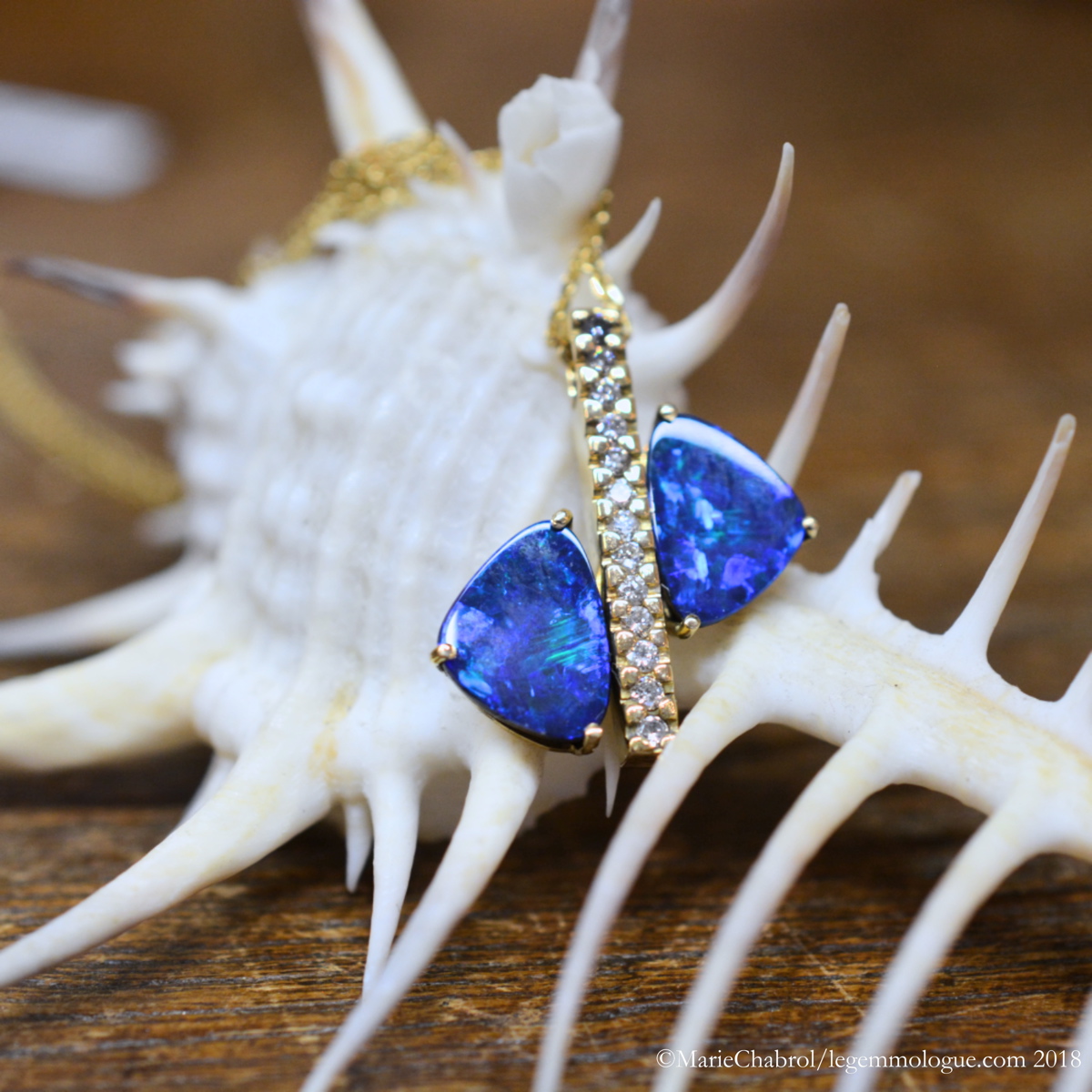 Yellow gold, diamond and Australian black opal pendant. Photo: ©MarieChabrol
After this experience, it was time to return to Eastern France. A few months in the suburbs of Strasbourg and then the departure for a long journey that will last more than a year. First Australia where he joined his sister, the discovery of Sydney then Brisbane. There, he met a number of jewellery artists and jewellers, and then met the designer Thierry Martin, who was then working with Fairfax & Roberts. For a while, he considered taking a job in Australia but the opportunity to discover New Zealand made him postpone this idea. He stayed there for ten months to discover this country rich in incredible landscapes that have inspired the greatest directors. When the time came to think about his return, he didn't take the easy way out and decided to continue by passing through Japan, Russia, China and then Mongolia. His final stop will be Nepal, from where he will leave in 2012 to return to Alsace.
Yellow gold, diamond and matrix opal pendant from Australia. Photo: ©MarieChabrol
*****

"This trip was rich in encounters and experiments. I can almost describe it as an initiation. It allowed me to see things from other angles

Gabriel Leibacher

*****
Silver, diamond and ebony ring. Photo: ©MarieChabrol
After many months without practising jewellery, he decided to get back in touch with his tools and to resume training. He then joined the Atelier d'Emeraude, created by Daniel Koch and today taken over by Sandrine Eber, whom you certainly know if you have had the opportunity to visit Sainte-Marie-aux-Mines. Then he founded his workshop and made his first collection in silver and ebony by reusing elements from keyboards. Then he started to integrate gold, diamonds and opals. In 2013, he met Marc Alexandre and the feeling was mutual, with the idea of training someone to assist him in his workshop in the 9th arrondissement of Paris. This is how Gabriel decided, after many trips between Alsace and the City of Lights, to settle permanently in the French capital. Today, he works in Paris, for Marc's workshop, but he continues to create his own jewellery and his ballpoint and fountain pens. These can be seen at the Galerie Matières d'Art in Le Marais (rue de Franche-Comté, Paris 3). Coloured opals, diamonds and reflections characterise her jewellery, which is both sober and playful. Just like her latest creations: the "planet" rings that can be worn for all occasions and that make you want to play for hours with the central opal…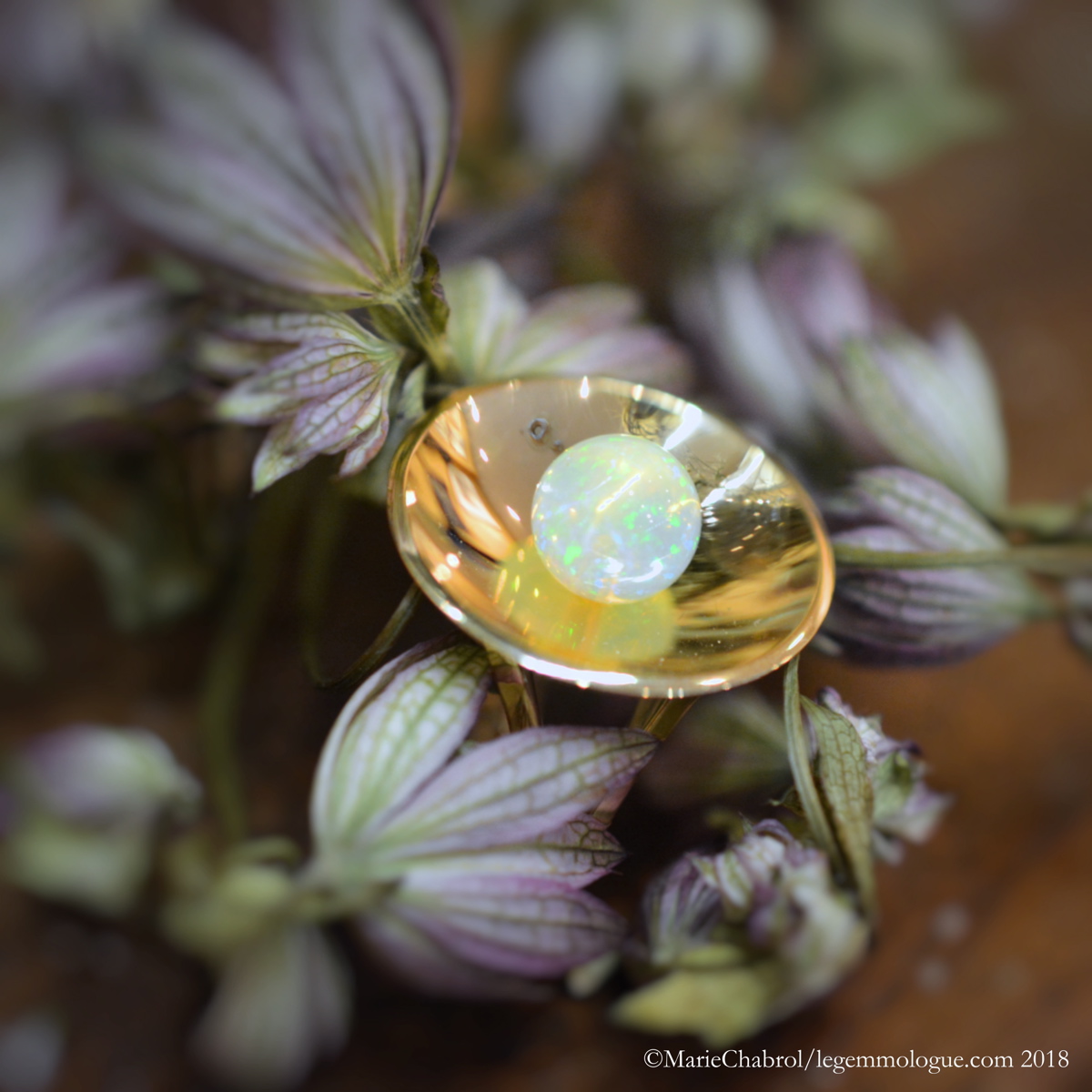 Planet ring in pink gold and Ethiopian opal. Photo : ©MarieChabrol
See you soon!