Christmas has come and gone and you may have worn a "Christmas Tree" brooch. These jewels, famous and adored in the Anglo-Saxon countries, are not well known in France. So, I can only encourage you to wear a brooch on this theme as soon as Christmas 2019 begins. But perhaps you have also come across a brooch representing a partridge in a pear tree. If this doesn't ring a bell, I invite you to follow me to discover this particular piece of jewellery, its meaning and its somewhat mysterious origin… And for that, we have to go back to 1780.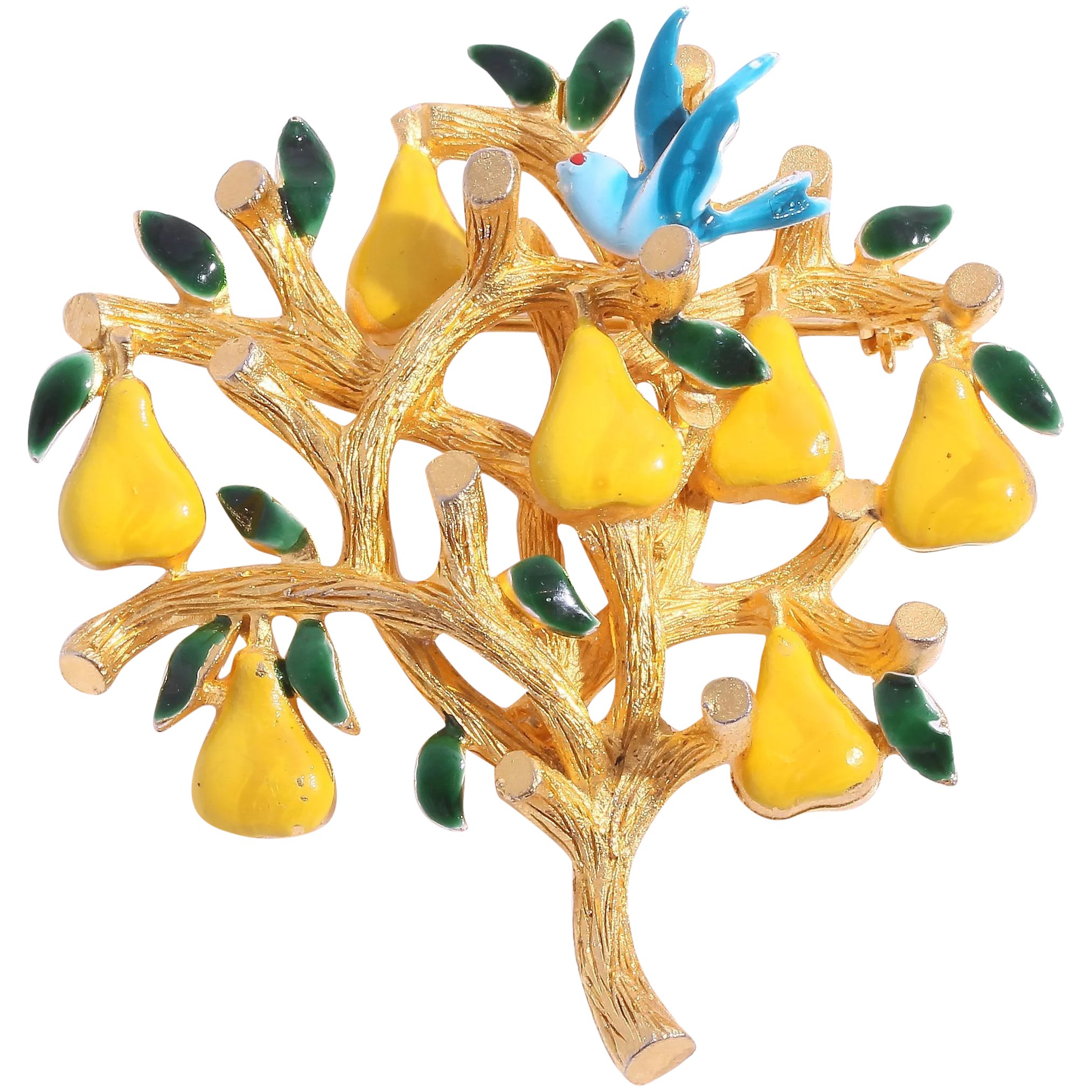 Brooch in gilded metal and enamel, signed Cadoro. A perfect example of the partridge-in-the-pear tree theme. Photo: Ruby Lane
But first, turn on your stereo, put on a record of Bing Crosby or the Mormon Tabernacle Choir and let yourself be carried away for a few minutes by the lively notes of the carol "The twelve days of Christmas". For our story begins with this merry tune.
Christmas concert fans, listen to this version of "Twelve days of Christmas" by the King's Singers & The Mormon Tabernacle Choir, one of the most beautiful versions available on the web. Video : The Tabernacle Choir at Temple Square
In 1780, a children's book entitled "Mirth without Mischief" was published in England, in which this nursery rhyme tells of the twelve gifts that can be received between Christmas and Epiphany: a partridge in a pear tree, two doves, three French hens, four blackbirds, five gold rings, etc. Designed on the cumulative principle, the singers repeat the stanzas, adding an additional present each time. It is said that originally a penalty was given for mistakes in the recitation… In the following illustration, you can read the song in English and better understand how it works. And maybe try your hand at it! You may also be interested to know that an original version from 1780 sold in 2014 at Sotheby' s for the modest sum of $23,750.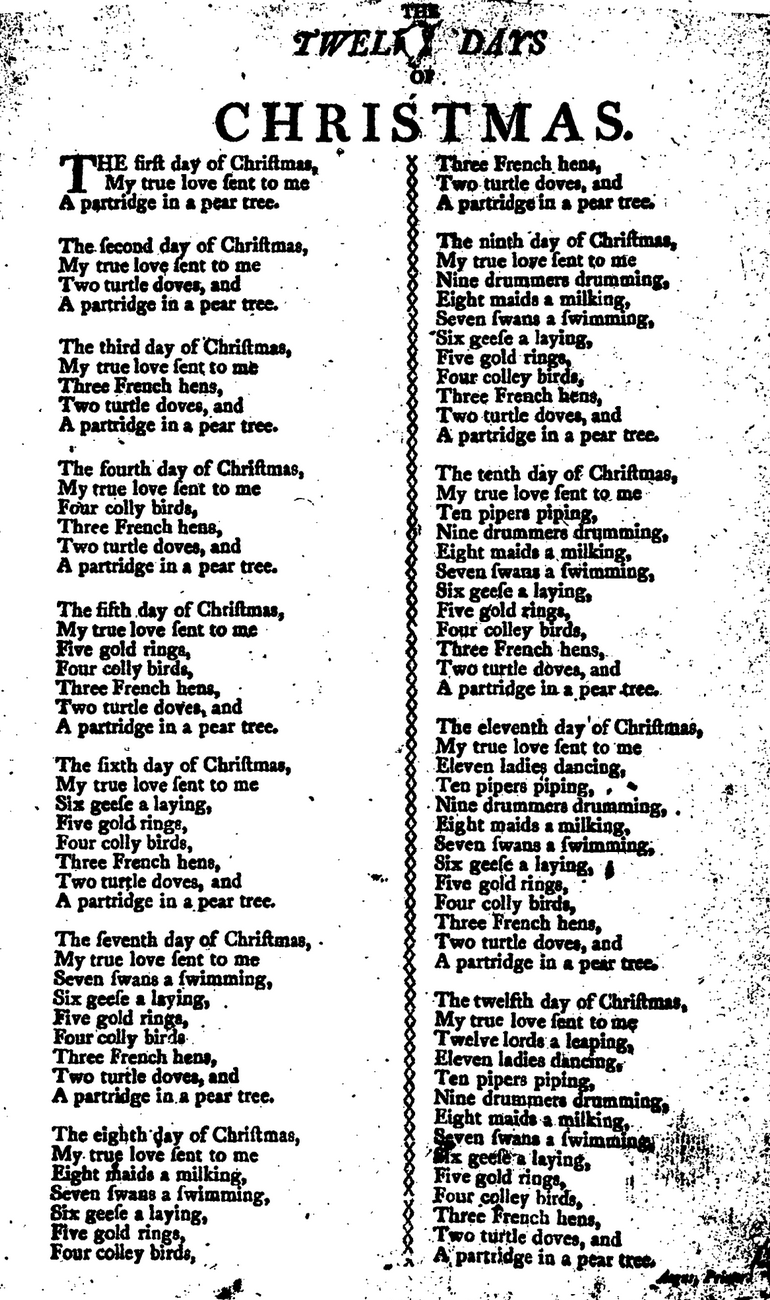 Full text of the nursery rhyme "Twelve days of Christmas". Photo: Wikipedia
While the song is extremely well known in the United States and Canada, versions from Scotland, Faroe Island and even France have been recorded. In the middle of the 19th century, religious meanings were attributed to the various presents listed in the song, but without any real proof, since the origin of this text, which is certainly based on an oral tradition, is unknown.
But let us return to the main subject of this note, the jewels representing a partridge in a pear tree. Interpretations are numerous in costume jewellery where there are many examples and very rare in pure jewellery. Among the materials favoured, vermeil, coloured rhinestones and especially enamel are perfectly suited to the representation of this subject.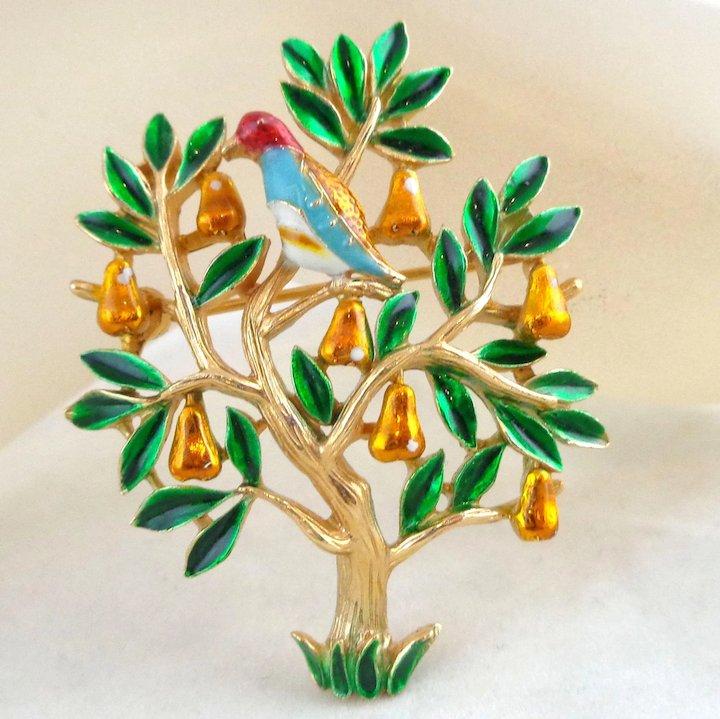 Brooch in gilded metal and enamel signed by Trifari. This brand is highly sought after by collectors and jewellery in good condition is quite rare. Photo: Ruby Lane
In the realm of pure jewellery, brooches on this theme are very rare, but this is almost a treasure hunt. Gold, diamonds and of course enamel remain the materials favoured by the creators of these rare objects. Like this pretty little brooch illustrated below.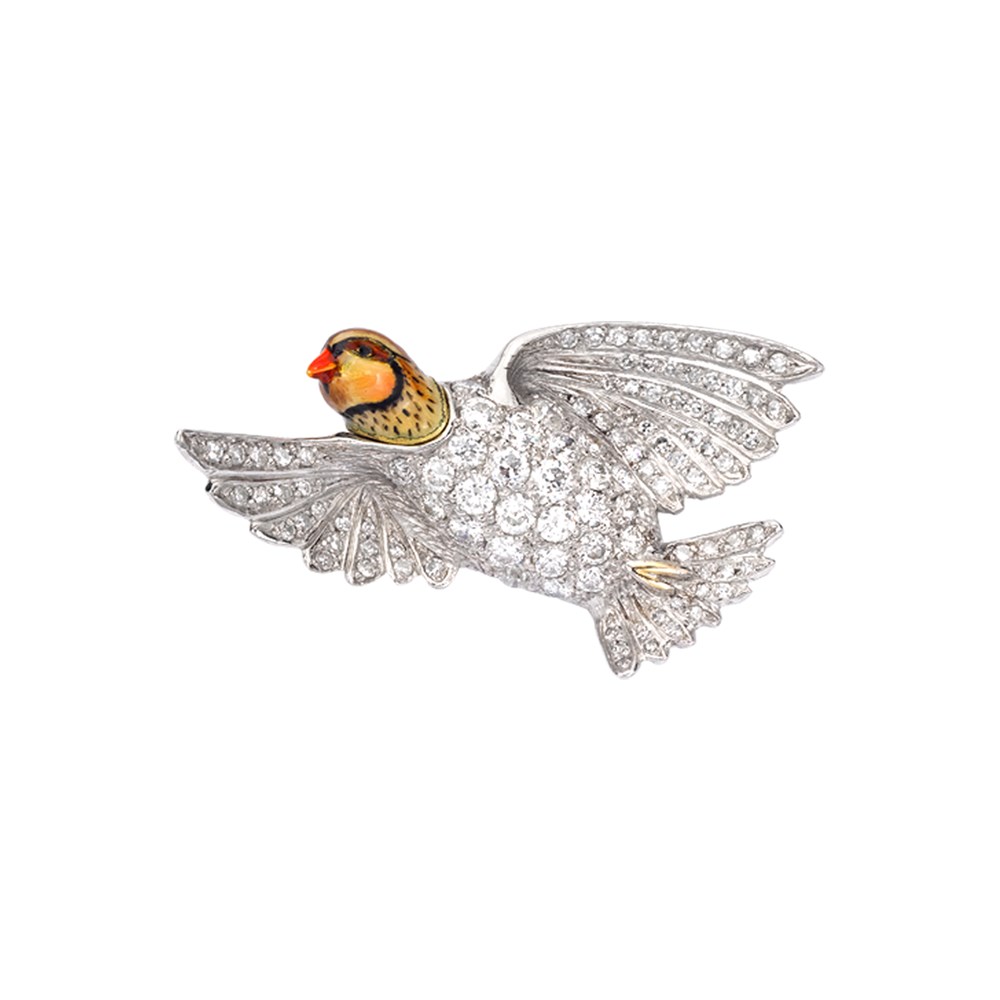 Partridge" brooch in gold, diamonds and enamel. Photo : Pragnel
So, you will no longer wonder about these amazing brooches when you come across them in antique shops or at so-called "couture" jewellery sales. Some of them can fetch high prices if the manufacturers are listed as ART or Trifari, so don't be surprised. If you are seduced, check the condition of the enamel, any repairs such as unfortunate gluing of rhinestones or poorly executed late soldering. It is better to buy a vintage brooch in good condition than a damaged antique brooch that very few professionals will be able to restore.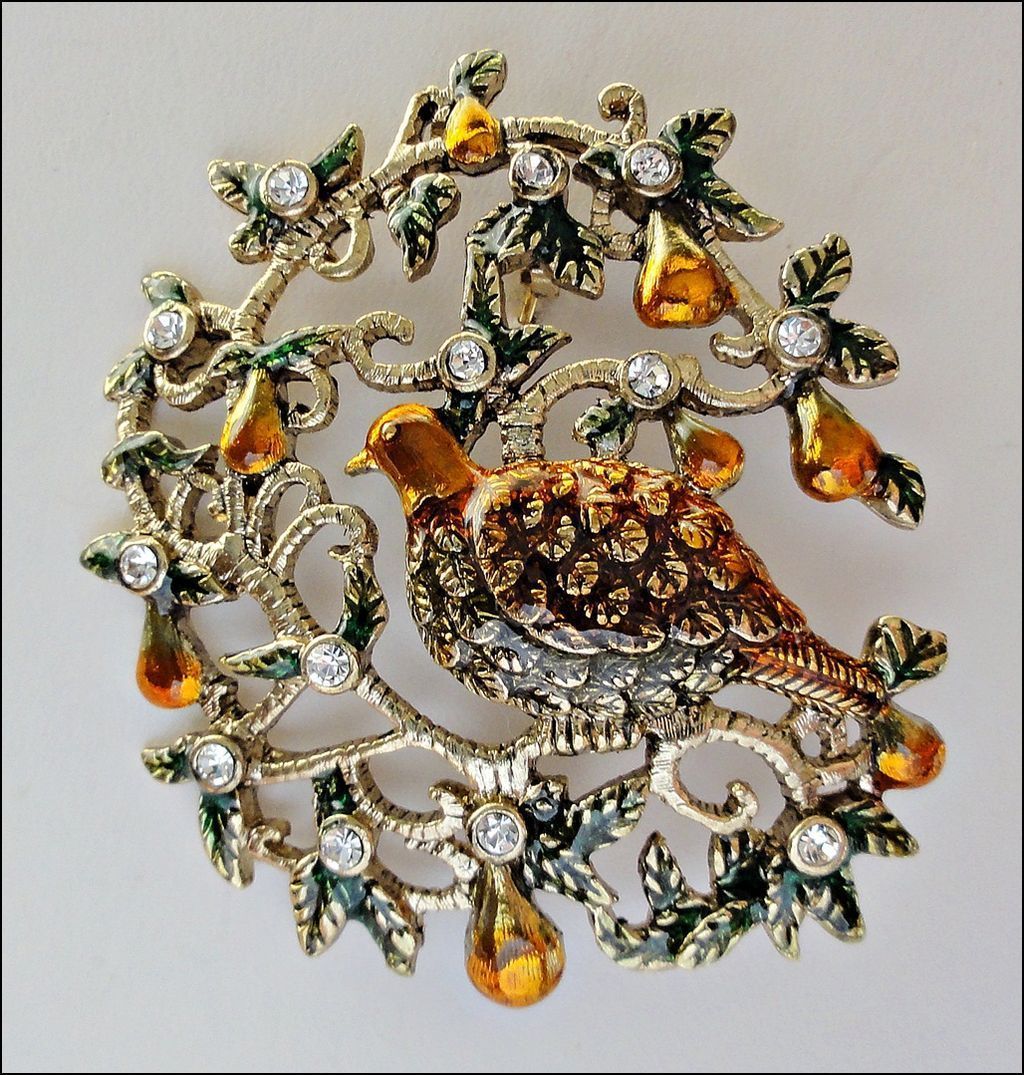 Brooch in gilded metal, enamel and rhinestones from the Monet house. Photo: pinterest
See you soon!