Paris Fashion Week was the perfect opportunity to meet or revisit several Asian houses whose creations, today, rival the finest pieces from French high jewellery houses in quality and ingenuity. Four houses presented their new pieces in Paris: TTF, Feng J., Anna Hu and the Japanese house Tasaki. But we could have counted a fifth with the notable absence of Cindy Chao who chose this year to present in London at the Masterpiece show. This show is now one of the most popular and is very similar to the Biennale des Antiquaires in Paris until 2014 when it offered both antique objects and fine jewellery.
Asian fine jewellery is characterised by fairly recurrent figurative motifs: butterflies, flowers and birds are often represented. While colourless and coloured diamonds are very present, coral and jade are legion on the most beautiful sets. But we also find very beautiful gemstones with the best origins and the most popular certificates. The Asian clientele is very demanding for precise information about the stones. Among the surprising characteristics of the jewellery for this clientele, note that you will never find a stone whose weight contains the number 4 because the phonetics of this number in Chinese is very close to that of the word "death". Moreover, the names of the jewellery or pieces often refer to legends linked to Asian gods. This is the singularity of this jewellery that also makes it fascinating to understand and decode!
1- Anna Hu
Every year, Anna Hu puts her magnificent pieces on display at the Ritz where she presents her new creations over a few days. Most of her jewellery is made in France and is always extremely beautiful and poetic. The materials used are often rare, with sublime rubies or sapphires, but also gemstones in bright and sparkling colours: tourmalines, diamonds, beryls, etc. Moreover, in this year 2019, it has officially joined the calendar of fashion week presentations by becoming a member of the Federation of Haute Couture and Fashion: the FHCM.
Blue Magpie" brooch in gold, titanium, diamonds, sapphires, tourmalines, onyx and conch pearl. Photo: Anna Hu
Brooch "Le papilon" in white gold, diamonds and 5.06 carat rubies (Gübelin). Photo: Anna Hu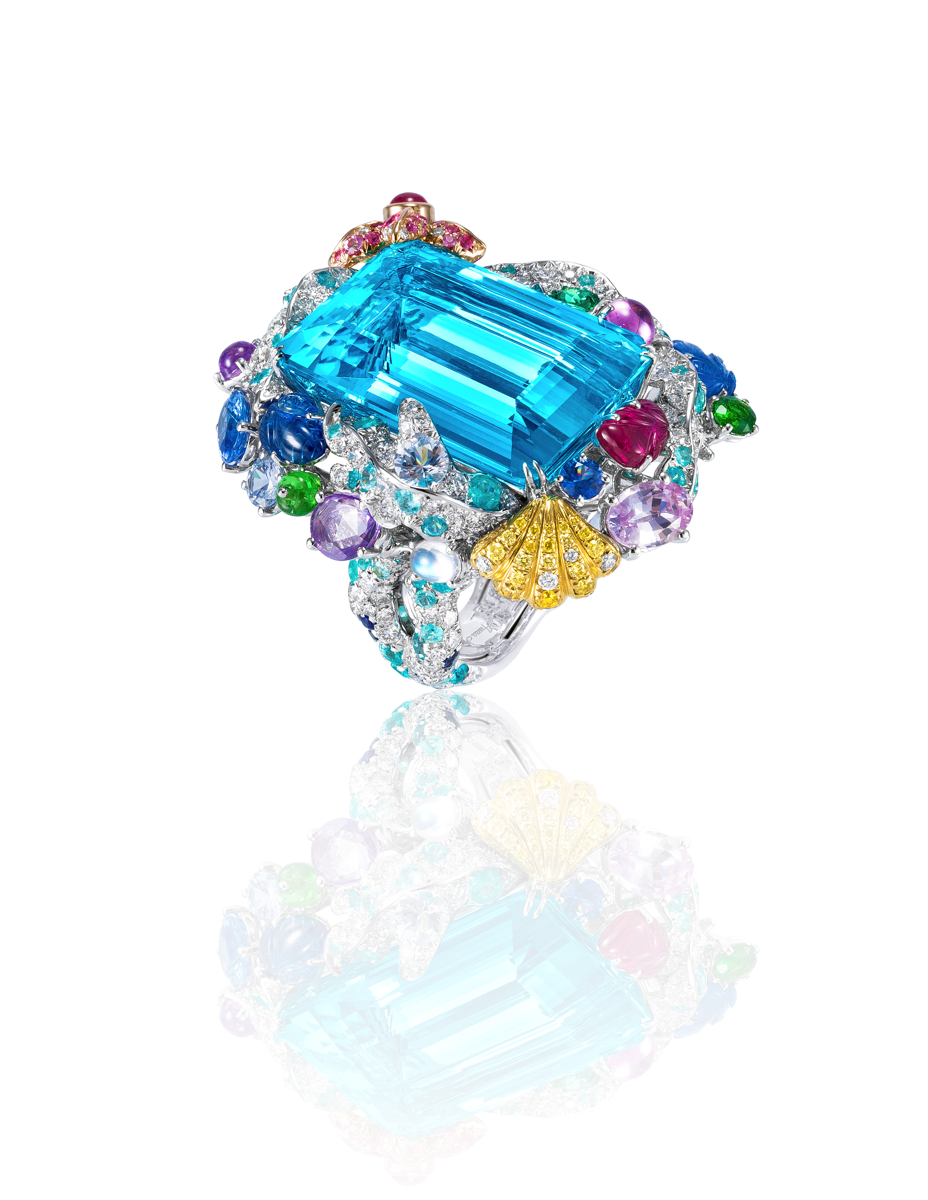 Sirens" ring in white gold, yellow gold, diamonds, sapphires, moonstones and an aquamarine centre of 33.17 carats. Photo: Anna Hu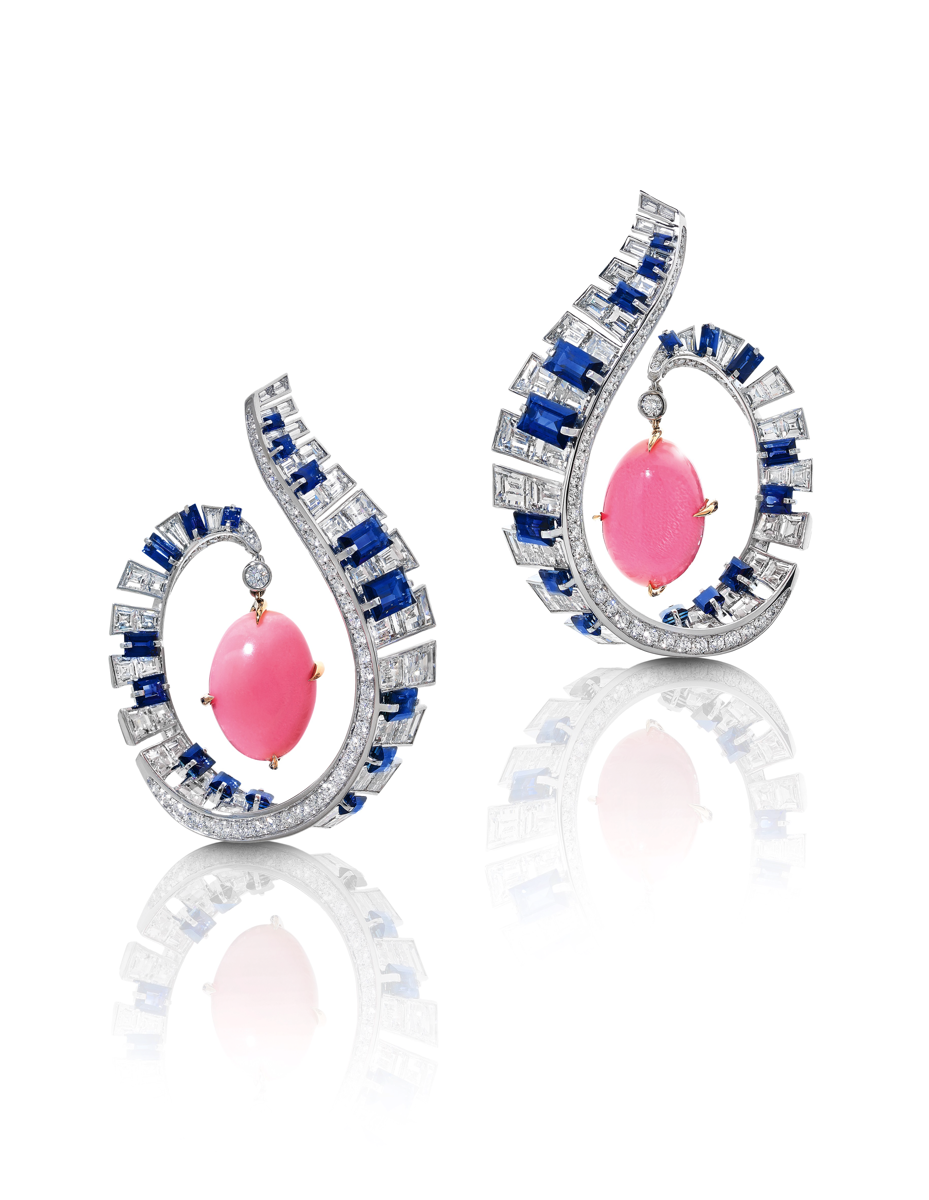 Ellington" earrings in white gold, sapphires, diamonds and conch pearls. Photo: Anna Hu
2- Feng J.
Feng J. has been a well-known designer for several years now, and her company still offers beautiful objects that are almost exclusively made to measure and in France. To know this house better, you can read my article. This year, the designer presented a series of pieces around the theme "Garden of Impressionism", a tribute to the great painters of this period that left its lasting mark on the art world.
Blue Ginkgo leaf" brooch, white gold, rose-cut sapphires and tanzanites. Photo: Feng J.
Crimson Dragonfly" brooch in white gold, rubies (8.28 carats), red spinels and diamonds. Photo: Feng J.
Lily of the valley" brooch, diamonds, tsavorite garnets, chrysoberyls, white gold and green rhodium-plated gold. Photo: Feng J.
Pink maple leaf" earrings in gold, diamonds and pink spinels for 38.72 carats. Photo: Feng J.
3- Tasaki
Tasaki is the Japanese brand that surrounds itself with beautiful collaborations to sign its collections. Sometimes more classic and sometimes more incisive, the house offers season after season a body of pieces that are very different from each other. Since 2017, it is Prabal Gurung who signs a part of the pieces and it is his last creations that we could admire during the fashion week. We will mainly retain the Elysium set whose centre stones are blue topaz (treated).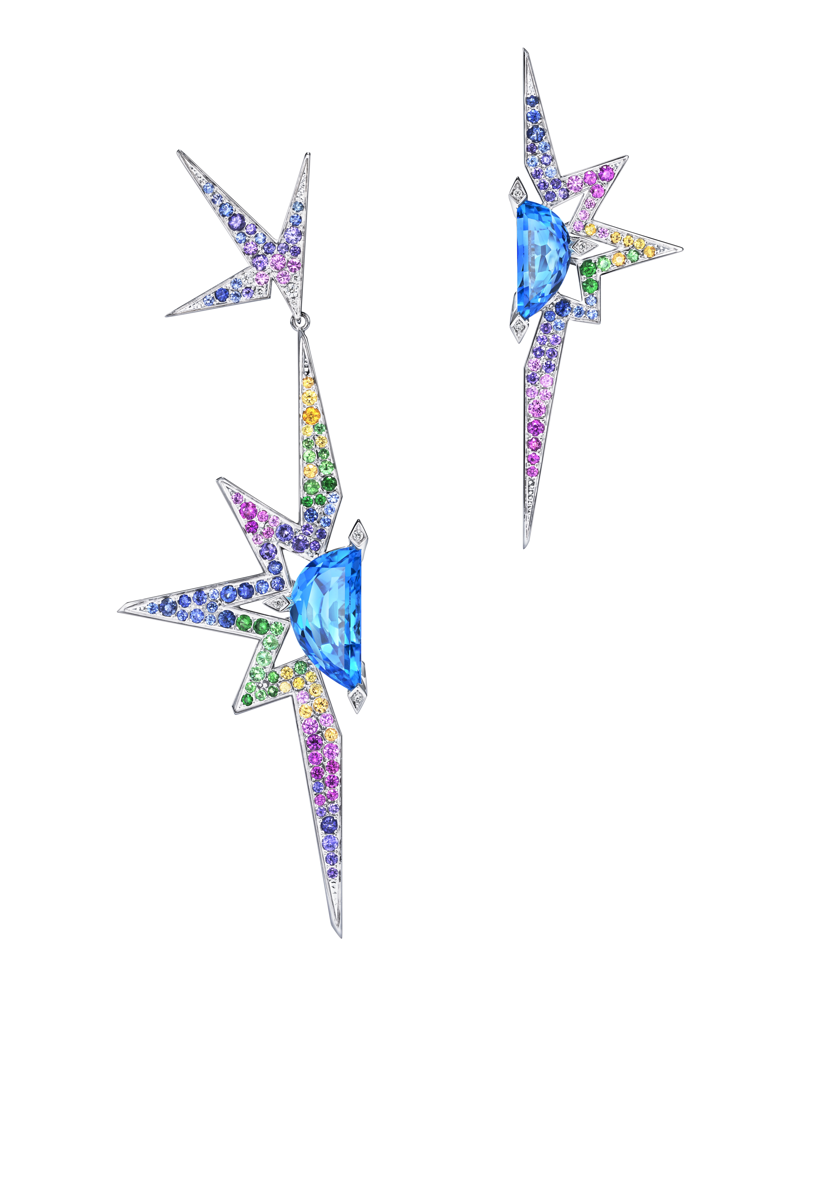 Elysium" earrings in gold, diamonds, sapphires and blue topaz (treated). Photo: Tasaki
4- TTF
TTF is a young house that was founded in 2008 by Fenghua Wu. It is now based in Paris, rue de la paix. The house offers mainly the best quality jade and is one of the few shop windows in the Vendôme district to offer this stone in Paris. Opulent necklaces, imposing brooches, the house also offers simpler and more accessible collections. The shop, although small, is worth a visit if you want to admire this poetic jewellery so characteristic of Asian jewellery on a regular basis.
The "Celestial Orchid" necklace is in white gold, diamonds (22.62 carats), yellow diamonds and jadeite for 34.46 carats. Photo: TTF
Imperial Pheasant" brooch in white and yellow gold, white and yellow diamonds, sapphires, emeralds, black spinels. Photo: TTF
See you soon!