Dear French readers, you will find below the translation of my article " Pearls gone wild: Melanie Georgacopoulos ", originally published on the Jewelry Connoiseur website. The American version is available via this link.
*****
Melanie Georgacopoulos
Born in Athens, the designer – now based between London and Hamburg – refreshes the image of the pearl by proposing creations as unexpected as they are modern. Meet her!
An independent jeweller since 2010 and designer for M / G Tasaki since 2015, Melanie Georgacopoulos, born in Greece, trained in jewellery in Athens, her native city, as well as in London. She challenges the traditional approach to pearls and shows us how this material can be worn differently, away from the classic necklace we all know.
1-What made you choose a career in jewellery?
I've always been attracted to handcrafting and creating. What drew me to jewellery in particular was the relationship of the object to the body. Making a piece of jewellery that is not only desirable, but comfortable (that becomes a part of you when you wear it) is a big challenge.
2- Where does your inspiration come from?
There are so many things that inspire me, but I get a lot of my ideas from my environment, and especially from all my travels. I'm lucky enough to be in contact with many terribly inspiring people.
3- What materials do you like to work with the most?
There are so many, but I really enjoy using pearls, gold, silver and mother of pearl. I like to work with materials that will stand the test of time.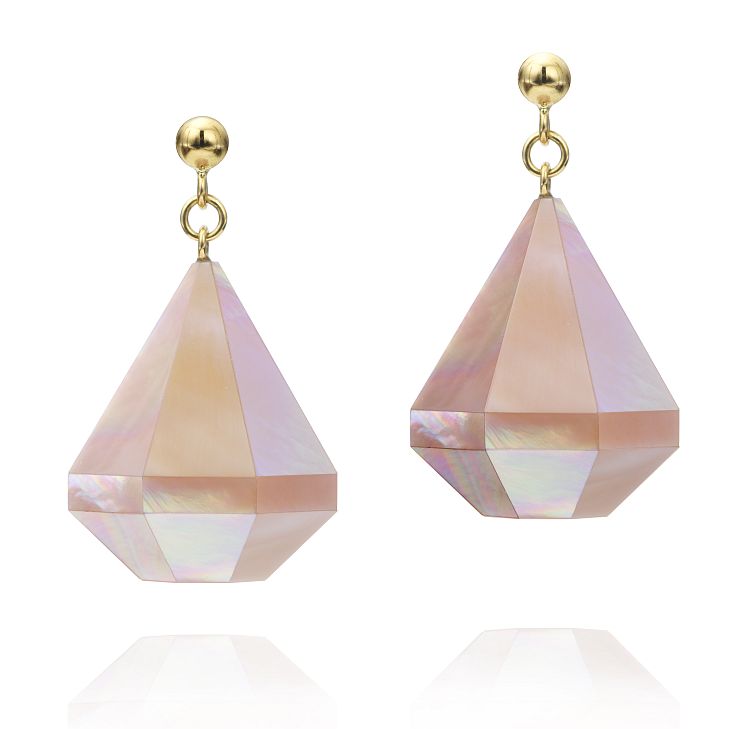 The "Facet Diamond Pink" earrings in gold and mother-of-pearl
White gold, mother of pearl and freshwater pearl ring
Oval Gemstone" brooch in gold and mother-of-pearl marquetry
4- Who is the woman Melanie Georgacopoulos?
Judging by the most successful pieces, I would say that my customers are women who are looking for timeless and minimal pieces that are a little different from what they see everywhere.
5- You live in Hamburg but come from Greece and have worked in London. Do you think you are a citizen of the world?
Absolutely, and I hope that in the future I can live in other countries too! It is an enriching experience to know other cultures and to know so much about yourself. With the Internet, I can now work from anywhere.
6- What are your most emblematic creations?
I would certainly say the Sliced series, which is now produced by M / G Tasaki, but also some recent works from the Nacre collection. It was with this collection that I started using this material. And it worked out great!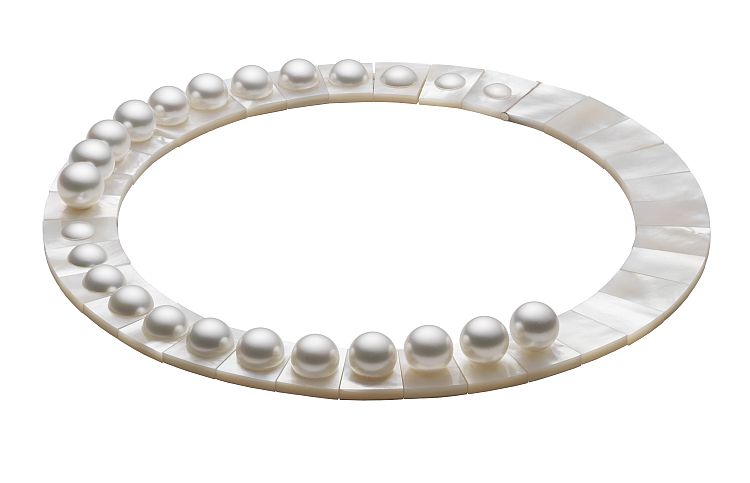 Gold, mother-of-pearl and freshwater pearl necklace
The "MOP" bracelet in gold, pearl and mother of pearl
7- Which designers do you admire?
There are many! Angela Cummings, Taffin, Suzanne Belperron, René Lalique, Line Vautrin. They made me dream of becoming a jeweller and I learnt a lot by looking at their pieces.
8- What are your next projects?
I am working on my first collection with gemstones, including diamonds, to be launched in 2020, as well as my M / G Tasaki collection to be launched in June 2020 in Japan.
Facet Golden Oval" ring in gold, Gold pearl and mother of pearl
Bracelet in yellow gold, Gold pearl and mother of pearl
See you soon!
See you soon !