For several years now, many jewellery brands have been appearing on the market with pieces infused with spirituality. While many are embracing this trend, embroidering around it without any real content, some houses are fully embodied by their creators and offer jewellery that is as beautiful as it is good, as joyful as it is strong. Let's take a look at these houses and pieces that offer another vision of talismanic jewellery, giving it joy and anchoring it in everyday life. So forget everything you know and let me guide you on somewhat forgotten paths. Magical, mystical and mysterious paths… paths like I like them!
1- Alexandra Abramczyk Jewelry
From left to right: Pebble Roots pendant in yellow gold, rock crystal and rubies; Rainbow ring in yellow gold, multicoloured sapphires, tsavorite garnets and diamonds; Serenity pendant in yellow gold, rock crystal and diamonds. Photo: Alexandra Abramczyk
Solar. This is the right word to describe Alexandra Abramczyk. I have been following her work for several years now and my opinion has not changed. There is a joy in her creations and in the way she presents them, like a permanent light. Inspired by her many travels and long experience in fine jewellery, Alexandra also draws on her intimate relationship with India. Her different collections (whose manufacture is remarkable) are – for the most part – based on the colours of the different chakras and invite you to find the one or ones that correspond to you and anchor you in a reality where benevolence, joy and love must prevail. "There isno ultimate talismanic jewel, there are as many as there are paths of life," says the one who will initiate you to listen to the energies around you. So, stop for five minutes, breathe, open your eyes and lungs wide and let these forces go beyond you!
2- Foundrae

Medals, symbols, massive chains made to last and be passed on, enamel, diamonds, rubies, sapphires. Beth has imagined a real universe as beautiful as it is spiritual. Photo : Foundrae
Beth is the story of a beautiful professional reconversion. The long-time co-founder and CEO of the Rebecca Taylor brand has taken a 360° turn. After 20 years in fashion, she decided to start designing a jewellery line and launched Foundrae in 2015. The first time I meet her in Paris, she presents her jewellery at MadLords. I am struck by her light. Her huge smile, blonde mane and incredible background appeal to me. But I am in love with atypical paths and courageous people. As for her jewellery, magnificent, rich in meaning, it is extremely qualitative and beautiful. With Beth, everything is a matter of symbols: date of birth, astrological sign, elements linked to your sign… etc. With them, you compose the jewel that corresponds to you. And as the designer says so well:"The perfect spiritual jewel is the one that reflects you, that reflects your depth, your journey as well as inspires the next chapter
3- Hoehl's by Sophie Hoehlinger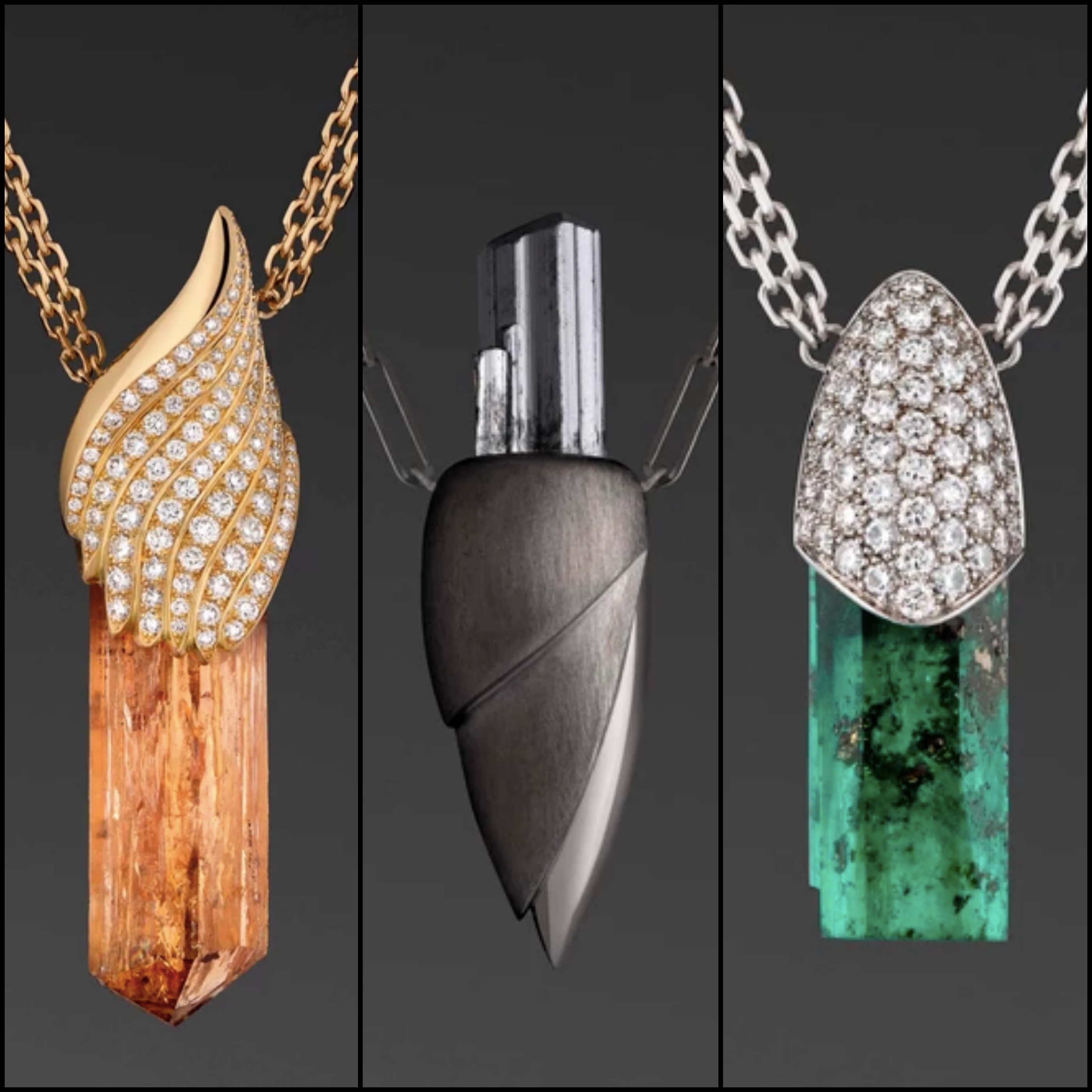 From left to right: yellow gold, diamond and rough imperial topaz pendant from Ouro Preto (Brazil); black rhodium-plated white gold and rough rutile pendant from Madagascar; white gold, diamond and rough emerald pendant from Colombia. Photo: Hoehl's
Sophie Hoehlinger founded Hoehl's Wellness High Jewelry with one goal in mind: to reconcile lithotherapy and jewellery. Or at least, to allow her clients to wear a superb crystal (topaz, emerald, tourmaline…) in a high jewellery piece that is entirely French in design. Sophie began this journey into the world of stones in parallel with a career in the world of health, where she discovered and experimented with so-called "secondary" medicines, experiencing the benefits they bring as a complement to traditional medicine. From there, she imagined her first collection "Genesis" guided by the power of the stones in connection with the energy centres. The workmanship is beautiful, the raw stones superb and the pieces are shaping up to be amazing. And I particularly liked the pendant with a rutile crystal from Madagascar, an extremely rare material in jewellery. Sophie's journey is a beautiful one!
4- Jenny Dee by Jennifer Dabbah

From left to right: Mandala "Force" pendant in white gold, diamonds and sapphires; "Electra Maxima" ring in yellow gold, amethyst and tsavorite garnets; "Andromeda" ring in yellow gold, diamonds and amethysts. Photo: Jenny Dee
With Jenny, you will dive into the world of the 70's with her jewellery, whose heart swings between Jimmy Hendrix, her numerous trips and the bohemian inspiration of the seventies. Jenny was born into a family of diamond cutters before launching her own company in 2015. Spirituality is omnipresent in her creative work, explains Jenny, who"works a lot with energies, tarot and the properties of stones". Her creations highlight the cosmic and celestial elements in order to serve Jenny's passion for the stars and planets. The result is Saturn-inspired earrings, talismanic rings or pendants engraved with mandalas… "I like the idea that a piece of jewellery holds a force and a magic. I'm very superstitious and for me my jewels are like grey grays that protect me" concludes the young designer. So it's up to you to find the jewel that will protect you.
5- Nomad Jewels by Daniella d'Agostino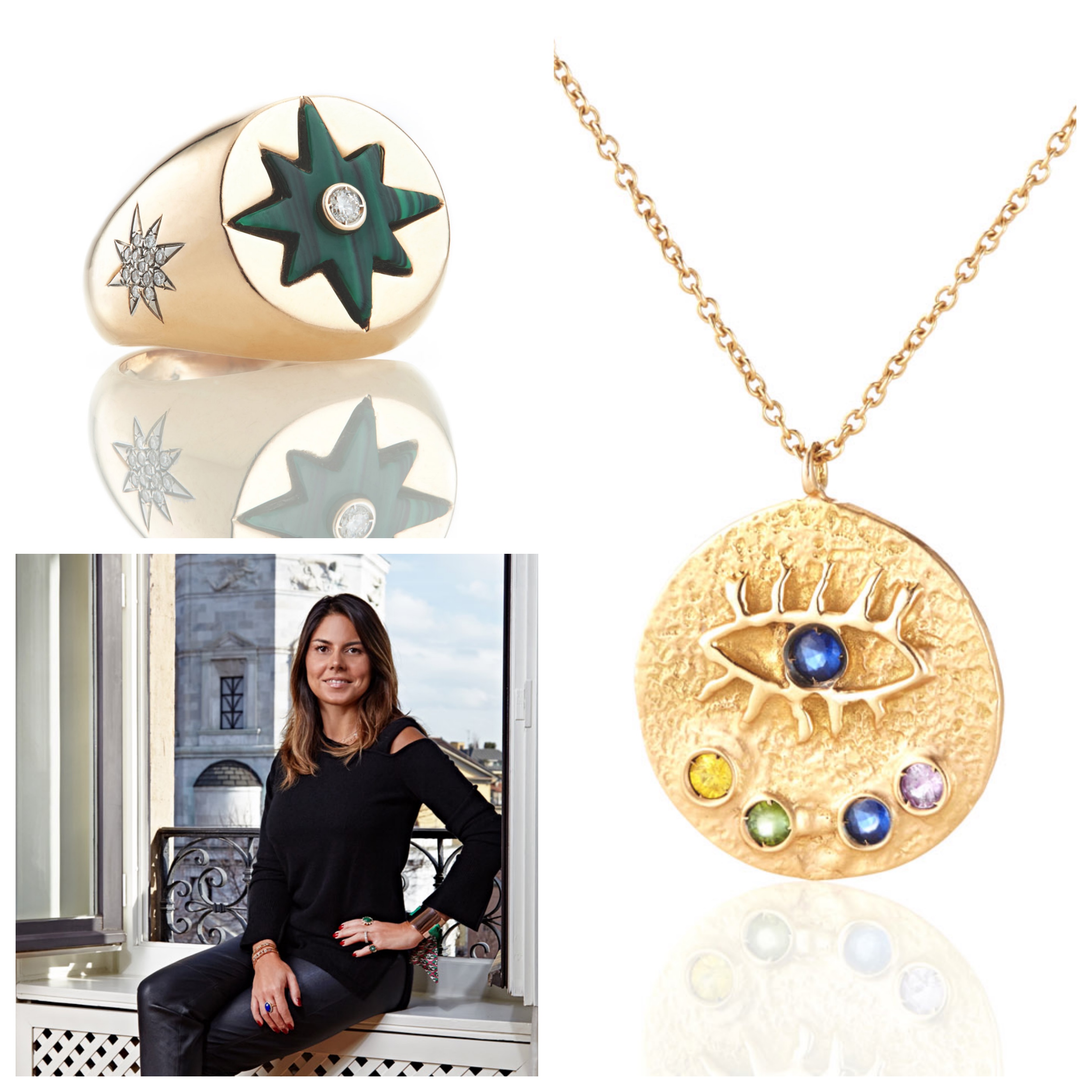 From left to right: "Green compass" ring in gold, malachite and diamonds; "Evil Eye" necklace in yellow gold and coloured sapphires. Photo: Nomad Jewels
Daniela D'Agostino imagined Nomad Jewels as a journey representing her own journey. Born in Geneva, she grew up in a half-Italian, half-Venezuelan family and is now based in Geneva. Her collections are conceived as"grigris, precious talismans, lucky charms that protect us like a benevolent star. They are not simple accessories" explains Daniela. The pieces, made between Lebanon and Italy, are adorned with symbols, diamonds and ornamental stones. All you have to do is pick from her "Moon & Star", "Cosmos" or "treasures" collections. Because"there is no perfect talisman, it can change according to our mood, our state of mind… We are in constant evolution, in transmutation like alchemy… so we should have several! So it's up to you!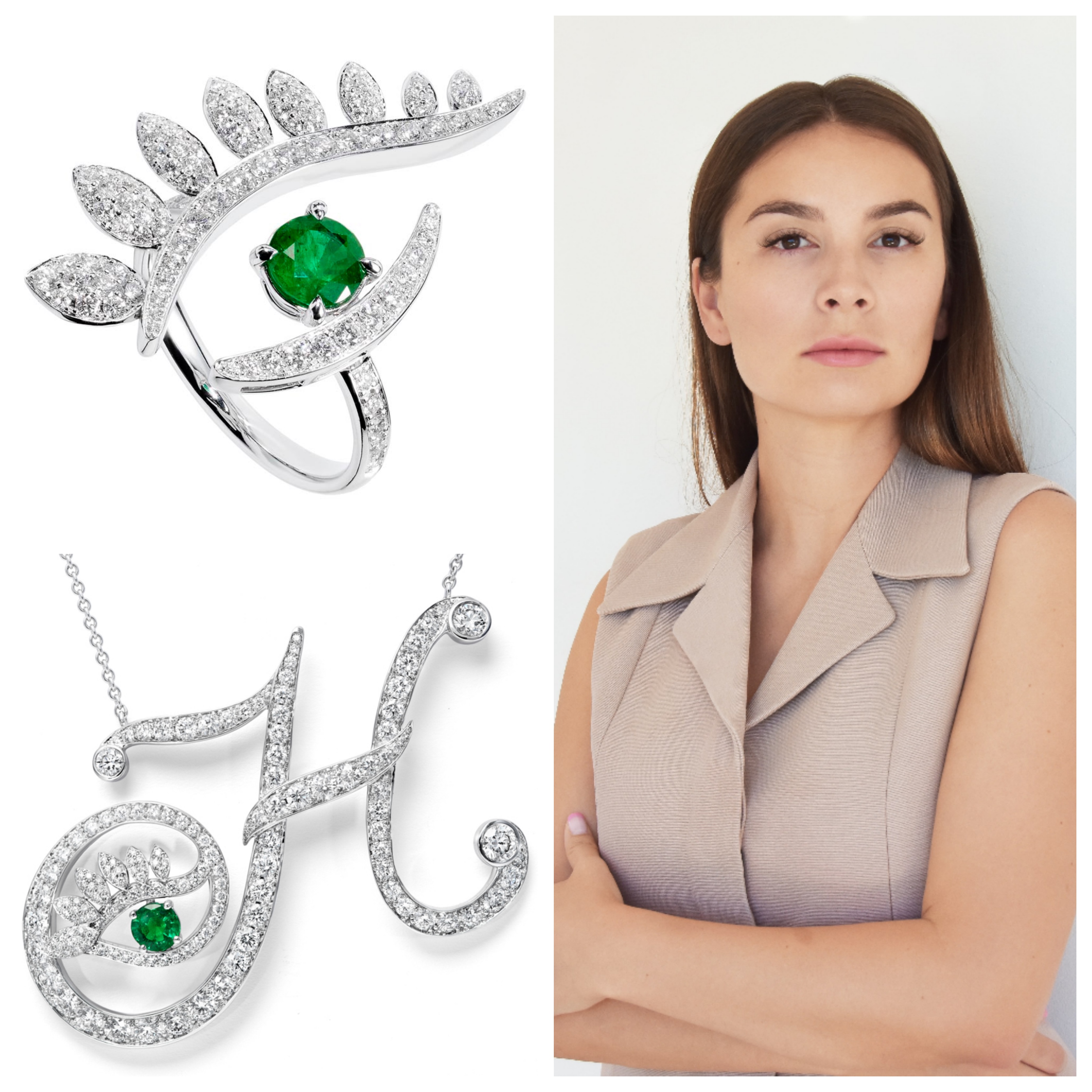 From left to right: "The Look" ring in white gold, diamonds and emerald of 0.62 carats; "H – Honest" pendant in white gold, diamonds and emerald. Photos: Tabayer
The young jewellery brand created by Nigora Tabayer presented its second collection at a sumptuous dinner at the Ritz in Paris last September. The event was an opportunity to admire the beautiful pieces of the Third Eye collection, which feature the white gold, diamonds and emeralds that the discreet designer particularly appreciates. If I mention the house here, it's because the young brand has conceived its pieces as talismans but above all as protective symbols inspired by a particular childhood memory: her mother never let her leave home without a little something to protect her. So we find this all-seeing, all-protecting eye, which here symbolises intuition, the letters of the alphabet and the emeralds for all the positive things that the colour green can represent. A beautiful jewellery to discover!
See you soon and take care of yourself!