If I have to choose how to end this year 2020, I would say that staying warm, with books, until things get better outside would be a good idea. Not that I'm a pessimist, far from it, but the current climate is not very favourable, so to compensate, I'm thinking of Christmas presents, beautiful books to give or to have given to others. So I'll end 2020 on this note with some nice recommendations that I hope you'll like. Don't forget to check out the "ideal library" page as you will find many more ideas!
1- In flux : american jewelery & the counterculture (🇬🇧) – Arnoldsche Publishers – 28 euros(IG review)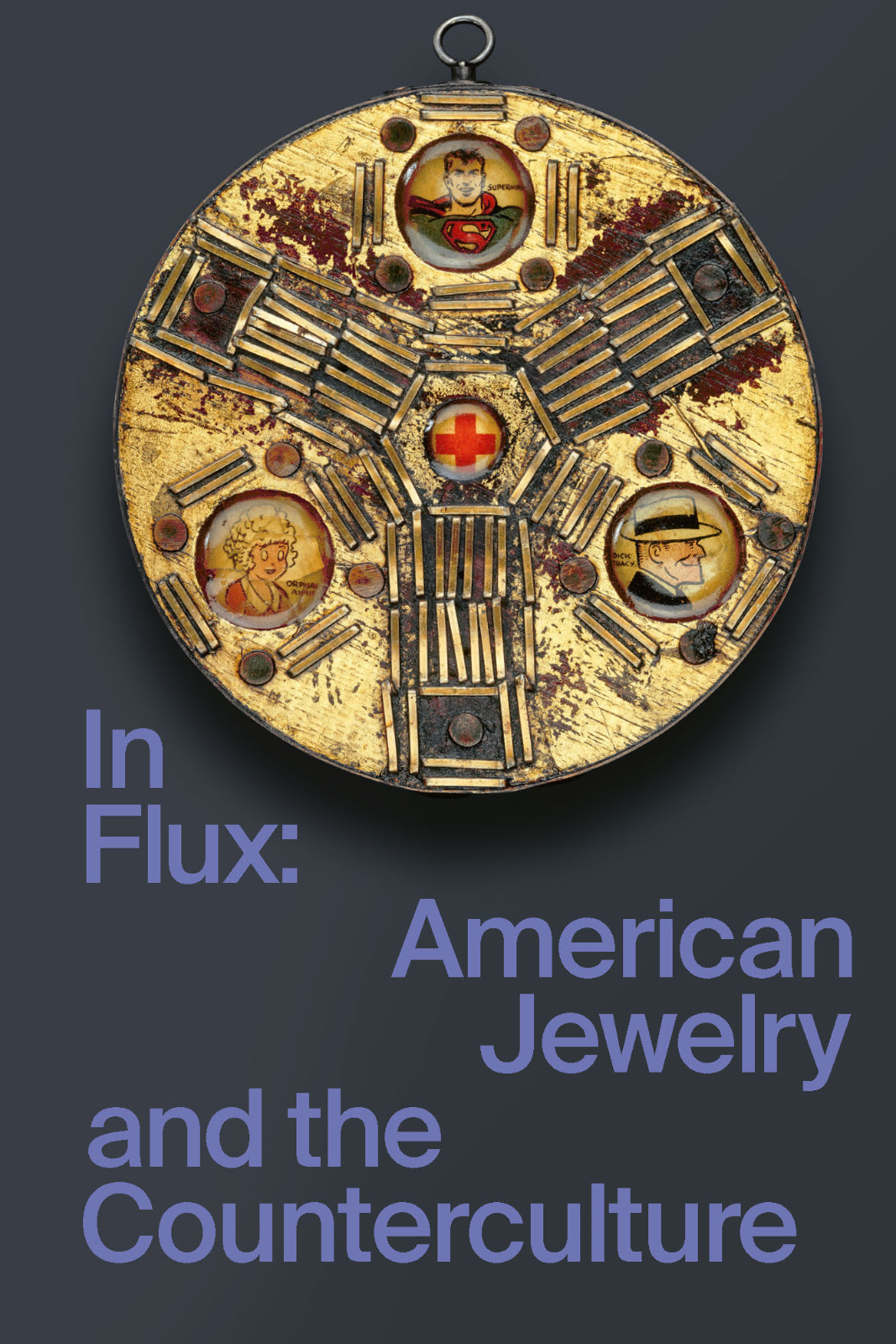 With this book you will be able to dive into a troubled period of American history that takes place in the 60s and 70s. While the Vietnam War broke out in 1955, a part of the American people and mainly the youth of this country rejected a large part of the values advocated by the successive presidents Eisenhower, Kennedy, Johnson and finally Nixon who saw his mandate end in the Watergate scandal in 1974. It was in this context that many jewellery studios began to produce political jewellery that denounced the reign of mass consumption but also the charming suburban life chosen by their parents. We are at the beginning of the Hippie and Psychedelic movements in which the more or less violent rejection of American conformity is expressed.
This period symbolises the advent of free love to the sound of the mythical music of Jimmy Hendrix, the Doors, Pink Floyd or the Grateful Dead. Added to this was the opposition to the Vietnam War, the university blockades, including the one at Berkeley between 1964 and 1965, and the fight for the civil rights of the Afro-American community, as well as those of women, who were part of this liberation movement. The Woman Strike for Peace movement was born in 1961. If we are familiar with badges as American political jewellery, we often forget that many designers took advantage of this period to carry out artistic research and explore sources of inspiration from Indian culture, for example, adding turquoise, blue stones and feathers to their pieces. The aim was to tell an American story that was far removed from the history books.
Many parallels can be drawn with our current era, as the violence of the debates in the 60s and 70s is comparable in many respects to the history we are living through. The book is particularly well written, it allows you to discover the work of jewellers such as William Clark, Ken Cory, Carolyn Kriegman, Sam Kramer, Karen McCreary or Bruce Metcalf. I can only encourage you to buy it as it is particularly complete and well documented. So, go to your local bookstore and don't hesitate to order this bible of jewellery counter culture. You won't regret spending 44 euros
2-"Thinking jewellery" (🇬🇧) – Arnoldsche Publishers – 15€(Review IG)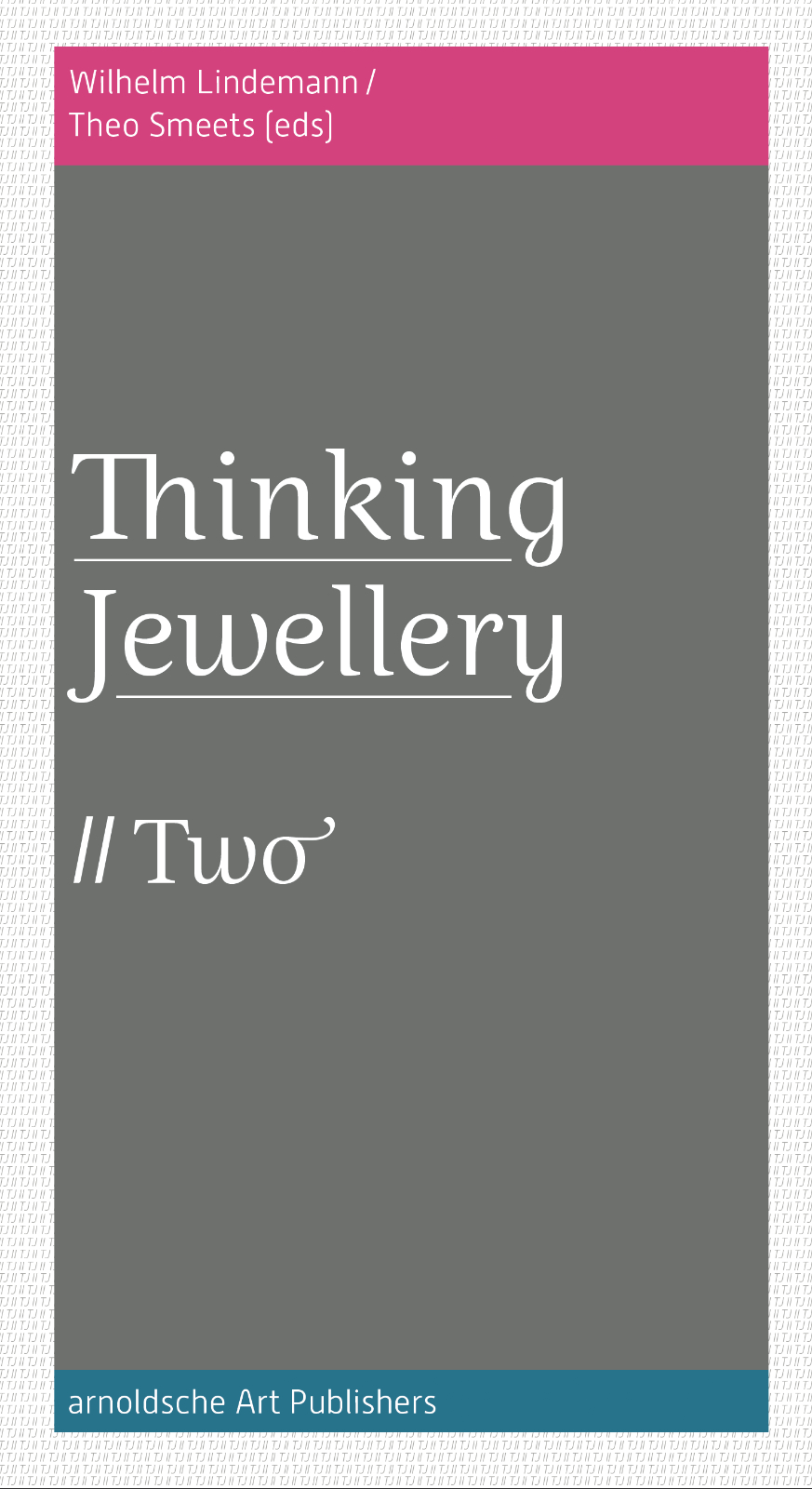 I would like to draw your attention to the publication of volume two of Thinking Jewellery, which is in fact the transcription of the elements of the colloquium of the same name organised in 2017. The conference has been held at Trier University in Ober-Oberstein since 2005. This little book of 155 pages will cost you the modest sum of 15 euros and is published by Arnoldshe Publischers. It is a fascinating complement to the work of Marjan Unger, which I wrote about at length a few months ago.
The Thinking Jewellery symposium was founded by Wihelm Lindemann, who is involved in the curation and management of festivals and cultural events. The symposium, in particular, is held every three years at the University of Applied Sciences in Idar-Oberstein, Germany's stone-cutting and historic agate capital. In this small book, Lindemann presents the evolution of the concept of crystal from its scientific conception to its current artistic and marketing concept. Olaf Müller examines the physical phenomena of gemstones from Goethe's early work to the present day. A way to show the evolution of gemstone science since its beginnings and to compare beliefs over the centuries. Do not hesitate to order this little book which will certainly nourish your reflection on what we call a gemstone or a jewel
3-"Silvia Furmanovich" 🇫🇷 – Assouline – 175 euros(IG review)
Silvia Furmanovich is certainly the Brazilian high jewellery designer par excellence. This very first monograph on the work of this beautiful jewellery house has more than 208 pages for a total of 150 illustrations, all in impressive formats that allow one to grasp the detail and complexity of the creations imagined by Silvia Furmanovich.
The designer comes from a family of jewellers as her father made sacred ornaments for the Vatican while her father practised his art as a goldsmith. Her childhood in her father's workshop made her want to create her own brand and she started in 1998. Ten years later, she opened her first shop in Sao Paulo. Her work is unique: a mixture of diverse influences, forgotten techniques, and materials unexpected in the jewellery industry. Among her bold choices are wood marquetry, which she uses with brio, painted miniatures that dress her pieces perfectly, and woven bamboo, which she unveils in her latest collection. Stones are also extremely important to her, who offers her clients materials that are often spectacular: here gem rhodonites, there engraved jades, elsewhere imposing fire opals or multicoloured garnets.
Her approach to jewellery design is almost unique in itself, as she dares to mix materials and techniques to create pieces that are unlike any other. The book written by Béatrice del Favaro takes you on a journey of discovery of this beautiful house and offers you the opportunity to discover pieces that are often confidential.
4-"Hunt: Kadri Malk's jewelry collection" 🇪🇪🇬🇧 – Arnoldsche Publishers – 44 euros
In this beautiful book, the collector and designer Kadri Mälk – she is also a professor at the Estonian Academy of Arts (EAA) – presents her entire collection of contemporary jewellery. Her love for jewellery began after her painting studies. She studied in Finland and Russia and was also a student of the master lapidary Bernd Munsteiner. After several years of training, then as a freelance designer, she joined the EAA where she became a teacher and where she taught both design and metalwork.
In this magnificent book, she presents designers whose work she loves and collects, designers who – according to her – bring and breathe something new and daring into contemporary jewellery. Among the artists in this book are Julia Maria Künnap and Kristi Paap, but also Robert Baines and Darja Popolitova. Although I enjoyed this compilation immensely, I would not recommend it to a neophyte looking for an introduction to contemporary jewellery. It is a book for connoisseurs, people who have questions about jewellery and who have already thought about the function and value of jewellery. There are books that are easier to access, so this one is reserved for informed readers.
The book is very well written, the photos are very beautiful and they allow to grasp the details of the materials as well as those of the manufacturing of the pieces. Last but not least, on each page, when you discover a piece of jewellery, you will also discover the wearer: artists, jewellers, Kadri Mälk's students… All of them have taken part in the game, bringing their own perspective on how to approach this jewellery in everyday life.
5-"Shaun Leane" 🇬🇧 – Arnoldsche Publishers – 68 euros from the publisher
This is perhaps the book I have read and re-read the most in recent weeks. And to say that I've been waiting for a monograph on the work of this incredible designer, Shaun Leane, the most eclectic and prolific designer of recent years, is an understatement.
Known for working closely with Alexander McQueen, his pieces are as crazy as they are bold. His avant-garde designs include the iconic skeleton corset with a spine, his spectacular metal corset inspired by Ndebele neck rings, and – after McQueen's death – the diamond-studded evening glove – entitled Contra Mundum – worn by artist Daphnee Guiness. This piece required 4 full-time jewellers, 21 fittings. It is worth noting that this piece is set with 4290 diamonds.
In addition to collaborations with major fashion and jewellery brands such as Givenchy and Boucheron, the jewellery designer and his company Shaun Leane Jewellery also market his own series collections. Björk and Elton John are among those who wear Leane jewellery, as are Emma Watson, Kate Moss and members of the British royal family. In addition, works by the designer have been included in the permanent collections of the Metropolitan Museum of Art in New York and the Victoria and Albert Museum in London.
The 320-page book contains more than 260 illustrations, including visuals by famous photographers such as Nick Knight, Robert Fairer and Chris Moore. There are also beautiful photographs by Ann Ray, perhaps one of the people he is closest to. Shaun Leane's talent is always pushing the boundaries of what is wearable. And his extravagance is a constant reminder that without madness there is no creation. So, make sure you get this book because I think it is more than necessary!
See you soon!