There are artists I should have interviewed long ago. But time is not always the same for all of them and it goes by much too fast in my opinion. Valerie Jo Coulson is one of those artists whose work I really like. I also like her approach to jewellery, her sources of inspiration and her constant discretion. Her pieces tell life stories, the first of which is perhaps that of her parents. Her mother was a textile designer who taught her to sew and assemble. Her father was a painter and designer. For Valerie, everything is a story of balance and respect for natural forces. From this sacred geometry which has guided many artists, many architects and above all which is the very essence of all creation, she makes jewellery. Perfect in every way. Presentation.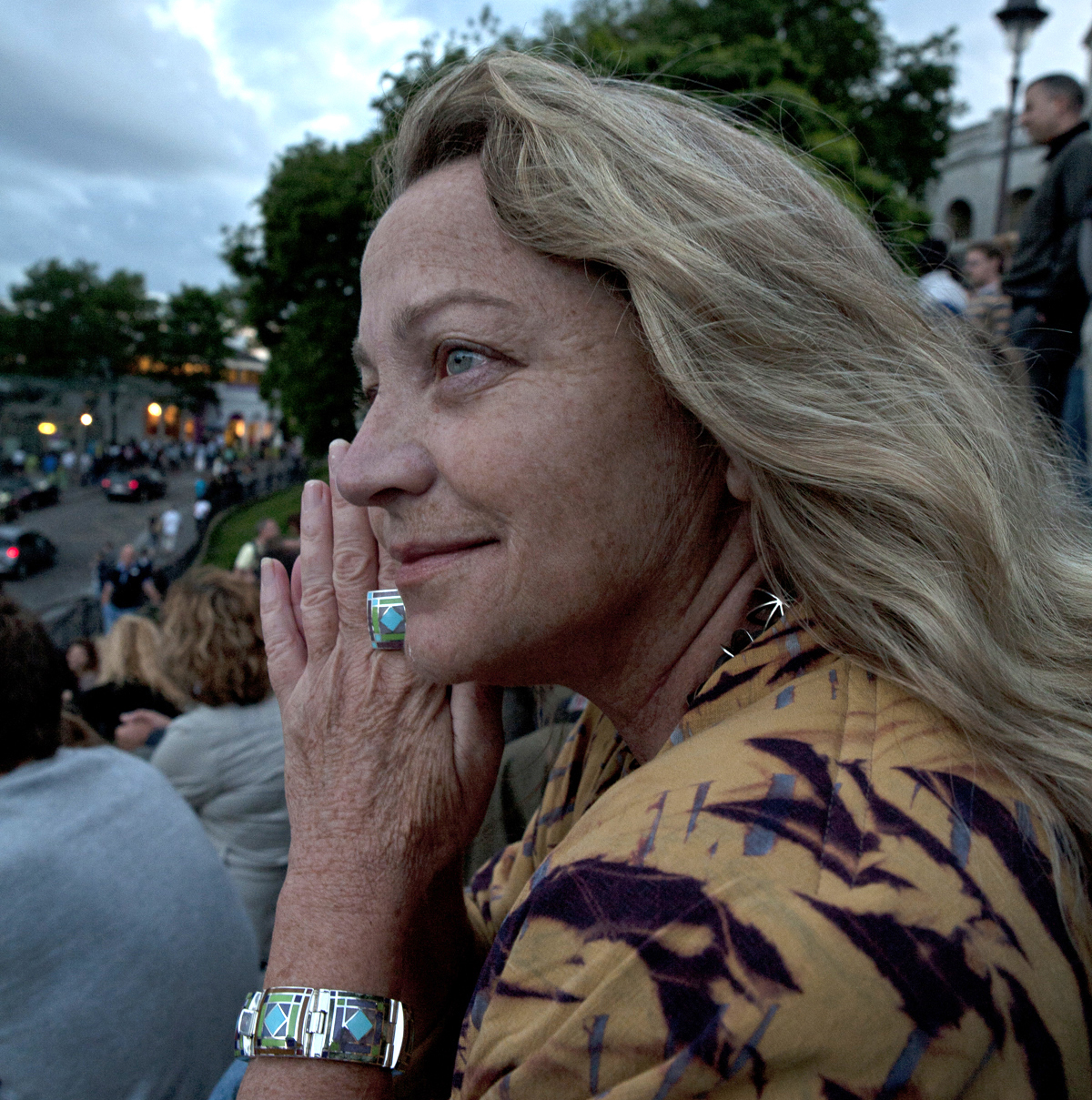 Valerie Jo Coulson
1- Dear Valerie Jo, can you introduce yourself to our readers?
I have been an independent designer for over 35 years. I reside in rural Lancaster County, Pennsylvania, in a very old farmhouse that is almost 300 years old and that my husband and I have meticulously restored. During this time, I decided to create one-of-a-kind jewellery and art. My work has been represented by a number of recognized galleries with exhibitions in the United States and abroad. Along with this, I am the recipient of several awards, including four Saul Bell Design Awards, and I am fortunate that my work is now in major private and public collections.
2- What is your background in jewellery and why did you choose this medium for your artistic expression?
I grew up in an artistic environment where everything was enriching: visual arts, performing arts, architecture, music, dance… In addition to this, there were practices in more artisanal disciplines… sewing, weaving, bead making, macramé, batik. As a fine arts student at university, I pursued studies in drawing, painting, sculpture, printmaking, photography and art history. In my fourth year, I was able to enrol in a jewellery making course. I realized almost immediately that this was the medium in which I could merge my attraction to design, engineering and construction with artistic expression. After three semesters of jewellery making where I practiced lost wax casting, soldering/welding techniques and lapidary art, I began acquiring tools and materials for my own studio and continued to expand my knowledge and skills by reading and practicing different techniques.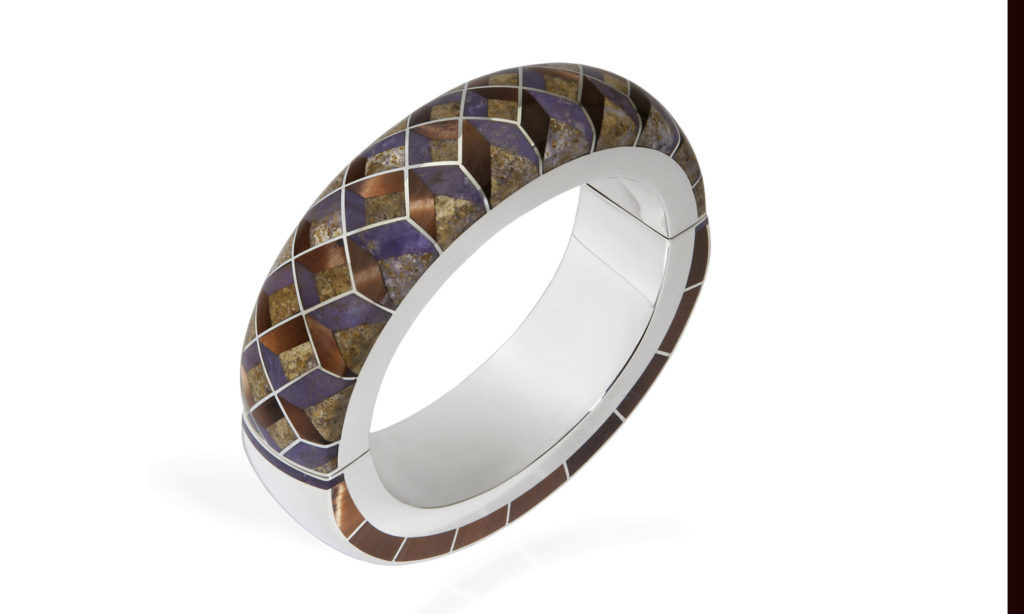 Bracelet "Firenze", 2015. Silver with tiger eye, purple agate and Cady Mountain agate . "Best of Show" 2017 Saul Bell Design Awards. Photo: Valerie Jo Coulson. Photo: Valerie Jo Coulson
3- How would you describe your work?
I use traditional precious metal fabrication and shaping techniques; building architectural structures/bridges in which I often inlay the stone to further instill a narrative. I could describe my work as "romantic rationalism", a synthesis of expressionism and de Stijl.
4- You are passionate about sacred geometry. Can you explain why this is so important? Where does this source of inspiration come from?
My inspirations for sacred geometry lie in its aesthetics, mathematics and metaphysics; from the ideal proportions and geometric codes at the heart of all creation in the forms of life to the wholeness of the cosmos, it is the underlying symbolic principle of unity and the inseparable relationship of part to whole. Certainly under the tutelage of my parents, I assimilated geometries from an early age… relationship of line, angles and space with the knowledge of actual philosophy coming in time. The metaphysical aspect frames a principle, then guides an order and balance of and with nature as well as humanity.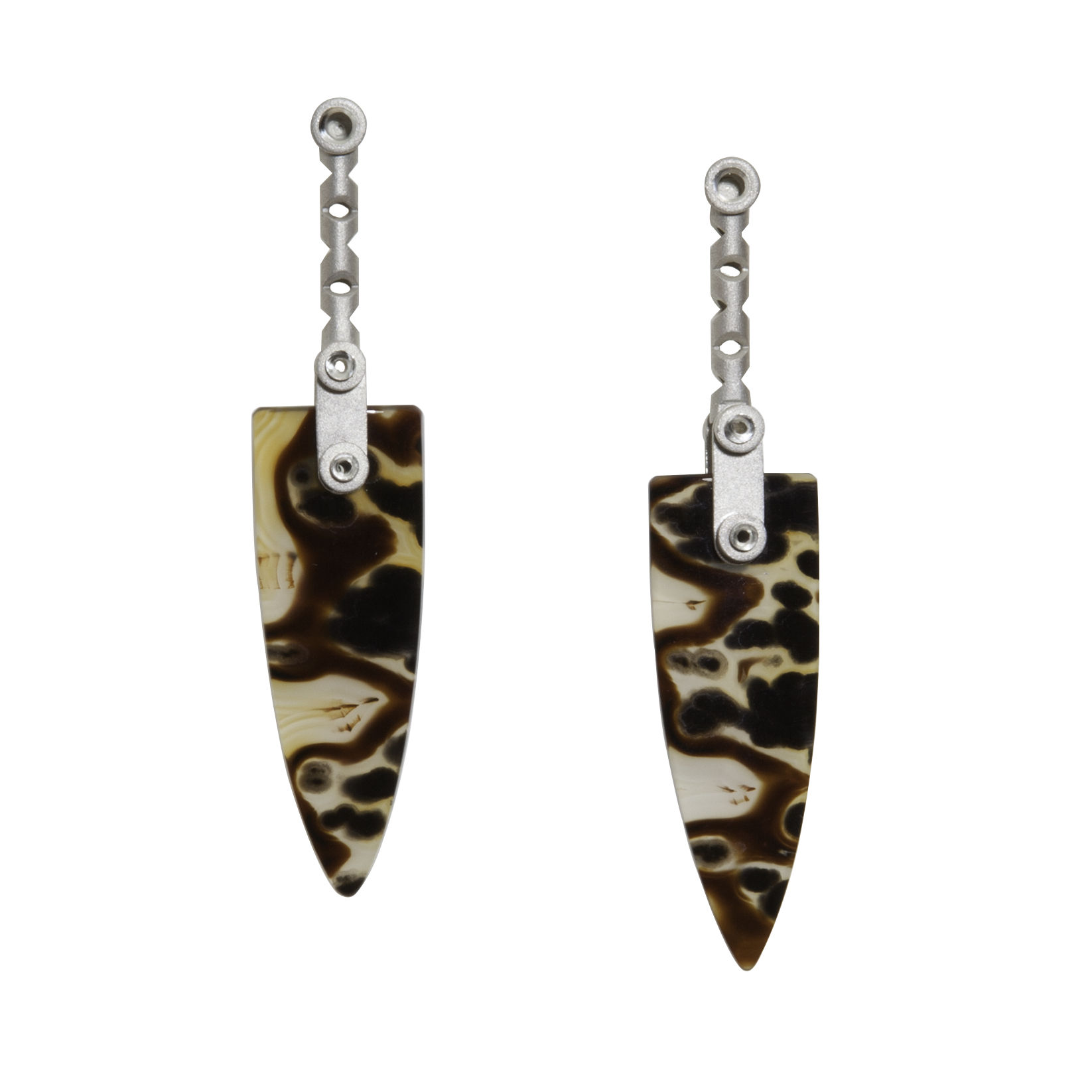 Regeneration Earrings #1. Silver, Piraha Agate."Regeneration". Photo: Valerie Jo Coulson
5- Many of your creations remind me of Amish patchwork designs. Is this one of your inspirations?
Absolutely, yes. Having grown up in an agrarian community cultivated by the Amish community, I relate to their simple and clear way of doing things. In turn, I worked from their refined depictions of life and faith in the bold patterns and colours of their traditional quilts.
6- Do you remember when you created your first jewel?
I would say that it was in 1985 that I reached the level to produce what I would call a jewel. I made the "Pas de Deux" bracelet. A historical note Marie that will interest you as this piece merges an Amish component with my passion for classical ballet… In 1984, Lancaster County was the location for the film "Witness" about a little Amish boy who witnessed a murder. Alexander Godunov (principal dancer of the Bolshoi Ballet, defector to the US, turned film actor) played the lead role as an Amish farmer. I had admired Alexander as a dancer specifically in Don Quixote and through the circumstances of the shoot, I was lucky enough to meet him briefly… The making of this bracelet was inspired by that encounter. Very sadly, shortly after the bracelet was acquired by jewellery collector Daphne Farago, I learned of Alexandre's untimely death at the age of 45. The bracelet resides in the Daphne Farago Permanent Collection at the Museum of Fine Art Boston.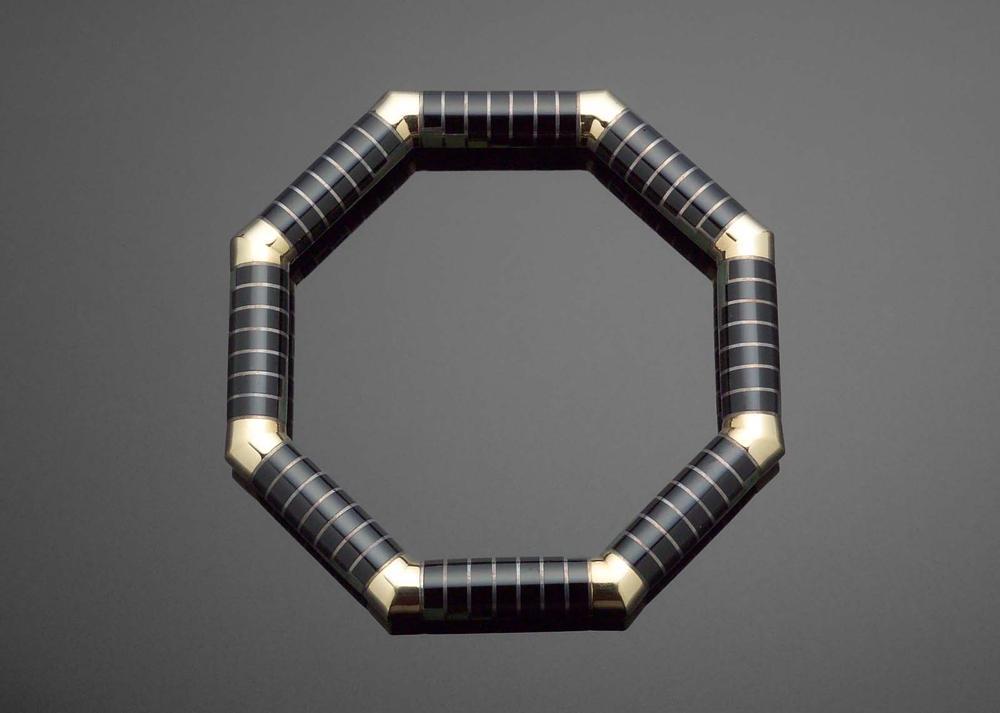 The gold, black jade and green jade "pas de deux" bracelet, 1985. Gift of Daphne Farago, Museum of Fine Art Boston. Photo: MFA Boston
7- I really like your sourcing in terms of materials. American stones seem to be very important in your creative process?
I have a lot of beautiful gemstones and mineralogical specimens from North and South America… Black jade, jasper, agate, turquoise, opal. Early on, I frequented gem shops and gem and mineral shows. It was an exciting and colourful foray into the minds and personalities of the miners. A friend of my grandparents who was one of these collectors had travelled the world with the Rotary Club to acquire a vast array of rocks, minerals and gems. I have a valuable collection of raw materials from him, from old mines long since closed. I also have agate geodes found in farmers' fields in Brazil.
8- It seems that ethical sourcing is necessary in your creative process?
Yes, and this is part of the philosophy of sacred geometry, which is equivalent to the stewardship of our earth. Respect for everything is integral to the work I have created, it has directed me towards structural fabrications and inlays that allow me to build substantial pieces while using the minimum of precious materials.
The "Duomo" ring inspired by Brunelleschi's dome of Santa Maria del Fiori. Made of silver, inlaid with iron eye eye, tiger eye, imperial green jasper and Australian opal. 2012, Private collection. Photo: Valerie Jo Coulson
9- What are your favourite gemstones?
I love: opal for its fire and life, jade for its tenacity and resilience, tiger's eye for its shimmer and rutilated quartz for its mystery.
10- Do you have a favourite tool and why?
I couldn't do without my saw, it's the first tool in my making process as I cut with all the elements that I will assemble later.
The Gauntlet" cuff, 2004. 22 carat yellow gold, 14 carat yellow gold inner band, black Queensland boulder opals, ruby, black jade inlay, chrysoprase, Coober Pedy opal and almandine garnet. Photo: Valerie Jo Coulson

11- On your website, I saw a wonderful red house. I suppose it is your studio. Can you tell us how it inspires and guides you on a daily basis?
Yes, this is my jewellery studio and also our photography studio. When we bought our property and farm, there was also the stone foundation of a barn that had been in disrepair for perhaps 75 years. We restored those foundations, which used to be covered in mud mortar and some of the walls were falling apart. We finished that job, then hired an Amish crew to raise a post and beam barn… Three men finished that job in three days… We then insulated and finished with the siding and windows. Inspiration and anticipation of resurrecting this structure allowed me on the second day to capture this in a photograph; looking through the posts and beams that stood out against a turquoise blue sky. I translated it into a pin, "The Barn Raising / Yellow Cross" in homage to the Amish builders and in reference to Paul Gauguin's painting "Yellow Christ"…correlative to his homage to the piety of Breton peasant women. I finally donated this jewel to the Museum of Fine Art Boston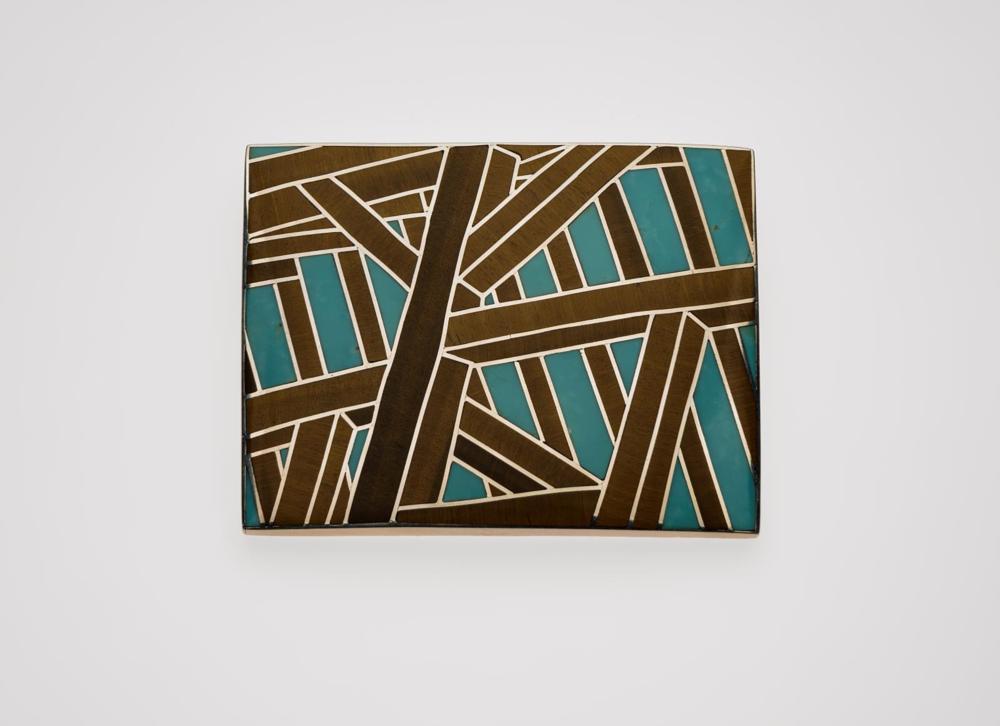 Silver, turquoise and tiger eye brooch eye, 1996. This one depicts the construction of a barn under a blue sky. Photo: MFA Boston

12- You are a discreet artist but highly respected by the jewellery industry. How do you explain your longevity?
Thank you, I appreciate your words. Art, for me, has never really been about commercial gain; it's about connections forged in exposing one's soul to touch the soul of others. It's deeply personal, jewellery is, on many levels, the most personal means of communication. Beauty is timeless; the quest eternal.
13- To conclude this interview, do you have any advice for young jewellers?
Philosophically… Stay true to who you are while being wise enough to adapt, improve. You should also add to your library Oppi Untracht's book "Jewelry Concepts and Technology".
See you soon!