During my weekend at BaselWorld, I had several areas on my schedule that I absolutely had to get to. Amongst these, I had made an appointment with Jewellery Theatre to see the jewellery pieces that this house regularly distills into photos on its various social networks including Instagram. I was indeed very curious to finally see the result of their design office. And I really liked what I saw.
This is all the more true that I regretted a little the uniformity of the creations that many houses presented. The pieces were certainly very beautiful and perfectly executed, but very classic. I wanted to see something original, unexpected, with a touch of savoir-faire, and I was not disappointed.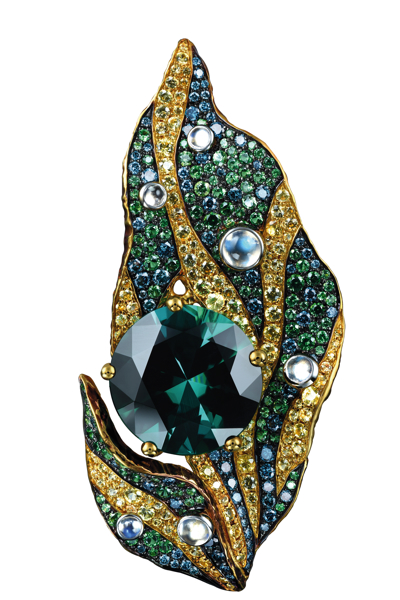 Leaf pendant in yellow gold, diamonds, sapphires, moonstones, tsavorites and an 8.04 carat tourmaline centre. Photo: Jewellery Theatre
The company and brand have been in existence since 1998, with the workshops based in Germany, where it has a boutique in Baden-Baden. But the historic boutique is in London's Old Bond Street. All the German technicality can be found in the jewellery work developed by this company, where the jewels are designed as real objects of art. This is especially true of the rings, which can be viewed from all directions and in which one discovers hidden and particularly subtle details. You can feel the thoughtful design work here. And that is very pleasing to the eye.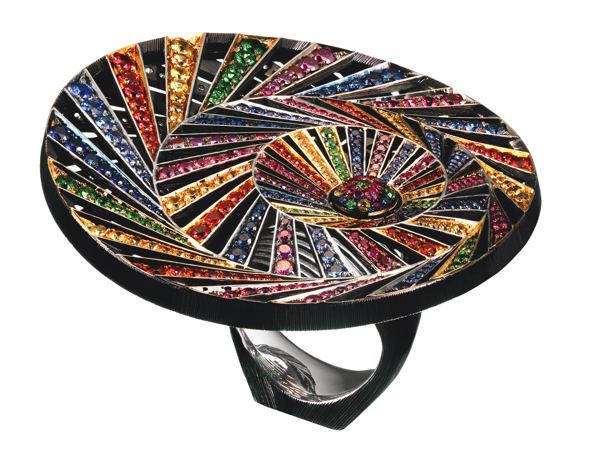 Kaleidoscope ring in white gold, diamonds, rubies, sapphires and coloured sapphires, spinels and tsavorites. Photo: Jewellery Theatre
Technically the workmanship is beautiful, the settings perfectly executed and the polishing and colouring of the pieces gives a stunning and very successful visual result. Many diamonds, but above all an explosion of coloured stones: garnets, amethysts, citrines, sapphires, spinels and tanzanites adorn the various collections. The company also makes a point of technical collaborations: in its new watch collection, for example, there are colourful and remarkably well executed micro-mosaics.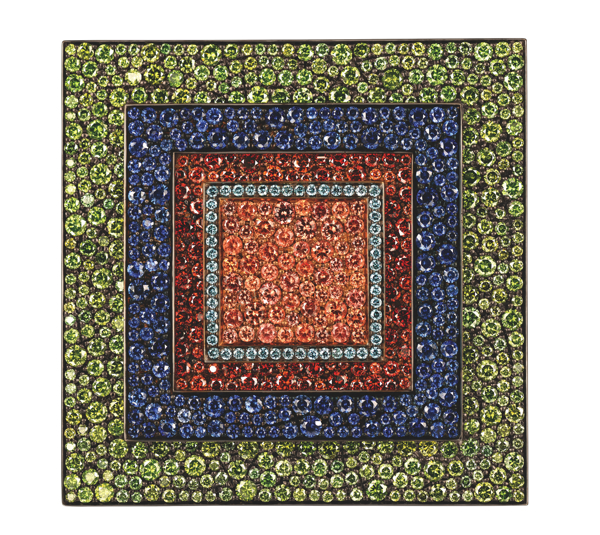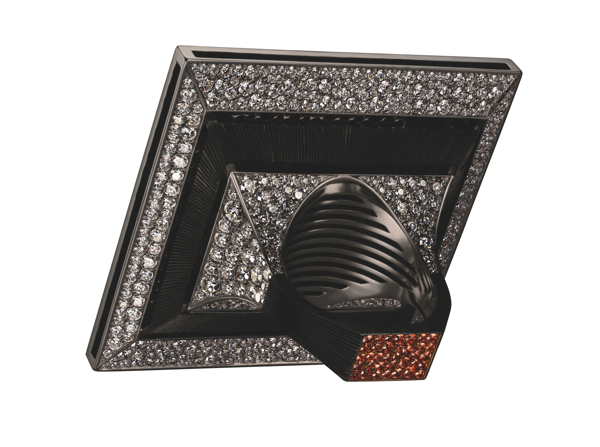 Two photos illustrating the Orange Sun ring: white gold, diamonds and sapphires. Note the back of the ring with remarkable work on the hidden parts of the object. Photo: Jewellery Theatre
Moon Lace ring in white gold, diamonds and coloured sapphires, with a 23.79 carat moonstone centre. Photo: Jewellery Theatre.
I hope you enjoy the work of this company as I do, as it celebrates just over a decade of existence. There are many more creations on their website which I encourage you to explore. And maybe you'll want to buy one of their creations.
See you soon!