Amongst the up and coming designers, there is a name that regularly appears in the French and international jewellery news: Pamela Hastry. Freelance designer and founder of the French company Morphée Joaillerie, I have wanted to meet her for a long time and introduce you to her work, but also to her rich career, which is now shaping a colourful and creative jewellery with an assumed technicality: transformable brooches, stacking and modular rings, earrings offering multiple wearings..
Photo : Pamela Hastry
Talented, Pamela Hastry is one of those strong personalities evolving in high creative jewellery that, in my opinion, it is impossible not to know. She was born in Belgium – in Brussels – but had the opportunity to go to high school in the United States in New York. She recognizes her luck to have been able to evolve in a family with a taste for beautiful objects, thus opening the door to a sharp sense of Beauty. It didn't take much more than that for the conceptualisation and manufacture of these pieces to interest and question her.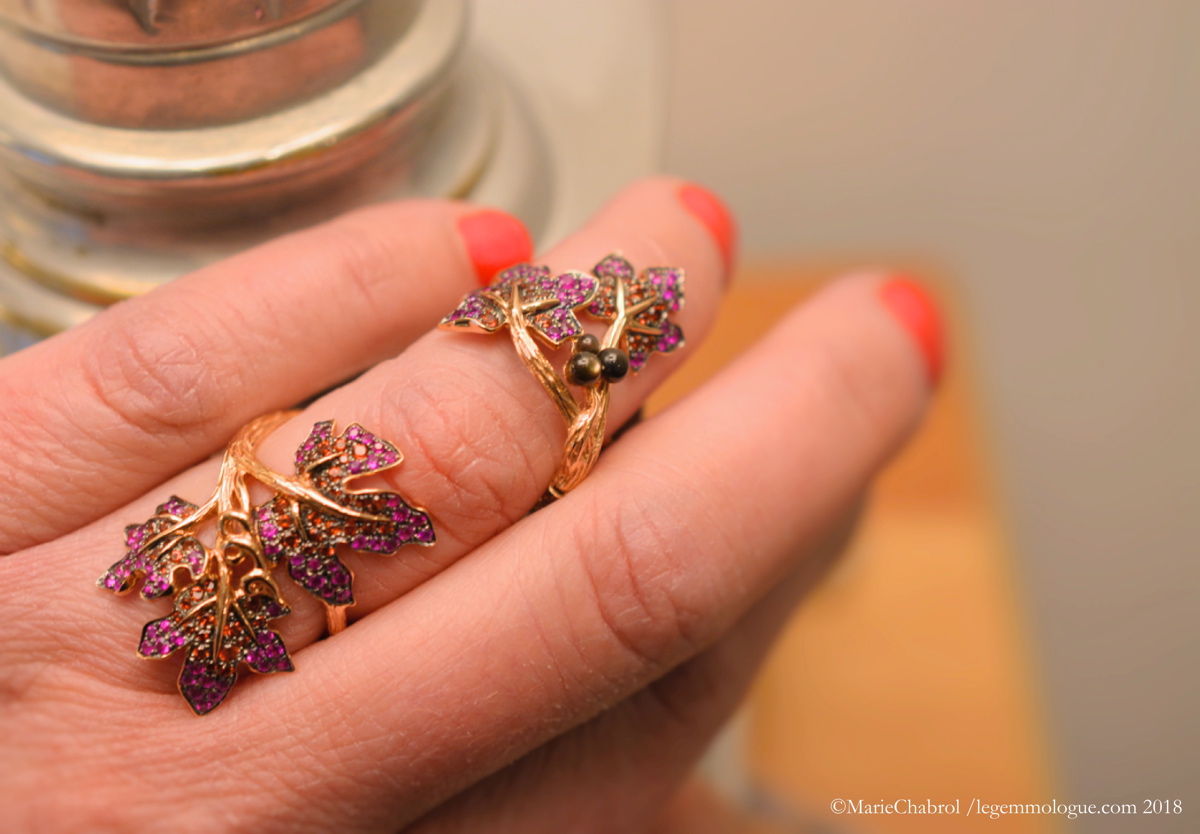 Ring "Millésime" in yellow gold 750, rubies, mandarin garnets and mother-of-pearl. Photo: ©Marie Chabrol
Her first stop was London, where she joined the respected Chelsea College of Art and Design to train initially in design. Regretting the ephemeral side – not perennial enough – of the objects she conceptualised, she then turned to Kingston University where she joined the industrial design course for three years. During these three years, she practiced making objects that would be used on a daily basis and that would offer the durability she was looking for. It is through this process that she gradually returned to jewellery. This will be her end-of-year project, a jewellery collection using industrial methods and materials. Because beyond the design, she needs contact with the material, she readily admits to spending time in the workshops, observing, practicing, trying until she gets a result she likes.
Modular ring from the new "Aurora Borealis" collection in 750 white gold, Australian and Ethiopian opals, Paraiba tourmalines, tsavorite garnets, aquamarines and sapphires. This one is divided into two distinct pieces, offering a daytime wear and a more cocktail wear for the evening. Photo: ©Marie Chabrol
But from the perennial, she had to return to the beautiful. And it was Italy that welcomed her. She settled in Rome and entered the Instituto Europe di Design. The school, which is very much oriented towards the world of fashion, offers her a different view of what jewellery can be. Italy is known for its breeding ground of designers and art, present everywhere, is an unlimited source of inspiration. It is also here that she will further refine her drawing technique. Pamela Hastry is a remarkable draughtswoman and gouache artist. After graduating as a jewellery designer, she decided to return to Paris. After understanding the product, its conceptualisation, its design, she lacked the essential: the manufacturing. And so to go from the flat to the volume. She joined the BJOP where she trained for a year: workshop, waxing, modelling, gemmology, drawing. Obtaining the CAP in jewellery art allows her to refine her technique even further.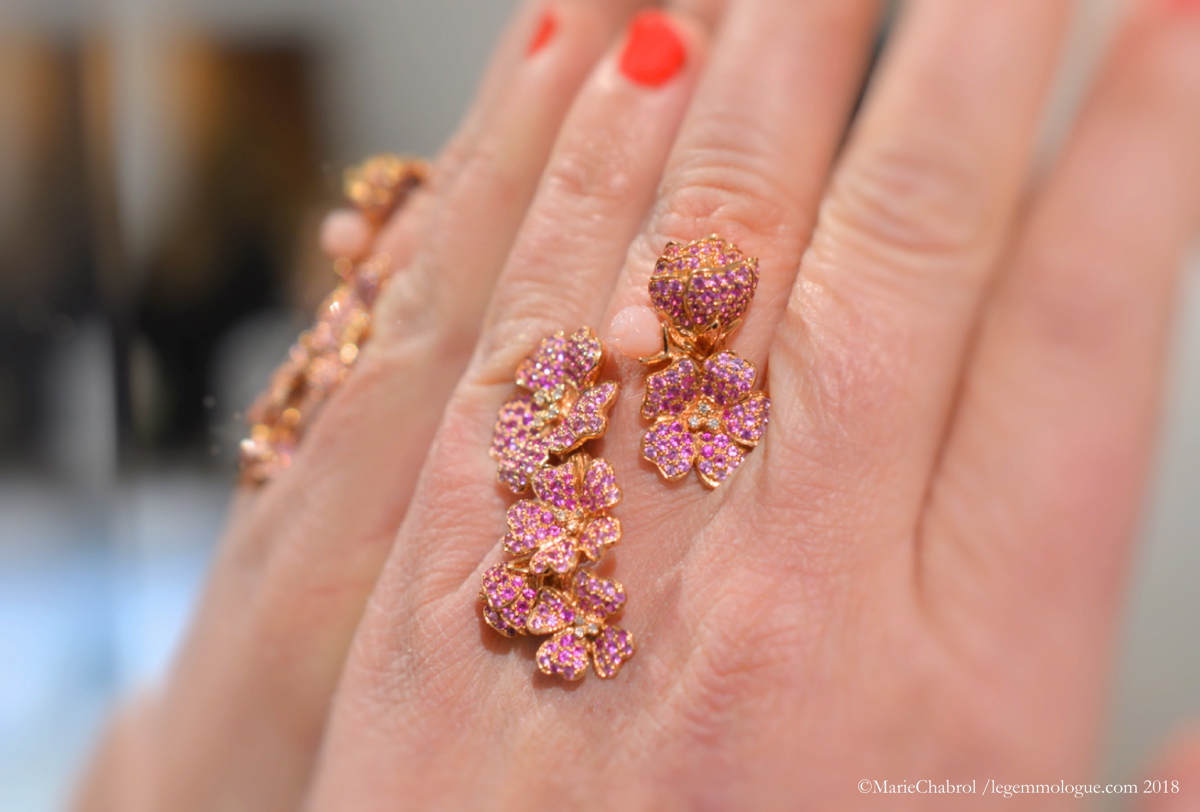 Cherry Blossoms" ring in yellow gold 750, diamonds, pink sapphires and pink opal. Photo: ©Marie Chabrol
After completing her training in 2007, she gained a number of professional experiences in both the retail and design sectors. At the same time, she works as a freelancer offering her creative work to jewellery houses. She gradually developed her personal project of creating her own house. She made it official in 2013. Morphée Joaillerie was thus launched.
Going back to basics, because the history of the house and its positioning stems from the God Morpheus. God of prophetic dreams, he is the son of Hypnos and Nyx – gods of sleep and night respectively – and his vocation is to put mortals to sleep to extract them from the real world. He brings dreams, fantasies and lets the imagination run wild… This is where the vocation of the eponymous jewellery house lies: to transcribe into jewellery the dreams and aspirations of the customers who call upon it. Pamela Hastry offers two distinct ranges: limited edition collections numbered up to seven pieces and custom-made pieces that she designs in collaboration with her clients.
L'envol" ring in 750 white gold, diamonds and sapphires. Photo: ©Marie Chabrol
Nothing stops her, nor does it frighten her. She lets herself be carried away by the story of the people who contact her, and brings her creative touch to the design as well as to the stones that will adorn the piece. Thus, she proposes a soft jewellery, often floral, full of emotions. A figurative jewellery that I find beautiful and ingenious. And I am not the only one. After a beautiful collaboration with the very select British shop Williams & Sonsthe brand proposed an ephemeral boutique in Paris in December 2017. And the house has many projects, no doubt that it will be talked about again. A brand to follow, to love and to collect!
See you soon!