On 27 October, Aguttes will be holding its first fine jewellery sale of the season. This will open the ball for the end-of-year sales. The catalogues have already been trickling in over the last few weeks, and the season is already shaping up to be a thrilling one. There's a reason why I love autumn so much. In fact, this season is synonymous not only with beautiful, warm colours, but also with bewitching stones and jewellery. With this catalogue of almost 150 pieces, the Neuilly-based auction house unveils a very pretty ensemble featuring a succession of charming and graphic pieces. Spanning the 19th and 20th centuries, this sale is full of beautiful nuggets. So, as usual, I'm taking you with me to admire the few lots that made my heart beat a little faster than usual.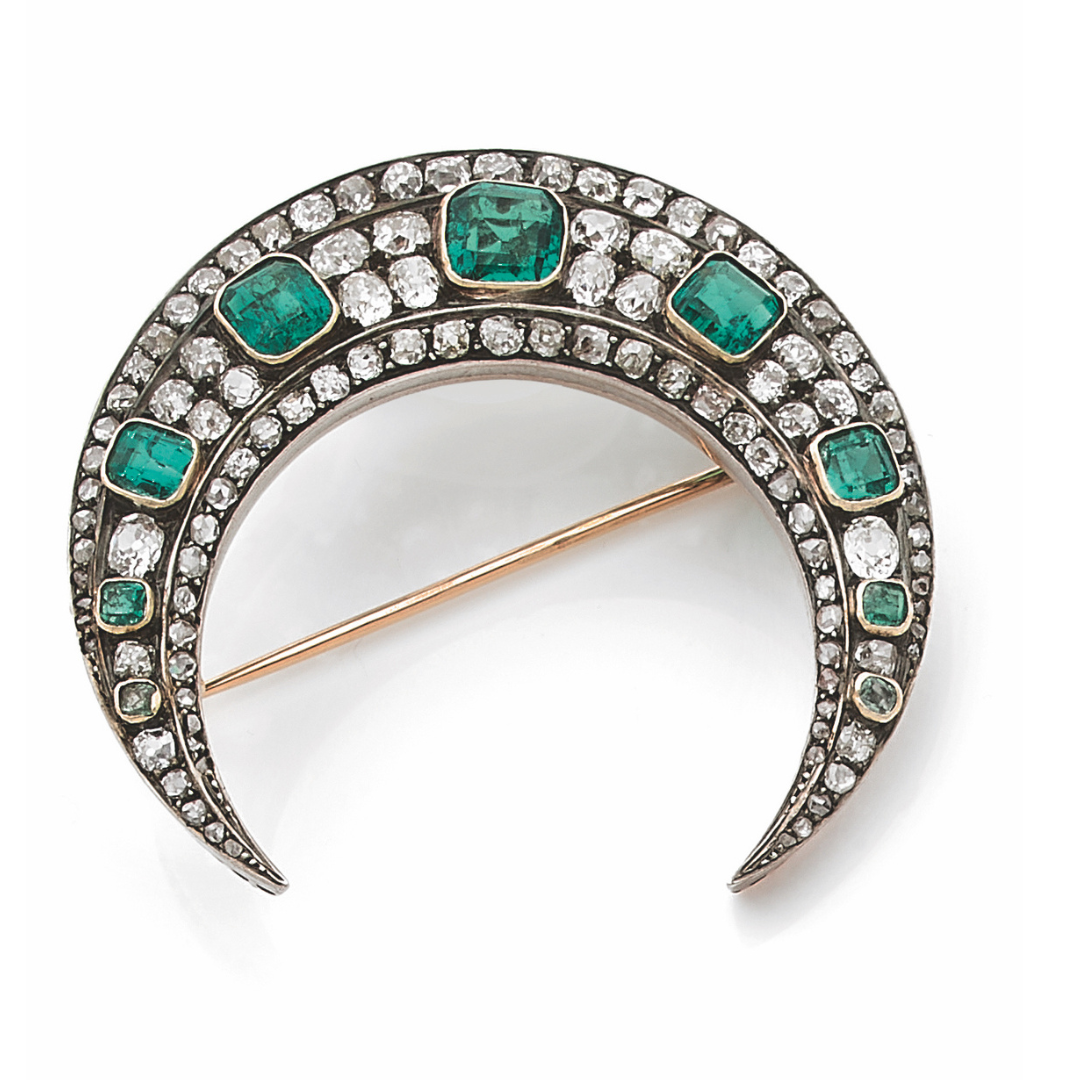 Lot 28: Silver and gold brooch, diamonds and emeralds. Estimated at between €4,500 and €6,000. Photos: Aguttes
A feminine symbol par excellence, the moon in jewellery comes in all colours, to the delight of lovers of celestial jewellery. I'm definitely one of them! Perhaps you're familiar with the expression "lunar triad", which symbolises the three goddesses around the moon: Selene, Hecate and Artemis in Greek (Luna, Hecate and Diana) symbolise the full moon, the new moon or black moon and the crescent moon respectively. They were, of course, highly honoured in their time, and even today Wicca movements continue to celebrate Hecate, the goddess who enables communication between the earthly and the invisible. And the period is all the more interesting for being so close to the ancient festival of Samain, which celebrated the passage from the light to the shade of winter after the very last harvests. In the 19th century, this jewellery was highly symbolic and not just a fashion whim. The moon came in brooches, necklaces and even tiaras. Here in diamonds and emeralds, it was part of a set. The swan's neck at the back and the screw system used to attach it as a pendant or perhaps to a tiara bear witness to this…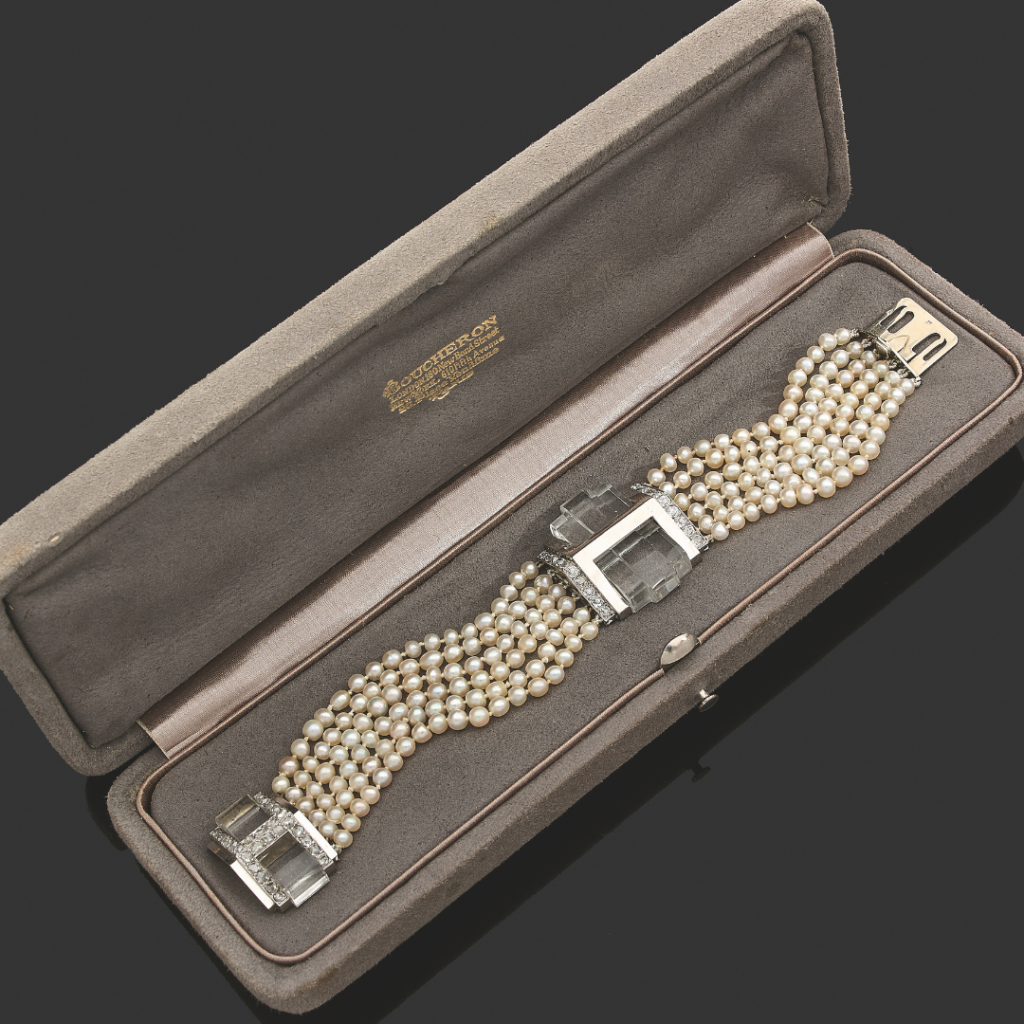 Lot 57: Boucheron gold, platinum, fine pearl, diamond and rock crystal bracelet. Estimated at between €25,000 and €30,000. Photos: Aguttes
How can you resist this type of piece? For me, it's impossible. Art Deco pieces are relatively common at auctions these days, such is the popularity of the period at auction. While all the jewellery houses shone with their designs during this period, some are now better known than others. Boucheron pieces from those years are not so common, yet when they come out of their cases, they have that extra soul that makes them special. Here, we find all the hallmarks of the house: platinum and diamonds that capture the light so well (the light that the founder of the house particularly liked, which is why he chose the location of the boutique on Place Vendôme), then rock crystal, which is the signature style of the house that never ceases to have fun with it decade after decade, and fine pearls, symbols of an era when cultured pearls were beginning to make their appearance but were not yet the norm. Everything about this piece is beautiful. Definitely!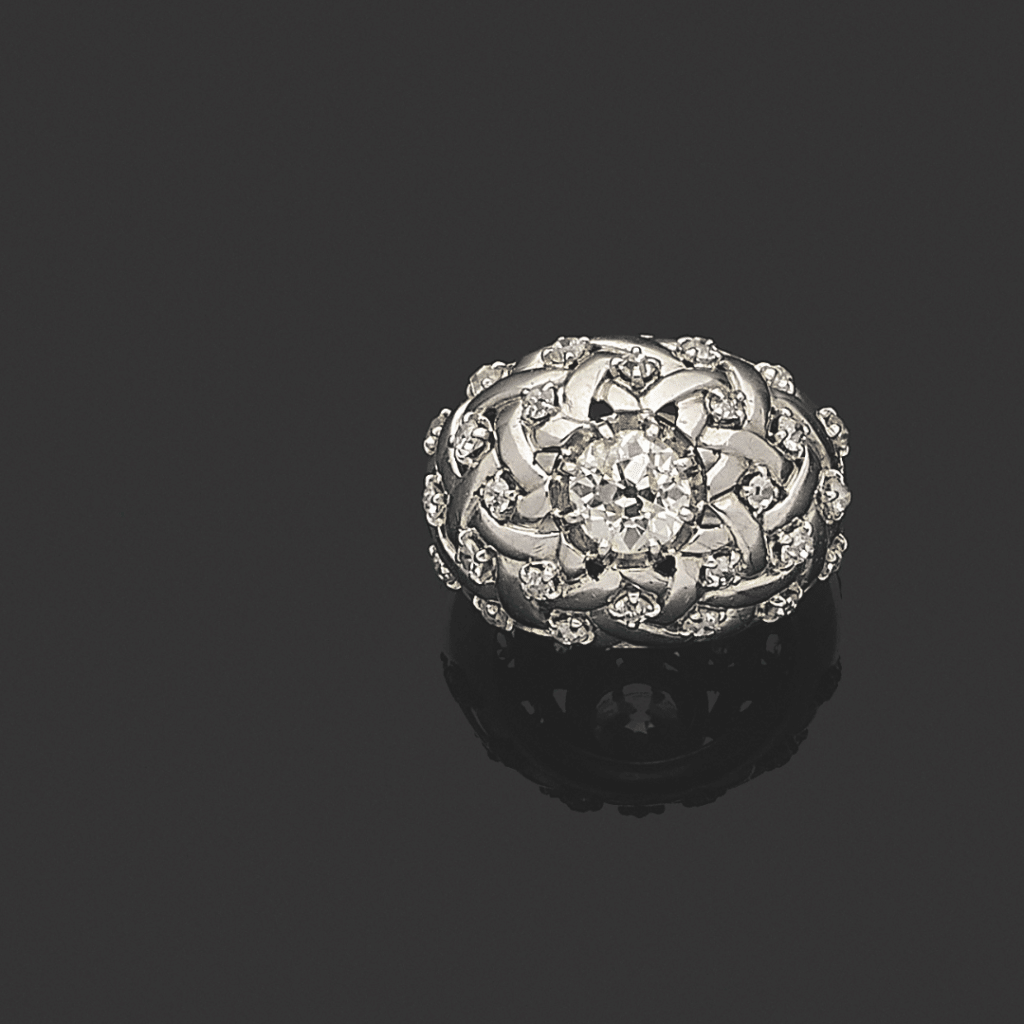 Lot 60: gold and diamond ring signed by René Boivin. Estimated between €6,000 and €8,000. Photo: Aguttes
I chose this ring because the news surrounding René Boivin is rather intense. And that's good news. Perhaps you haven't noticed that René Boivin and its archives have been taken over by the Torroni family (based in Switzerland), who have unveiled a website with some beautiful archive photos and, more importantly, are preparing a beautiful book based on the house's extensive archives. I think everyone is waiting with bated breath for this new landmark publication. So, in the meantime, this ring, made in 1955 from a design by Juliette Moutard – and which I find very elegant – gives me the opportunity to talk to you about this hot topic. It is sold with a certificate signed by Thomas Torroni-Levène and Olivier Bachet. There's no doubt that the forthcoming GemGenève will be an opportunity to see some of the treasures of this venerable house. I'm already looking forward to it. Like knowing that this ring will soon find a happy owner. It deserves it!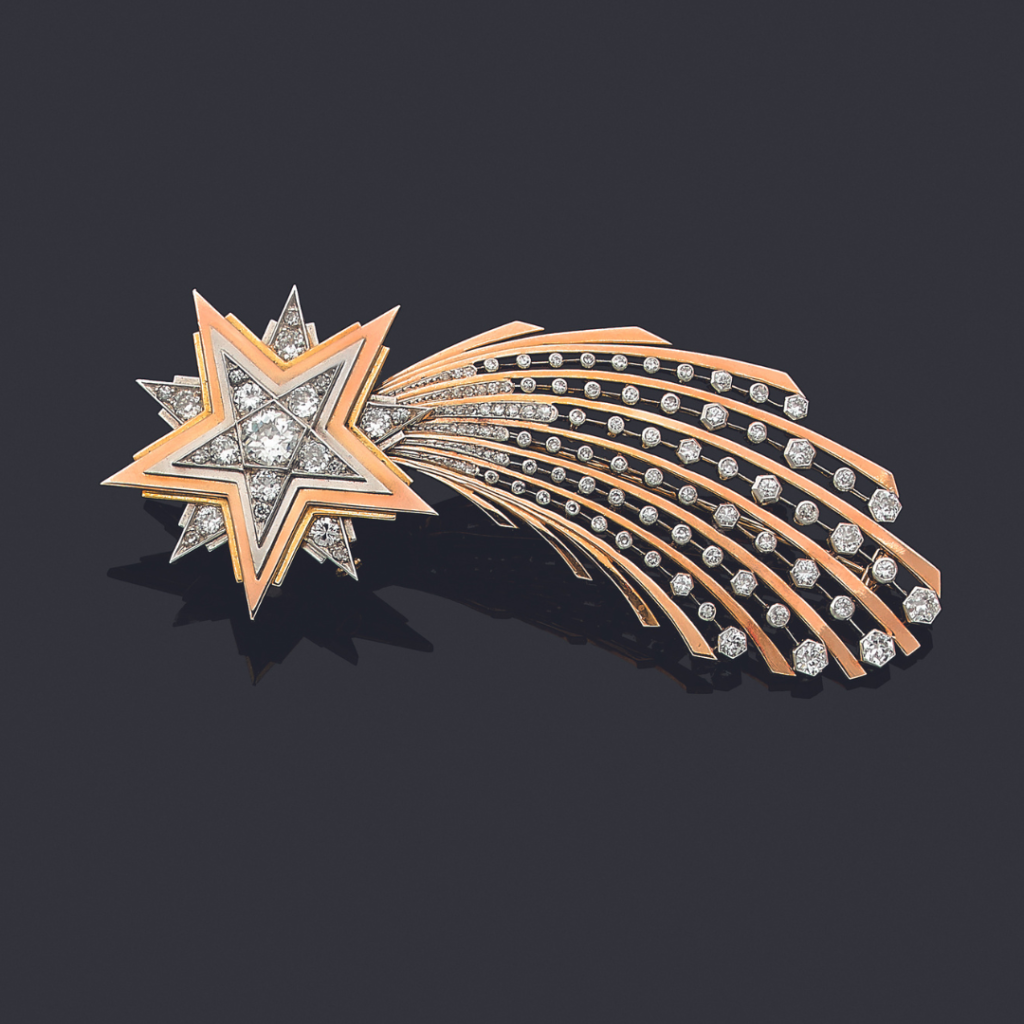 Lot 80: Gold, platinum and diamond shooting star brooch. Estimated at between €3,000 and €4,000. Photo: Aguttes
Comets and shooting stars have delighted jewellers ever since a certain Comet Haley passed by in 1835. Since then, every time a comet appears, jewellery celebrating this intriguing phenomenon has reappeared. Shooting stars are symbols of good luck. It is said that you should make a wish when you see one, and that it will come true. You may not be religious or superstitious, but I'm sure you'll be charmed by this imposing brooch, measuring almost 9 cm. So, beyond the shooting star, the star more generally is a recurring theme in jewellery. First appearing in the mid-nineteenth century, at the height of the Industrial Revolution, the star, in its comet form or in its original form, is everywhere. In a period of intense upheaval for society at the time, jewellery with stars in general or jewellery with Polaris or Stella Maris, the polar star, symbol of hope and affection, which gives north and direction to those who are lost, flourished… As for me, I've already found my way back. How about you?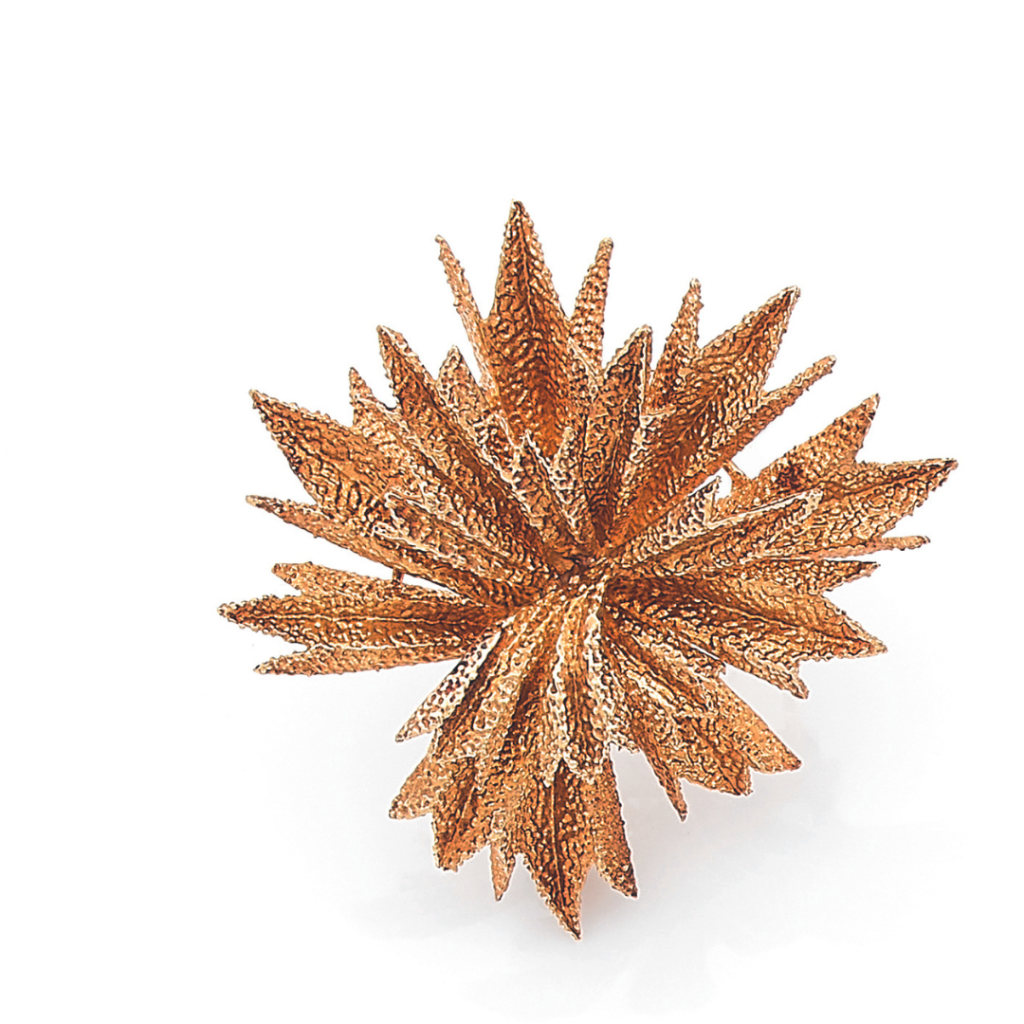 Lot 104: Gold "artifice" clip for O.J Perrin. Estimated at between €1,300 and €1,500. Photo: Aguttes
Take a trip back to the 60s with this textured gold jewel by O.J Perrin. Although O.J. Perrin is well known for the openwork hearts that have made it such a success, its older pieces are less visible at auction, and yet they are far more interesting. This model is very unusual, as I think the last time I saw it was in 2019. It also bears the hallmark of Pery, a Parisian jeweller that was founded in 1875 by Lucien and closed in 2012 after being bought by Van Cleef & Arpels, one of its most loyal customers. So, of course, you have to love the 60s, with its bold, often imposing jewellery where textured gold is absolutely everywhere. Not a single atelier didn't try their hand at surface effects in those days. A blessed era when you could do whatever you wanted with a block of green wax. Scraping, scraping, drilling, milling, hammering, anything went. As a result, the metal no longer has the smooth appearance that has long seduced customers. A beautiful metaphor for an explosive and playful era, a permanent firework display.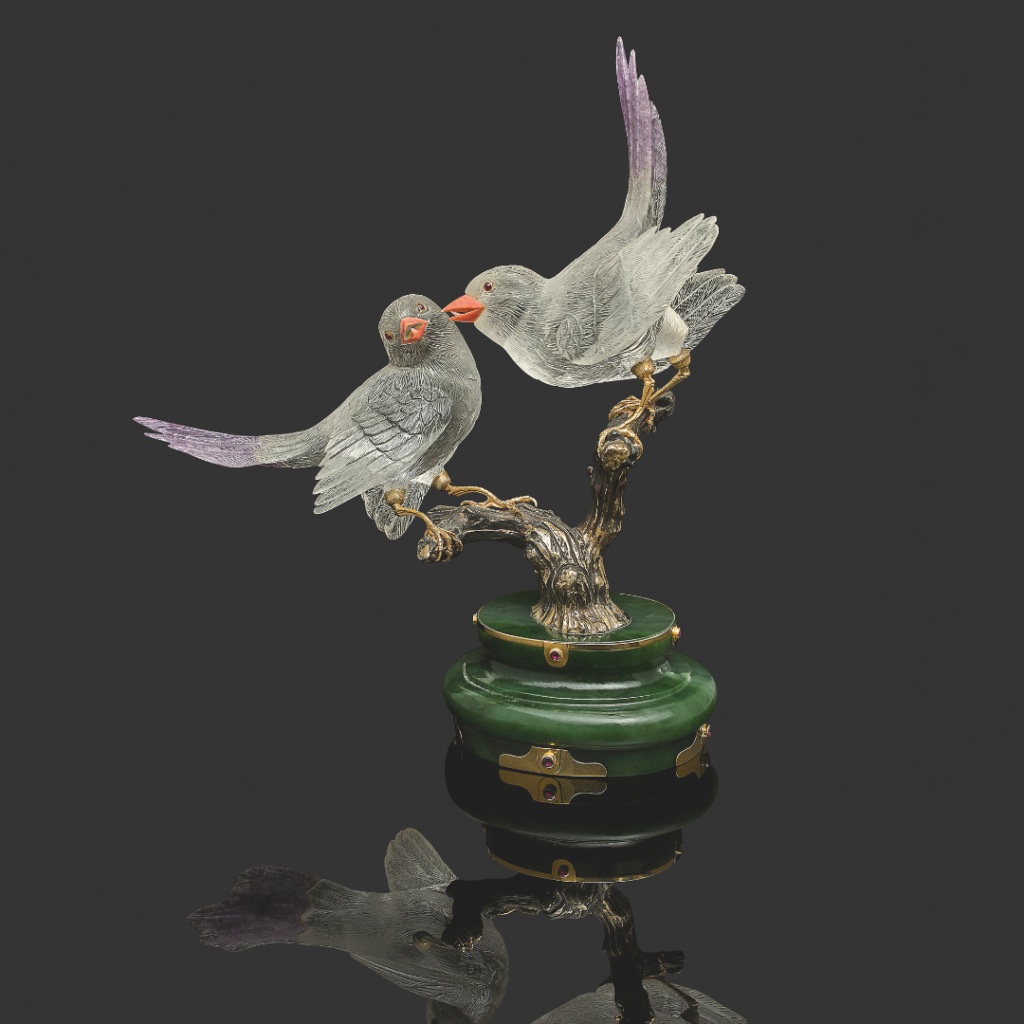 Lot 121: A pair of quartz birds on a jade base. Erwin Klein for Vacheron-Constantin. Estimated at €7,000-8,000. Photo: Aguttes
If you're not familiar with Klein's birds, I can assure you that you're missing out. An internationally-renowned lapidary firm, their sculptures regularly feature in auctions, and each time you have the chance to admire them, you'll be thrilled and delighted. These birds, created in collaboration with Vacheron-Constantin, are no exception. Made in the 1980s, they are cut from amethyst quartz. The beaks are in coral, a material much appreciated by this lapidary who left us in 2018. If you're in Paris at the moment, you won't regret admiring these remarkably realistic pieces. And if you can, adopt them. They don't need to sing to make your heart beat.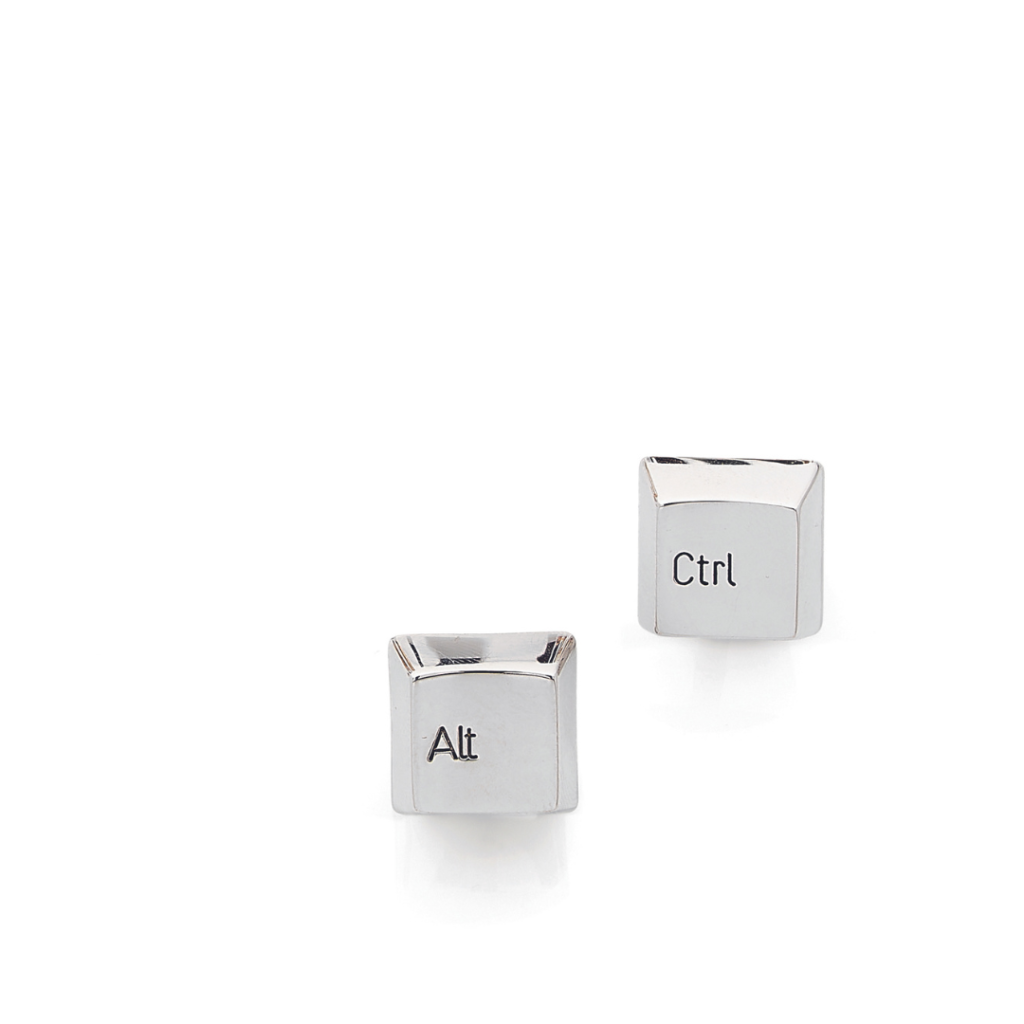 Lot 127: Cartier gold cufflinks. Estimated between €1,500 and €2,500. Photo: Aguttes
This pair of cufflinks by Cartier is symptomatic of an era when computers and the internet have turned everything upside down! While Aguttes offers the Ctr and Alt keys, there are also Shift and Esc keys, which all keyboard users know how to use in a variety of ways, including quitting a program that's 'stopped responding'… The back of the buttons is pretty funny too, as they usually feature a telephone card chip. Quite an era with those 90s in which I grew up. Very rare on the market, they will appeal – I hope – to the printed circuit board nut or the lover of a certain Internet Explorer. Lycos, Yahoo, the modem that made an infernal noise to connect, CDs with 20 hours of Internet access in a month – these jewels tell the story of all those crazy years. An era that's long gone, but oh so endearing for those who lived through it as young adults… And come to think of it, I could see myself wearing them!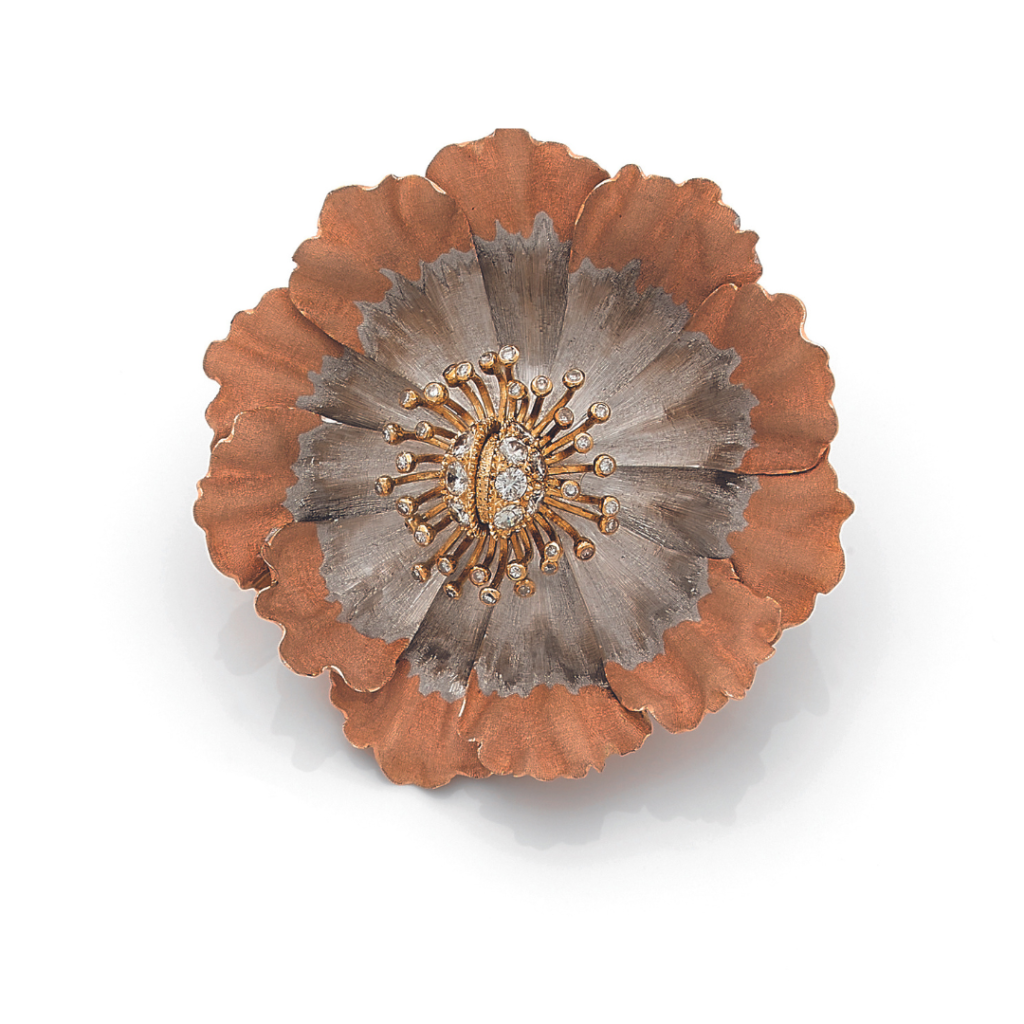 Lot 135: "GAILLARDIA" aspen brooch, signed by Gianmaria Buccellati. Estimated at between €6,000 and €8,000. Photo: Aguttes
Few jewellery houses can boast a style that has been instantly recognisable since its inception. But for Buccellati, the question doesn't even arise, and if you don't know the company very well and want to learn more about it, a very fine book that I recommend will help you do just that. The next Aguttes sale will feature this gold and diamond brooch by Gianmaria Buccellati. Everything here is the hallmark of this house: the engraving, of course, but also the chiselled and textured gold on the central pistils. At 6cm in diameter, this piece is imposing enough to stand on its own. That's what Buccellati jewellery is all about: a distinctive identity and an assertive character. And in a world of constant standardisation, it's essential to stand out from the crowd.
See you soon!