La semaine de la mode de Paris a été l'occasion parfaite de rencontrer ou revoir plusieurs maisons asiatiques dont les créations, aujourd'hui, rivalisent en qualité et en ingéniosité avec les plus belles pièces des maisons de haute joaillerie françaises. Quatre maisons ont présenté leurs nouvelles pièces à Paris : TTF, Feng J., Anna Hu et la maison japonaise Tasaki. Mais nous aurions pu en compter une cinquième avec l'absence remarquée de Cindy Chao qui a fait le choix cette année de présenter à Londres lors du salon Masterpiece. Ce salon est aujourd'hui l'un des plus couru et ressemble beaucoup à ce que fut la Biennale des Antiquaires de Paris jusqu'en 2014 quand celle-ci proposait autant de l'objet ancien que de la haute joaillerie.
The Paris Fashion Week was the perfect opportunity to meet or see several Asian houses whose creations today compete in quality and ingenuity with the finest pieces of French high-end jewelry houses. Four houses presented their new Paris pieces : TTF, Feng J., Anna Hu and the Japanese house Tasaki. But we could have a fifth with the notable absence of Cindy Chao who chose this year to present in Masterpiece fair (London). This show is now one of the most popular and is very similar to what was the Biennale des Antiquaires in Paris until 2014 when it offered as much of the collectible objets d'art as high jewelry.
La haute joaillerie Asiatique se caractérise par des motifs figuratifs assez récurrents : papillons, fleurs et oiseaux sont souvent représentés. Si les diamants incolores et de couleurs sont très présents, le corail et le jade sont ici légions sur les plus belles parures. Mais on retrouve également de très belles pierres gemmes avec les meilleures provenances et les certificats les plus courus. La clientèle asiatique étant très demandeuse d'informations précises sur les pierres. Parmi les caractéristiques étonnantes de la joaillerie à destination de cette clientèle, notez que vous n'y trouverez jamais de pierre dont le poids contient le chiffre 4 car la phonétique de ce chiffre en chinois est très proche de celle du mot « mort ». Par ailleurs, le nom des parures ou des pièces se réfère souvent à des légendes liées aux dieux asiatiques. C'est toute la singularité de cette joaillerie qui la rend également passionnante à comprendre et à décoder !
Asiatic high-end jewelry is characterized by fairly repetitive figurative motifs : butterflies, flowers and birds are often represented. If colorless as colored diamonds are very present, coral and jade are legion here on the finest adornments. But we also find beautiful gemstones with the best provenances and the most popular certificates. The Asian clientele is very demanding of precise information on gemstones. Among the astonishing features of jewelry for this clientele, note that you will never find a stone whose weight contains the number 4 because the Chinese phonetics of this number is very close to that of the word « death ». In addition, the names of ornaments or pieces often refer to legends related to Asian gods. It is the singularity of this jewelry that makes it also exciting to understand and decode !
1- Anna Hu
Chaque année, Anna Hu pose ses magnifiques pièces au Ritz où elle présente sur quelques jours ses nouvelles créations. Réalisés pour la plupart en France, ses bijoux sont toujours extrêmement beaux et poétiques. On y retrouve des matières souvent rares avec de sublimes rubis ou saphir mais également des pierres gemmes aux couleurs acidulées et pétillantes : tourmalines, diamants, béryls…etc. D'ailleurs, en cette année 2019, elle vient officiellement de rejoindre le calendrier des présentations de la semaine de la mode en devenant membre de la Fédération de la Haute Couture et de la Mode : le FHCM.
Each year, Anna Hu displays her beautiful pieces at the Ritz where she presents on a few days her new creations. Made for the most part in France, her jewelry is always extremely beautiful and poetic. We find often rare materials with sublime rubies or sapphires but also gemstones with acidulous and sparkling colors : tourmalines, diamonds, beryls … etc. Moreover, in this year 2019, she has officially joined the calendar of presentations of the Fashion Week by becoming a member of the French Federation of Haute Couture and Fashion: the FHCM.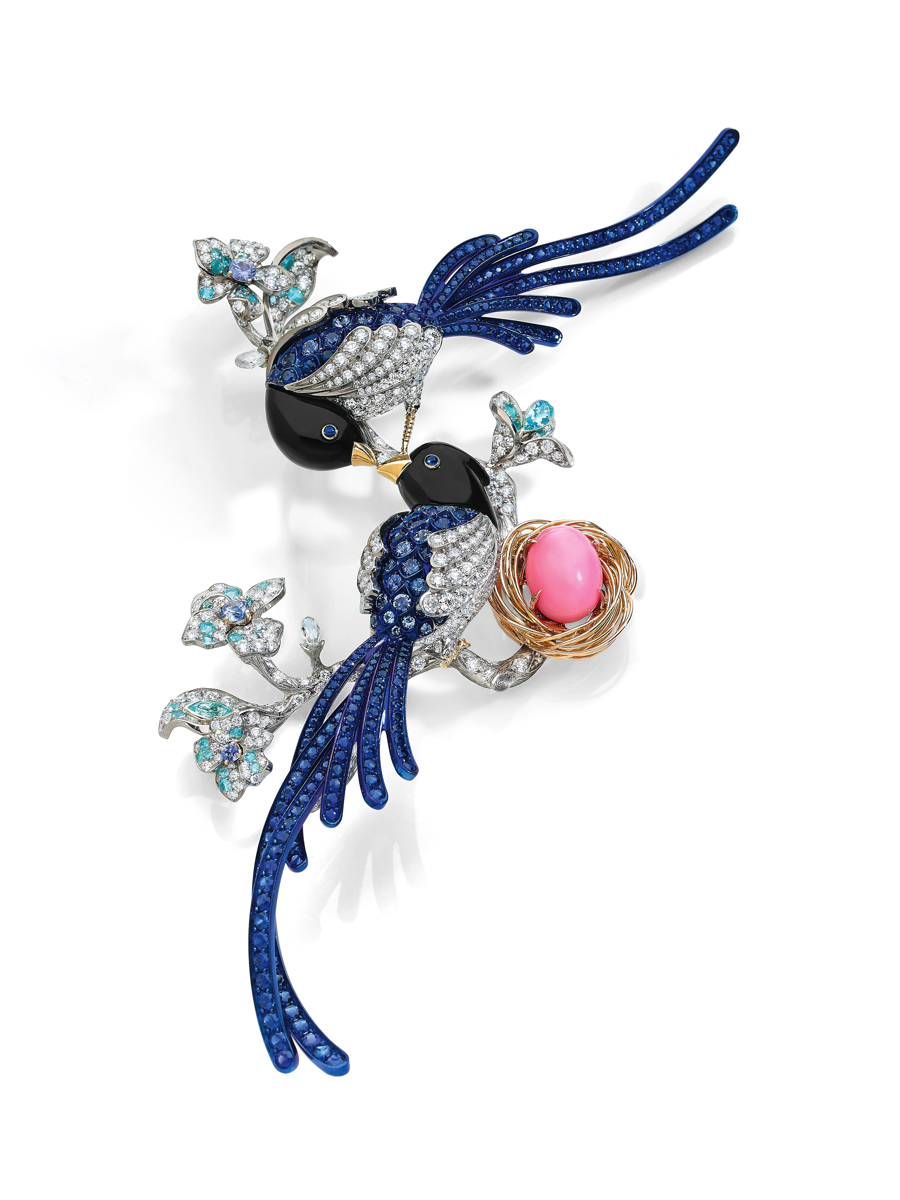 Broche « Blue Magpie » en or, titane, diamants, saphirs, tourmalines, onyx et perle de conque. Brooch « Blue Magpie » in gold, titanium, diamonds, sapphires, tourmalines, onyx and conch pearl. Photo : Anna Hu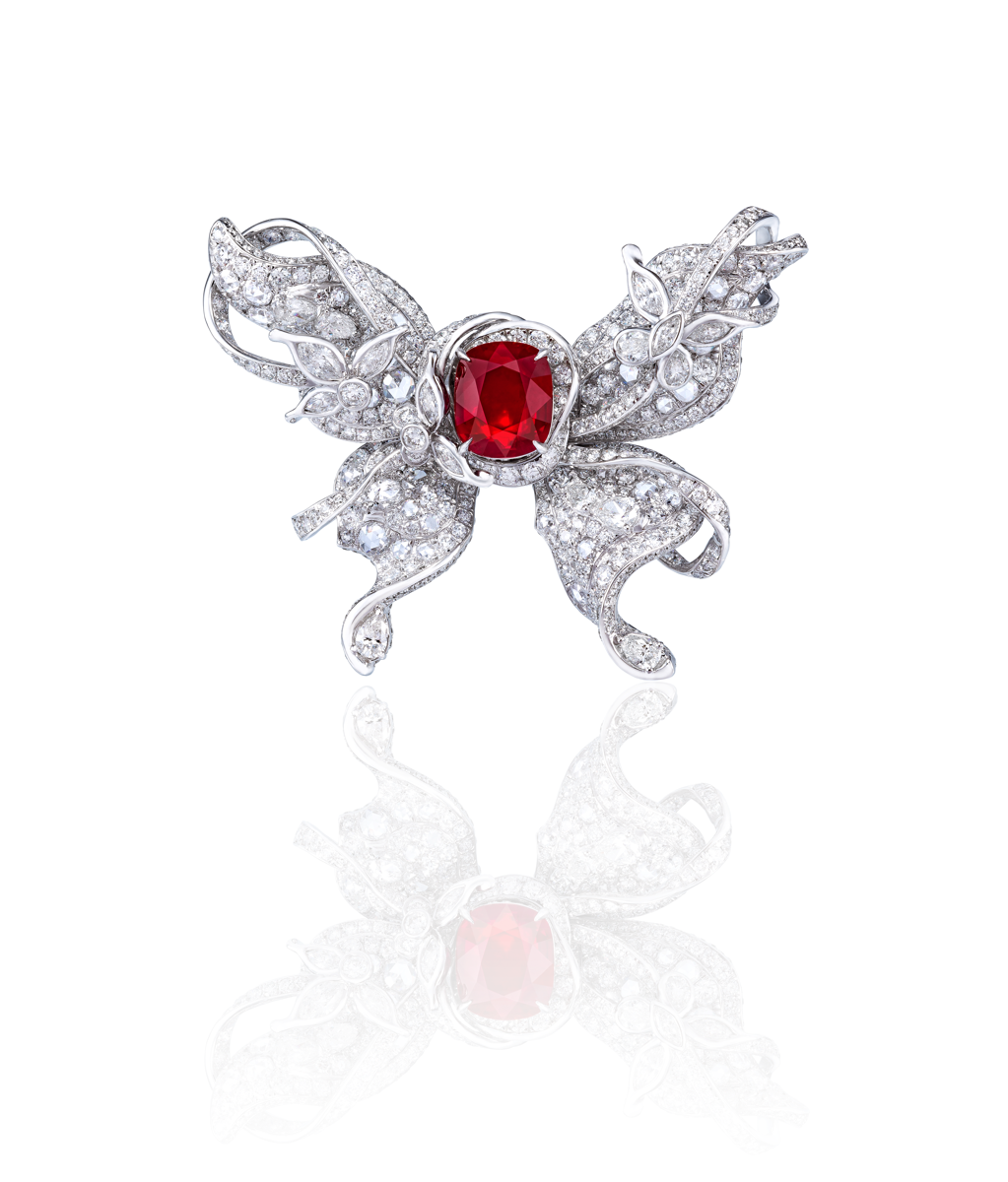 Broche « Le papilon » en or blanc, diamants et rubis de 5,06 carats (Gübelin). Brooch « The Papilon » in white gold, diamonds and rubies of 5.06 carats (Gübelin). Photo : Anna Hu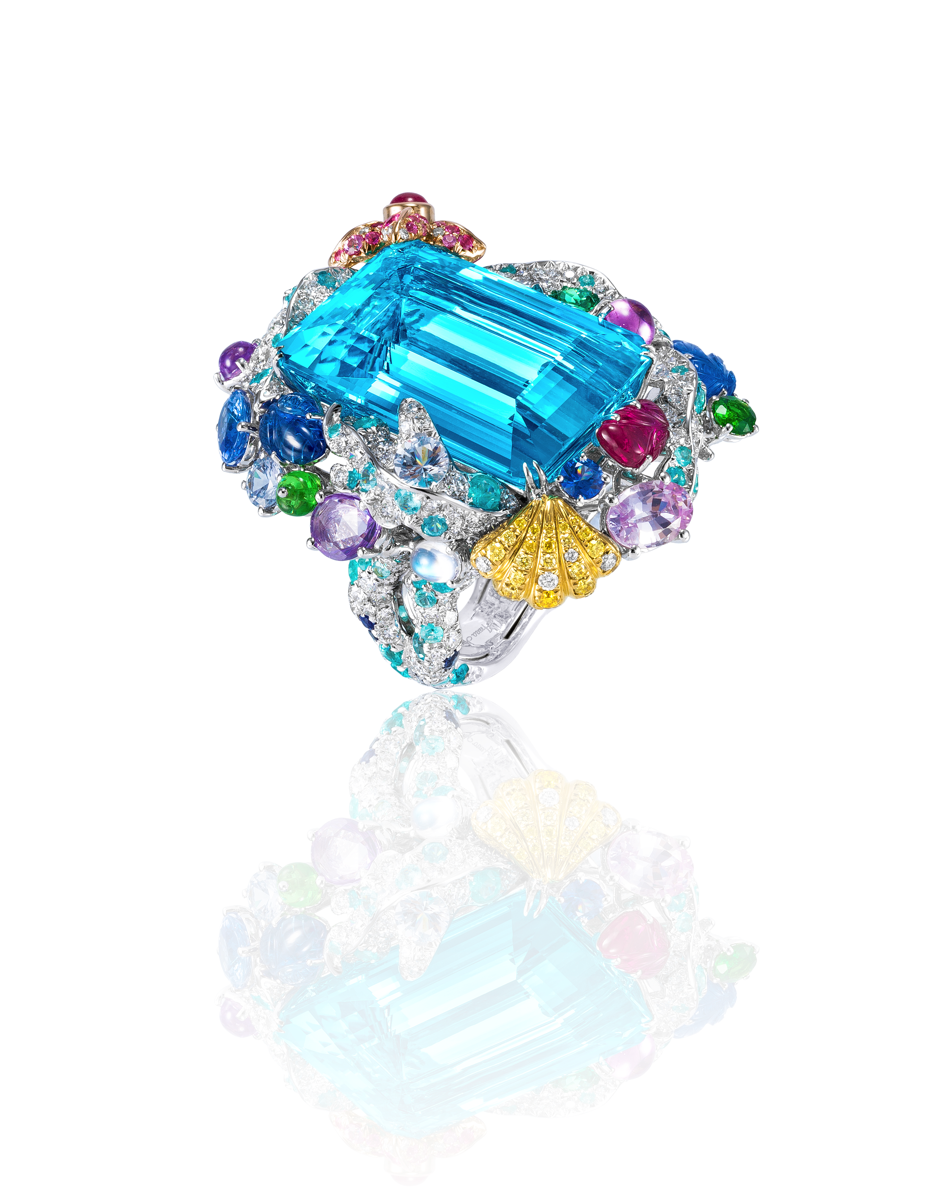 Bague « Sirens » en or blanc, or jaune, diamants, saphirs, pierres de lune et centre aigue-marine de 33,17 carats. The « Sirens » ring in white gold, yellow gold, diamonds, sapphires, moonstones and aquamarine of 33.17 carats. Photo : Anna Hu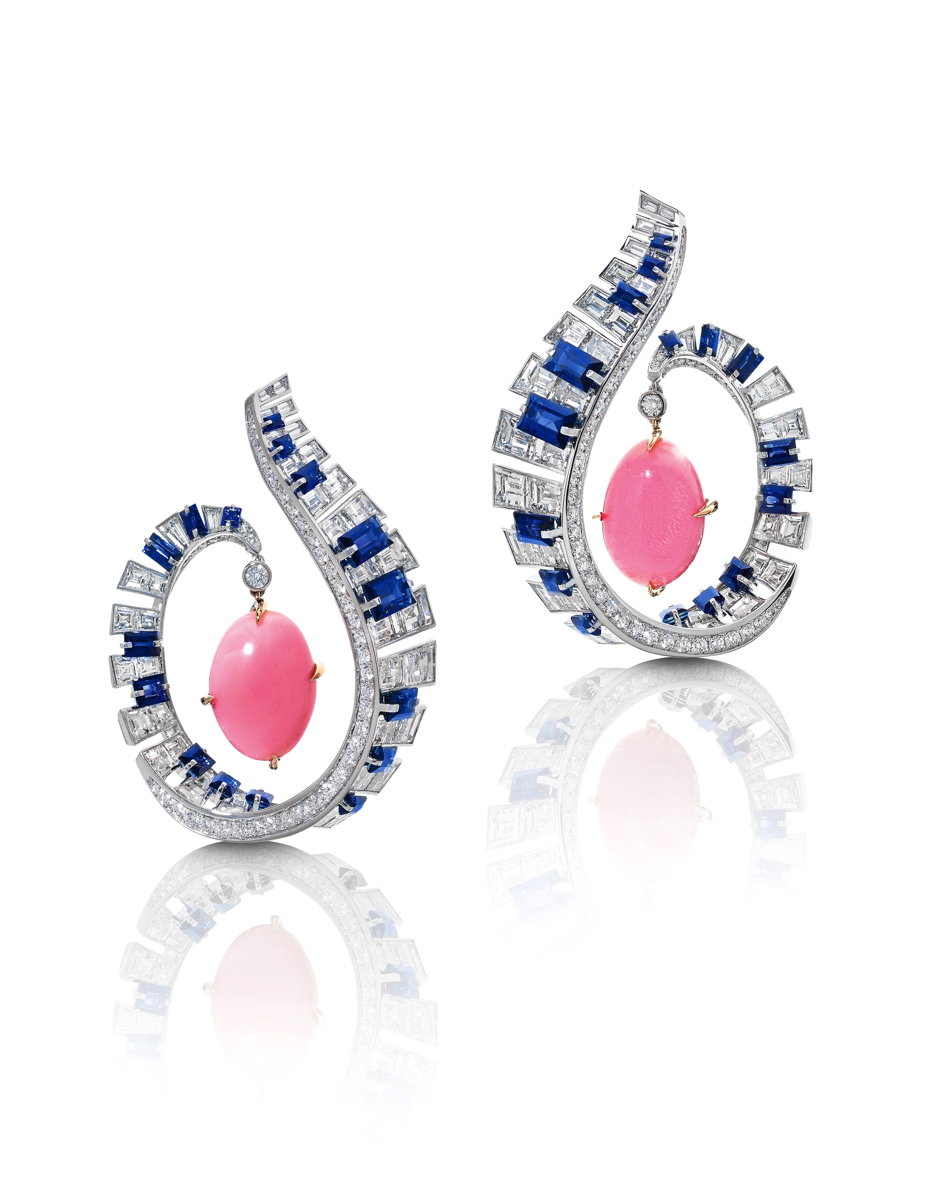 Boucles d'oreilles « Ellington » en or blanc, saphirs, diamants et perles de conque. The « Ellington » earrings in white gold, sapphires, diamonds and conch pearls. Photo : Anna Hu
2- Feng J.
Créatrice remarquée depuis maintenant quelques années, sa maison propose toujours de très jolis objets quasi uniquement fabriqués sur mesures et en France. Pour mieux connaitre cette maison, vous pouvez relire mon article. Cette année, la créatrice a présenté un corpus de pièces autour du thème « Garden of Impressionism », un hommage aux grands peintres de cette période qui a marqué durablement de son empreinte le monde de l'art.
Designer noticed for a few years now, her house always offers very pretty objects almost only made to measure and in France. To know this house better, you can read again my article. This year, the designer presented a corpus of pieces around the theme « Garden of Impressionism », a tribute to the great painters of this period, which has had a lasting impact on the world of art.
Broche « Blue Ginkgo leaf », or blanc, saphirs rose-cut et tanzanites. Brooch « Blue Ginkgo leaf ». Double rose-cut sapphire and tanzanite, Sapphire, white diamond, 18k gold. Photo : Feng J.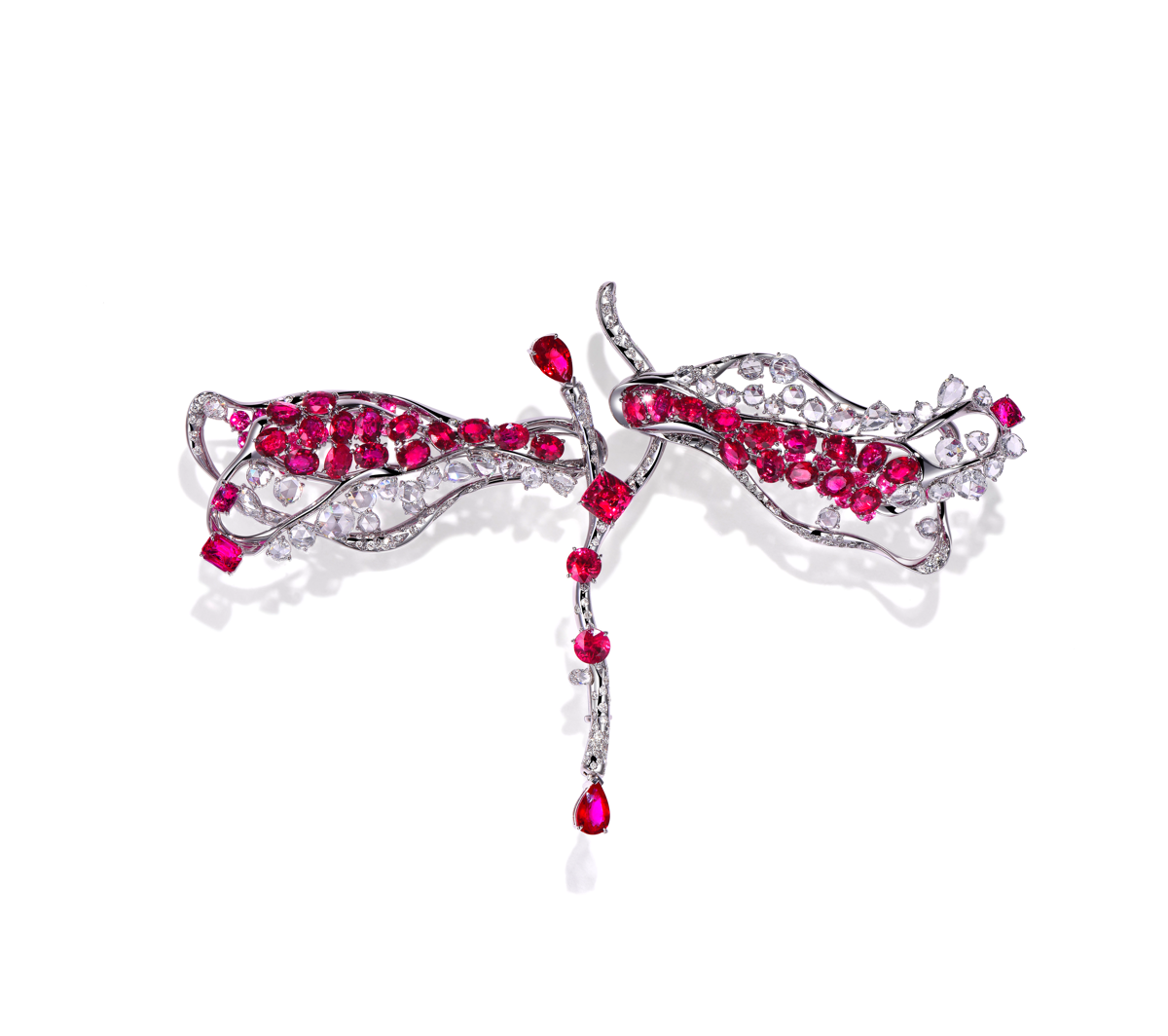 Broche « Crimson Dragonfly » en or blanc, rubis (8,28 carats), spinelles rouges et diamants. The « Crimson dragonfly » brooch : 35 pieces of ruby in total weight of 8.28ct, red spinel, Rose-cut diamond, diamond, 18k gold. Photo : Feng J.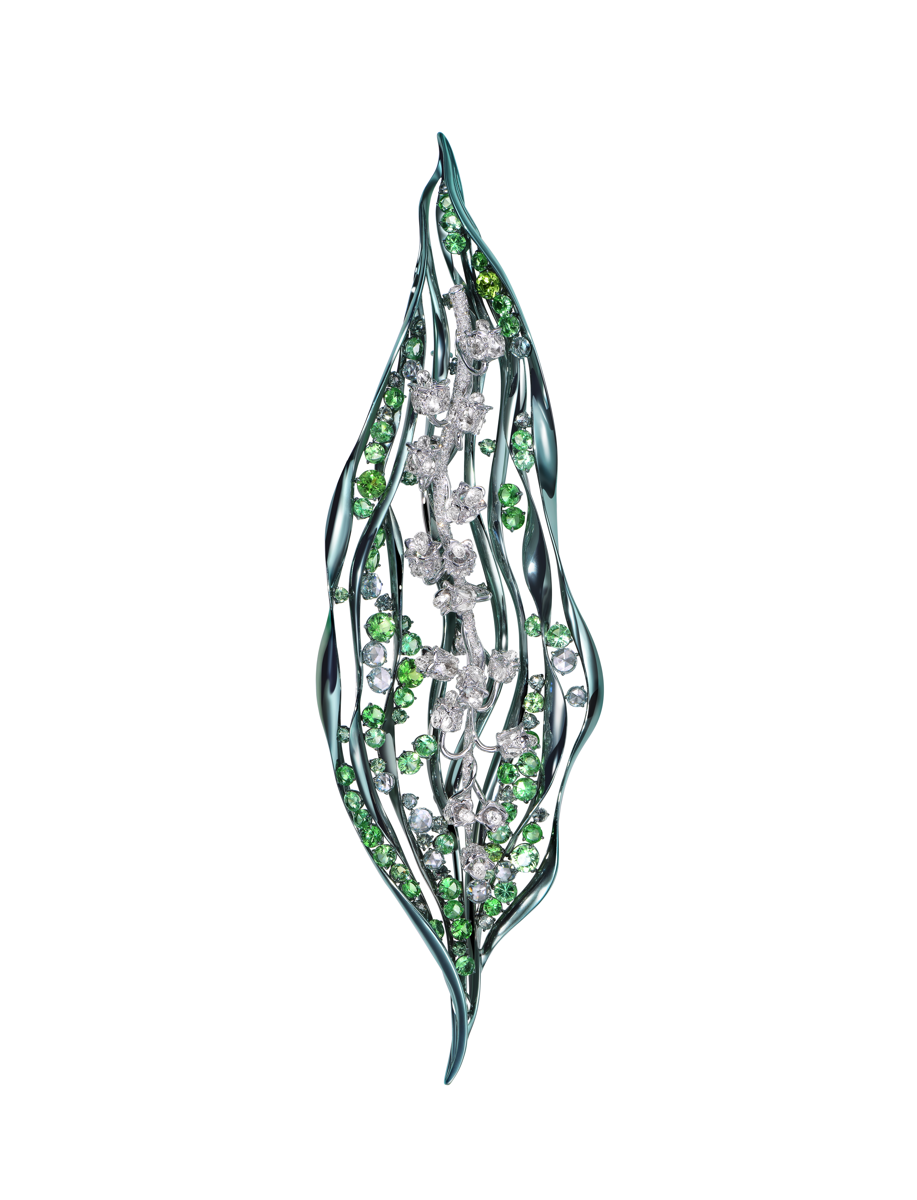 Broche « Lily of the valley », diamants, grenats tsavorites, chrysoberyls, or blanc et or rhodié vert. The « Lily of the valley » brooch : rose-cut diamond, diamond, Tsavorite, Chrysoberyl, 18k gold and electroplated gold. Photo : Feng J.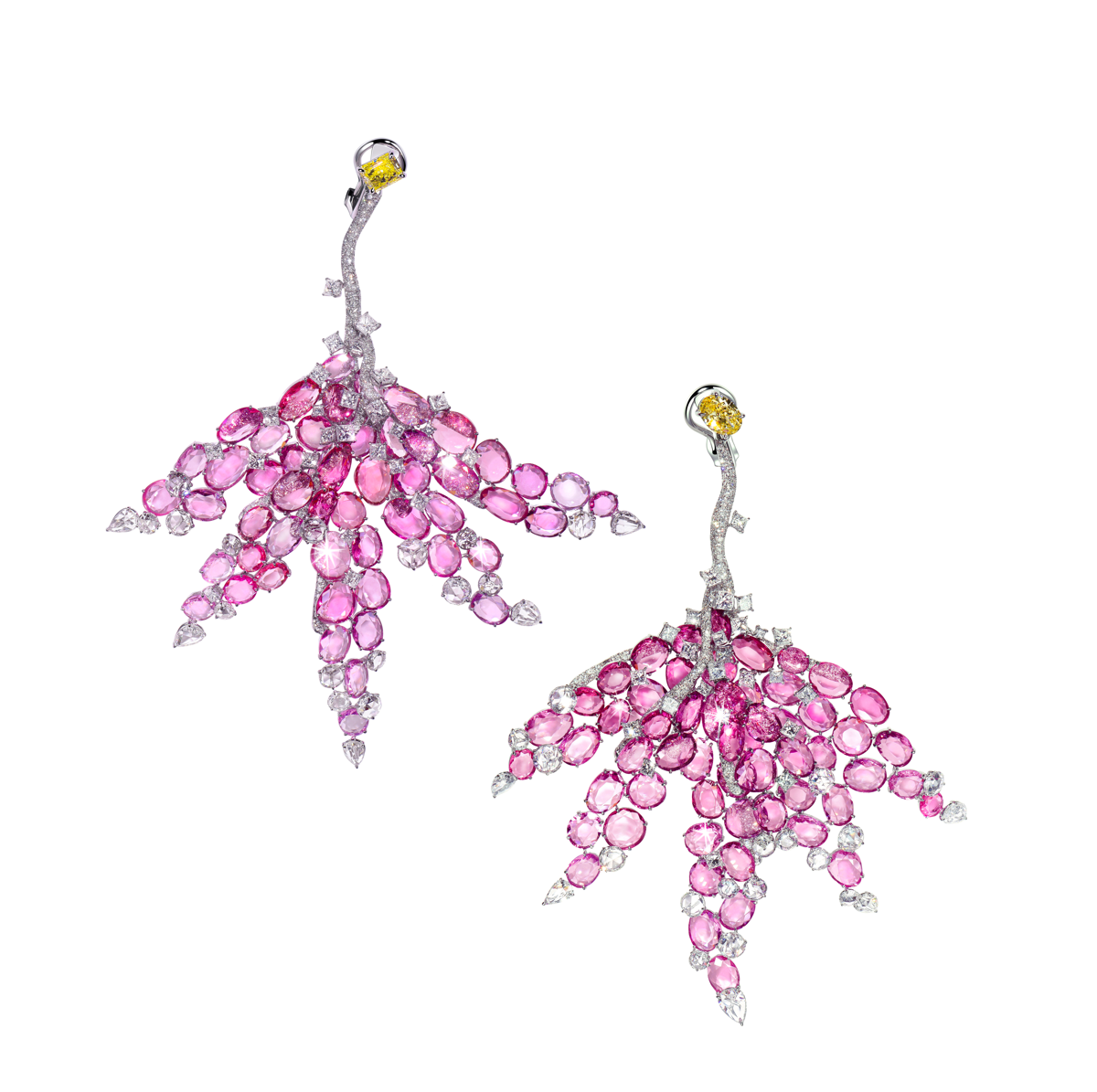 Boucles d'oreilles « Pink maple leaf » en or, diamants et spinelles roses pour 38,72 carats. The « Pink Maple leaf » earring : 111 pieces of double rose-cut pink spinel in total weight of 38.72ct, yellow diamond, Rose-cut diamond, diamond, 18k gold. Photo : Feng J.
3- Tasaki
Tasaki, c'est la marque japonaise qui s'entoure de jolies collaborations pour signer ses collections. Parfois plus classique et parfois plus incisive, la maison propose saison après saison des corpus de pièces très différents les uns des autres. Depuis 2017, c'est Prabal Gurung qui signe une partie des pièces et ce sont ses dernières créations que nous avons pu admirer lors de la semaine de la mode. On retiendra principalement la parure Elysium dont les pierres de centre son des topazes bleues (traitées).
Tasaki is the Japanese brand that surrounds itself with beautiful collaborations to sign its collections. Sometimes more classic and sometimes more incisive, the house offers season after season pieces very different from each other. Since 2017, it is Prabal Gurung who signs the collection and it is his last creations that we could admire during the fashion week. We will mainly remember the Elysium set whose center stones are blue topazes (treated).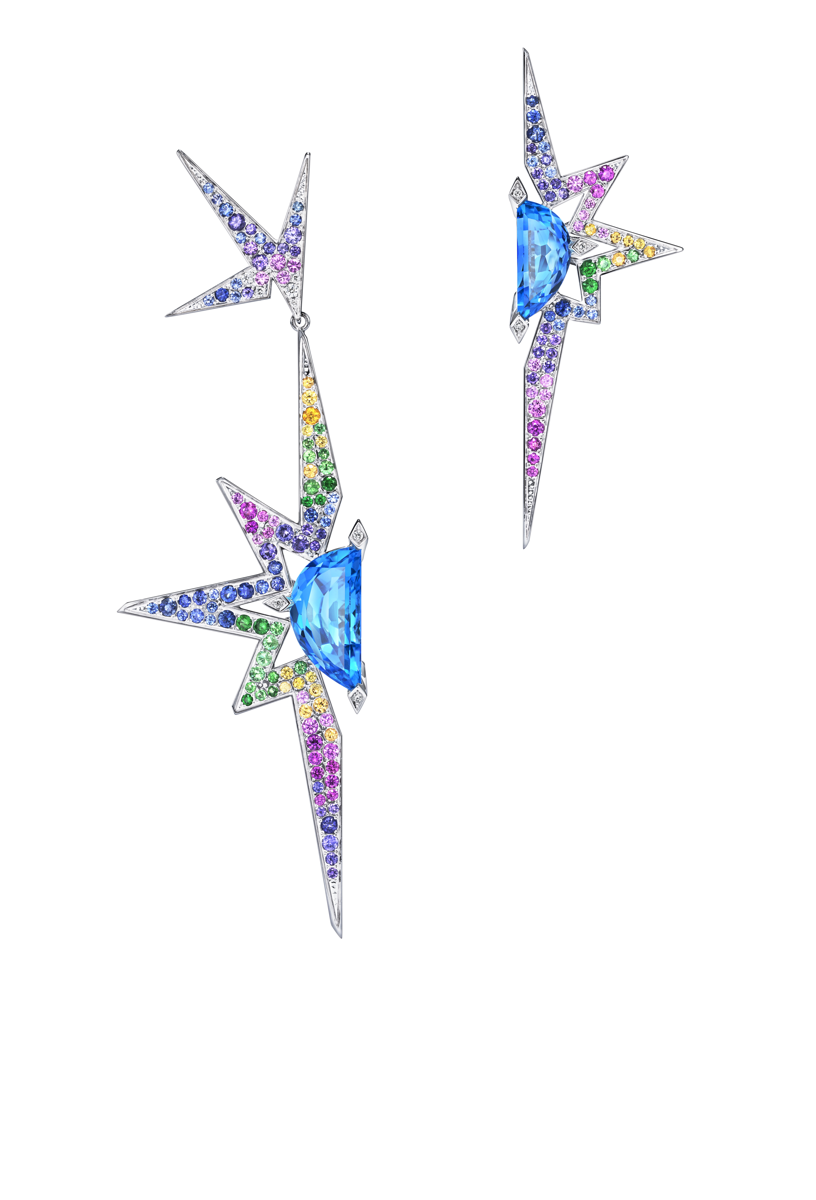 Boucles d'oreilles « Elysium » en or, diamants, saphirs et topazes bleues (traitées). The « Elysium » earrings in white gold, diamonds, sapphires and treated blue topazes. Photo : Tasaki
4- TTF
TTF est une jeune maison qui a été fondée en 2008 par Fenghua Wu. Elle est aujourd'hui basée à Paris, rue de la paix. La maison propose principalement le jade de la meilleure qualité et fait partie des rares vitrines du quartier Vendôme à proposer cette pierre à Paris. Colliers opulents, broches imposantes, la maison propose aussi des collections plus simples et accessibles. La boutique, bien que petite, mérite une visite si vous voulez admirer de manière régulière cette joaillerie poétique si caractéristique de la joaillerie asiatique.
TTF is a young house that was founded in 2008 by Fenghua Wu. It is now based in Paris, rue de la paix. The house offers mainly top-quality jade and is one of the few showcases in the Vendôme district to offer this stone in Paris. Opulent necklaces, imposing brooches, the house also offers more simple and accessible collections. The store, although small, is worth a visit if you want to admire regularly this poetic jewelry so characteristic of Asian jewelry.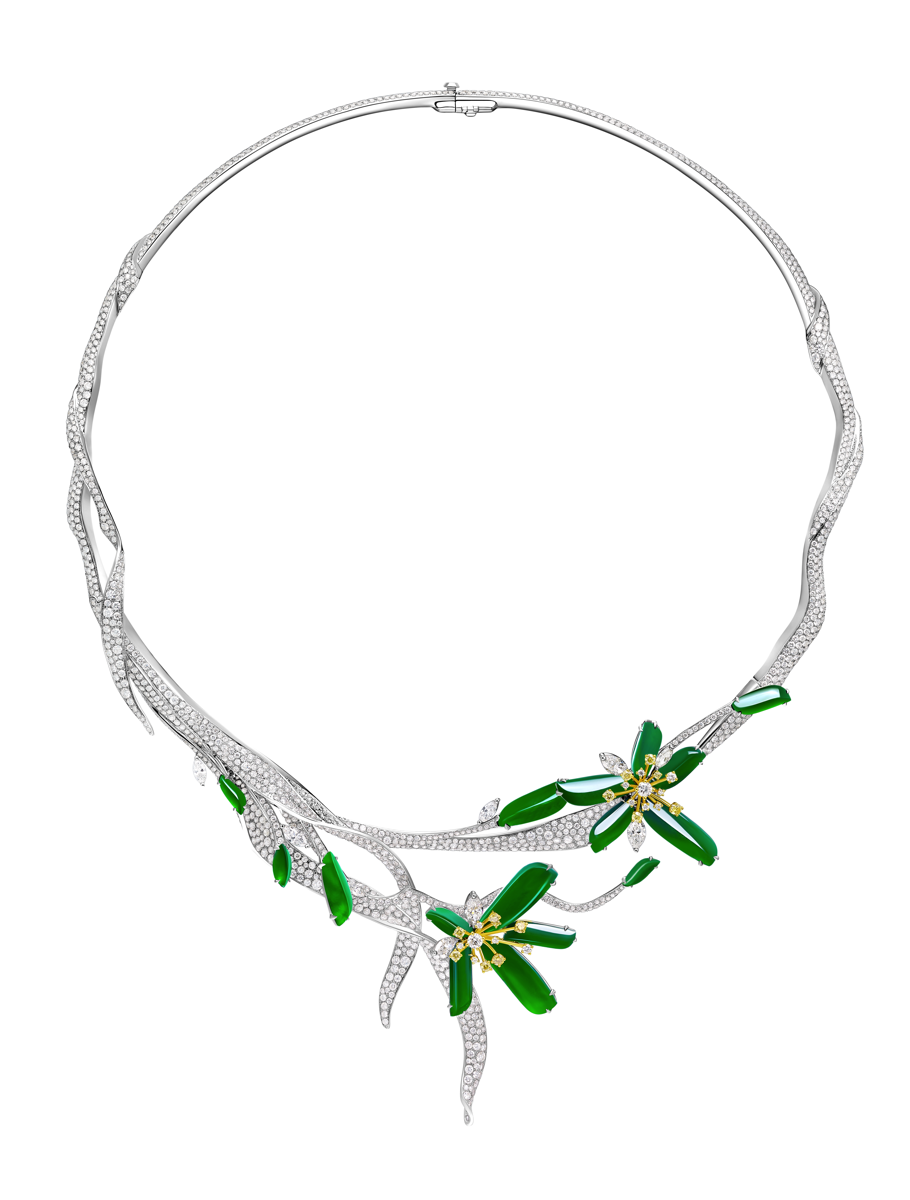 Le collier « Orchidée Céléste » est en or blanc, diamants (22,62 carats), diamants jaunes et jadeite pour 34,46 carats. The « Orchidée Céleste » necklace : this 18-carat white gold necklace, made in 2019 weighs 104.64gr, it is set with 1872 round cut white diamonds and a shuttle weighing 22.621 carats, 7 shuttle cut diamonds weighing 1.613 round cut yellow diamonds weighing 0.528 carat, and 16 exceptional imperial green jadeites, carved, weighing 34.460 carats. Photo : TTF
Broche « Faisan Imprérial » en or blanc et or jaune, diamants blancs et jaunes, saphirs, émeraudes, spinelles noirs. The « Faisan Imprérial » brooch : this 18 karat white gold brooch made in 2019 weighs 51.78 gr, it is set with 488 round cut white diamonds weighing 13.448 carats, 344 round cut yellow diamonds weighing 5.052 carats, 224 round cut emeralds weighing 3.046 carats, 69 coloured sapphires weighing 1.29 carats, 107 intense and light pink sapphires weighing 1.369 carats and 2 black spinels weighing 0.28 carat. Photo : TTF
À bientôt !
See you soon !