For the Mazlo family, working with metal is a matter of course. It is even in their genes. Jewellery is part of them and they pay it a beautiful tribute every day through their respective creations. The Mazlo family is also a name that has almost become commonplace on the site because there is the father – Robert – about whom I regularly speak to you through the eponymous gallery that I love so much; there is Max – his first son -, jeweller and 3D designer, whose portrait you can read about in the "Rubis sur Canapé" podcast, as well as the beautiful interview with Claire Fillet; and then there is Karl, Max's grand-brother, jeweller, inventor, designer, who infuses all his gentleness and his passion for the land of the Rising Sun into his wildly poetic creations. I invite you to meet him.
Karl Mazlo in his workshop in Paris. Photo : Karl Mazlo
Yellow gold and steel damask ring. Photo: Karl Mazlo
The first time I met Karl Mazlo was at the Galerie des Blancs Manteaux where he was exhibiting his work as part of the "Savoir-faire des Takumi" exhibition, an event celebrating a residency of French artists in Japan and more specifically in Kyoto. That evening, the pieces were remarkable. He himself had just returned from this country which inspires much of his work and we agreed to meet again so that he could tell me about his career, his work and why he chose metal as his medium of expression. A meeting that took place at the Ateliers de Paris where Karl is still based for a few months.
Two gold and diamond rings. Photo: Karl Mazlo
Although jewellery has been part of Karl's life since childhood, he made his relationship with it official in the early 2000s when he entered the Lycée Nicolas Flamel (École Boulle) where he prepared for and then obtained his CAP Art du Bijou et du Joyau and his BMA respectively. He followed this up with a CAP in gem-setting and enrolled in evening classes to learn engraving and chasing. He then joined the Atelier Jean Christophe where he stayed for a year and a half. Then came the time to join the family workshop to assist his father. He stayed there for seven years.
Ring in yellow gold, diamonds and damask steel. Photo: Karl Mazlo
One question remains: why Japan? "I have been fascinated by this country since I was a child. At first it was because of the motorbikes. Then I became fascinated by the samurai, the codes of honour that are found in the preservation and transmission of know-how. And this notion of respect, the way it mixes the modern and the traditional and finally their ease to go towards advanced technologies without denying their culture and all traditions." In 2013, he made a pleasure trip there and returned"wanting to go back absolutely but in a different context than tourism." Working at his father's house, he took advantage of this stay to create an exhibition based on his first memories of the Land of the Rising Sun. The result was a hundred pieces of jewellery, followed by contacts and the possibility of returning in 2016.
Set of tools for stamping metal. They were created during Karl Mazlo's Japanese residence at Villa Kujoyama. Photo: Marie Chabrol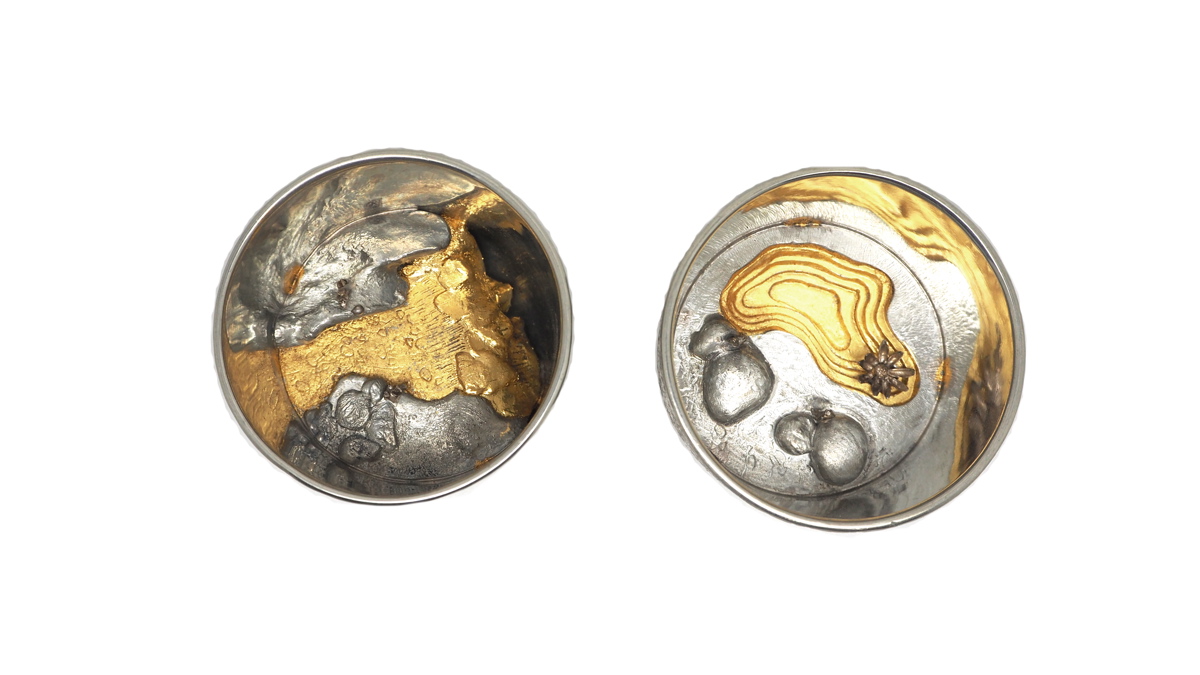 Two pewter, silver and gold leaf sake cups created during the Japanese residency. These pieces were made in collaboration with the Seikado House. Photo: Karl Mazlo
The Japanese residency lasts six months. This first residency in partnership with the French Institute and the Bettencourt Foundation. He was welcomed at the Villa Kujoyama with the aim of initiating a dialogue with craftsmen whose know-how could resonate with jewellery. During the four months of his residency, Karl developed a project to create tools around the print. The result is an incredible series of "punches" made entirely by hand, which will allow him to experiment with material effects and propose new textures on metal. Then the manufacture of objects, which he will imagine in connection with haiku, very short Japanese poems. "By going to Japan, I wanted to make objects that I would not have made in France. I wanted to move away from jewellery to broaden my thinking about metal" explains Karl.
Ring in silver and damask steel. Photo: Karl Mazlo
The result is a beautiful set of pieces around the art of sake, mainly pewter, silver and gold leaf cups made in collaboration with Seikado. "With this series, I really stepped out of my comfort zone, because I didn't master goldsmithing. I had to experiment and try," adds the man whose pieces are currently on display in Tokyo. His presence in Japan also opened up techniques that he had never been able to learn in France and he tried his hand at damascene steel:"This technique, which is close to Mokune-gane, had fascinated me for many years. I started with the idea of making a steel blade that I could break. First of all with the aim of bringing it back because I couldn't travel with it. And that's what I did. The result will be visible soon, at the Biennale Révélations where I will present my new collection which will integrate these elements."
Gold and lapis lazuli pendant from the Blue Summits series. Photo: Karl Mazlo
During this stay, beautiful friendships were made. Among the unforgettable encounters was that with Mr. Moriguchi – whom I spoke to you about when his collection of Kimonos came to France – who convinced him to extend his discovery of the country:"I met him at the vernissage for the presentation of the sake objects. I didn't know who he was then and his status as a Ningen Kokuho or Living National Treasure. He wrote to me and invited me to his own exhibition a few days later. I thought, this country still has so much to offer This was followed by almost two more months between Kyoto and Tokyo where he took up a new residency to extend the Kujoyama experience.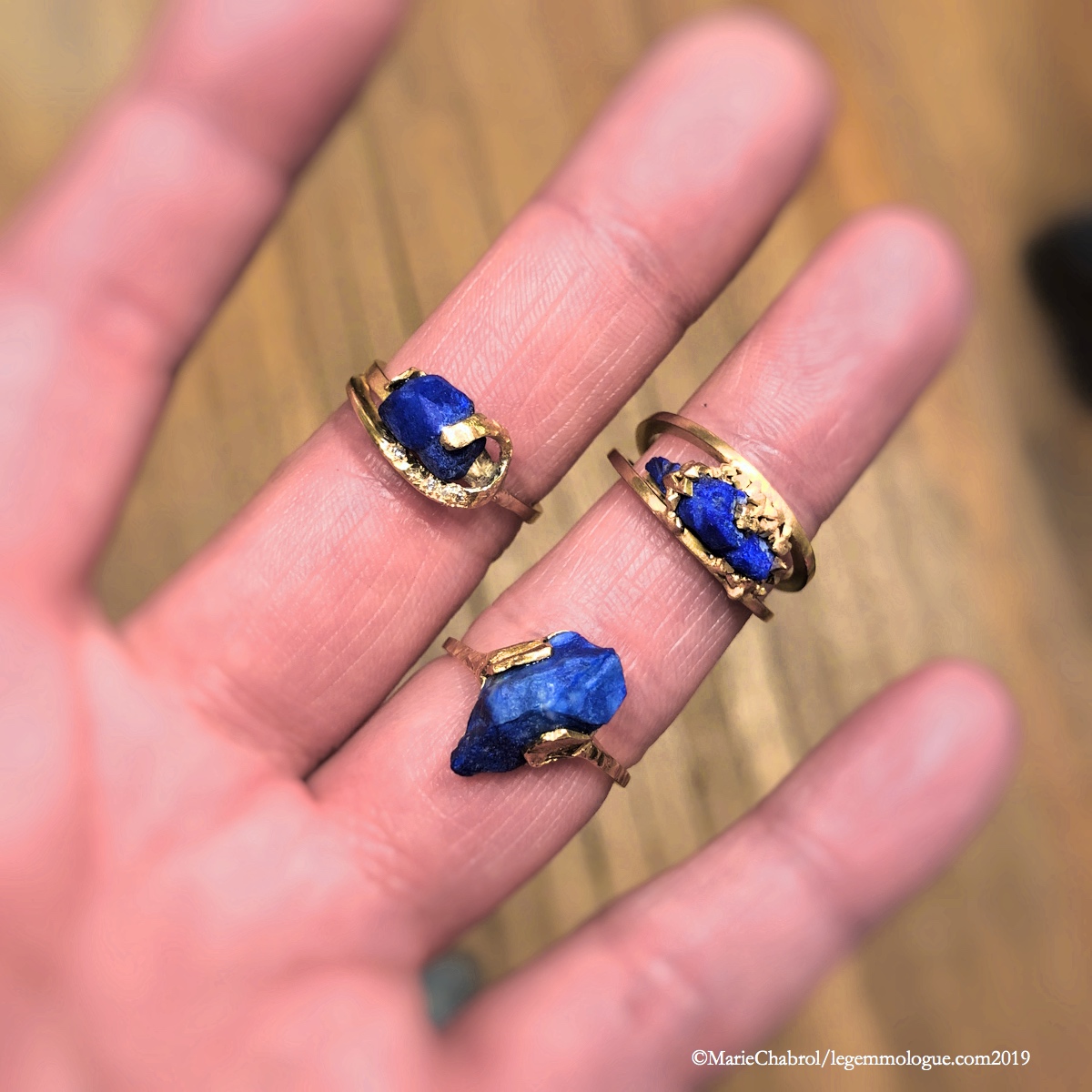 Gold, diamond and lapis lazuli rings from the Blue Summits series. Photo: Karl Mazlo
At the beginning of 2017, he returned from Japan and left his father's company to set up his own business. He then applied to the Ateliers de Paris and at the same time put together an application to the Fondation Banque Populaire. An alignment of the planets later, he received a positive response to his two applications:"It was euphoria, I could launch myself with a certain serenity and at the same time it was recognised that I had real potential. It was extremely encouraging!"
Example of a damask steel element. Photo: Marie Chabrol
Karl Mazlo defines his working process as extremely"intimate" and deeply connected to"the memories of the clients and customers who come to him." Indeed, while he produces collections of pieces, the jeweller particularly likes to imagine bespoke pieces. "I need the memories and stories of my customers. My jewellery is not classical, so people who come to see me already know a little about my work with textures and effects on the material. After that, it's up to me to propose the jewel that will symbolise this particular moment in their lives." The designer does few shows and acknowledges with some surprise the power of Instagram, which has brought him many clients. But, he says,"I am privileged to have remarkable ambassador clients who support me and make me known." Concerning the materials, he will then propose all sorts of solutions with"modern diamonds, old cuts or even very old ones, but also various and varied minerals. But sometimes it's just metal or mixtures of different metals." If we look at the creations, we can see that Karl"does a lot of rings":"I really like this type of jewellery. It is in motion, you can hide things in it, give it a secret side that is only accessible to the wearer. There is a relationship to touch because the object is on the hand. Yes, it remains my favourite and most symbolic jewel." Among the projects in development, the designer would like to take on the brooch"because it offers a greater surface for expression."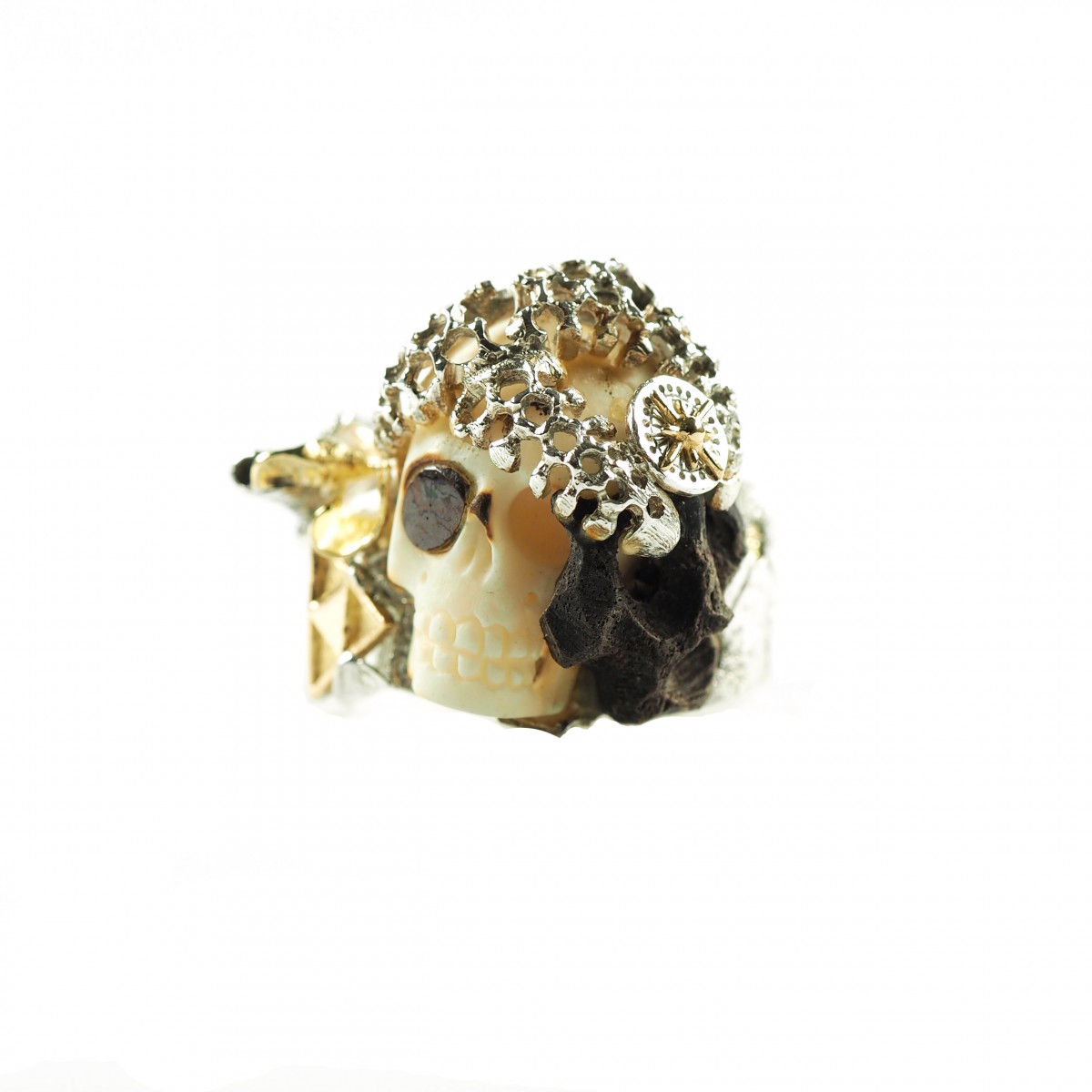 "Gashadokuro / がしゃどくろ" ring in gold, silver, ebony, Australian opal and bone. Photo: Karl Mazlo
Yellow gold and steel damask ring. Photo: Karl Mazlo
When admiring his creations, one notices that stones are not the most present. Here a showcase offers prototypes mixing gold and damascus steel where this material"replaces the gems and takes the first place" offering another vision of the precious. Elsewhere, raw lapis lazuli is used to dress crumpled, hammered or coloured gold. Karl Mazlo's work is poetic. It is unexpected and exciting, and deserves to be brought out of its relative secrecy. Now you know. So, if you are looking for a jeweller who offers modernity and freshness in his work, come here, meet Karl and adopt one of his creations. They deserve it!
See you soon!
*****
Meet Karlo Mazlo at the Biennale Révélations at the Grand Palais from 23 to 26 May 2019. He will be exhibiting his creations on the Ateliers de Paris stand, but also on the Banque Populaire Foundation stand where you will find another designer whose work I particularly like: Amélie Viaene.